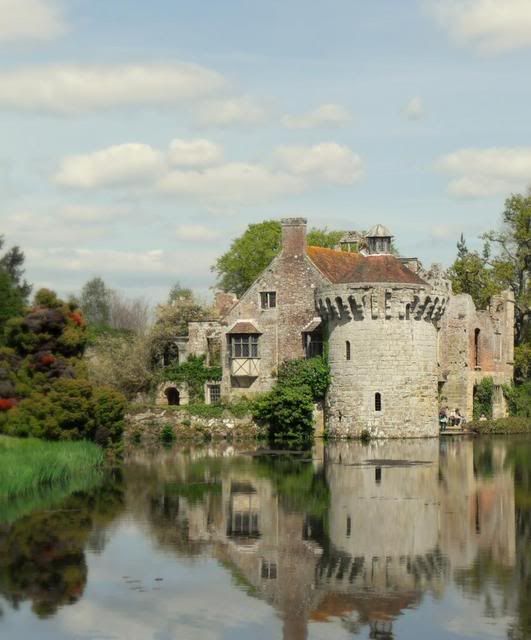 Yesterday I was surfing through the Blogosphere, as I am wont to do when I have a bit of spare time and I ended up on my good friend Tracy's page, of Pink Pearl. I just love Tracy. She is such a calm, sweet and pink person! We were lucky enough to have been able to meet in person a year or so back. I just love it when you are able to cross the boundaries of Invisible Friend to Real Life Friend. That just makes what we have together all the more special.

Anyways she had this fun little exercise posted on her page yesterday and I thought it would be a really fun thing for me to do as well. It's a great activity and opportunity for some self-discovery. If you want to do it too, feel free and if you do and want to share your list, let me know, as I'd love to know more about you as well!! It's so much fun to share with each other, don't you think?? It's all about if you were different things, like colours and stuff. Here goes!

If I Was...
a color,

RED

with White Polka Dots (That's a colour isn't it? I also love White and

Blue

anything, which is a colour too (Especially stripes.) At least it is to me!)
a verb,

♥ ♥ LOVE ♥ ♥



a day, Sunday, I love going to church, slowing down, relaxing, praising my Heavenly Father, taking the sacrament, and seeing all my church friends. I also love Songs of Praise on Sunday evenings, Antiques Roadshow and just canoodling with Todd as we relax and really take a true day of rest.

a TV show, Larkrise to Candleford I just

♥ ♥ ♥

this show!! It has to be one of my alltime favourites!!
a taste, one of my favourite taste combinations has to be salty/sweet. You know like the combination you get with you combine pretzels with chocolate, or peanut butter with jam. It's not something that Todd totally understands, but it's one of my quirks that he has learned to live with, if not embrace. Ok, so he draws the line at peanutbutter and jam . . .

an emotion,

J

O

Y!

All embracing, heart exploding, life surrounding

J

O

Y

!!

a month,

D

e

c

e

m

b

e

r

(need I say more??) I

♥ ♥ ♥

Christmas

and everything to do with it, and most especially of all

Jesus

, the reason for the season.

a flower, I can't choose, it's good old

Sweet Peas

and

Pansies

. They are tied for first place in my heart. I also love Batchelor Buttons, Lupins, Carnations, Roses, and Holly Hocks. I just love flowers, especially Cottage Garden Flowers.

a holiday, I love

ALL

the

H

o

l

i

d

a

y

s

! I don't have a favourite. Any excuse to celebrate all that we have been blessed with here on earth is a wonderful excuse for me. I have been known to create

H

o

L

i

D

a

Y

s

just so that I can celebrate! I guess I just

♥

life and people, and everything to do with them!


a movie,

I just love the film, Our Vines Have Tender Grapes. It is an old film from 1945, starring Edward G Robinson and Margaret O'Brien. It's a tender family story of a Swedish immigrant farm family just before WW2. I have many fond memories of watching it with my children when they were growing up. I had a copy that I had taped off of the telly, but sadly, it got thrown away by accident. I have since looked for one, but haven't been able to find one that I could afford to buy. I shall have to wait and hope that it comes on the telly again one day!!


an article of clothing,

no surprise here . . .

P

A

J

A

M

A

S

!!


a book,

Emmaline

,

by Judith Rossner.

It is a lovely book and based on a true story. I just love books based on true stories. Do you?



a car, I love the car we have right now, a Vauxhall Agila.

a piece of furniture

, I used to have a lovely sideboard that had come off of a

Cunard Liner

. It was my mother's and someone had given it to her. My ex and I had refinished it. It was beautiful, made from

Maple

with

Birdseye Maple Panels

inlaid into the drawer fronts. He would not let me have anything from the house when we divorced and he sold it in a yard sale, probably for peanuts, knowing him.

a scent,Jo Malone perfume, Pomengranate Noir. I just love it. I have a bottle of the cologne and my boss gave me some of the body wash this past Christmas.

an instrument, the flute. I just love it's sweet melody.


a store

, I just love the B

o

r

o

u

g

h

M

a

r

k

e

t. I know, it's technically not a store, but if you are a foodie like me, it is heaven on earth!

a shoe,

I just love my Asics Trainers. I have had a lot of foot problems over the past few years, and they have solved most of them. If you have to spend a lot of time on your feet, I highly recommend!!

a fruit

, I just

A

D

O

R

E

Cherries

!! Every year long about May the cherry sellers set up stands along the layby's all over Kent and you can buy them freshly picked. There is nothing like a paper bag filled with ripe, warm cherries on a warm spring day! It is heaven on earth!!

a song,

His Hands, make sure you click the link. It will take you to a video of the song. I just love this song. It's not a pop song. It's a love song.


a tree

,

f

r

u

i

t

trees. They bring you a gift with each and every season. In the spring you get the beautiful blossoms, and then during the summer you get to watch the fruit appear and grow, in the autumn comes the harvest, and then in the winter comes the sleeping promise of things to come . . .


a planet

, why it would be very remiss of me not to love planet

Earth!

It's such a beautiful place. From outer space it looks mysterious and beautiful. There is so much beauty here. It is one of the father's greatest creations, next to mankind.


a tool

, anything and everything to do with

c

o

o

k

i

n

g

! No surprise there!

The photo at the top of my post is one that I took at Scotney Castle several years ago. It is a place that I have loved to go with Todd. It's beautiful to look at, and a great walk. It's a place where I feel at peace and in tune with the spirit, and where I feel close to God. I hope that you have enjoyed this little exercise with me, and will want to play along and share your list of favourite things with us. If you do, let me know, so that I pop on over to your page and read them!!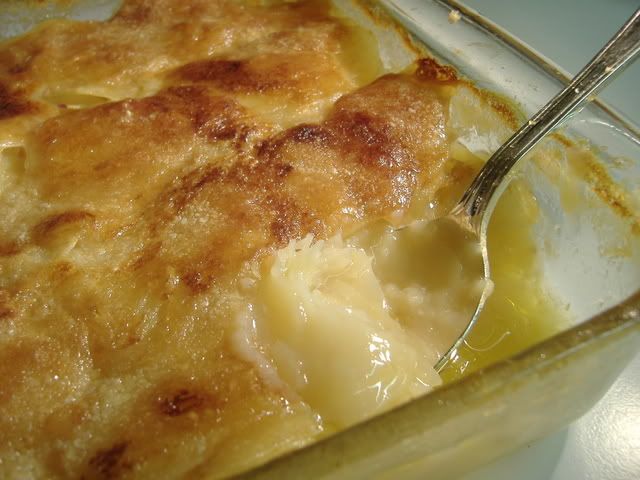 *Potatoes Parmesan*
Serves 2, but is quite easily multiplied
Printable Recipe
Four ingredients and half an hour in the oven, will give you a potato dish so creamy and delicious your guests will think you have been slaving in the kitchen all day to create it. You want to make sure you use a really good and well flavoured chicken stock here as it will be your only seasoning.
2 large red skinned potateos
1 cup of good chicken stock
2 TBS grated Parmesan Cheese, freshly grated
1 TBS melted butter
Preheat the oven to 180*C/350*F. Lightly butter a shallow casserole dish. Set aside.
Peel the potatoes and slice very thinly, about 1/4 inch thickness. Place the potato slices into the prepared casserole dish. Heat the stock and pour it over top. Sprinkle the Parmesan Cheese evenly over top and then drizzle with the melted butter. Bake in the heated oven about 25 minutes, until the stock is absorbed and the potatoes are meltingly tender. Absolutely delicious!!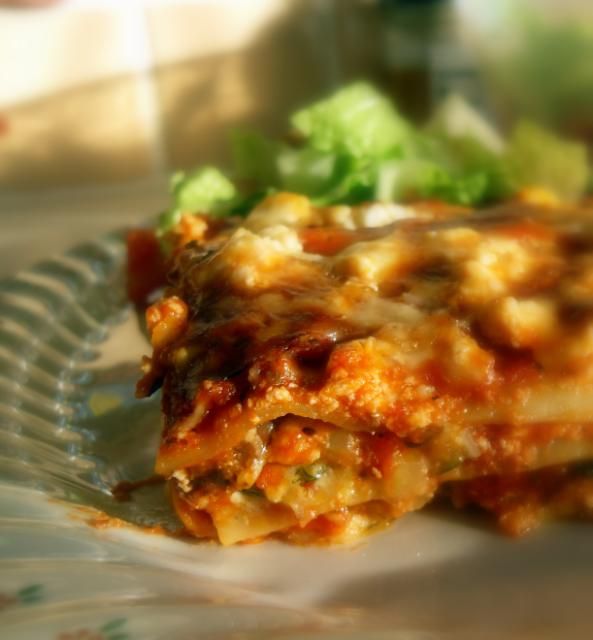 There is a deliciously Creamy Courgette Lasagna on offer today over on
The English Kitchen!