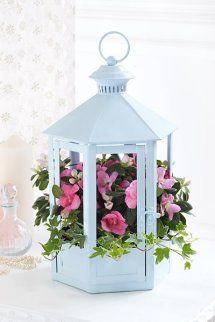 It is hard to believe that in just about a week and a half it will be Mothering Sunday over here in the UK. In North America it won't be celebrated for another two months, plenty of time to think about what to get your mum over there. I, though, have the wierd situation where I must buy any card etc. for my mom ahead of time in March, because in May, when it is my mum's Mother's Day, such a thing as a Mother's Day card is nowhere's to be found over here. Thank goodness for Interflora though, where
Mother's Day Flowers
and gifts are always available, and right at the end of my fingertips.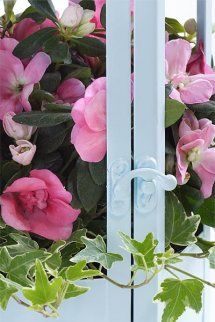 Beautiful things like this gorgeous
Flowering Lantern
that they recently sent me, just in time for Mother's Day. Isn't it just so very pretty??? And best of all, it will be around, giving me pleasure, long after Mother's Day is done and dusted. Pink azalea plants and ivy, very prettily planted in a decorative pale blue lantern with hanging hook. I cannot wait to see how it looks when we get situated in our new home.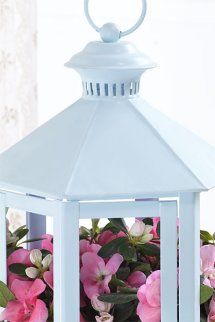 I do hope that you will pop on over to the Inter Flora site to take a look at all the
Mother's Day Flowers
and gifts that are available. I believe you will be most pleasantly surprised! I know I was!
See you in about a week's time. ☺