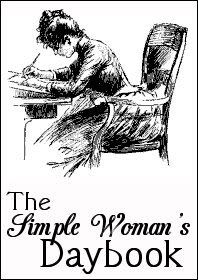 FOR TODAY, December 14th, 2009 ...

Outside My Window...
It is dark and very, very still, which makes a change, and very, very cold! There was some snow falling again when I put Jess out half an hour ago. I wonder . . . will it still be here at the end of the week??? That would be a White Christmas and the first one I've experienced in the 9 years I have been here!!
I am thinking...
About the lovely Christmas Service we had in church yesterday morning. We were very thin on the ground, due to the bad roads, but we were filled with the spirit, and it was lovely. The two young sister missionaries sang away in a manger accapella, and it was so very beautiful. The Bishop and his son sang Oh Holy Night and it brought a tear to my eye. Wonderful talks and warmed spiced apple juice and mince pies afterwards. Lovely . . . . just lovely.
I am thankful for...
That we got home from church safely. We passed two accidents on the way. (They were being attended to, so we didn't stop.) It made us nervous and we drove very slow. A journey that should have taken us 15 minutes, took us an hour.
From the kitchen...
Ohh, there's Christmas Cookies and a Christmas Cake that I NEED to decorate today, not to mention mince pies and a big bowl of lemons. I wonder what I will do with them . . . something tasty I am sure!
I am wearing...
Pink striped jim jams and my robe, as it is a bit chilly in here this morning. Every time I wear these jim jams I think of dear Lura who gave them to me. It's like being wrapped up in one of her warm hugs! Just wonderful!

I am creating...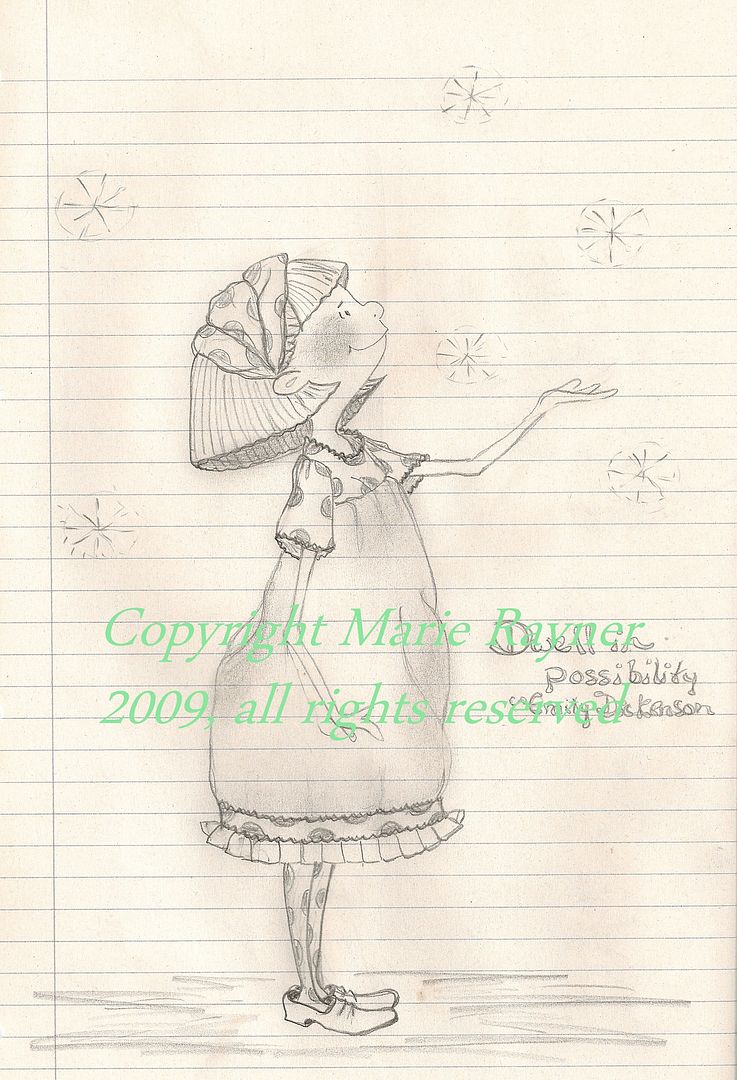 Here's a little sketch that I did the other night whilst I was talking on the telephone. I haven't had time to paint her yet, there's been too many other things to do. There's a lot of possibility there. I quite like her. I am going to be taking a bit of a different direction with my artwork in the new year.
I am going...

Not a log on this week, because . . . It's Christmas!!! We have the sister missionaries coming for Christmas lunch and Todd will be picking up Terri for the day as well, so that will be five of us. I can't wait! I got a turkey half price the other day as it was due to expire that day. I just brought it home and popped it into the freezer. It's a free range bronze as well. It cost me £25. I cancelled the £50 one I had ordered from Abel and Cole! I've also got a ham that I am going to cook and I need to think of something Vegetarian for Terri.
I am reading...
The Handmaiden and The Carpenter
by Elizabeth Berg
I thought in honor of the Christmas season and holidays that I would break out something special and seasonal to read and so I am reading this lovely book right now by Elizabeth Berg. If you have never read any of her books, you really should. She is a brilliant writer! In this wonderful novel about love, trust, hope and belief, she transports us back to Nazareth . . . re-living the events of the Classic Christmas story. I love the beautiful imagery used by Ms Berg. She brings this story to life in a special way that is moving, rich and full of emotion. I am about half way through and am aiming to be on the part where she gives birth to the Saviour on Christmas Eve. It's very, very good! I am really enjoying it.
I am hoping...
That I feel a bit better today. I have been feeling a bit queasy the past couple of days and I had a terrible headache all yesterday. Nothing I took seemed to budge it. That, at least, is gone now.
I am hearing...
I am hearing nothing but the ticking of the clock, the humming of the refrigerator, the clicking of my keys, the roar of the electric fire, Jess's gentle snores in front of it and the pitter pattering of snow on the skylight at the top of the stairs . . . all is right with my world.
Around the house...
We took our tree out to decorate on Friday, but it looked so decrepit and falling apart that we didn't put it up. We went to look for a new one, but could only go as far as the local village because of the roads. We couldn't find one and so we didn't put one up this year. We did find a nativity set though and so we have set that up in a place of honor and put out lots of tea lights. The Christmas Cards are hung and we have strung coloured lights in all the windows so it looks really festive anyways. We will get a tree, but have decided to wait until the boxing day sales now. I know, what a pair of humbugs we are this year! We do have a lovely poinsetta though! Each year our employers give us a poinsetta and this year's is especially lovely. I'll have to take a picture of it to show you.
One of my favorite things...
Is watching the Christmas Songs of Praise, which we did last night and we were not disappointed. They told the Christmas story and Aled Jones was actually in the Holy Land. After that we watched the Country File Christmas special and that was really good as well. We were both so tired though we went to bed after that. I know, what
are
we like!!
A Few Plans For The Rest Of The Week...
Christmas! Christmas! Christmas!! Did I mention . . . it's Christmas!!!
(Yeh! I'm excited!!)
Here is picture thought I am sharing...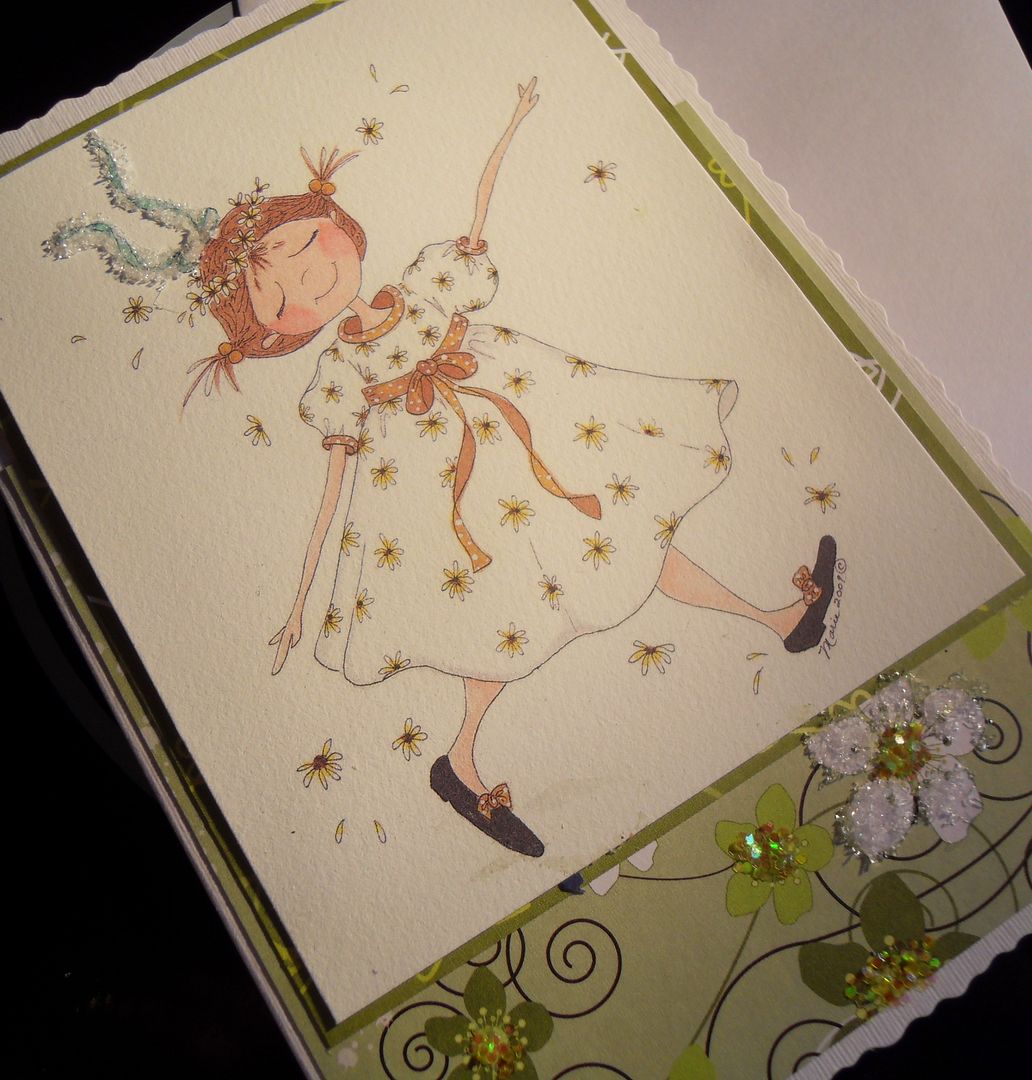 This is a Birthday Card that I made with one of my small prints the other day. I used two different types of scrap book papers for the background and added a touch of glitter on the flowers of the one. Yellow chunky glitter on the centres of the flowers and some clear German Glass Glitter on the white flower petals. Then I added the German Glass Glitter on the bow in the little gir's hair. In the new year I am thinking of selling my prints as downloads instead of as prints. That way people will be able to buy the download and use it in any way they wish for their own personal use, as long as they don't use it for selling in multiples, and I will retain the rights myself, of course. I'll also sell prints if people want them of course and do commission work. At least that's the plan. I am still figuring out the logistics of it all. We'll see how it all works out.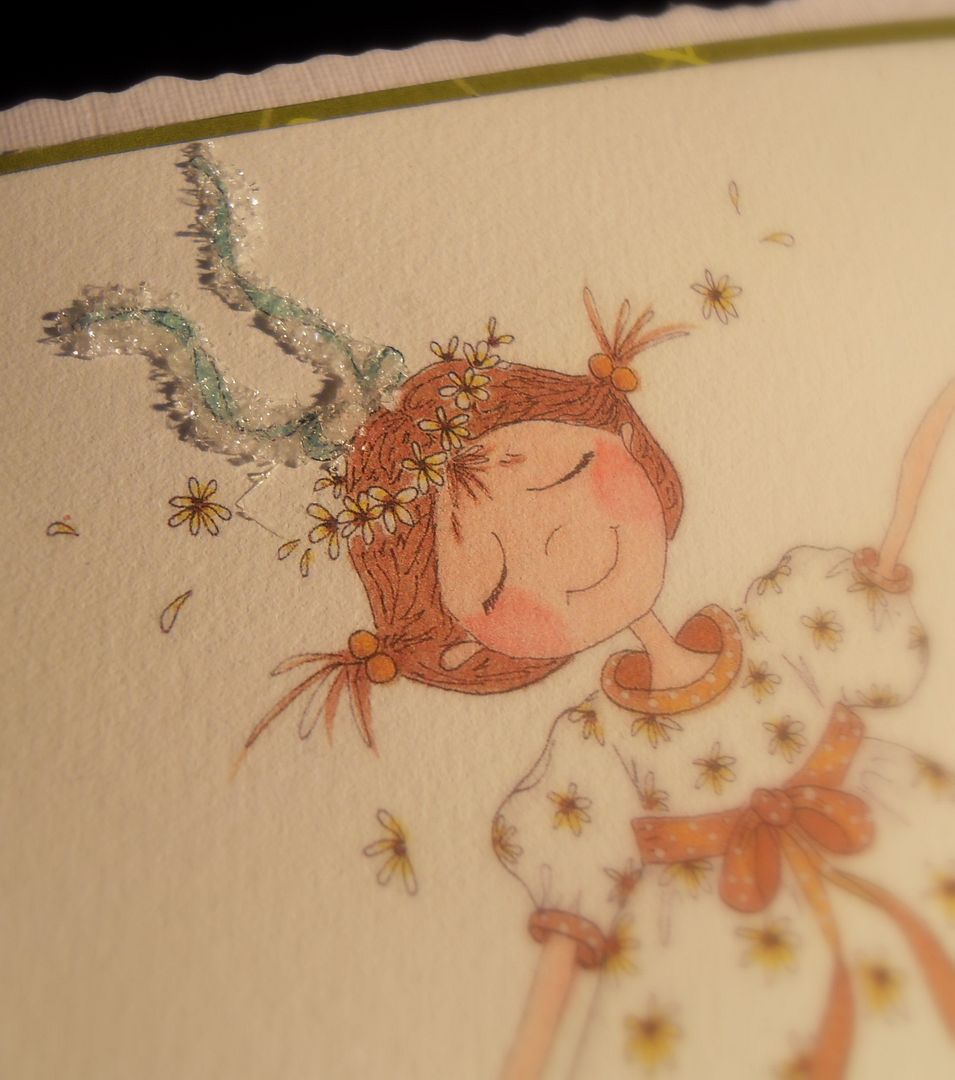 And there you have it, my Simple Woman's Day Book for today. Don't forget to hop on over to the
Simple Woman
to check out the other day book entries! (Or better yet, do a simple day book entry yourself! It's not that hard and I am betting you would enjoy it!)
This is a quick, simple and delicious way to cook pork chops next time you have them. Not only that but the quantities are easily divided in half to cook for only two of you, or to multiply into quantites to serve more of you! I like to serve rice with mine and it's really simple what I do. I take a package of Uncle Ben's Wok Rice (coz there's only two of us, if there are more of you , you might need several packets) the Oriental flavoured one and I break it all up with my fingers. I heat a bit of oil in a pan, add a beaten egg and then scramble it. Once scrambled I stir in the work rice, a small tin of bean sprouts (well drained) a handful of frozen peas and the wok rice. I cook and stir until well heated through and add a bit of Soy Sauce. Easy peasy, lemon squeasy egg fried rice!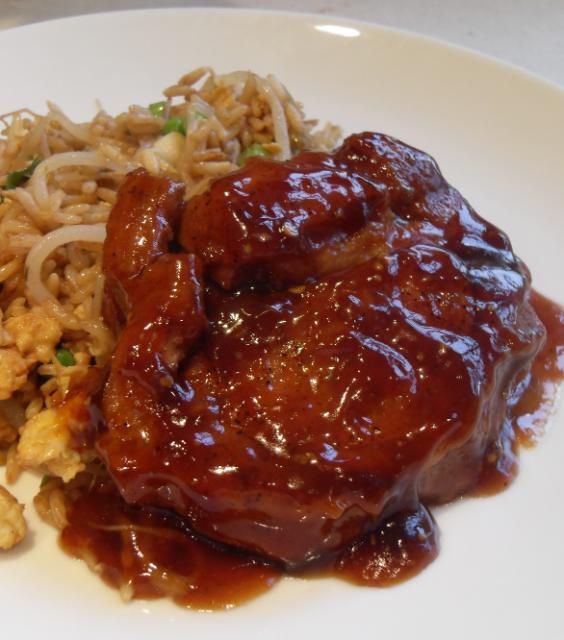 *Sweet and Sour Chops*
Serves 4
Printable Recipe
These are delicious. You may want to double the sauce ingredients as it is that good. Serve with buttered noodles or rice.
5 boneless pork chops, 1/2 to 3/4 inch thick
salt and pepper
1 TBS oil
1 fat clove of gralic, peeled and minced
2 tsp oil
4 TBS chicken broth or dry sherry
4 TBS soft light brown sugar
4 TBS dark soy sauce
4 TBS cider vinegar
1/4 tsp crushed red chili pepper
2 tsp cornstarch
2 TBS water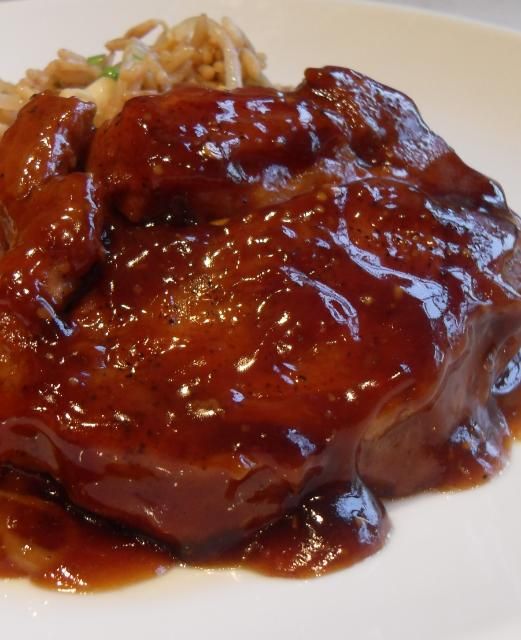 Whisk together the 2 tsp oil, sherry or broth, soy sauce, brown sugar and red chili pepper. Set aside.
Trim any fat off of the pork chops and season them well on both sides with salt and pepper to taste. Heat the 2 TBS of oil in a heavy skillet. Once hot add the chops and brown them well on both sides. Remove from the skillet. Add the oil and saute in the drippings until soft and fragrant. Whisk in the liquid mixture. Return the chops to the skillet, turning to coat them in the mixture. Cover tightly, reduce the heat to low and simmer until the chops are cooked through, 20 to 25 minutes, depending on the thickness of your chops, and turning at least once during that time. Remove the chops to a warmed platter. Dissolve the cornstarch in the water, Whisk this mixture into the juices in the skillet. Cook, stirring until thickend. Serve the chops hot with the pan juices spooned over top.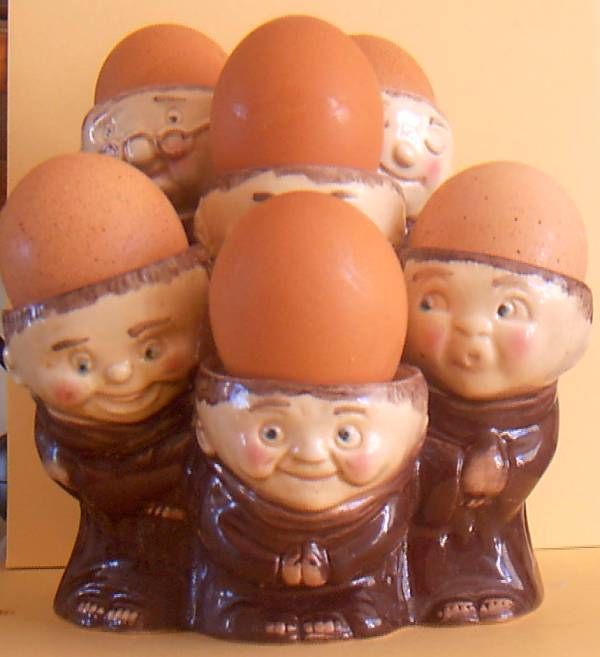 Posh Egg, Chips and Beans today over on
The English Kitchen
!