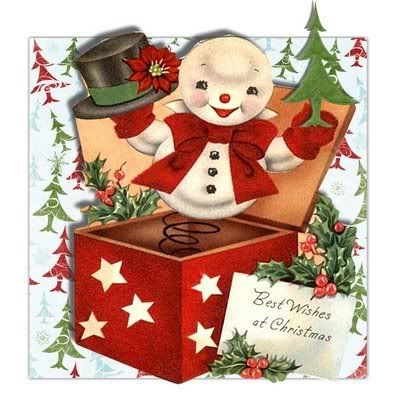 An Old Fashioned Christmas
Let's have an old fashioned Christmas,
What a day of delight it will be.
We'll hang up the wreath made of cedar,
And we'll bring home a fresh spruce tree.
Candlelight shines by each window;
Springs of holly grace mantle and door;
The sweet smell of gingerbread cookies
Joins puddings and pies by the score.
The sleds deftly skim frozen hilltops;
Velvet snowflakes in radiance beam;
And ice skaters glide like quicksilver
In winter moonlight's golden gleam.
Make it an old fashioned Christmas,
May each waiting heart feel the glow
That grows with the ringing of sleigh bells
Drifting over the soft silvered snow.
~Elizabeth Weaver Winstead
Ahhh . . . wouldn't it be lovely . . . a good old fashioned Christmas with none of the hustle and bustle and commercialism of today's Christmas's??? The only treats, ones that you baked yourself and perhaps a candy cane or two on the tree. A good old toffee pull on Christmas Eve . . . the molasses toffee kind. Neighbours and friends dropping by to give you their Christmas greetings in person and sharing a mug of hot chocolate, or something stronger if you are that way inclined, to help to ease the chill from their bones.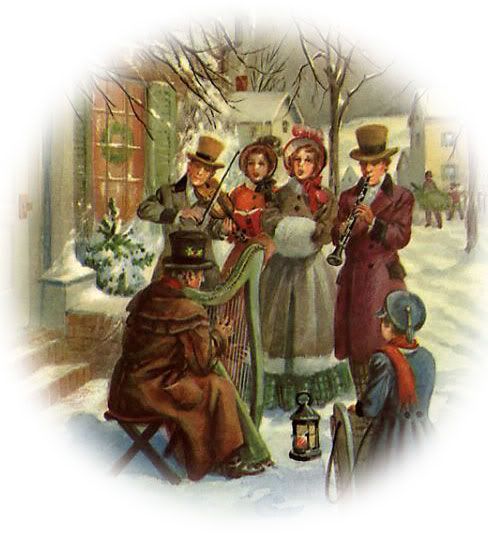 Carolers slowly moving from house to house, serenading each occupant with their lovely dulcet tones of Christmas Cheer. A lovely fresh pine tree, decorated with paper decorations that the children have made, and paper chains, popcorn and cranberry garlands and silver foil icicles hanging from the branches.
The family all together under one roof, and going en masse to Christmas Eve services at the local village church, and knowing that when you went there, all your neighbours and friends would be there too, all together and giving thanks for the gift of the Christ Child.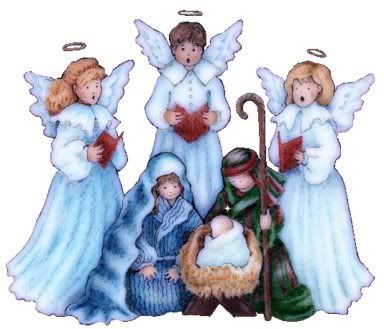 Waking up on Christmas morning to the smell of turkey already wafting through the house, and knowing that mom or grandma are already up and getting started on the big dinner preparations.
Finding a stocking filled and bulging at the end of your bed, and knowing that a bit juicy tangerine is going to be stuffed into the toe, along with a few nuts to crack and some hard Christmas Candy to suck on throughout the day.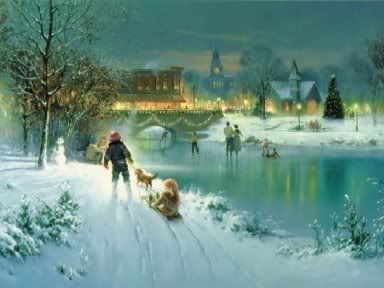 Being excited because you know that, later on in the morning, your cousins will be arriving, and you will be able to share this special feeling with those you hold nearest and dearest, and you'll all be able to laugh together at the antics of Uncle Ralph, and giggle at Grandpa falling asleep in his chair with his mouth wide open and his false teeth hanging precariously in the balance . . . will they or won't they fall out completely??? The grownups sitting around chatting happily, sharing stories of days gone by and family tales of those who are no longer with us, whilst the children happily occupy themselves with play and time spent with cousins that they may see every day anyways, but on this day . . . there is a special feeling of togetherness that is not there any other day of the year, and so . . . it's even better.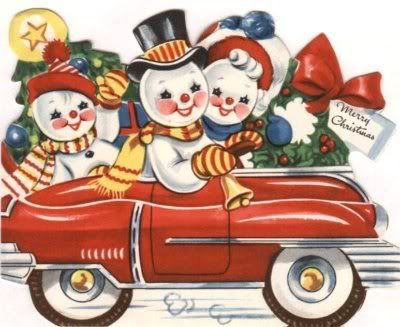 Eating turkey and stuffing and roast potatoes, until you just can't eat another bite . . . and then stuffing your face with Christmas pudding and mince tarts . . . and oh sure . . . just a few more nuts and some of that buttery tofee that you had so much fun pulling the night before.
Rolling in to bed at the end of the day, stuffed not only with good food, but with wonderful feelings and happy memories, filled with joy because you have just spent the most special day ever . . . with the people you love most, and knowing that you wouldn't have it any other way.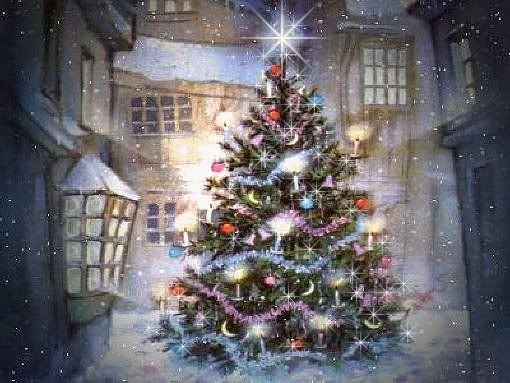 Feeling an inner peace and gratefulness to your Heavenly Father for all the goodness he has sent your way, and for The gift of the Christ Child, peace on earth and good will towards men . . .
May we, each one of us, have an old fashioned Christmas in our hearts this year, and may we each feel some of the peace that comes from loving . . . and being loved.
My kids would not have been happy unless I had filled a big cookie jar with some of these lovely ginger cutouts each year. Spicy and sweet and decorated with sprinkles and candies and all glittery, they were always a huge part of our Christmas Celebrations.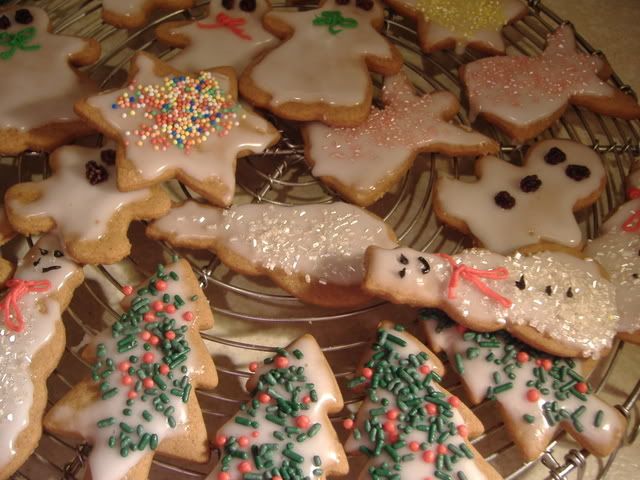 *Old Fashioned Ginger Cutouts*
Makes quite a few, numbers are variable depending on the size and shape of cutters that you use
Printable Recipe
These delicious crisp and spicy ginger cookies are a wonderful addition to any holiday tray. Decorate them in any way you like, with coloured icings and sprinkles, candies, currants . . . let your imagination go wild!!
8 TBS softened butter
1/2 cup soft light brown sugar, packed
1/2 cup molasses
1 large egg
2 1/2 cups flour
1 tsp baking powder
1/2 tsp salt
1 TBS ground ginger
1 tsp ground cinnamon
1/2 tsp ground allspice
1/4 tsp freshly ground nutmeg
1/2 tsp ground cardamom
For the Glaze:
2 cups icing sugar, sifted
2 TBS milk or water
To finish:
a variety of sprinkles, candy and edible glitter to decorate
Cream together the butter and sugar until fluffy and then beat in the molasses and the egg.
Sift the dry ingredients together in a bowl. Add to the creamed mixture and mix until well blended. Gather into a plastic bag and then refrigerate for one hour.
Pre-heat the oven to 160*C/350*F. Dust the counter with some flour and roll out the dough to 1/4 inch thickness. Cut into either 3 inch squares or use your choice of cookie cutters to cut out shapes. Place on baking sheets and bake for 7 to 9 minutes, until set and lightly browned. Transfer to a rack to cool completely.
To make the glaze, sift the icing sugar into a bowl. Add enough of the milk or water to make a smooth glaze. You may not need all of the water, as you only want the icing thin enough to run freely, but stiff enough to lay on the cookie without running off. Dip each cookie into the glaze and then hold it over the bowl for a few seconds to let any excess drip off. Lay on a wire rack and immediately sprinkle with whatever candies, etc. you wish to decorate with. Allow to dry and harden before removing to store in an airtight container.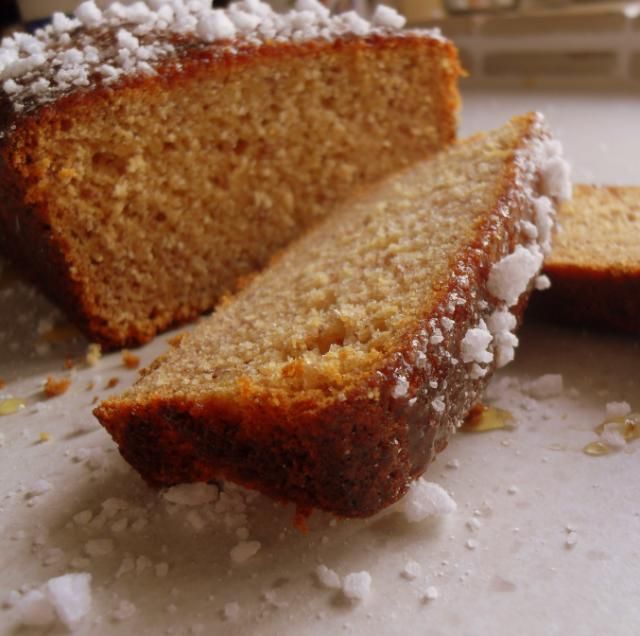 Over on
The English Kitchen
today, a delicious Honey Banana Loaf.