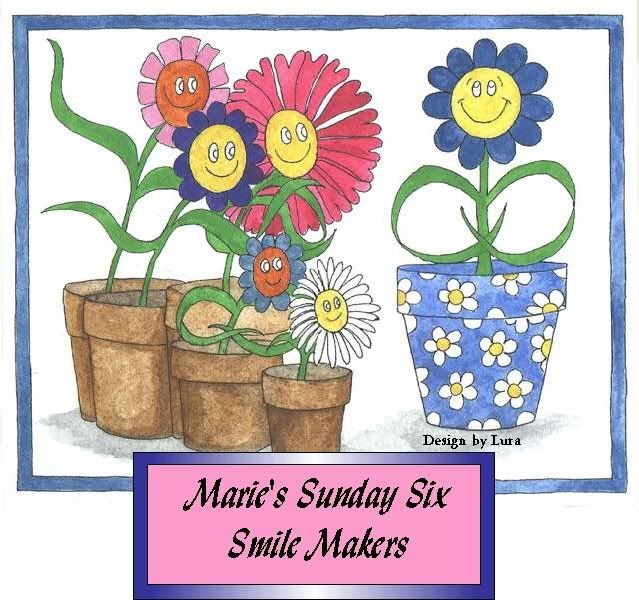 Welcome to my Sunday Six Smile Makers post for this day, the 13th December, 2009. Oh, it seems hard to believe that there are only 12 days til Christmas! The time is sure flying by quickly. Before we know it, t'will be done and dusted and in the box for another year! I guess we'll just have to relish every day as it comes and build lots of lovely memories for ourselves to take out and savour in the coming year ahead.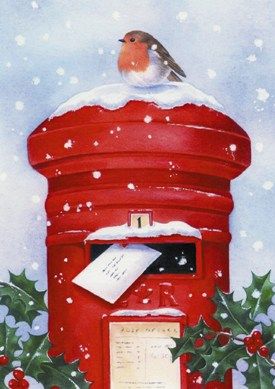 Christmas Cards make me smile, and I've had some lovely ones popping through my letter box each day for the last week. I just love them. As I open each one and read it, I am reminded of the person that sent it . . . and I think about them and how special they are to me. They are like little warm hugs from afar! Every year I tell myself, I am going to put a nice chatty letter into each of my Christmas Cards, and every year I run out of time and they end up going into the post just as is. One of these years I will get it right!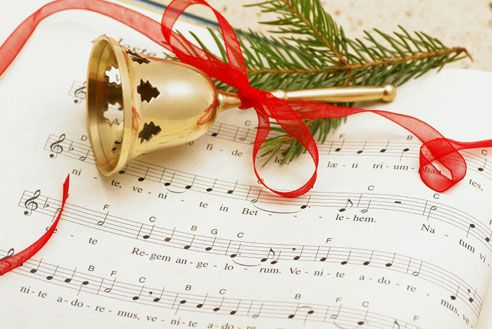 Christmas Carols make me smile! Yes, I have been listening to them on my stereo, ipod, car radio, you name it! No matter what I am plugged in to, this past week I've been listening to Christmas Carols. I confess that sometimes in July when I want to feel cheered up, I will sometimes listen to them too. That's because I love them. They inspire me and remind me of the holiness of this special time of year and all that is beautiful about it. They make me think of special times spent in Church on Christmas Eve with my dad when I was growing up and of all the Christmas Concerts through the years I've either been in, or attended when my children were growing up. There are just so many warm and lovely memories attatched to them, they make my heart sing.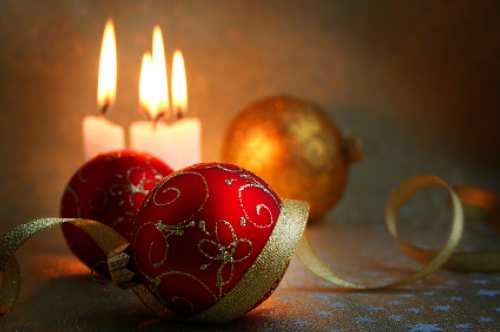 Digging out the Christmas Decorations makes me smile. I just love the Christmas Decoration box. I have filled it with lots of lovely little memories of these past nine years that Todd and I have spent together. Each trinket puts a smile on my face as I unwrap it and remember the special times we have had with each other during each holiday season. I try to get a new one each year so that I have another little memory to hold on to in the coming years. When my children were growing up we had a tree decorated totally with my own handmade decorations. I wonder what happened to them . . . divorce is so sad. Nevermind . . . onwards and upwards. I have a new tree now and new memories and they're all beautiful. ☺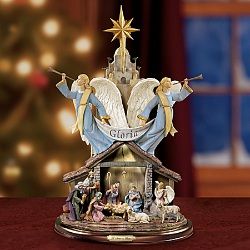 We had our Church Ward Christmas Party last night. It was very well attended and everyone had a lovely time. There was lots of good food, and wonderful company! The primary class sang a song for us which was so sweet, Rudolph the Rednosed Reindeer, which I know we've all heard a thousand times before, but each time it is a special time and they certainly put a smile on everyone's faces last evening once again. It was just nice to see everyone together fellowshipping with each other and spreading some of that holiday cheer around! I just love my church family. Each of them hold a special place in my heart and affections. And when I say church family I truly mean those words, because they are family to me and I love each one of them in a unique and special way.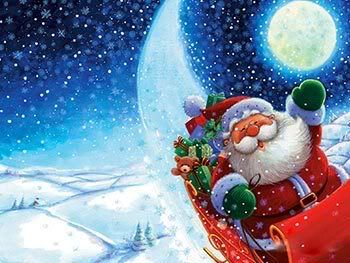 I spent several hours on the
PNP (Portable North Pole)
creating specific messages direct from Santa to my special grandsons and friends yesterday afternoon. It was ever so much fun and each one is personalized to the person I sent it to. It's very clever. Santa Claus speaks directly to each of them from the North Pole in a personal way! I just know my grandsons will love it and I am hoping that my friends don't find them too annoying, and perhaps get a bit of a giggle from them! In any case I did, and that's good enough for me!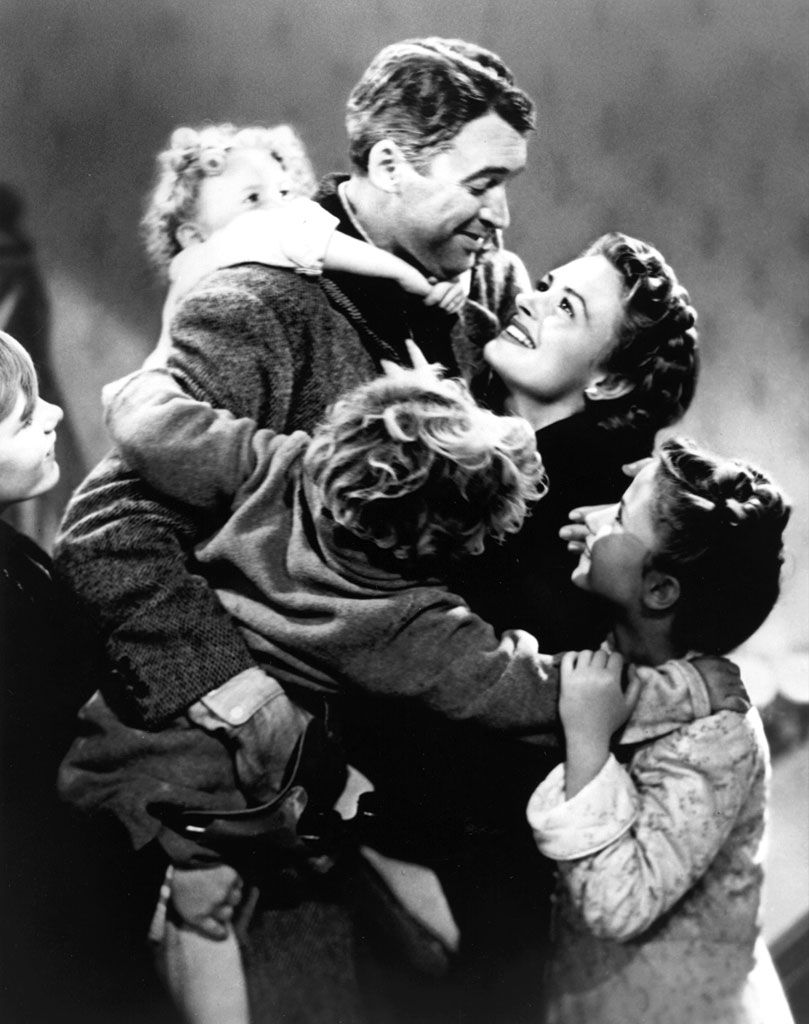 If you recognize the top picture as being from the film, "It's a Wonderful Life," then you can pretty much guess what my next smile maker is!! Yes, I've been watching all my Christmas films and shows whenever I get the chance! There's even a specific Christmas Channel here on our Sky Digital system that is showing Christmas Movies nonstop! Yayy!! I have so many that are my favourites . . . Scrooge, White Christmas, The Family Man . . . to name but a few. It will be so much fun catching up with each of them over the next few weeks! I just love them all, and can watch them over and over again, no matter what!!
I decided to make my Ruby Slipper Cake that I spoke about earlier this week to take to the Bishop's Youth Council Christmas Get-together this afternoon. We are having a Pizza afternoon and watching the Book of Mormon movie. I said I'd bring the sweets and made this cake and some almond florentines which you can see on my other page. I know, it seems a bit like cheating to make a cake using a cake mix, but some of them are really quite good if you doctor them up a bit. Cake mixes over here in the UK are very difficult to come by. I get mine from a mail order place,
Skyco
, which has a pretty good selection of different flavours and varieties. They can be a bit pricey though, so you can also use a normal cake batter for a yellow cake, which I have posted
HERE.
Just make it up and then use it as required in the recipe below by adding the gelatin in layers throughout as specified. I have just chosen to frost mine with a basic yellow buttercream glaze, but you can frost with whatever frosting you choose, or even just dust with some icing sugar. It's delicious either way!!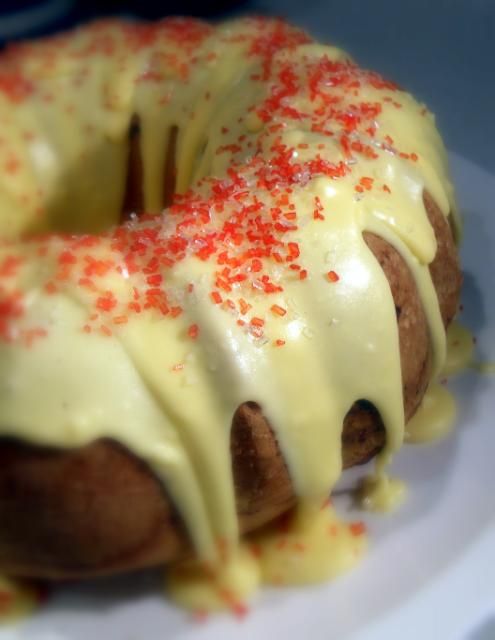 *Ruby Slipper Cake*
Makes one 10 inch bundt cake
Serves 12
Printable Recipe
This is the cake I always made for my youngest daughter's birthday. Most years I would cover it with seven minute frosting and then add a pretty coloured bow. One
year I turned it upside down, added a handle and put flowers into the middle and it looked like a flower basket. She always loved it no matter what.
1 (18 1/4 ounce) box of yellow cake mix
1 cup sour cream
1/4 cup water
2 large eggs
1 (3 ounce) box of raspberry gelatin powder
Frost and decorate as desired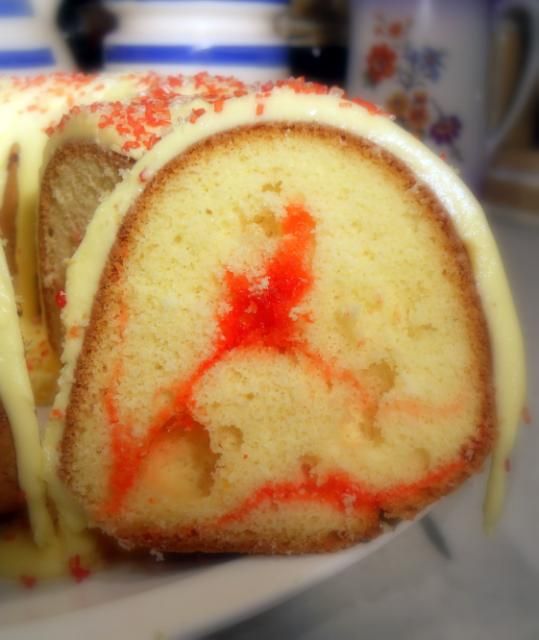 Pre-heat the oven to 180*C/350*F. Grease and flour a 10 inch bundt pan really well. Set aside.
Combine the cake mix, sour cream, water and eggs in a large bowl. Beat with an electric whisk at medium speed for 2 minutes until creamy. Spoon 1/3 of the batter into the prepared pan. Sprinkle half of the jelly powder over top. Cover with another third of the cake batter and then the remaining jelly powder. Top with the remaining third of the cake batter, covering the jelly powder completely. Do not mix together.
Bake in the heated oven for 45 to 50 minutes, or until the cake springs back when lightly touched. Allow to cool in the pan for 5 to 10 minutes before tipping it out onto a wire rack to finish cooling completely.
Frost as desired, or even just dust with some icing sugar, in which case serve up with a huge dollop of whipped cream!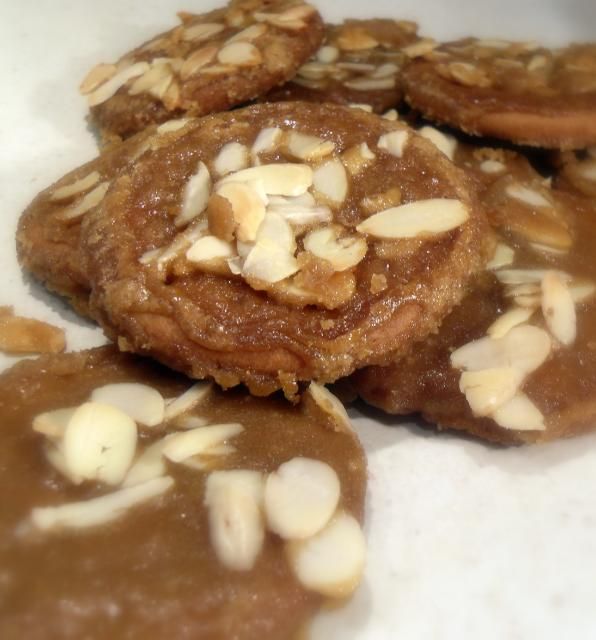 I'm cooking Almond Florentines over in
The English Kitchen
today!