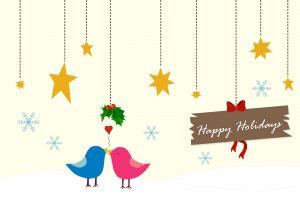 Most of us are going manic right about now, trying to pick up everything we have our gift lists for our loved ones and friends for Christmas. I thought I would share something a bit different with your this morning. Here is a very different kind of Christmas Shopping List!!
One package of cooperation: This is a basic ingredient in every successful venture.
One pound of mixed nuggets of wisdom and inspiration: The shelf life of these nuggets is very short, so serve fresh . . . while still on your mind.
One bottle of enthusiasm: May be sprinkled liberally on everything you do, but it is astonishing what even a few drops can do.
One box of compromise pills: At first, these may seem like bitter pills to swallow, but they contain a magic catalyst that results in improved human relations.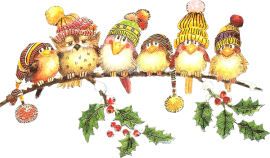 One large economy sized carton of patience: Keep a good supply on hand . . . a most useful item, and, during the holiday season, it's so easy to run short at the most inconvenient times.
A matching pair of bookends, marked "Appreciation" and "Gratitude." No matter how these are used or to whom they are given, they are always welcome.
One spool of tact and understanding: Good for mending hurt feelings and patching up injured egos. Much better than Elmer's glue . . . maybe you'd better get two spools while you're at it!
One do it yourself humility-hat set: This fully equipped kit has everything you need. The little humility-hat comes in all sizes and shapes. Be sure to select one size smaller than you usually wear because that's just what you need.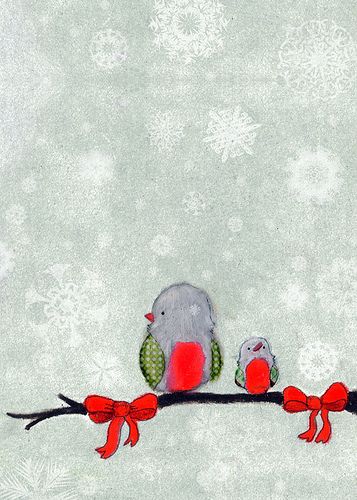 A gallon sized jug of common sense: May be combined with so many other things, and in so many different ways. May also be used as a substitute when other ingredients are not available. This is a must on your shopping list. Costs only a few cents. All stores have a large supply as most people don't keep much on hand.
One warm and comfy blanket of love. Contains no synthetic fibers. The material is actually made from natural, long lasting fibers according to an ancient pattern first used in Bethlehem and Nazareth, and then perfected along the Jordon River and up the winding road to Calvary. Even the smallest size can be wrapped around your friends and relatives. Because of the way it is woven, it warms the heart even before the hands. It can be used in emergencies to wipe away tears, cares and sorrows. No couple or family can afford to be without one. If worn constantly, it will last forever.
And there you have it!! I hope you enjoyed reading this lovely little list as much as I did! It does give one pause for thought!
Here's a wonderful Vegetarian dish that is really tasty and easy to put together. I usually always have all the ingredients at hand and it makes a nice change from the usual heavy meals. It makes a lovely light supper, with some cooked greens or a salad on the side and some crusty bread. Delicious!!!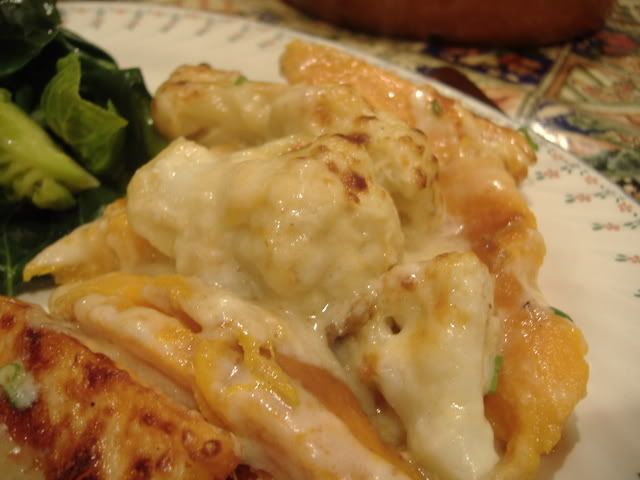 *Cheesy Sweet Potato and Cauliflower*
Serves 4
Printable Recipe
This is comfort food at it's finest. Lovely, meaty, orange fleshed sweet potatoes, combined with beautiful earthy cauliflower florets and blanketed beneath a rich cheese sauce with crusty bits of grilled cheese gilding the top. What's not to like!!!
2 large orange fleshed sweet potatoes
1 small cauliflower, broken into florets
salt and pepper
For the sauce:
2 TBS butter
2 TBS flour
2 cups whole milk
1 bay leaf
3 ounces freshly grated Parmesan Cheese
salt and pepper to taste
freshly grated nutmeg to taste
To finish:
3 ounces grated strong cheddar cheese
3 TBS finely snipped fresh chives
Pre-heat the oven to 200*C/400*F. Butter a shallow casserole dish. Peel the sweet potatoes and cut into thick wedges. Place into the casserole dish, spreading them out, season them generously with some salt and pepper, and then bake them in the heated oven until tender, about 25 to 30 minutes.
While the sweet potateos are cooking, place the cauliflower florets in a microwaveable bowl. Add a few TBS of water, cover with cling film, piercing a hole in the top, and cook in the microwave on high for 5 minutes. Drain and set aside whilst you make the cheese sauce.
Melt the butter in a saucepan. Whisk in the flour and cook over medium-low heat for about a minute. Slowly whisk in the milk, whisking until smooth. Add the bay leaf and cook over low heat until the sauce has thickened, stirring. Remove the bay leaf, season to taste with some salt, pepper and nutmeg. Stir in the cheese, stirring until it is melted.
Remove the sweet potatoes from the oven and scatter the cauliflower over top. Pour the cheese sauce over all, and then sprinkle the cheddar cheese evenly over top of all. Place under a pre-heated grill for 3 to 4 minutes until golden and bubbling. Sprinkle the snipped chives over all and enjoy!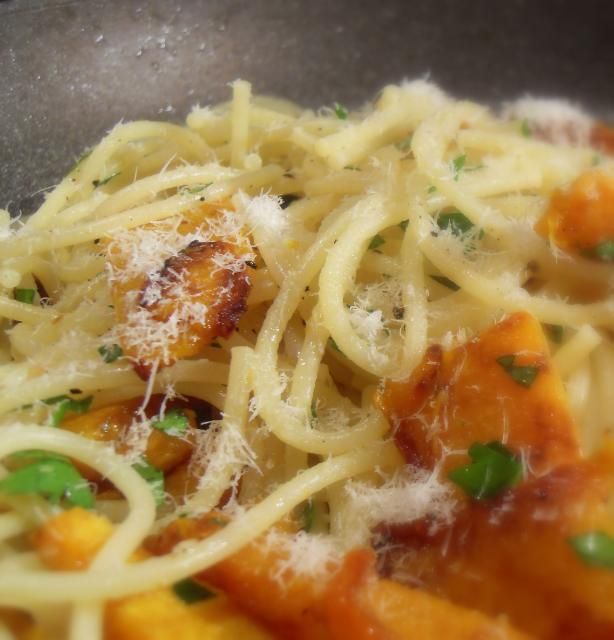 Be sure to check out
The English Kitchen
this morning. There's a lovely Spaghetti dish with Pecorino Cheese and Sage posted!