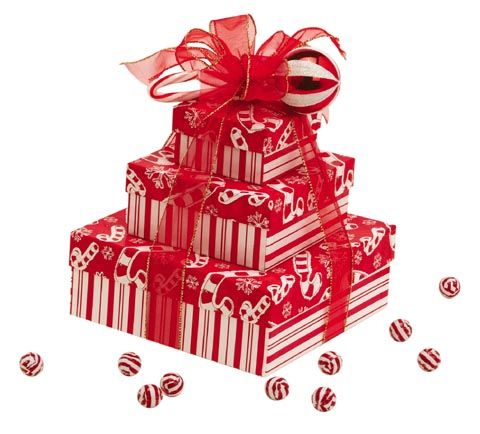 I recently came across these words attributed to that brilliant comedienne Gilda Radner. To me, they seem to sum up perfectly what I like to think of as the delicious ambiguity of life.
"I wanted a perfect ending . . . Now I've learned the hard way that some poems don't rhyme, and some stories don't have a clear beginning, middle and end. Life is about not knowing, having to change, taking the moment, and making the best of it, without knowing what's going to happen next."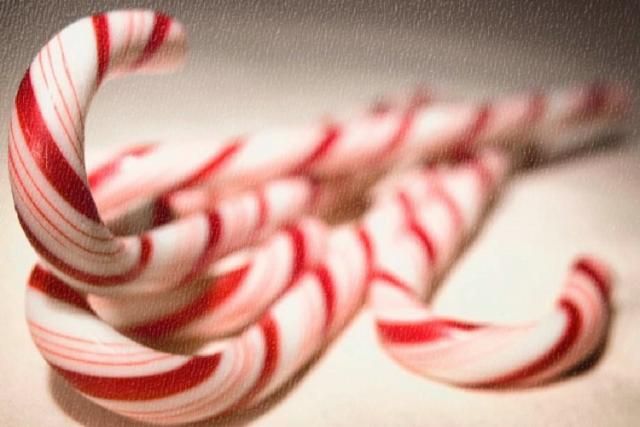 I thought those words perfectly described how I feel about life. Life is an adventure. Sometimes you have ups, and sometimes you have downs. The trick is in being able to find joy in the journey and finding peace in the moment. I have found that my faith greatly helps me to be able do that. No, things do not always turn out the way I had planned and sometimes crap happens, but . . . through it all I have been able to trust in a higher power who has a plan for me, and I continue to trust in Him who created me in love. Knowing I have a purpose in being here brings a deeper meaning into my life and into each nook and cranny I experience. To be able to look back and count it all joy, and to look forward with intrigue and great anticipation, is a gift that I have been blessed with, but it is one that I have had to learn to cultivate every step of the way.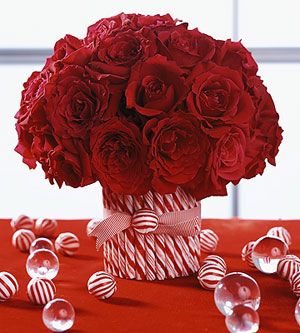 In another few days we will be closing the book on the year 2009, and opening the cover on 2010. I cannot wait to see what I will be writing on those fresh new pages! It may be good . . . it may be bad, but whatever it is . . . it will be life, my life . . . and that truly is a blessing from above . . . no matter where the journey should take me.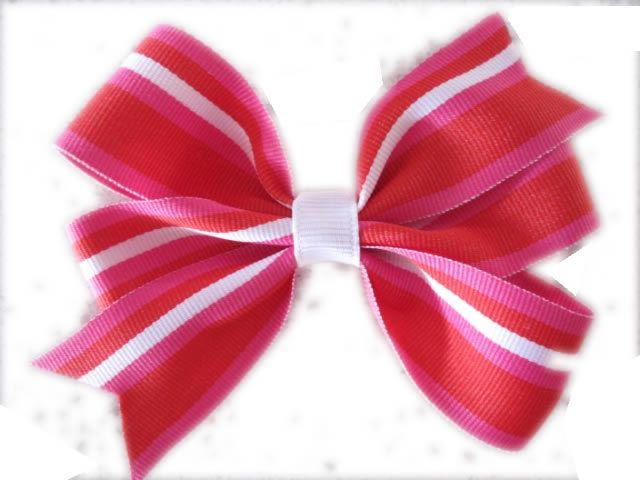 Yesterday I bagged up the rest of the turkey, and most of the ham and popped it into the freezer to enjoy at a later date. With the ham I kept out I made this most delicious casserole for our supper. We quite simply had the leftover vegetables from Christmas dinner reheated and served up on the side, but a lovely tossed salad would go most deliciously with it. This is fabulous, and quite unconventional!!!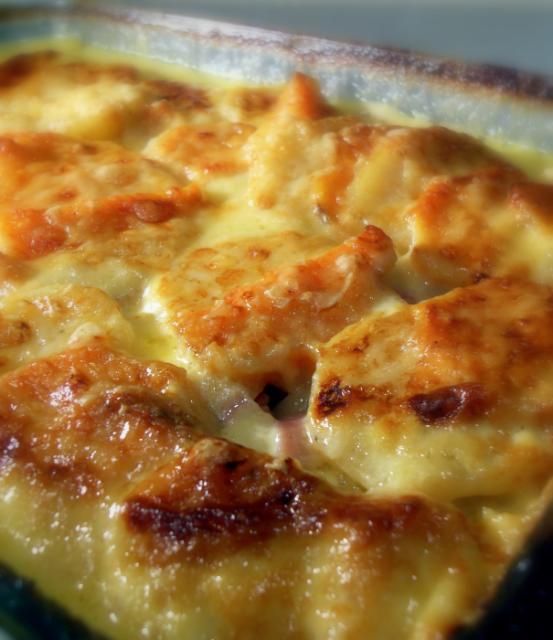 *Scalloped Potatoes with Ham*
Serves 6
Printable Recipe
The addition of sweet potatoes and nutty flavoured Gruyere cheese give an old favourite an unusual twist. We just love this, and it's a great way to use up some
of that holiday ham!
1 medium onion, chopped
1 TBS vegetable oil
3 cloves of garlic, peeled and minced
2 sweet potatoes, peeled and sliced 1/4 inch thick
2 large baking potatoes, peeled and sliced 1/4 inch thick
1/2 cup flour
1/4 tsp black pepper
1 tsp salt
2 cups chopped cooked ham
8 ounces (2 cups)shredded Gruyere cheese, divided
1 3/4 cups whipping cream
2 TBS butter, cut into bits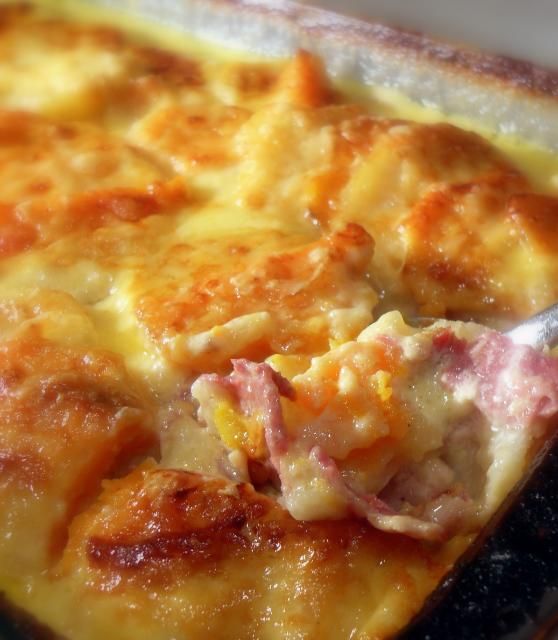 Pre-heat the oven to 200*C/400*F. Lightly butter a 13 by 9 inch shallow baking dish. Set aside.
Heat the oil in a small skillet and add the onion. Cook, stirring over medium heat until softened. Add the garlic and cook for about half a minute longer, until quite fragrant. Remove from the heat and set aside.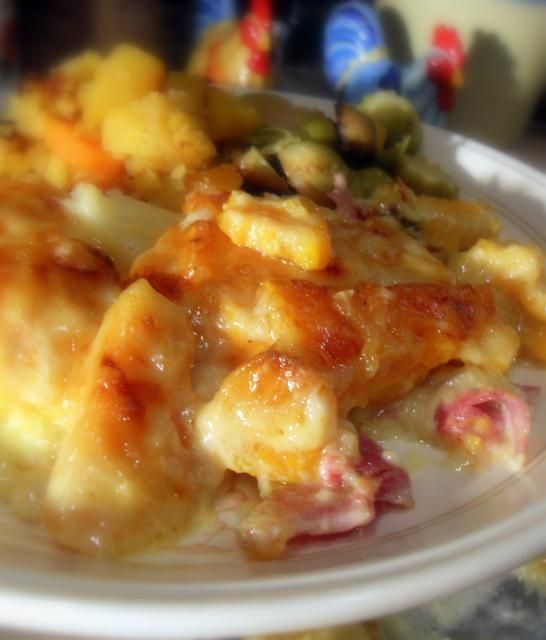 Place the sliced potatos, both sweet and baking, into a large bowl. Toss together with the flour, salt and pepper, to coat. Arrange half of the potatoes in the prepared baking dish. Sprinkle the cooked onion mixture over top. Top with the ham and finally with 1 cup of the cheese. (Save the other 1 cup for a bit later on.) Cover the cheese with the remainder of the potato mixture. Pour the cream evenly over top of all and then dot with the butter. Cover tightly with a sheet of aluminium foil, then place into the heated oven and bake for 50 minutes. Remove from the oven and remove and discard the foil. Sprinkle the remaining cheese over top and return to the oven to bake for a further 20 minutes until the potatoes are fork tender and the cheese is lightly browned. Remove from the oven and allow to sit for 10 to 15 minutes before serving. Delicious!!!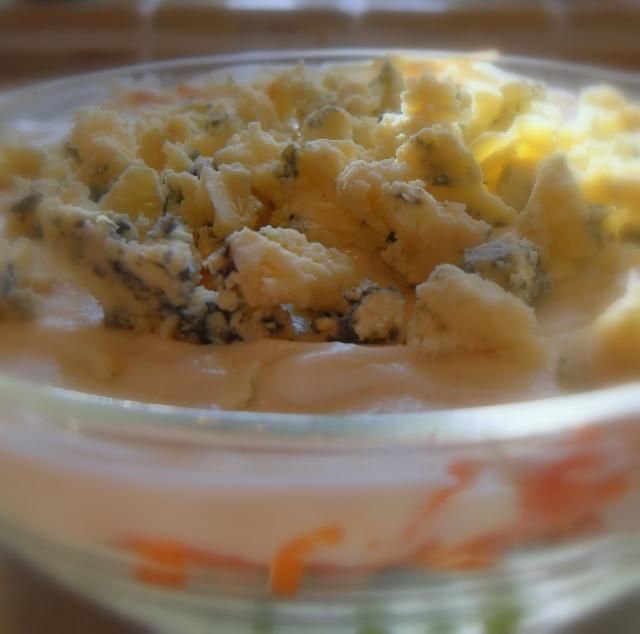 If you'd like to discover what's lurking beneath that snowy mountain of stilton and cream, hop on over to
The English Kitchen.
It's Holiday Chopped Salad! Perfect for that New Years Eve Buffet.