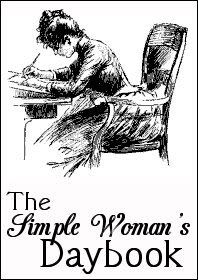 FOR TODAY, December 28th, 2009 ...

Outside My Window...
It is dark and very, very still, which is nice. It's also very cold. They are calling for more snow later this week. The only light in here is the Christmas Fairy lights in the windows. Oh what a magical feel they give to this country kitchen. I just love them. It will be sad to have to take them down in a few days. I'd love to keep them up all the time, but alas . . . down they must come. Keeping them up all year round would take away from their specialness and they'd become every day humdrum . . .
I am thinking...
About how wonderful this Christmas has been. I know, I say that every year. I guess I have just been blessed to the hilt every year eh? I am a very lucky person. And what makes that fact even more special is . . . I know it! Some people are very luckily blessed and they have no idea whatsoever. How sad hearts that cannot feel and see are . . .
I am thankful for...
All the love that surrounds me each and every day. The love of family and friends, acquaintances and most especially, the love of my Heavenly Father and His Son. I am thankful for a soft heart that is able to feel and see these things and for a humble heart that would never take them for granted.
From the kitchen...
Well, there's leftover Christmas Cake and Christmas pudding . . . some mince pies that are just begging to be eaten, a small piece of eggnog cake looking so forlorn I shall have to eat it soon and some delicious scones, one of which I am going to snuffle down for my breakfast shortly!
I am wearing...
What else but a beautiful red and white flannel nightie with the word "Grammy" embroidered on it's lapel!!! Oh, I love my new nightie so very much. Thanks so much to Anne, Anthony and Gabriel! This has been the best Christmas present of all time, and mostly because it was wrapped with their love and thoughtfulness!!!

I am creating...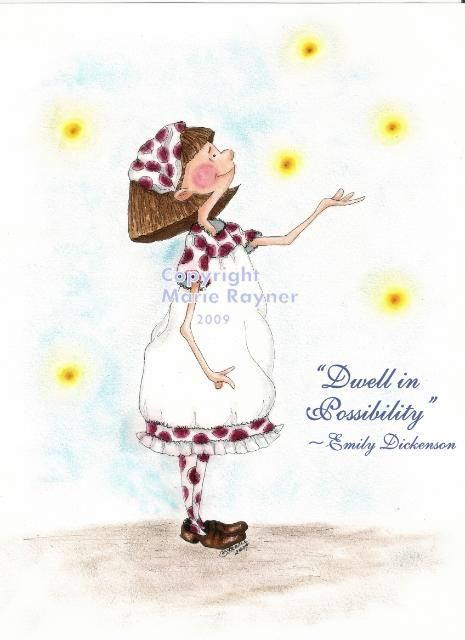 I do just love this newest piece of mine. It is my very favourite thus far. When I look back at the first ones that I started doing a few years ago, I am amazed at how much better they have gotten, really. I am a bit embarassed by the first ones, but then again . . . they are all a part of my journey. I have worked hard and developed more technique and I think I have finally found my niche. That is what it is like with a craft. You work and work at it, and eventually you get to a point where you have perfectly honed it. I think I've managed to do that . . . but then again, there's always room for improvement and a challenge to meet! That is what I love about life! It's always a challenge!! How boring it would be were it not!
I am going...

I have a few well deserved days off this week, and I am going to enjoy them thoroughly! We are having the missionaries over for their supper on Thursday evening. The moves are coming soon, and both are due to move to a new area so this will probably be our last chance to feed this pair. I will be sad to see them go. They're just lovely. Then on Friday we are having a few much loved friends over to dinner. I just love having friends over. We don't do it near often enough! But then again, I spose that is what makes it such a special occasion when we do. I think we may try to go see a film at the cinema as well. We haven't done that in a long time. Any suggestions??
I am reading...
Talk Before Sleep, by Elizabeth Berg
"Until that moment, I hadn't realized how much I'd been needing to meet someone I might be able to say everything to."
They met at a party. It was hate at first sight. Ruth was far too beautiful, too flamboyant. Not at all Ann's kind of person. Until a chance encounter in the bathroom led to an alliance of souls. Soon they were sharing hankies during the late showing of "Sophie's Choice," wolfing down sundaes sodden with whipped cream, telling truths of marriage, mortality, and love, secure in a kind of intimacy no man could ever know. Only best friends understand devil's food cake for breakfast when nothing else will do. After years of shared secrets, guilty pleasures, family life and divorce, they face a crisis that redefines the meaning of friendship and unconditional love. I am thoroughly enjoying this novel. It's what female friendship is all about. I highly recommend!
I am hoping...
I am hoping that when we get this next batch of snow, this country is better prepared! It is amazing how un-prepared we are each time. A few inches and the country comes to a literal standstill. Trains stop working, planes stop flying, cars stay at home . . . the flyways and byways of this beautiful country become virtually impassable. I suppose I am used to Canada, where at the merest hint of snow, the sanders and gritters and snow plows are out, charged and ready. Mind you snow is sometimes a daily occurance in the winter over there and they are well geared up for it. Perhaps some of the charm of a good snow over here, is the fact that it always takes us by surprise and we are always un-prepared. Do ya think? Absolutely!!
I am hearing...
I am hearing nothing but the ticking of the clock, the humming of the refrigerator, the clicking of my keys and Jess's gentle snores from over in the corner. It's very, very quiet and still. I think I'll put some carols on . . . I do love them so and we only really listen to them this time of year.
Around the house...
Right now all is tidy and neat because of Christmas. I am going to see how long I can keep it that way before I start cluttering things up again! Todd would love it if I could keep it this way all the time. He is such a neatnic! Me, I like to know I'm alive and I'm here! To me a bit of clutter
is
perfection! I love a home to look lived in and to give anyone who enters a sense that it is well loved. That's not clutter . . . that's heaven on earth!
One of my favorite things...
Is reading through my Christmas Cards as each one arrives and thinking about the people who have sent it. It's like a little visit with a lovely friend, each time. I save them each year and often take them out during the year to have a little peek and visit. One day I am going to use them for something special. I know I say that every year, but one day I'll actually surprise Todd and do it!
A Few Plans For The Rest Of The Week...
A bit of this and a bit of that and a whole lot of nothing!! Sounds good to me!
Here is picture thought I am sharing...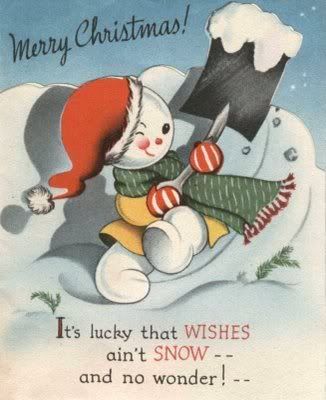 I haven't had a chance to use all my Christmas pictures this year and I just had to get this one in. I just love these retro Christmas pictures that I have in my collection, and this is one of my favourites! Don't you just love this snowman's style and that mischevious look on his face!!! I know, I do!!!
And there you have it, my Simple Woman's Day Book for today. Don't forget to hop on over to the
Simple Woman
to check out the other day book entries! (Or better yet, do a simple day book entry yourself! It's not that hard and I am betting you would enjoy it!)
I baked us some lovely scones last night to enjoy while we were relaxing and enjoying the telly. OH, but these are some delicious, but then you probably already know that. I would never share anything that
wasn't
totally scrumdiddlyumptious with you!!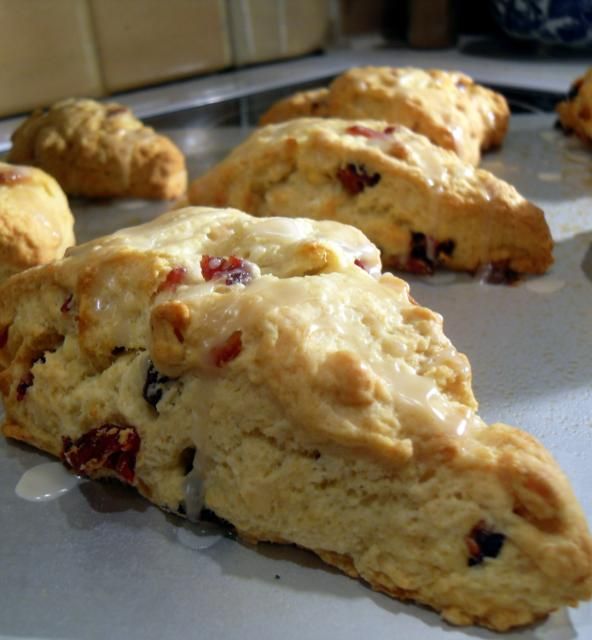 *Cranberry Macadamia and White Chocolate Chunk Scones*
Makes 8
Printable Recipe
Every buttery delicious mouthful tastes of the tartness of the cranberries, the sweetness of the white chocolate and the salty crunch of the macadamia nuts, my favourites! These are incredibly moreish!
1 3/4 cup flour
1/4 cup white sugar
2 1/2 tsp baking powder
1/4 tsp salt
6 TBS sweet butter, chilled
1/4 cups white chocolate chunks
(chop them up a bit if they are large)
3/4 cup dried sweetened cranberries
1/4 cup chopped macadamia nuts
1 large egg
1/4 cup half and half
1 tsp vanilla extract
For the Glaze:
1/2 cup sifted icing sugar
1/8 tsp vanilla
2 - 2 1/2 tsp hot water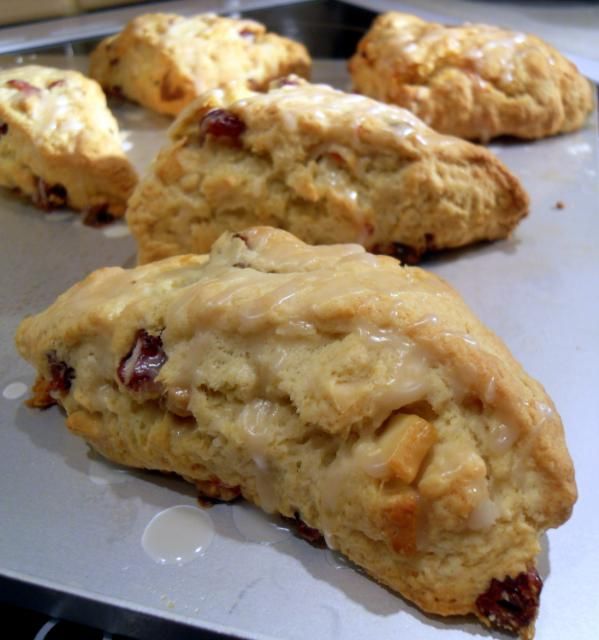 Pre-heat the oven to 190*C/375*F. Lightly butter a baking pan. Set aside.
Whisk the flour, sugar, baking powder and salt together in a bowl. Slice the cold butter into the bowl and then rub it into the flour mixture with your fingertips until the mixture has sandy appearance, resembling fine crumbs. Stir in the cranberries, chocolate chunks and nuts.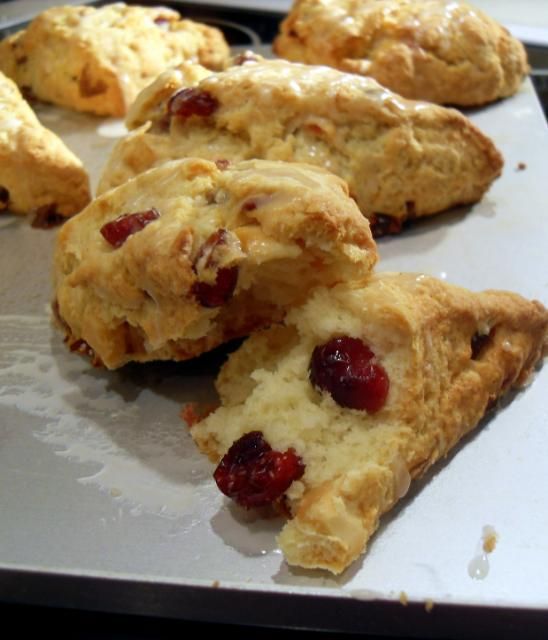 Beat the egg and half and half together. Stir in the vanilla. Stir this into the flour mixture, stirring it in with a fork and then with your hands to form a soft dough, just until blended. Roll on a lightly floured surface to a 12 inch log. Flatten the log by patting with your hands to a 3 by 12 inch rectangle, about 3/4 of an inch thick. Cut the rectangle into 4 even sized squares and then cut each square in half diagonally to make 8 triangular scones. Place on the baking sheet and bake for 15 to 20 minutes until firm and the bottoms are lightly browned. Coat with the glaze if desired.
To make the glaze, whisk the ingredients together until smooth. Drizzle over top of the warm scones.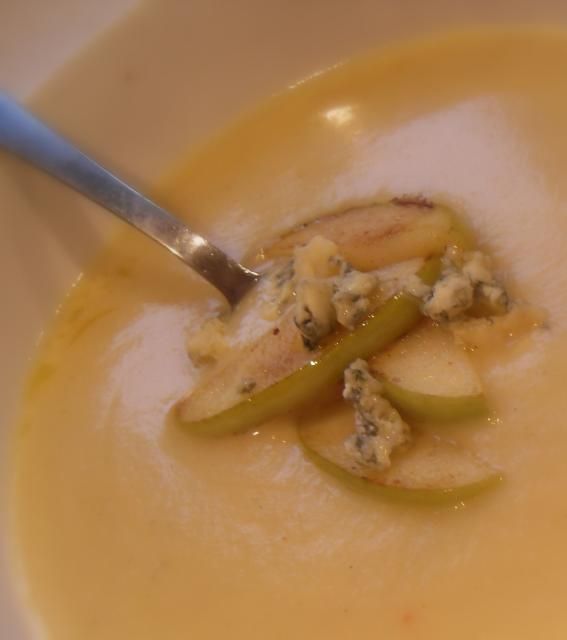 We're slurping soup over in
The English Kitchen
today. A tasty Celeriac, Stilton and Apple soup!