Light looked down and beheld Darkness,
"Thither will I go," said the Light.
Peace looked down and behld War,
"Thither will I go," said Peace
"Love looked down and beheld Hatred.
"Thither will I go," said Love.
So came the Light, and shone;
So came Peace, and gave rest;
So came Love, and brought Life;
And the Word was made Flesh, and dwelt among us.
~Laurence Housman
I think this is one of the loveliest Christmas poems. Don't you. I love that thought . . .. Light, peace, love, all in the birth of one child. All we need to do is embrace Him.
I expect everyone is quite busy today. I am busier than I thought I would be. I have promised to go and help Todd clean the chapel as it will be his last chance to get it done before Christmas and I can't think of anything I would rather do today than to help him out so that he gets home that little bit earlier. It seems I will also have to go to the shops to pick up all my Christmas veg and essentials as well, which is something that I had thought to not have to do this year, but . . . my Abel and Cole delivery did not show up yesterday and I had ordered the special Christmas Veg box which would have had everything I needed in it. It's a bit of a nuisance and I will be complaining big time. They have really let me down. I absolutely hate going into the shops on Christmas Eve. They are always just heaving and they really do nothing at all to boost the spirit, but one must do what one must do. If it was only going to be Todd and I for Christmas dinner I probably wouldn't bother and just try to make do with what I have in house, but with company coming I really can't do that.
Never mind, it's Christmas and I'll just make the best of it! There is a reason for everything and I am sure that there is a reason that I am to go to the shops today. How exciting a thought! Who knows what will happen! I shall carry my Pass Along cards just in case!
We had dreamt of a White Christmas and almost got one, with the advent of snow just a week ago, but the rain is pouring down as I speak and so I expect by the time tomorrow morning rolls around it will indeed be the "Wet" Christmas that we are so used to over here! And really that is the best thing, as they are just not geared for snow removal over here and having a White Christmas would have made travel very difficult for people, so it's best this way. Better that we be safe and wet. ☺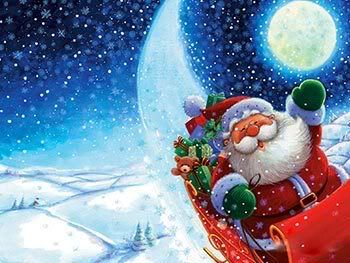 I came home from work a bit early last night and whipped up a curry for Todd and I. It was pretty cosy. The little fella from next door was here reading his book of silly jokes to us, all knock knock's and what do you get's. It was good for a laugh and we do enjoy him so. I had a few jokes to share with him as well. It kind of gives me the experience of what it would be like had we a grandson that lived closer and that is really a sweet blessing from the Lord. He is getting so big now. He was only 3 when we moved here and now he is 9 going on 10. Anyways, I let him taste the curry paste as did I, and we both decided that it was far too hot to be adding a full teaspoon full!!! We are not blow your socks off curry people and neither is he! This is a very tasty curry though, adapted from the book
"Dish Entertains,"
by Trish Magwood.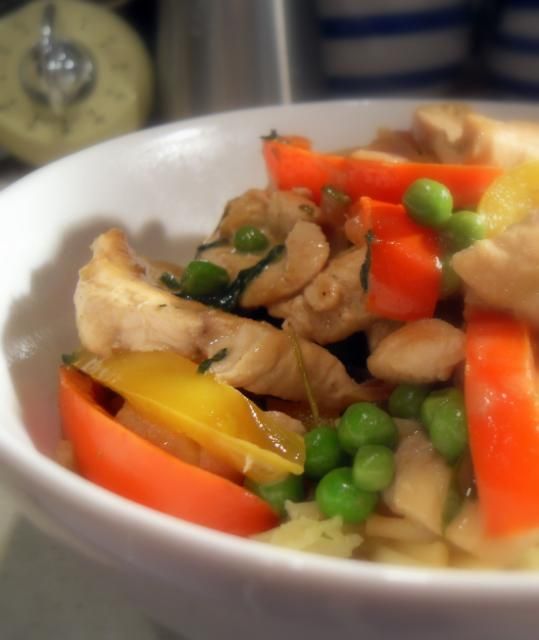 *Simple Green Thai Chicken Curry*
Serves 6
Printable Recipe
This is very tasty, but does pack some heat. I suggest you toy with the amount of curry paste you use according to the amount of heat you like. We don't like much so I usually only use half this amount.
2 tsp vegetable oil
6 small boneless, skinless chicken breasts, cut crosswise into strips
1 tsp green curry paste (Or less as you prefer)
1 small red onion, peeled and sliced into half moons
1 banana shallot, peeled and minced
1/2 cup chicken stock
1 cup coconut milk
2 tsp fish sauce
1 red pepper, seeded and slivered
1 yellow bell pepper, seeded and slivered
1/2 cup frozen petit pois
the leaves from a small bunch of basil, cut chiffonade
salt to taste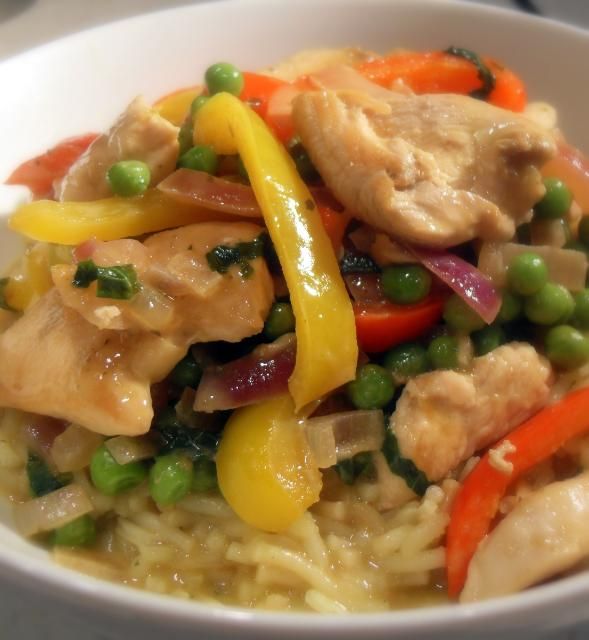 Heat a large saute pan over medium high heat. Add the vegetable, swirling to coat. Brown the chicken strips all over and remove with a slotted spoon and set aside. Stir in the curry paste, cooking briefly just to brown. Don't let it burn. Add the onions, shallots and peppers. Cook and stir just until the onion begins to soften. Add the stock and stir up any browned bits on the bottom, then add the coconut milk and fish sauce. Bring to the boil. Reduce the heat and add the chicken back to the pan. Cook for several minutes to ensure the chicken is cooked all the way through. Stir in the frozen peas and the basil. Cook an additional two minutes. Taste and season with salt as needed. Serve hot with some basamati rice if desired.
Over on
The English Kitchen
today, a delicious skillet beef and pasta dish, quick, hearty, and guaranteed to please a hungry family.