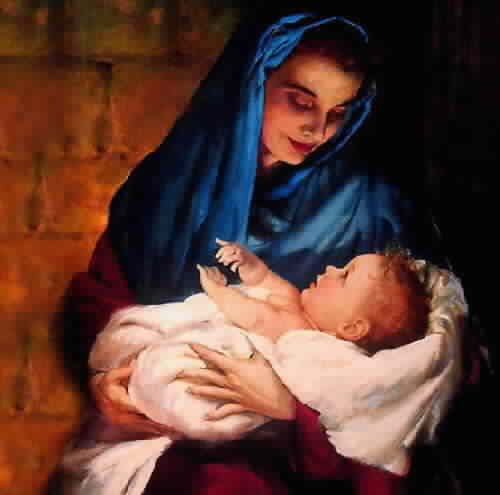 Children often have an amazing talent for providing wonderful explanations in instances where adults are baffled. Two sisters were sat looking at a book of religious paintings and came across a picture showing the Virgin Mary and Baby Jesus.
"See," said the eldest sister, "that's Jesus and that's his mother."
"But, where is his father?" the younger one wanted to know.
The elder sister thought for a while and then came up with the answer. "OH . . . he must be taking the picture of course!"
Great thinking! It works for me!
I've had such a busy week this week. The time just seems to have flown by and here we are at the end of it! Not that I'm complaining mind . . . I like Friday's just as much as the next person! Is it just me, or does time seem to be passing by at a faster rate than ever??? Possibly it's my age, which is a scary thought. Does time pass quicker and quicker as one gets older??? I look at some things which younger women do and all that they manage to pack into a day and then I look at my days and I wonder how on earth they do it!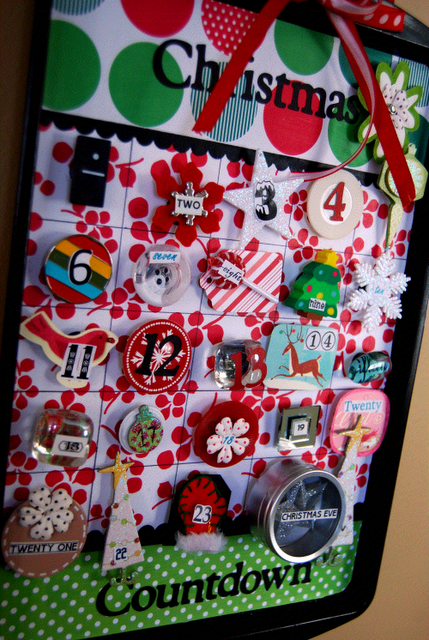 Like my friend Jen of
Tater Tots and Jello
. She is the mom of four busy kids and still finds time to do all these amazing craft projects amongst other things! Her home looks beautiful and immaculate. I was so lucky to be able to meet Jen in person last winter and she is such a dear person, every bit as sweet and beautiful as she is on her page. Jen, I want to know your secret! How do you pack so much into your days and yet still stay sane and as beautiful as you are?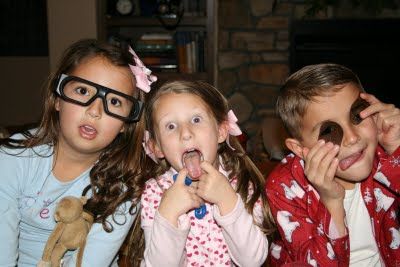 Then there is Erin of
Prudence Pennywise.
She has a passle of children and a job and yet . . . she manages to do all these lovely things with her family and cook up these tasty meals on a budget and then write about them in a very entertaining way almost every day! This year she even did Thanksgiving for 40 at her house! She amazes me! How does she do it???
And don't get me started on my friend Diane, of
Duda Daze
! She has three lovely boys and a great hubbie, house and dog and yet almost every day she managed to churn out lovely pieces of art that dazzle and amaze me. Her talent is seemingly unlimited and her home and family so wonderful. She keeps a beautiful home, takes great care of her family, creates these amazing wonders of art and what's more sells them almost immediately upon posting each and every time. Di, I really want to know your secrets!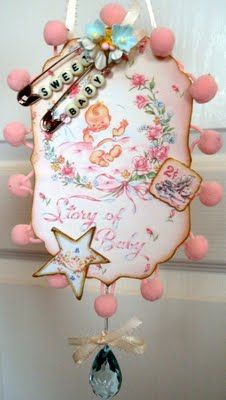 One of my newest friends, Julie of
A Vintage Chic
, creates these amazing cards almost every day and still manages to take care of her home and family. Not only that but she also works for her local country park as a naturalist and she teaches the local children about the plants and animals in their area, taking them on hikes etc. in the springtime and then in the autumn she visits the schools, taking her show on the road so to speak! Julie, you amaze me!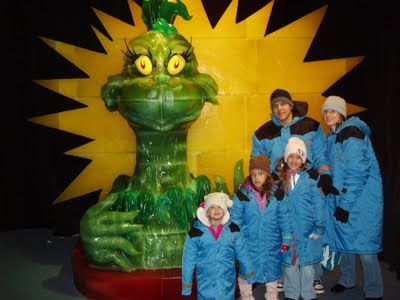 I just can't not mention my friend Holly of
My Kids Say I'm Silly
. She has 3 lovely girls, and an amazing husband and a host of wonderful friends, not to mention a brand new puppy, and she fills her days with lovely family activities and loads of fun and her house looks wonderfully immaculate and her children so happy. She's an amazing wife and mother and I just wish I knew her secrets too, for packing as much as she does into her life each day.
And these are just a few of the lovely ladies I try to visit as much as I can during the week. There's ever so many more. Each one as fascinating and incredible as the rest. You can see them all over there in my link's list! I get tired just thinking about all the wonderful things they get up to each week. They truly do amaze me, each and every one, and if I ever am able to find out exactly how they do it all . . . I won't be greedy with the information . . . I'll share it with all of you. I promise!
Here's a quick and easy dish to use with Chicken Breasts that's every bit as delicious as it sounds, I kid you not! Cheese, Bacon . . . Chicken. I'm there!!!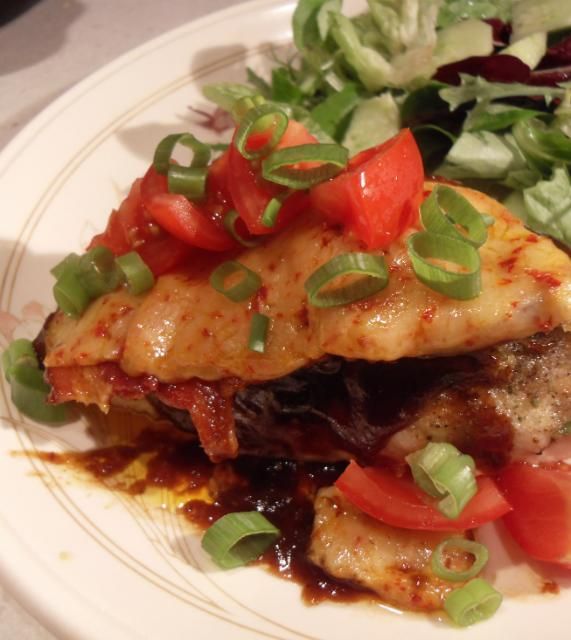 *Cheese and Bacon Chicken*
Serves 4
Printable Recipe

Chicken breasts, crumbed and baked, and then slathered in barbeque sauce, cheese and bacon. Need I say more?
4 boneless skinless chicken breasts
1 tsp ground black pepper
1 tsp garlic powder
1 tsp Italian Seasoning
4 TBS fine dry bread crumbs
4 tsp butter
18 ounces barbeque sauce
8 slices of streaky bacon, cooked and then crumbled
4 thick slices of your favourite cheese
(I used a strong cheddar filled with smoked sweet peppers in this one)
1/4 cup chopped spring onion
1/2 cup chopped fresh tomatoes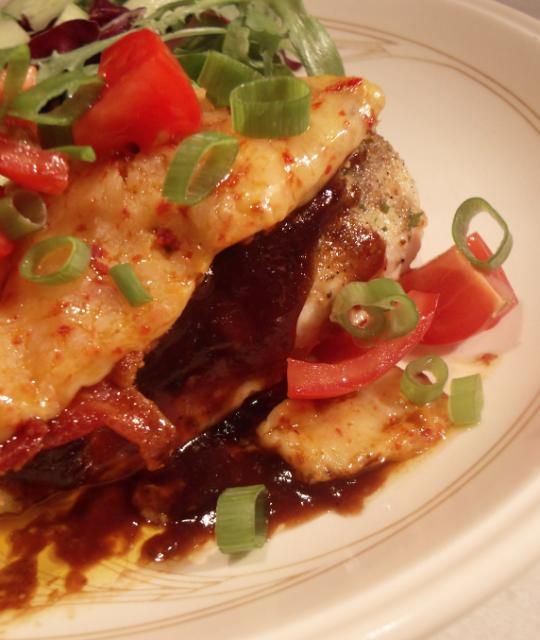 Pre-heat the oven to 350*F/180*C. Lay your chicken breasts in a lightly greased baking dish large enough to hold them without them touching each other. Sprinkle each one with some pepper, garlic powder, Italian seasonings and then the dry bread crumbs, dividing them evenly amongst each. Dot each one with some butter and then bake them in the oven for 20 to 25 minutes, just until the chicken is barely done. Do not over cook. Remove from the oven and slather each one with barbeque sauce, making sure they are completely covered. Evenly divide the bacon between each and then top each with a tasty slice of cheese. Return to the oven for about 5 to 8 minutes, or until the cheese is melted. Remove from the oven and place on heated serving plates, garnishing each breast with some of the onions and tomatoes. Serve immediately.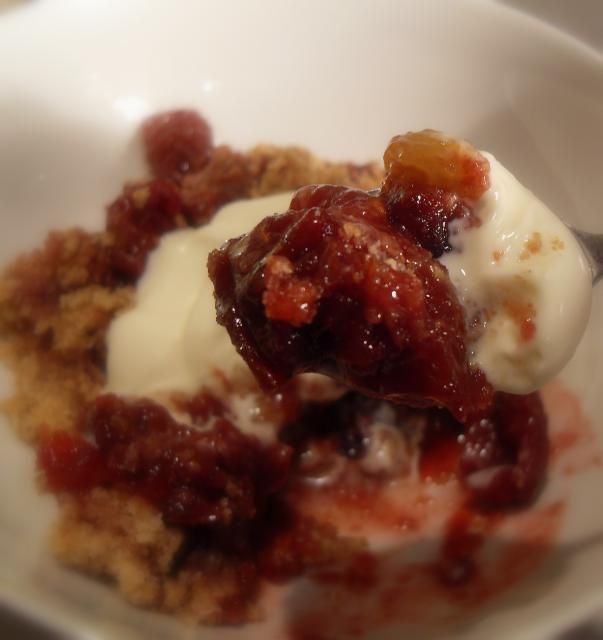 Make sure to check out the Mulled Winter Fruit Crumble I have on
The English Kitchen
this morning. It's just lovely!