FOR TODAY, September 8, 2015
Outside my window ...
The sun isn't quite up yet, but I can see light beginning to show on the horizon. The days are really shortening now.
I am thinking ...
I have a fasting blood test this morning. I couldn't eat much yesterday afternoon and evening ( I had a yogurt and some soup) because I had a molar pulled in the morning and now I can't eat anything at all until after I go to the Docs, so it's safe to say I am trying not to, but I am pretty much thinking about what I want to eat!! I didn't plan that very well did I??
I am thankful for ...
I am truly thankful for all the blessings in my life . . . love, a home, food, clothes, friends, family. Safety. I am more blessed than a LOT of people in the world. I hope and pray I never take it for granted.
In the Kitchen ...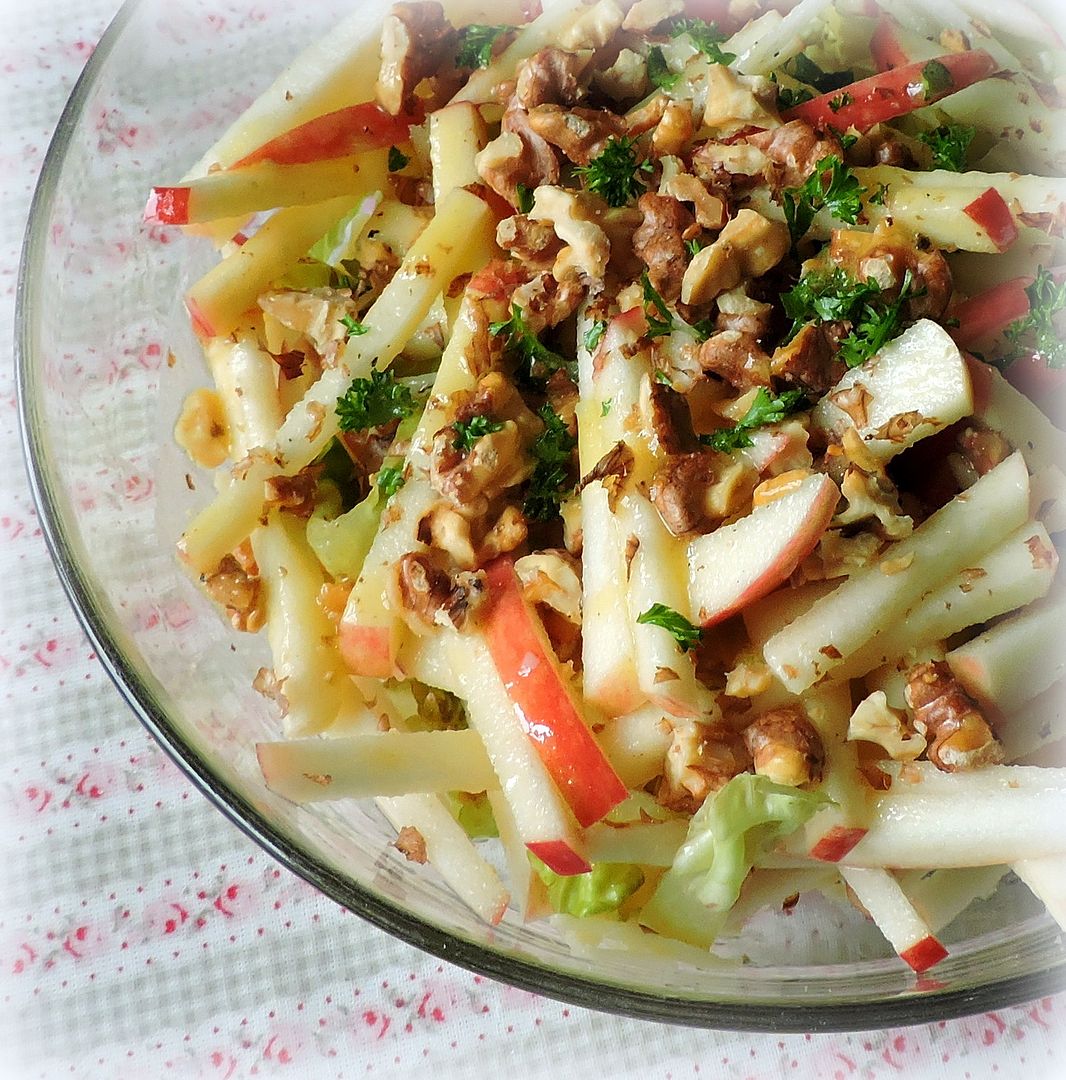 A delicious
Harvest Apple Salad
. Some good!
On my "To Cook" list ...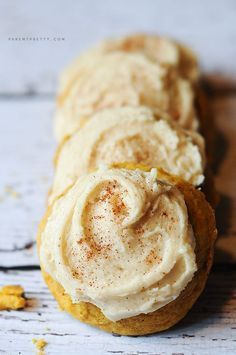 These
Melt In Mouth Pumpkin Cookies
from Parent Pretty are looking pretty good this morning!
I am creating ...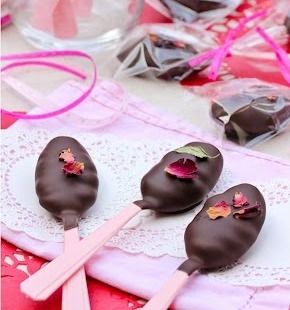 These Chocolate and Rose Truffle Spoons are really pretty. They would be a fab addition to a tea party or any ladies's luncheon. Found on
Kitchen Tips N Recipes.
Easy to make book marks, using ribbons, buttons etc. Found on
Busy Beehives
.
Free Printable Pie Tags for gifts from
Craft Gawker
.
Pumpkin Stamps using apples. Complete tutorial on
Frugal Mom Eh.
Make your own Halloween Treat Pails using stuff you find around the house. From
Remodelando La Casa.
A complete tutorial.
I am reading ...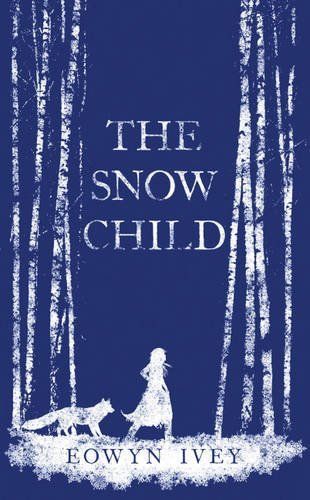 The Snow Child
, by Eowyn Ivey.
I am totally in love with this book. A little girl plays in the snow with a childless couple, but is she real? The Russian fairy story of Snegurochka has been embroidered by writers from Alexander Ostrovsky to Raymond Briggs. It is the story of a snow man or woman who comes to life, and draws her creators into a magical world. Then she melts. In some versions, the power of love destroys her. In others she gets too close to a campfire and disappears. In this debut novel, The Snow Child, Eowyn Ivey sets the tale in the wilderness of Alaska, where the elderly couple of Jack and Mabel have relocated, after the birth of a stillborn child. One evening after a playful snowball fight, Jack carves a girl out of snow. In the morning, the couple catches sight of a tiny child running among the pines. She is dressed in the snow girl's red hat and gloves. When she presses her nose to the window, her face is a mirror of the one Jack carved out of snow. The couple has created a daughter. But is she real? She won't be pinned down, and always runs away into the landscape. Her tracks are covered by morning. Nobody else believes she exists, and none of their neighbors can see her. Mabel's friend Esther is skeptical. Winters are long in Alaska, she says. "You start seeing things you're afraid of … or things you've always wished for."
This is a magical tale and I am really enjoying reading it for the second time. I read it first a year or so ago. The imagery of Alaska is fantastic and you find yourself wondering all the way through is she real? I highly recommend.
I am hoping ...
That I don't develop a dry socket this time. Last time I had a tooth pulled, I did and it really hurts.
Makes me smile ...
Mother Deer and triplets, by
Kristl on Flickr
.
I am learning ...
Nothing specific at the moment, just trying not to think about food. haha
Dreamin about ...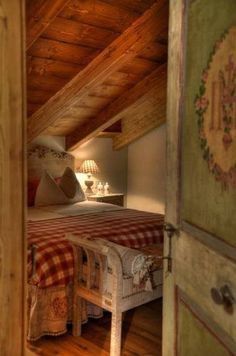 Under Eaves bedrooms . . .
Potting sheds . . .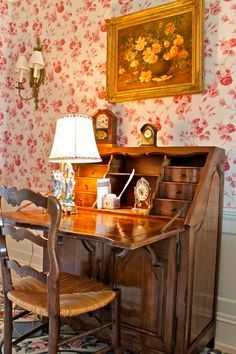 Beautiful spots to write in . . .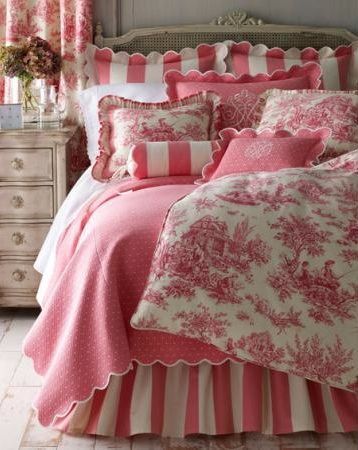 Beautifully co-ordinated bed linens . . .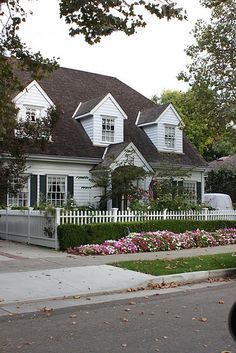 White picket fences . . .
A favourite quote for the day ...
(¯`v´¯)
`*.¸.*´Ƹ̵̡Ӝ̵̨̄Ʒ ¸.•´¸.•~♥♥♥~•.~
ღϠ₡ღ¸. ✻´´¯`✻.¸¸.Ƹ̴Ӂ̴Ʒ.
(¸.❀⁀⋱‿✿"`* .¸.*
✻ღϠ₡ღ¸.✻´´¯`✻.¸¸.Ƹ̴Ӂ̴Ʒ..
Life is like a field
in which we sow from day to day . . .
seeds of good or evil
by the things we do and say.
Some will garner sheaves of joy,
and some will reap in tears . . .
when they come to gather in
the harvest of the years.
~unknown
One of my favourite things ...
Anything Vera Mouse by Marjolein Bastin. Love her art.
A peek into my day ...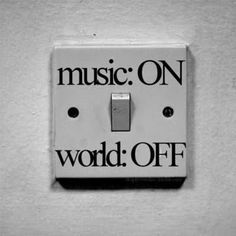 I love listening to music. I listen to it while I do housework, or while I am cooking, or painting, etc. Music is something which embroiders all my days.
And that's my daybook for this week.
⋱ ⋮ ⋰
⋯ ◯ ⋯ Take time to enjoy the small *´¯`.¸¸.☆
⋰ ⋮ ⋱ blessings in life.*´¯`.¸¸.☆
✿¸.•*¨`*•..¸✿ ✿¸.•*¨`*•..¸✿ ✿¸.•*¨`*•..¸✿
╬♥═╬╬═♥=╬╬═♥╬╬═♥╬╬═♥=╬╬♥═╬
░░░░░░░░░░░░░ ░░░░░░░░░░░░░
Wherever you go and whatever you do, I hope there's a great day ahead of you! Don't forget!
═══════════ ღೋƸ̵̡Ӝ̵̨̄Ʒღೋ ═══════════ ⊰✿░G░O░D⊰✿⊰L░O░V░E░S⊰✿⊰░Y░O░U░⊰✿
═══════════ ღೋƸ̵̡Ӝ̵̨̄Ʒღೋ ═══════════
And I do too!!