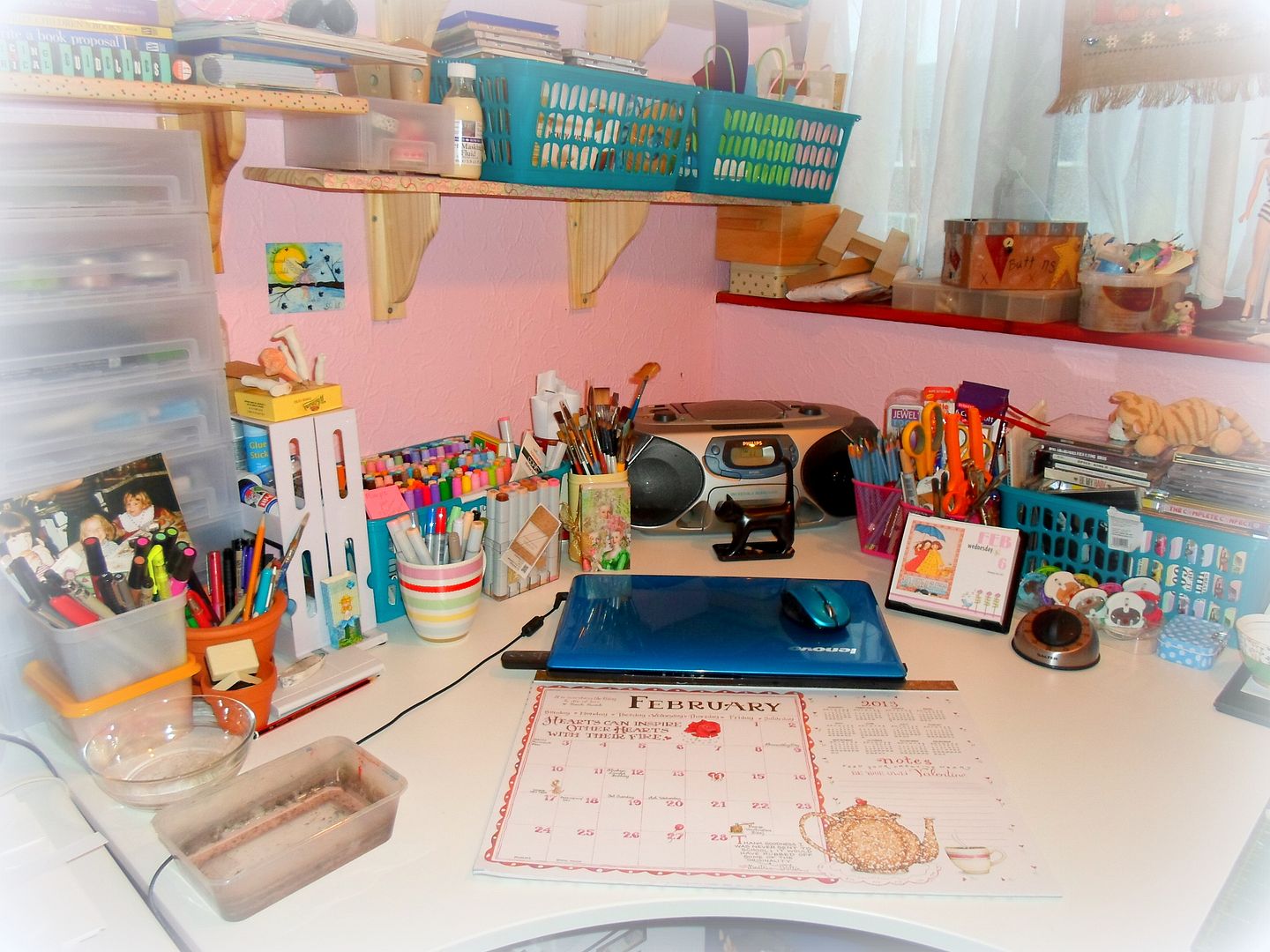 Yes . . . this is an old photograph of my craft room. I think it is from February 2013, which is probably the last time my craft room looked so neat and tidy. I don't know how other crafters are, but most of the time when I am working on projects . . . which is . . . ahem . . . most of the time . . . my work area is a bit of a tip, with bits of this and bits of that all over the place. It drives Todd to distraction. He is always saying . . . "I don't know how you can work like this."
But then he says the same thing about the kitchen. Too much stuff.
Neither my kitchen nor my craft room even remotely resemble any of the photographs that I have seen in a magazine. . . . with a place for everything and everything in it's place.
But then again . . . I think that is a bit like my brain. Cluttered. Too much stuff . . . but when I really want to get down to brass tacks . . . I can put my finger onto anything I need.
I seem to be losing words however. Words or names of objects. So far it's only obscure things, and I can't tell you what they are because I can't remember. But every once in a while I am faced with a dilema . . . like . . . what is a surgeon?? Not too long ago we were watching a television program and there was a door with a nameplate on it saying "Surgeon." I remember looking at it and thinking, I should know what that is, but all I could think of was a fish. Yes, I was confusing the word Surgeon with Sturgeon. I had to ask Todd . . . what is a Surgeon? And then of course . . . I totally made the connection!
I'll know I'm in trouble when I have to label the toaster.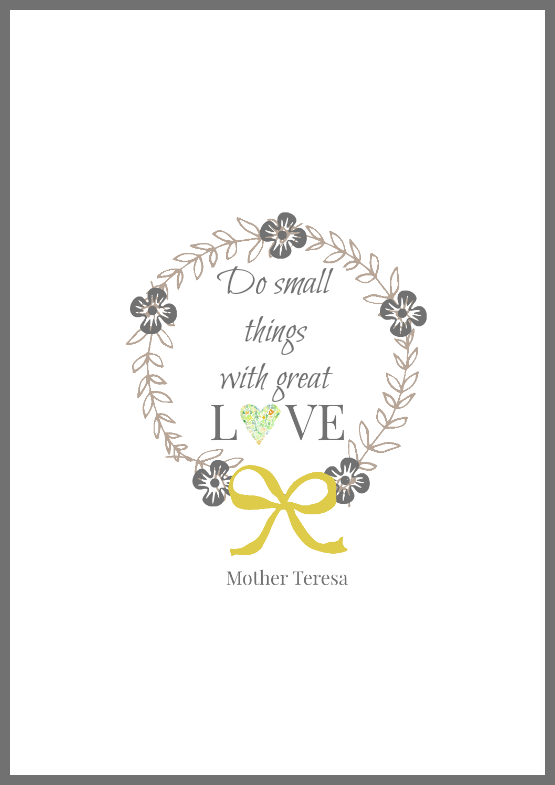 We drove out to Wrexham for our meeting yesterday afternoon, to find out what we will be doing on our Mission. I think we will be fairly busy over the next eighteen months, but in a very good way. We will be working in tandem with the Senior Missionary Couple that we have in the Chester Ward area already. They are from America. We will have a very large area to cover . . . all the way from Porthmadog to Liverpool and everywhere in between. It will involve visiting all of the wards in between those areas. We will only be attending our home Ward in Chester about once a month, with us being in other Wards the other three Sunday's of the month. We'll be assisting the full time younger missionaries, co-ordinating with the Ward Mission Leaders, giving talks, etc. There will be some days that we may not have much of anything to do . . . but there will be others when we feel like chickens running around with our heads cut off. But mainly we will be serving . . . the members, the missionaries, inactive members, etc.in whatever way we are needed. (And there is help for the petrol from the Missionary fund if we need it, so that is a bonus . . . plus we will be given a Missionary Cell Phone to use as well which will help with those costs also.)
It's a very exciting time. And I don't mind saying a little bit scary . . . until we find our feet. But . . . the Lord qualifies those He calls and so everything will eventually fall into place and we will be surely blessed by our serving and, like the youngsters . . . I am sure that at the end of it all we will be sorry to see it finish!!
Oh, and something I've wanted to talk about for a long time to see if I am alone in this. There are two trends which I have noticed that I just don't understand . . .
One - kissy lips in photos. Almost every photo I see of a young
girl
person lately they seem to be affecting this kissy lip pose. Like air kissing, but without anyone to kiss. What's this all about? Where did it come from? Will it ever go away? Does it only bug me?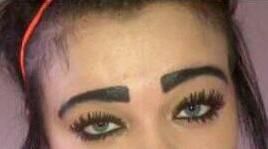 Umm . . .
Two - at the risk of offending Liverpudlians . . . what is commonly known as the . . . "Scouse Brow." I see it all over the place. A girl got on the bus I was on one day and it looked like two black butterflies had landed and taken root over her eyes. Do they honestly think this looks good? Do they think this enhances their natural beauty? Again . . . where did it come from and will it ever go away? And . . . does it only bug me?
Or maybe I am only jealous because at my age (almost 60) I no longer have eyebrows or lips. I am developing a killer beard, however. But that's a whole 'nother story.
And with that I will leave you with a thought for today . . .
❥✻❥.¸¸.✿¨¯`❥✻❥¸¸.✿¨¯`❥✻❥.¸¸.✿¨¯`❥✻❥
When life is sweet, say thankyou and celebrate.
And when life is bitter, say thankyou and grow.
~Shauna Neiquist
❥✻❥.¸¸.✿¨¯`❥✻❥¸¸.✿¨¯`❥✻❥.¸¸.✿¨¯`❥✻❥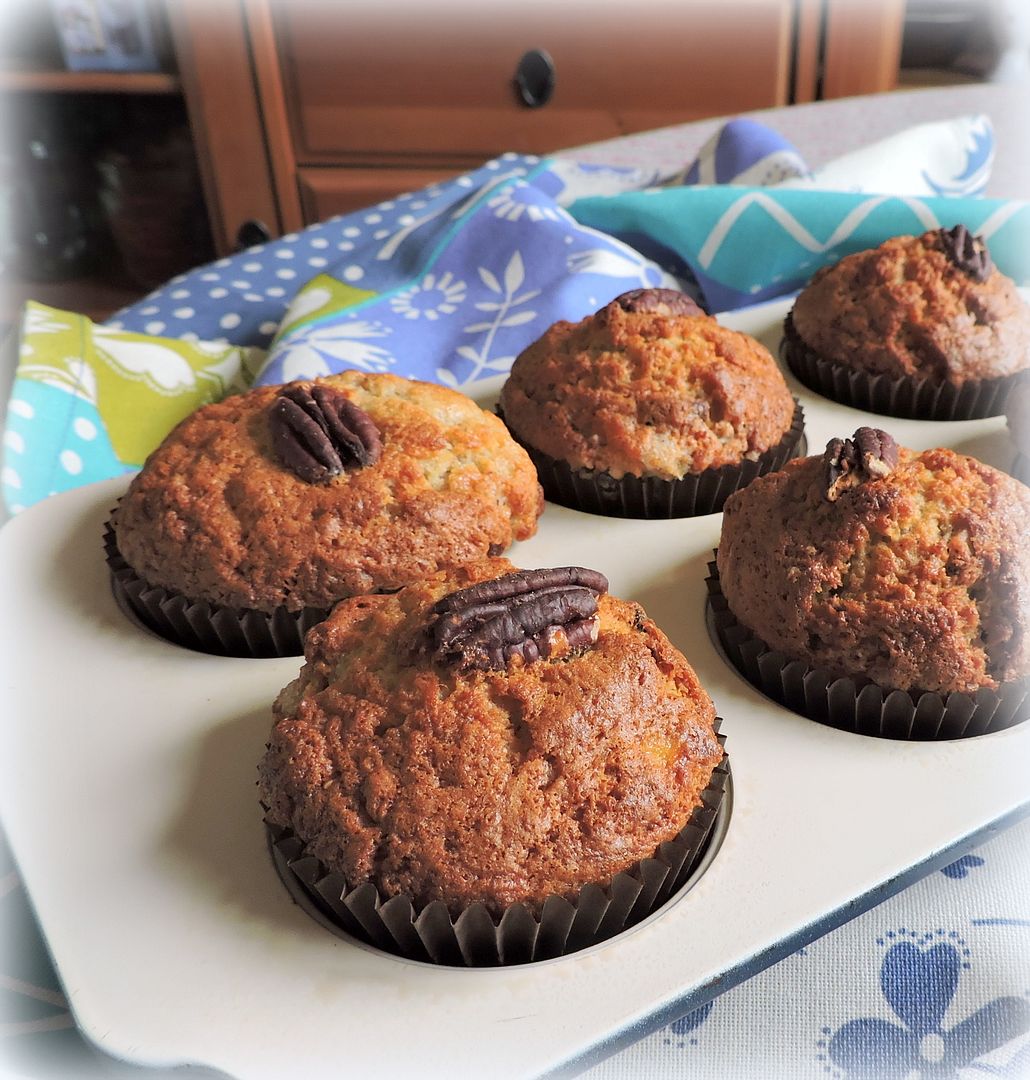 Baking in The English Kitchen today . . .
Banana Nut Muffins
for the smaller household. It makes only six.
Have a wonderful Wednesday. Don't forget!
═══════════ ღೋƸ̵̡Ӝ̵̨̄Ʒღೋ ═══════════ ⊰✿░G░O░D⊰✿⊰L░O░V░E░S⊰✿⊰░Y░O░U░⊰✿
═══════════ ღೋƸ̵̡Ӝ̵̨̄Ʒღೋ ═══════════
And I do too!!