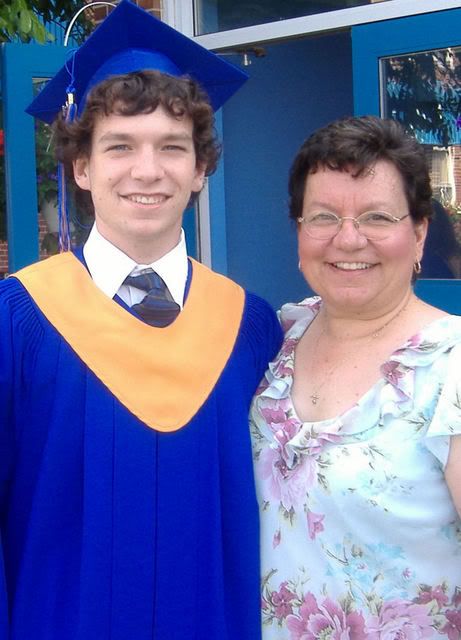 I don't normally like photographs of myself. I never have. This one is an exception however because it was taken at my youngest son's high school graduation about eight years ago now. I must be getting alzheimers because I can't remember exactly when it was (brain like a sieve) but he's almost 26 now (in December), so it has to be at least that, if not longer.
I don't know why I hate having my photograph taken. It's always been so, probably since puberty hit. In almost every photograph of myself after the age of ten, I look uncomfortable. This one isn't so bad however. I just look happy to be with my son. I like that.
And that's number one of this week's Five Things About Me Post!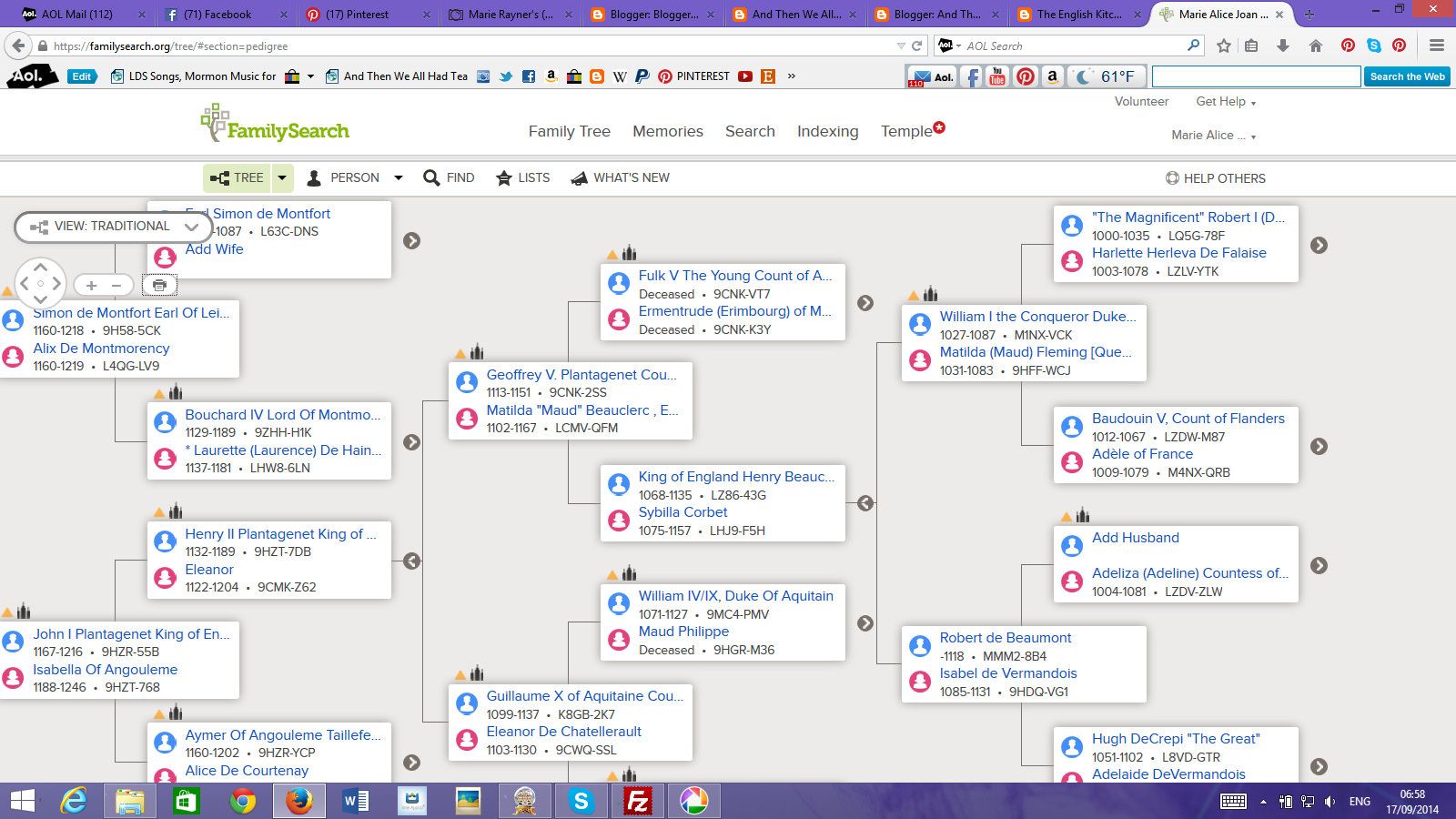 I know you probably can't see it. The print is rather small, but this is one line of my family tree. I can trace my family tree back to William the Conqueror and beyond. Rather amazing I think. He was the first Norman King of England, beating King Harold's armies at Hasting in 1066. I have quite a few royals in my pedigree (haha love that word), but I would imagine most people do. Unfortunately none of the titles (or money) trickled it's way down to me! I'm also related, however distantly, to the Duke of Wesminster who is the richest man in England. Once you hit royalty in your family tree, the rest of the tree just opens up to you and you can get really far back. That's probably because really great records of royalty were kept. My Aunt Freda would have loved this. She was always our family historian and we spent many hours talking about the subject.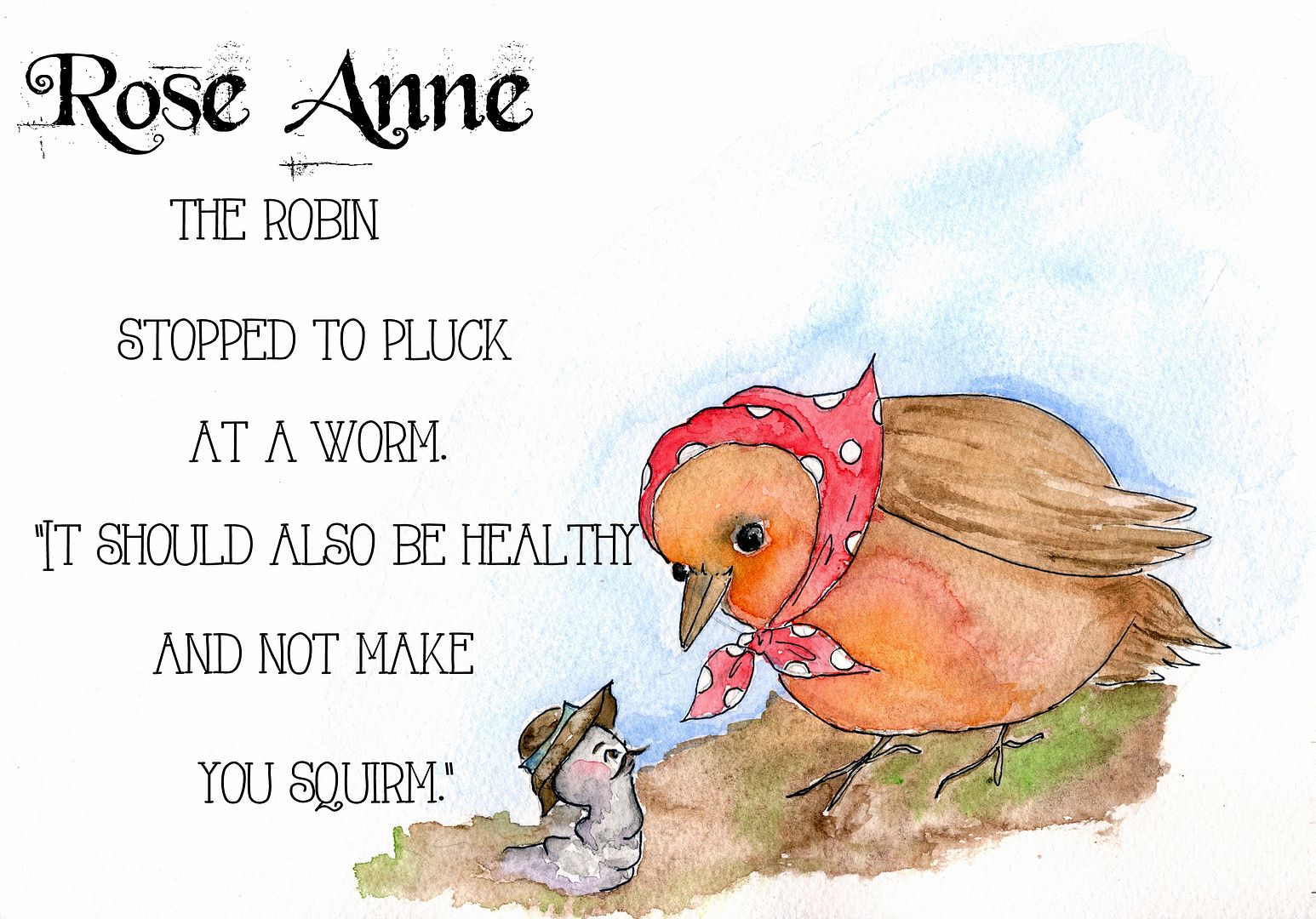 I like to write and illustrate Children's stories. This is just one page of one that I did a year or so ago. It's about a caterpillar that wants to eat pie. Most of the time my stories rhyme . . . all of the time pretty much actually. I think in rhyme. I've always loved to write rhyming poems. And especially loved to write them with children in mind . . . which is rather odd actually because I am not always that comfortable around children per se . . . probably because I was teased a lot as a child. Those who are a bit different always are. It helped to make me stronger however, so it's probably a good thing.
(Scotney Castle in Kent)
I love to visit old homes, castles and gardens. I could spend hours in them, just looking at everything and drinking it all in. I am a lover of history anyways (that is one thing Todd and I have in common). I love photographing flowers and nature. I was thinking the other day I should try painting some of the photos I have taken . . . like I could fit one more thing into all that I do with my spare time, lol I am deeply fascinated with the lives and homes of people in the past. Actually people fascinate me full stop . . . which leads me to fact number five . . .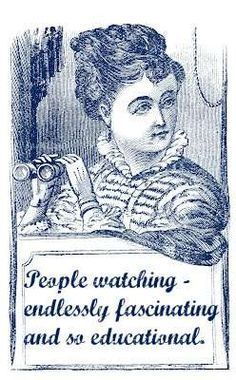 I love watching people. From Wikepedia:
People watching or crowd watching is the act of observing people and their interactions, usually without their knowledge. It involves picking up on idiosyncrasies to try to guess at another person's story. This includes speech in action, relationship interactions, body language, expressions, clothing and activities. Eavesdropping may accompany the activity, though is not required. For some people it is considered a hobby, but for many others it is a subconscious activity they partake in everyday without even realizing.
I hasten to add I am not an eaves dropper, although I do love to imagine what their lives might be like, etc. Everyone has a story. I find that fact alone fascinating. Perhaps it is the artist in me, or the writer . . . but I just love observing people and their uniqueness.
Some people watch trains. Some people watch planes. I watch people. It's kind of like Bird Watching except that I don't keep a journal.
I hope that doesn't make me creepy . . . I see myself as just an observer of human behavior.
I don't out and out stare . . . that would be rude.
And that's my five things about me for this week!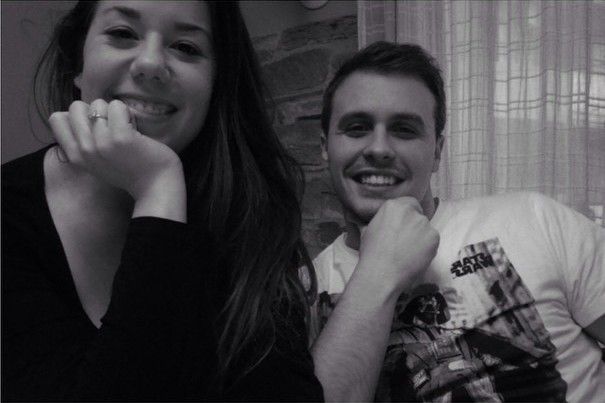 This cute young couple stopped by last night for a visit. It was so nice to finally meet Jose in person. He is even more handsome in person than he is in his photographs. I told them they are going to have beautiful children together some day and that they will always have a baby sitter! Mitzie was so excited to see Ariana and she loved Jose. She was actually sulking when they had to go!
And with that I will leave you with a thought for today . . .
❥✻❥.¸¸.✿¨¯`❥✻❥¸¸.✿¨¯`❥✻❥.¸¸.✿¨¯`❥✻❥
Without exception . . .
all try their hardest to reach the same goal,
that is,
Joy.
~Augustine
❥✻❥.¸¸.✿¨¯`❥✻❥¸¸.✿¨¯`❥✻❥.¸¸.✿¨¯`❥✻❥
Cooking in The English Kitchen today . . .
Little Gems with a Creamy Basil Dressing
.
Have a wonderful Thursday. We have a pretty busy one ahead of us. We are having the Missionary Sisters for supper and then we have a meeting tonight. Easing our way into the mission slowly . . . I expect that next week, it will be full steam ahead!
Don't forget!
═══════════ ღೋƸ̵̡Ӝ̵̨̄Ʒღೋ ═══════════ ⊰✿░G░O░D⊰✿⊰L░O░V░E░S⊰✿⊰░Y░O░U░⊰✿
═══════════ ღೋƸ̵̡Ӝ̵̨̄Ʒღೋ ═══════════
And I do too!