"The world is fairly studded and strewn with pennies cast broadside from a generous hand. But who gets excited by a mere penny?...It is dire poverty indeed when a man is so malnourished and fatigued that he won't stoop to pick up a penny. But if you cultivate a healthy poverty and simplicity, so that finding a penny will literally make your day, then, since the world is in fact planted with pennies, you have with your poverty bought a lifetime of days. It is that simple. what you see is what you get." ~Anne Dillard

A few of the small and wonderful things which bring untold joy into my life. It's the small things in life which truly mean the most. Simple abundance . . . it's the best.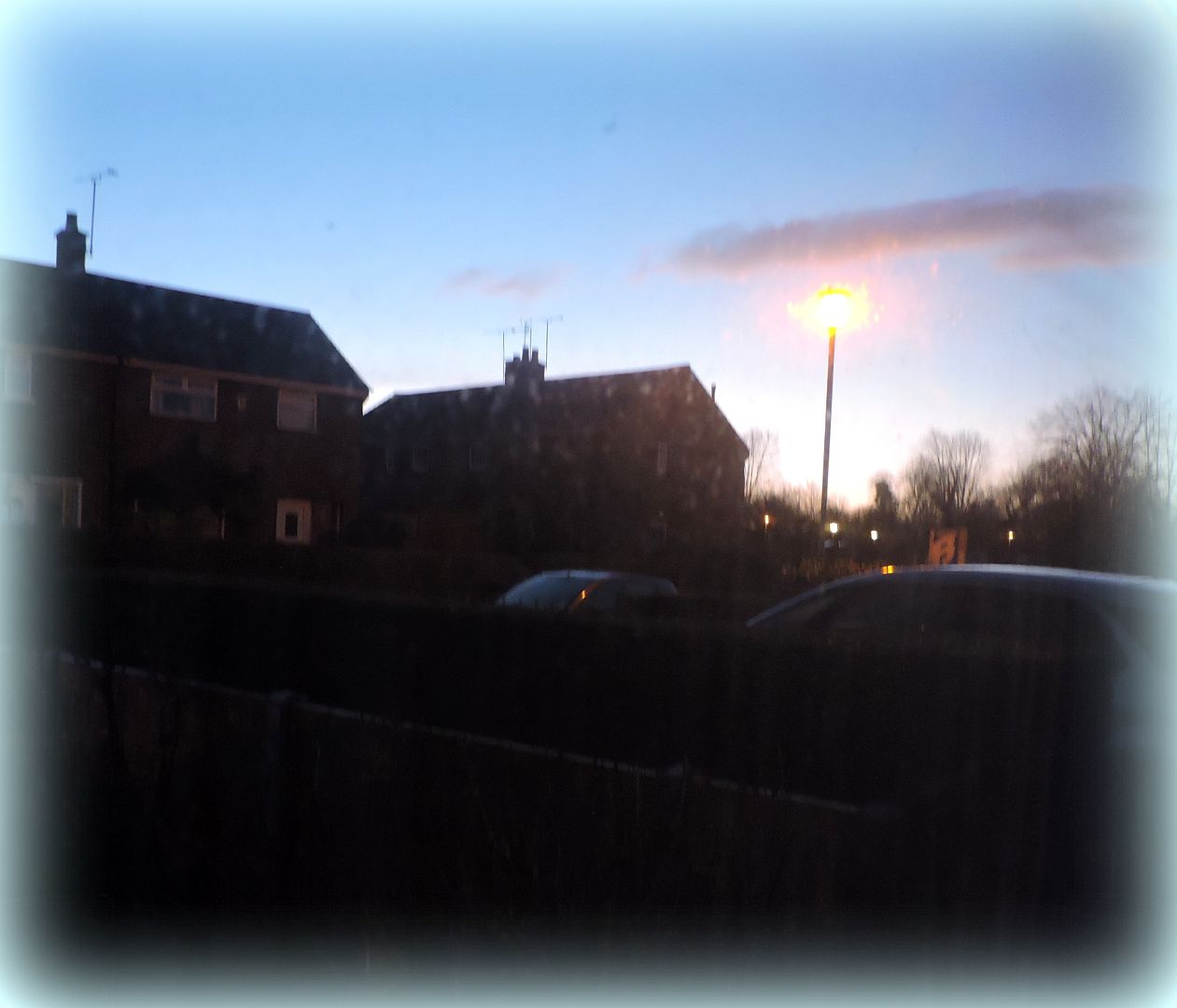 Being an early riser. I get to watch the sun rise every morning. This is the view from the window in front of the computer in the lounge. I get to see this every morning as I sit here and pen/type my thoughts to you. It may not be as spectacular a view as mountains or a lake would be, but it is my view and I am grateful for it. Todd never gets to see this. He's always still in bed snozzing away. Sunrises are a gift. I think so at any rate!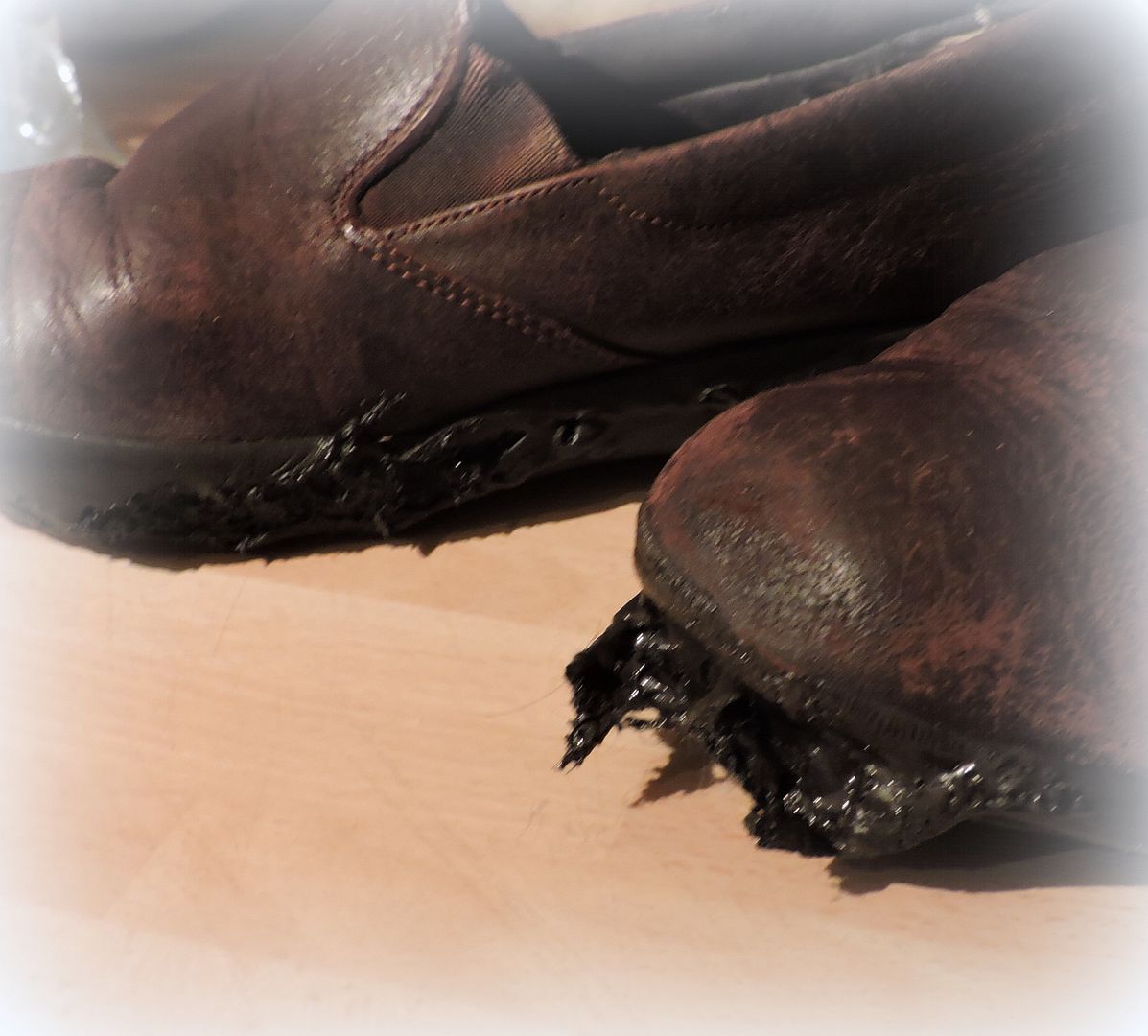 I know you must be scratching your heads and wondering what the heck that is. I'll tell you. It's my shoes. My only pair of every day shoes. I had taken them off and left them in front of the electric fire in our bedroom. Never gave it a second thought. Todd is often tired on Sunday's and yesterday was no different. He will have a sandwich or something and then go upstairs to have a nap. He did this yesterday like every other Sunday. it was rather cold though and so he turned on the electric fire to warm the room up a bit while he was getting changed out of his suit, lay down and fell asleep completely forgetting he had the fire on. Two hours later I went upstairs to see if he was awake and I could smell something burning as soon as I got to the top of the stairs. It was my shoes. The carpet beneath them was also starting to smoke. I am laughing as I write this. Probably half from relief that I happened to go upstairs before anything else caught fire, and half from the hilarity of the situation. You couldn't make this stuff up! And I get a NEW pair of shoes. Bonus! Seriously I am grateful for the promptings of the spirit which led me up the stairs before it was too late.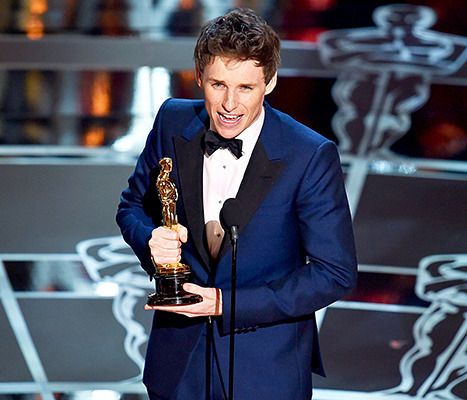 Chuffed to bits that Eddie Redmayne won the Academy Award for Best Actor last night. It was well deserved in my opinion. He is such a nice, humble young actor. He did a fabulous job in his role as Stephen Hawking. I am sure that there were times when the role was very demanding and excruciating . . . having to sit like he did for hours in that uncomfortable pose in a wheel chair, with no way to express himself other than through his eyes. He really earned this award and I am so pleased he got it. He was fabulous in Les Mis, and My Week With Marilyn and any other thing I have ever seen him in. I cannot wait to see what he does next!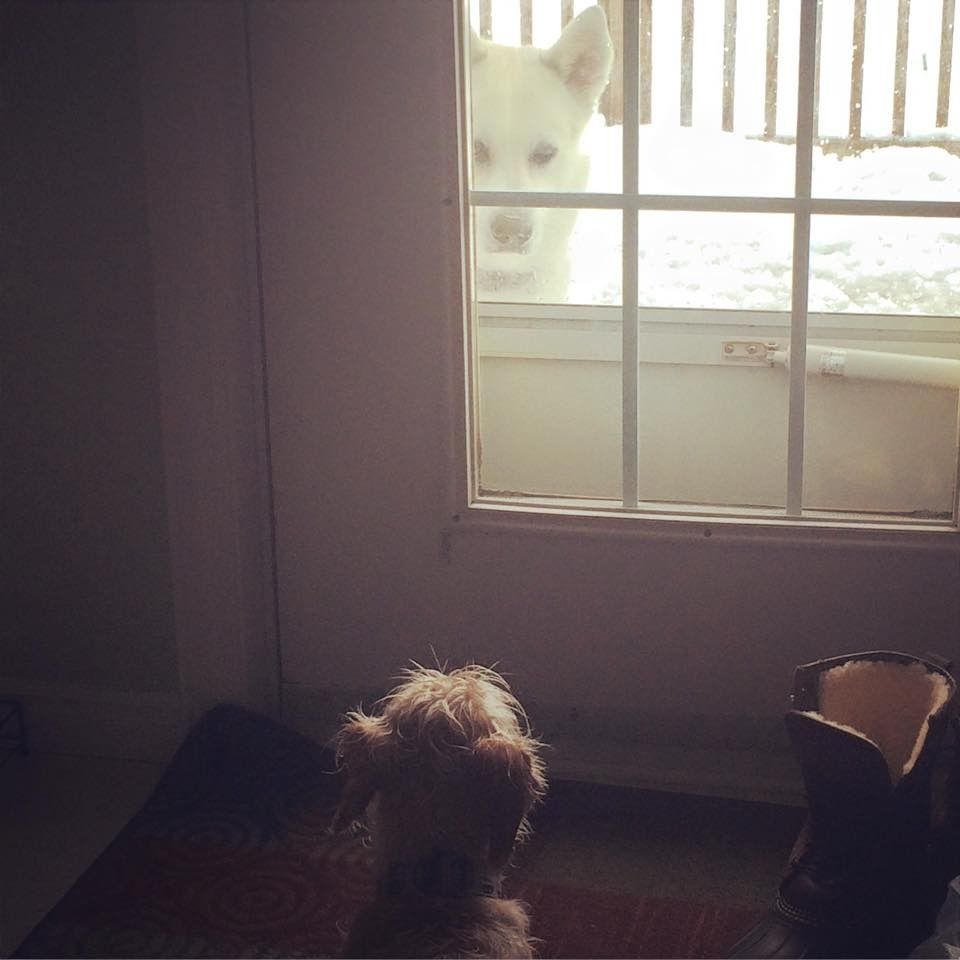 Baxter warms my heart. They have had so much snow that there is nothing to separate the back yards where my son lives at the moment. Baxter and the dog next door have been enjoying each other's company with abandonment in recent days, being easily able to hop over adjoining fences. Next door has shown up to see if Baxter can come out to play. Apparently they get along very well together . . . even though I think in this picture the dog from next door looks a tiny bit creepy and more than a little intimidating!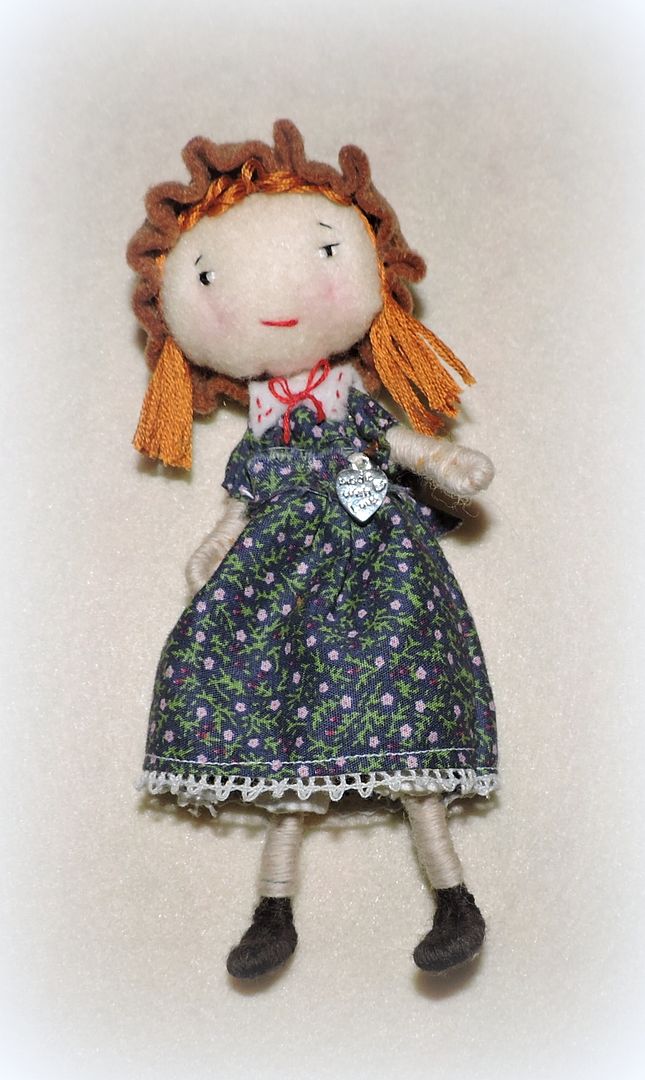 I have made yet another little girl. This one has dimples in her cheeks which are not showing up in the picture. She has a lovely "Little House" type of calico dress as well as long pantaloon type bloomers.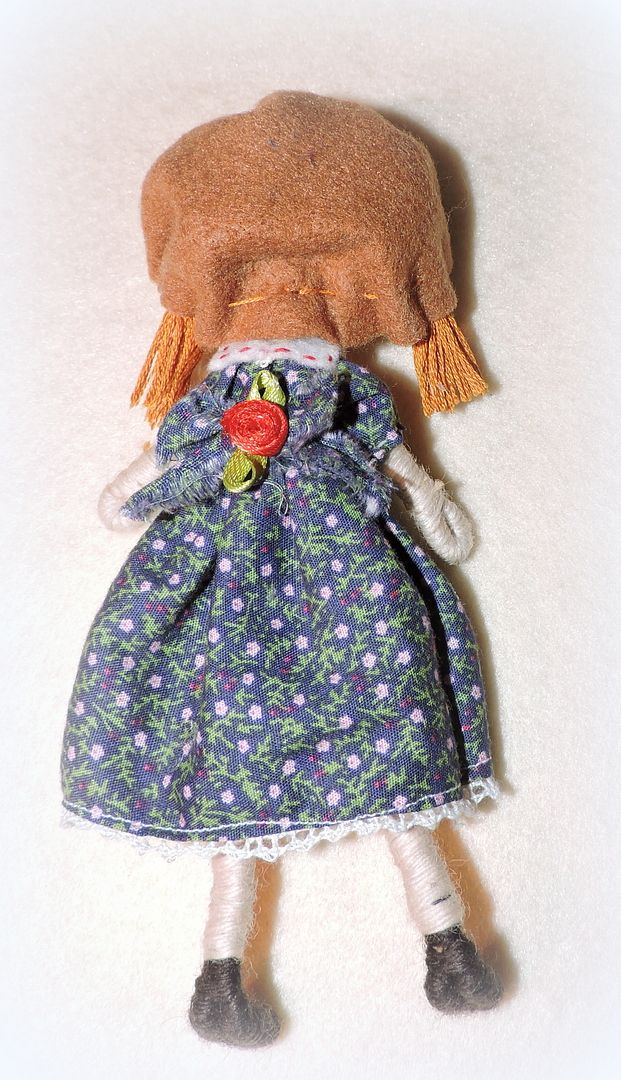 She has a sash at the waist of her dress which ties up with a bow in the back, which you can't really see that well, but it is topped with a red ribbon rose. I sure am enjoying creating these little characters.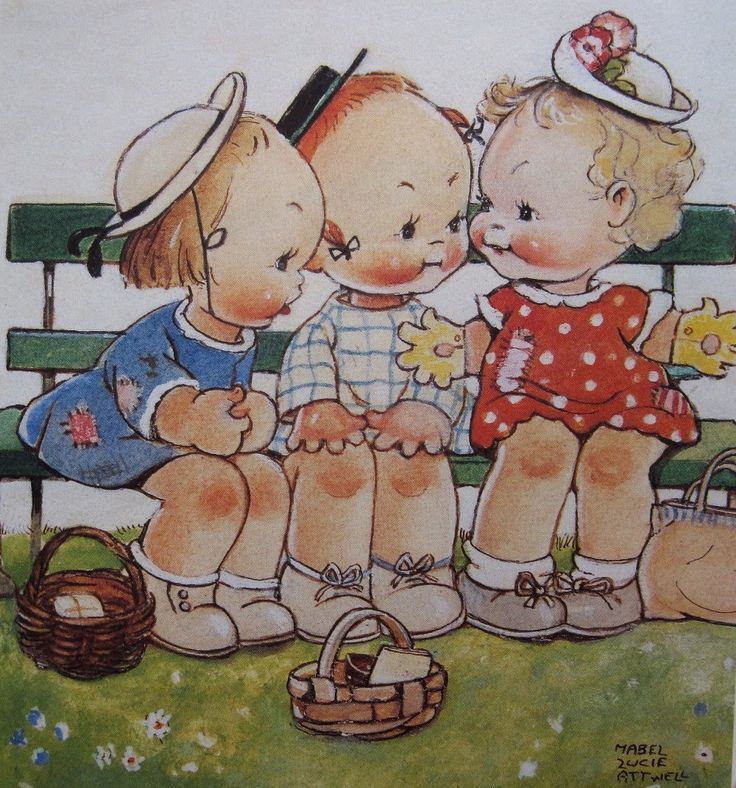 This chance I get to meet with you all each morning and share together these simple thoughts and things and ponderings. It really does mean the world to me, and you all feel like friends, good friends . . . and I love and am grateful for each one of you. I really am.
A thought to carry with you through today . . .
ღϠ₡ღ¸.✻´´¯`✻.¸¸.Ƹ̴Ӂ̴Ʒ.
(¸.❀⁀⋱‿✿"
Purpose is found in those quiet moments
when noone but God sees the work
of your hands.
~Darlene Schacht
❥✻❥.¸¸.✿¨¯`❥✻❥¸¸.✿¨¯`❥✻❥.¸¸.✿¨¯`❥✻❥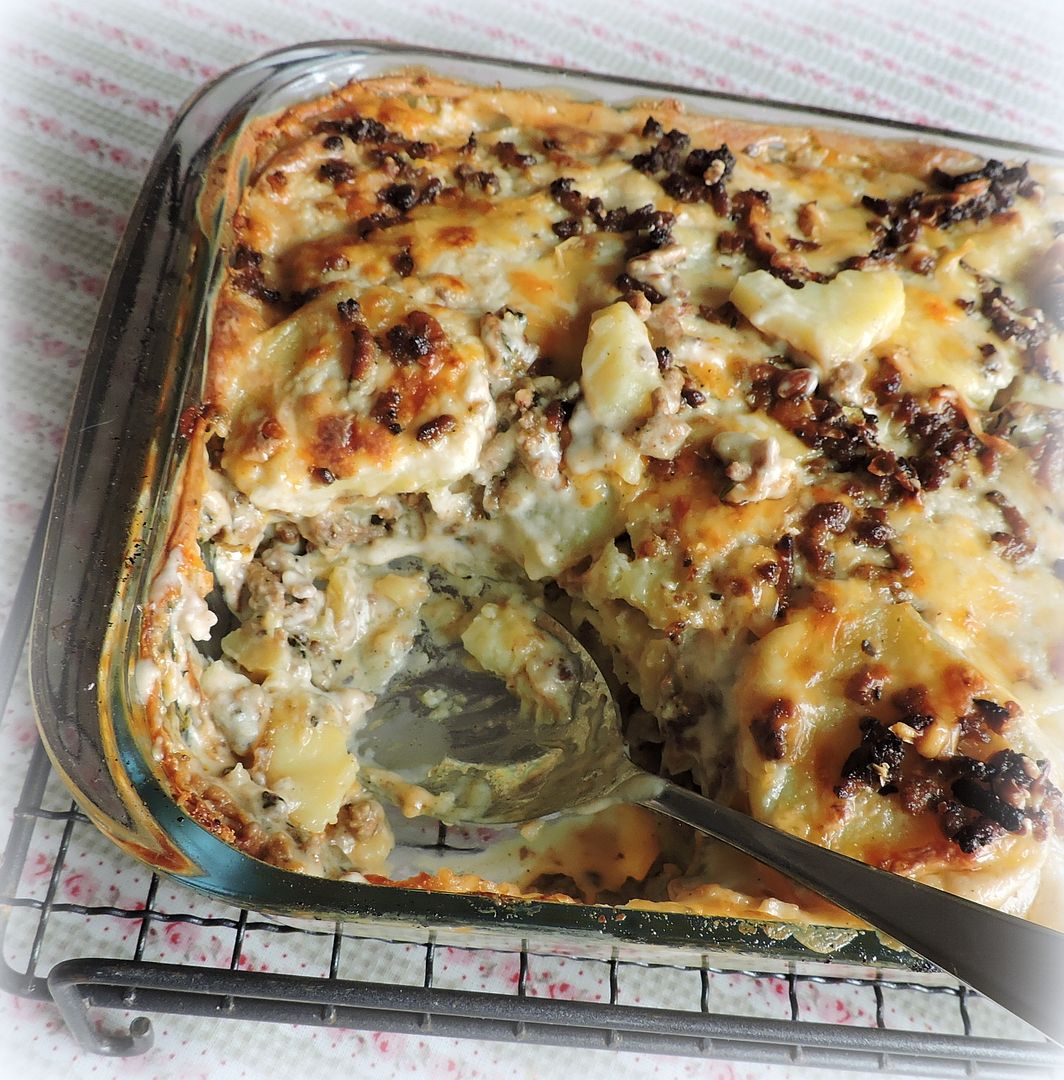 Cooking in The English Kitchen today . . . a delicious
Beef and Potato Casserole
. Comfort food at it's best!
Happy Monday! I hope it gets your week off to a very good start! May it be filled to overflowing with small and wonderful things! Don't forget.
═══════════ ღೋƸ̵̡Ӝ̵̨̄Ʒღೋ ═══════════ ⊰✿░G
░O
░D
⊰✿⊰

L░O░V░E
░S

⊰✿⊰░Y░O░U░⊰✿
═══════════ ღೋƸ̵̡Ӝ̵̨̄Ʒღೋ ═══════════
And I do too!