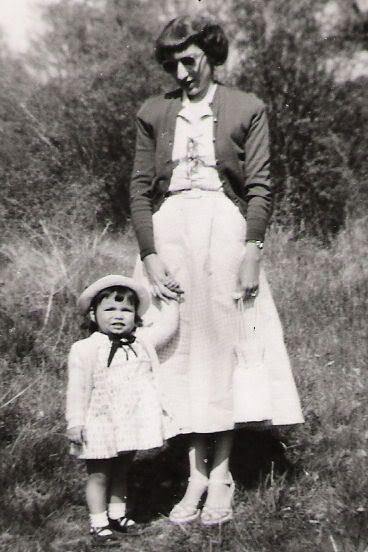 This is a picture of me when I was probably about 2 1/2 years old. I think my mom was pregnant with my sister at the time. We were living in Germany where my father (who was in the Canadian Armed Forces) had been posted.
You know if it's Thursday . . . it's another Five Things About Me, and that was the first thing about me . . . I lived in Germany from the age of about one year to almost five. We lived in 4 Wing, Baden Baden in the Black Forest. I don't have a lot of memories of Germany at that age of course, but a few things do stick out in my mind. We lived in Apartments and I can remember being stung by wasps very badly in the front hall of our area. I was sitting in a cardboard box minding my own business playing and they stung me. To this day I carry an irrational fear of them. I go almost out of my mind when one gets into the house.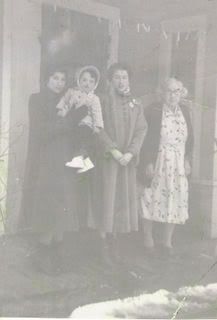 This is a photograph of me just before we left to go over to Germany to live. My Aunt Freda is holding me. Next to her is my mom and next to her is my Great Grandmother Henrietta Smith Best. We are standing on the front Veranda of my Grandmother's (Nina Best Woodworth) house in Lawrencetown, Nova Scotia. I was a difficult baby. My mother told me I had colic and I cried constantly. She was a very nervous mother. I took my very first flight on a plane, across the Atlantic, when I was only about a year and a half old. We landed in Scotland to refuel before making the rest of our way to Germany. So I have always been a World traveller, even at a young age! Fact number two!

I am terrified of Crows. After Germany my father was posted to Gimli, Manitoba . . . a small base situated very near to the town of Gimli on the shores of Lake Winnipeg. There was a lad on the base who had two tame crows. Those crows used to terrorize me. They would chase me on my bicycle, swooping down over me as I rode it down the street. I don't know if they were doing it on purpose or not, but I felt like they were. My mother used to feed them. They were always hanging around our house looking for a handout.
This is my sister and I in our back yard behind the first house we lived in when we moved to Gimli. I would be five and she was three years old. Boy I had knobby knees! I always took a lot of responsability for my younger brother and sister. I think the oldest child always does. There was a set of railroad tracks which ran along just behind the wire fence you see at the back of us in this photograph. There was a train which moved along there at a very slow pace a couple of times a week making deliveries to the base. I can remember standing by the wire fence waving at the engineer and him waving back.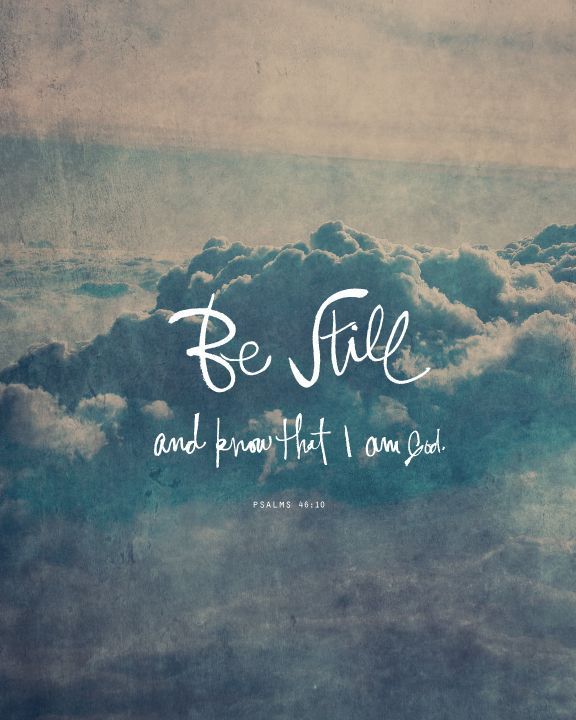 The Book of Psalms is my favourite book of scripture. I go there whenever I am feeling low or needing inspiration. I always find what I am looking for. It is filled with beautiful words and sentiments.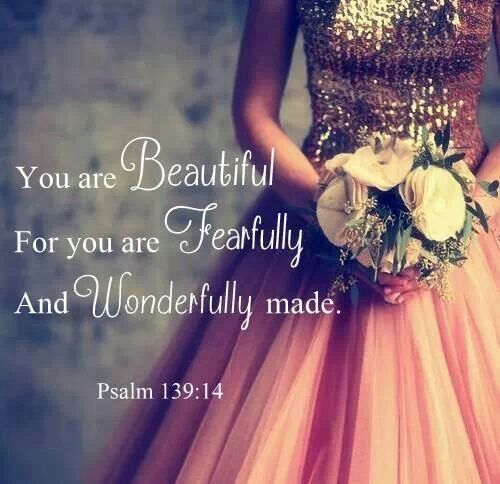 See what I mean? I love that . . .
And thats my five things about me this week. I am off to the Dentist early this morning for a check up. Wish me well. I hate going to the Dentist. Thing number six. Bonus!!
A thought to carry with you through today . . .
❥✻❥.¸¸.✿¨¯`❥✻❥¸¸.✿¨¯`❥✻❥.¸¸.✿¨¯`❥✻❥
Thou tellest my wanderings;
Put Thou my tears into Thy bottle;
Are they not in Thy Book?
~Psalm 56:8
❥✻❥.¸¸.✿¨¯`❥✻❥¸¸.✿¨¯`❥✻❥.¸¸.✿¨¯`❥✻❥
I love that He collects and takes account of every tear we shed.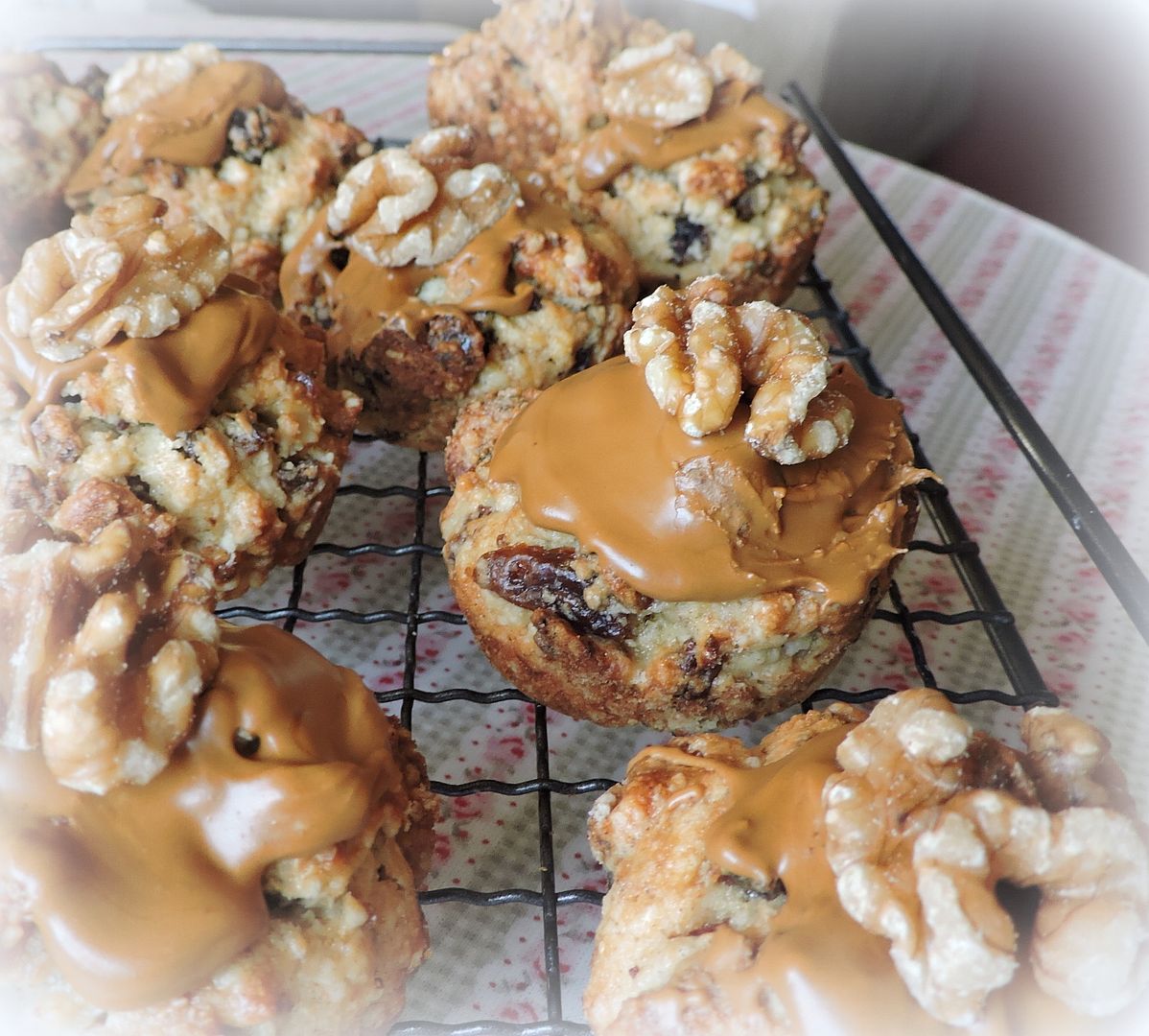 Baking in The English Kitchen today . . .
Sticky Walnut Buns
. So tasty!
Have a great day today! Don't forget . . .
═══════════ ღೋƸ̵̡Ӝ̵̨̄Ʒღೋ ═══════════ ⊰✿░G

░O

░D

⊰✿⊰

L░O░V░E

░S

⊰✿⊰░Y░O░U░⊰✿


═══════════ ღೋƸ̵̡Ӝ̵̨̄Ʒღೋ ═══════════



And I do too!