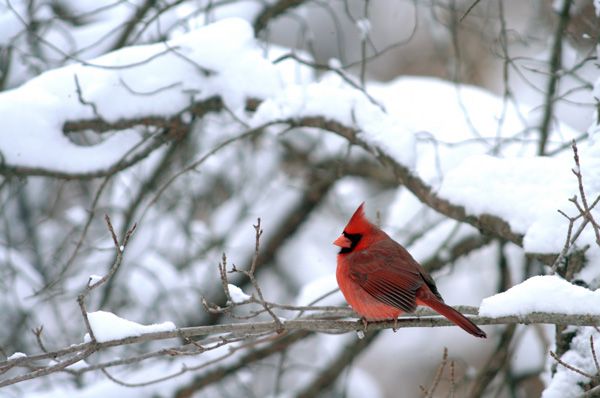 "At Christmas, I no more desire a rose
Than wish a snow in May's newfangled mirth;
But like each thing that in season grows."
~William Shakespeare
The snow is still with us, and it is so lovely to behold, as horrible as it has been to traverse and get about it. Now it has melted and froze, and melted and froze, it's become quite icy and more than a bit dangerous to get about in. For years over here I have wished for a White Christmas, and although it did come a week too soon, at least it came and my wish came true. I know that is has created a lot of difficulties for lots of people though . . . this country is just not equipped to deal with lots of snow. It creates havoc and chaos everywhere, as pretty as it is to look at.
I had a lovely day yesterday. I slip slod up the lane to work on the icy path and got a lot done really. I was cleaning out kitchen drawers and sorting. There is a kind of grace that comes with the solitude of menial chores . . . it gives you pause to think and dwell on softer kinder things . . . with no interruption . . . a type of repose as it were . . .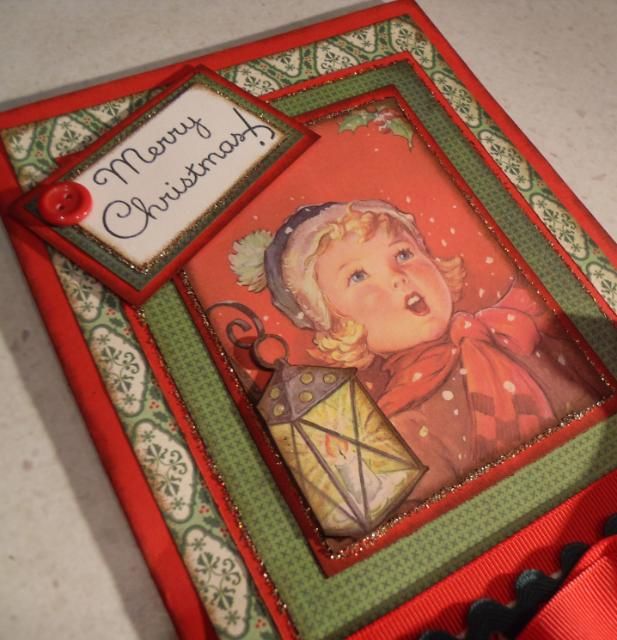 In the last few months I have become acquainted with a lovely lady from California on here. Her name is Julie and she has the most beautiful page. Her blog is called
A Vintage Chic
, and I just love to go and visit her there to see what she is up to. She creates the most beautiful handmade cards and bakes and does all sorts. She has the sweetest disposition and each time I visit her page I am touched with the grace of her spirit. Yesterday I received a package in the post from her and I was thrilled to have received one of her beautiful cards.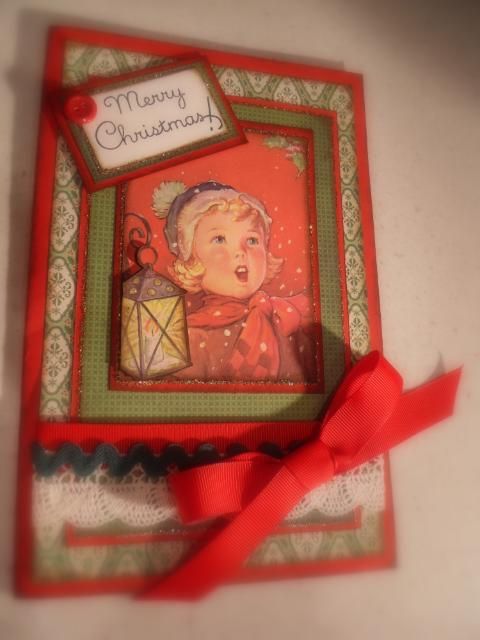 Oh, how lovely it is . . . with it's glitter, and button, ribbons and lace. It's just fabulous . . . but not only that. It is very clear that Julie fell from a very creative tree for also tucked inside the package was these two lovely little hedgehog dolls . . .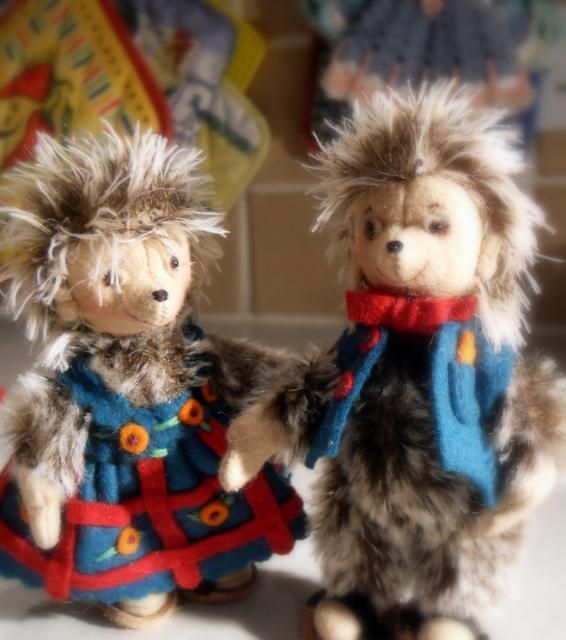 Aren't they just adorable and the sweetest thing you have ever seen??? Julie's mom made these! Can you imagine? They are only 4 inches tall and so beautifully made and intricate. I am so in love with them. They are magical and make me think of wooded fairie lands and tales . . . and they go just perfect with my little toadstool!!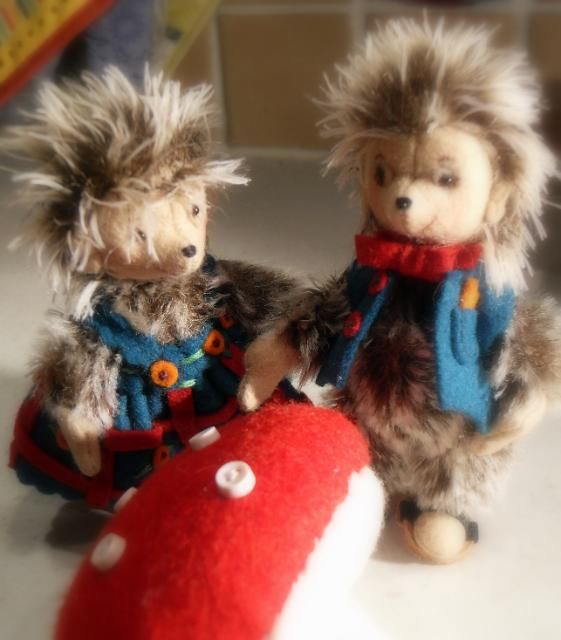 Thank you so much Julie. You really shouldn't have, but I'm glad you did. I'm so happy that I met you, and not just because of the dolls either, but because of the way you have touched my life and added light to it.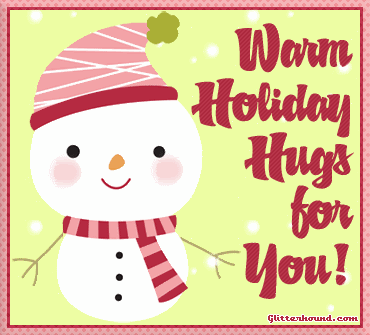 I managed to finish my Christmas Cake yesterday and get it all decorated, so that was another wonderful thing in my day. I really had left it to the last minute hadn't I!!
I also got the kitchen tidied up and ready for Christmas. That might not seem like much, but to this clutterbug . . . it was a great accomplishment and Todd's quite happy about that! tee hee
Then, last evening I was checking my e-mails and, wonder of all wonders, there was one from my mother's Cousin Polly, who lives in Vermont. Oh, how happy I was to see it. Family is very important to me and I had been so hoping to be able to get back in touch with that branch of the family. When I was a child, my family spent a few days at Polly's home in Vermont and I have some very fond memories of that time. It was so very good to hear from her, and I am looking forward to sharing more in the coming year. I was also pleased this morning to have received an e-mail from her daughter, my cousin Martha. Just in time for Christmas, it was like a Christmas Gift come early for me.
Christmas is family, isn't it, both the ones you are born with and the ones you make for yourselves. I have been blessed in so very many ways with family. Oh, I know . . . I have some family that really doesn't want to have much to do with me, but the others more than make up for it. I feel their love and caring each and every day. Then there is my family of friends, both real and invisible. They are all so very precious to me. They have been a gift from the Lord and an ever present joy in my life. When I think of all these people that I care about and that care about me . . . both near and far away, I clearly see that I am blessed beyond belief and I am grateful for them and for you, each and every one.
On this, the day before Christmas Eve, I want to wish each and every one of you a very blessed and Merry Christmas. May you receive blessings and joys beyond what you could wish for and above all . . . may you be loved and know it.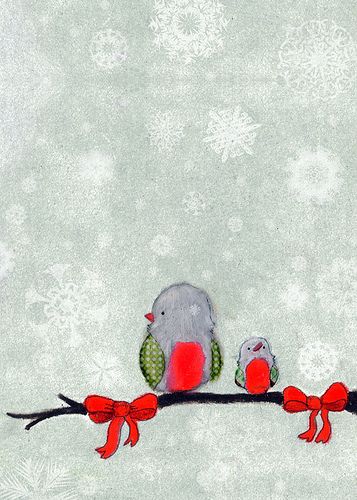 I baked these lovely buttermilk biscuits to have with our dinner last night. Oh, but they are some good. I make them in my food processor so they go together lickety split. Just perfect for these busy last days before the holiday. Best of all they freeze like a dream, so you can always have fresh biscuits at your beck and call. That can't be bad can it!!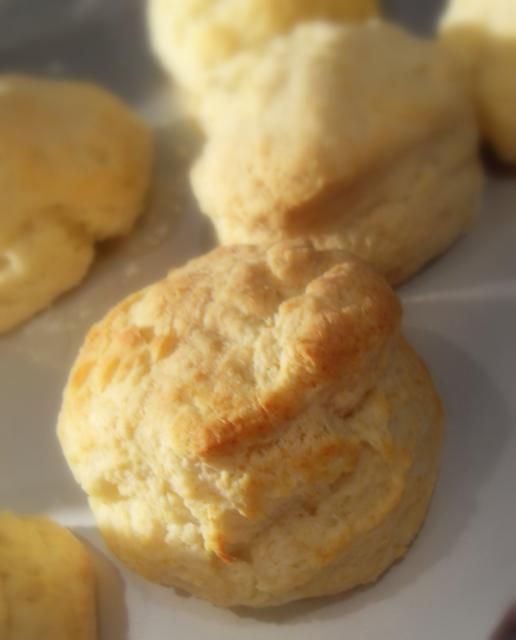 *Buttermilk Biscuits*
Makes about 10
Printable Recipe
If you like biscuits with a tender crumb and great flavour, you'll love these. Perfect for breakfast or with soups and stews, or even for a light lunch stuffed with some ham and cheese. These are just plain tasty all the time!
2 cups flour
1/4 tsp baking soda
1 TBS baking powder
1 tsp salt
6 TBS cold butter, cut into bits
3/4 cup of buttermilk
Pre-heat your oven to 205*C/425*F. Get out the baking sheet.
Place the dry ingredients in the bowl of your food processor. Pulse a couple of times to blend. Drop in the cold butter. Pulse a couple of times until the mixture resembles coarse bread crumbs. Add the buttermilk and pulse just until combined and forms a dough around the blade. Turn out onto a well floured board and knead a couple of times, then pat out the dough until it's about 1/2 inch thick. Cut into rounds with a sharp cutter. (Be careful to use a sharp tap down and up with the cutter. Don't twist if you can help it or you'll end up with lopsided biscuits!) Try to get as many biscuits out of the first cut as possible. You can knead the scraps together to make a few more, but the first cut will be the best in texture and looks.
Place the biscuits onto the baking sheet. Place into the heated oven and bake for 10 to 12 minutes until golden brown on the tops and on the bottoms. Delicious!
Note: These biscuits freeze very well, both baked or unbaked. To freeze unbaked, place on the baking sheet and pop into the freezer until frozen. Once frozen, remove from the sheet and place in an airtight freezer bag. If you freeze them unbaked, to cook, simply place frozen onto the baking sheet and bake as above for about 20 minutes, or til done.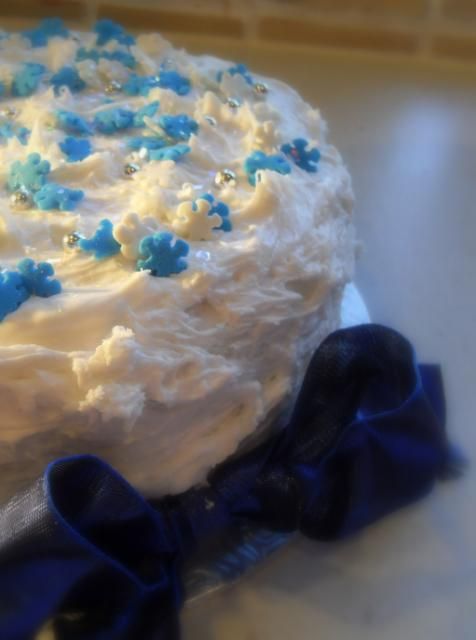 No recipe in
The English Kitchen
today, just my finished Christmas Cake!