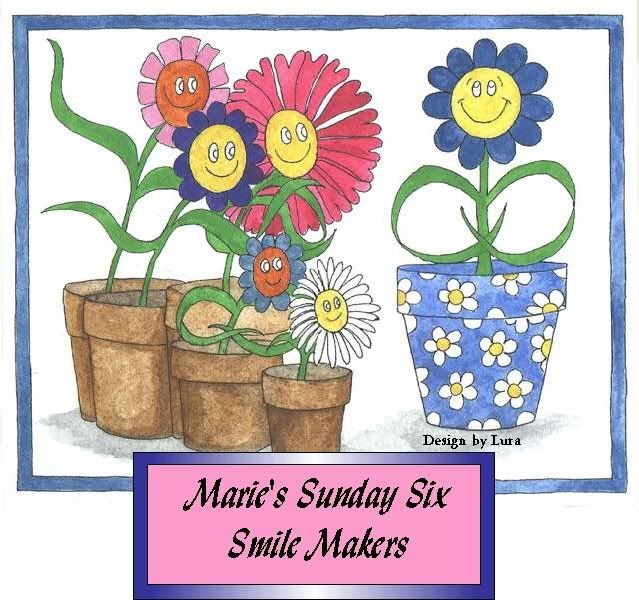 Welcome to my Sunday Six Smile makers for the week that just passed here, on the 18th October, 2009! Despite mammograms and other nasty bits, I have had a lovely week. Every week is a lovely week for me really. I make it so because I choose to dwell on all that is positive instead of on the negative. I think that is one of the secrets to a happy life. Just my little bit of wisdom to share with you on this sabbath day.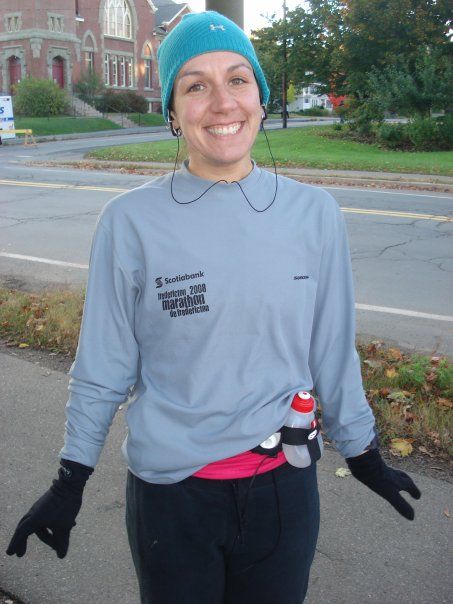 This is my youngest daughter Amanda. Last Sunday she ran in the Valley Harvest Marathon back home in Nova Scotia. She finished the route in 3 1/5 hours and managed to qualify for the Boston Marathon, which really made me smile. I am so proud of her.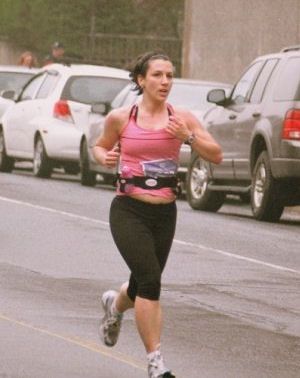 I am not a running mom. I have never been a running mom. I am more of an armchair athlete . . . but I am proud of my very athletic children and all that they do to keep in shape. What with my Special Olympics Gold medal winning daughter, Eileen . . . and my hockey coaching son, Bruce and then my running Amanda . . . they put me to shame with their athletic prowess. Perhaps I need to get with the program and start running myself . . . nahhh!!! That you will never see! Walking fast??? Now that's doable for me!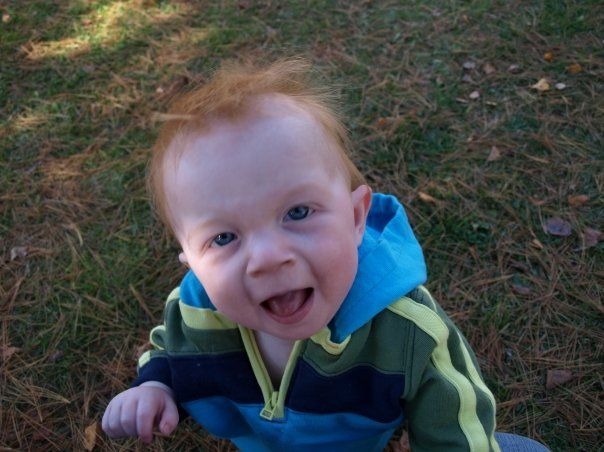 This is my youngest grandson Joshua. This picture sure makes me smile! What a sweetie pie! I can't wait to be able to hold him and play with him. We are planning a trip to Canada next summer and I can't wait! He looks like quite a wonderful little character and I will finally get to meet him and his elder brother Jonathan. I will get to see my son and his wife, and my elder son, his wife, their son Gabrial and their new baby that will have arrived by then. I'll get to see my eldest daughter and my mom and my dad. Oh how wonderful that will be.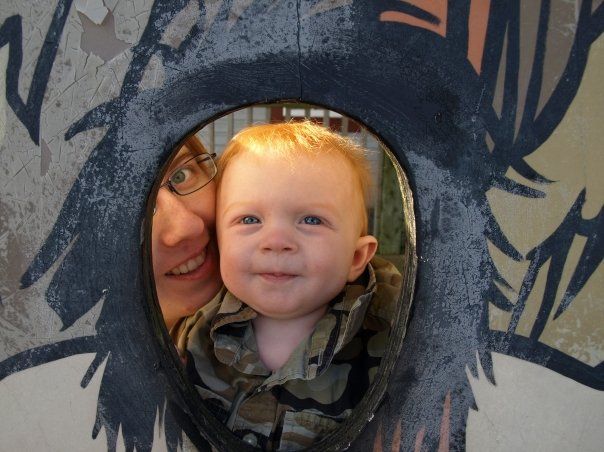 In the meantime I get to enjoy lovely pictures like the above. It sure makes me smile to know that I have a family that is happy and healthy and settled.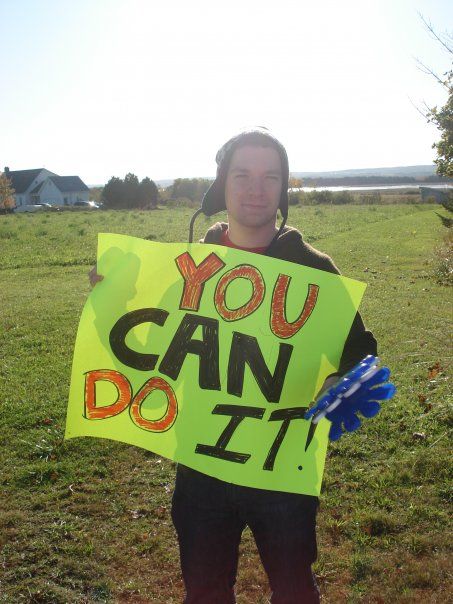 This is my youngest son, out to cheer his sister on last Sunday. He leaves for St Jean, Quebec and boot camp for the Canadian Military at the end of the month, and to him I'd like to say, "YOU can do it!" I am so proud of my son and his desire to serve his country. The mom part of me is a bit afraid of what might be, but I cannot dwell on that. I just have to be proud of my son and the choices he makes in his life, even though they are ones that might take him into danger. He is a good young man and I love him very much. Yes, you are not imagining things if you remember me telling you this same thing about a year and a half ago. He did go into the Military back then as well . . . but he didn't stick with it. He was very homesick and decided to leave after a few weeks. He is a whole year and a half older now and he is better prepared for what will be. He knows what he is getting into now and I know this time he will stick with it. He is very brave to be doing this again. That takes courage in and of itself. I love my children and who they have become. They are all good people.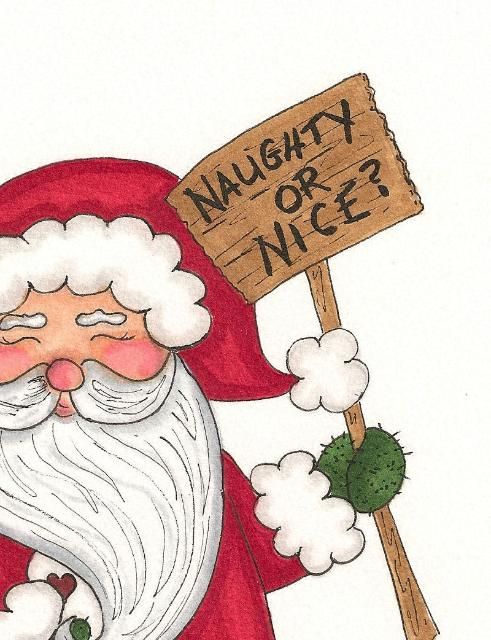 I painted this little character yesterday and he surely made me smile. Have you been naughty or nice??? He wants to know!! My artwork always makes me smile. I have all these little people in my head just clamouring to get out and be seen and heard.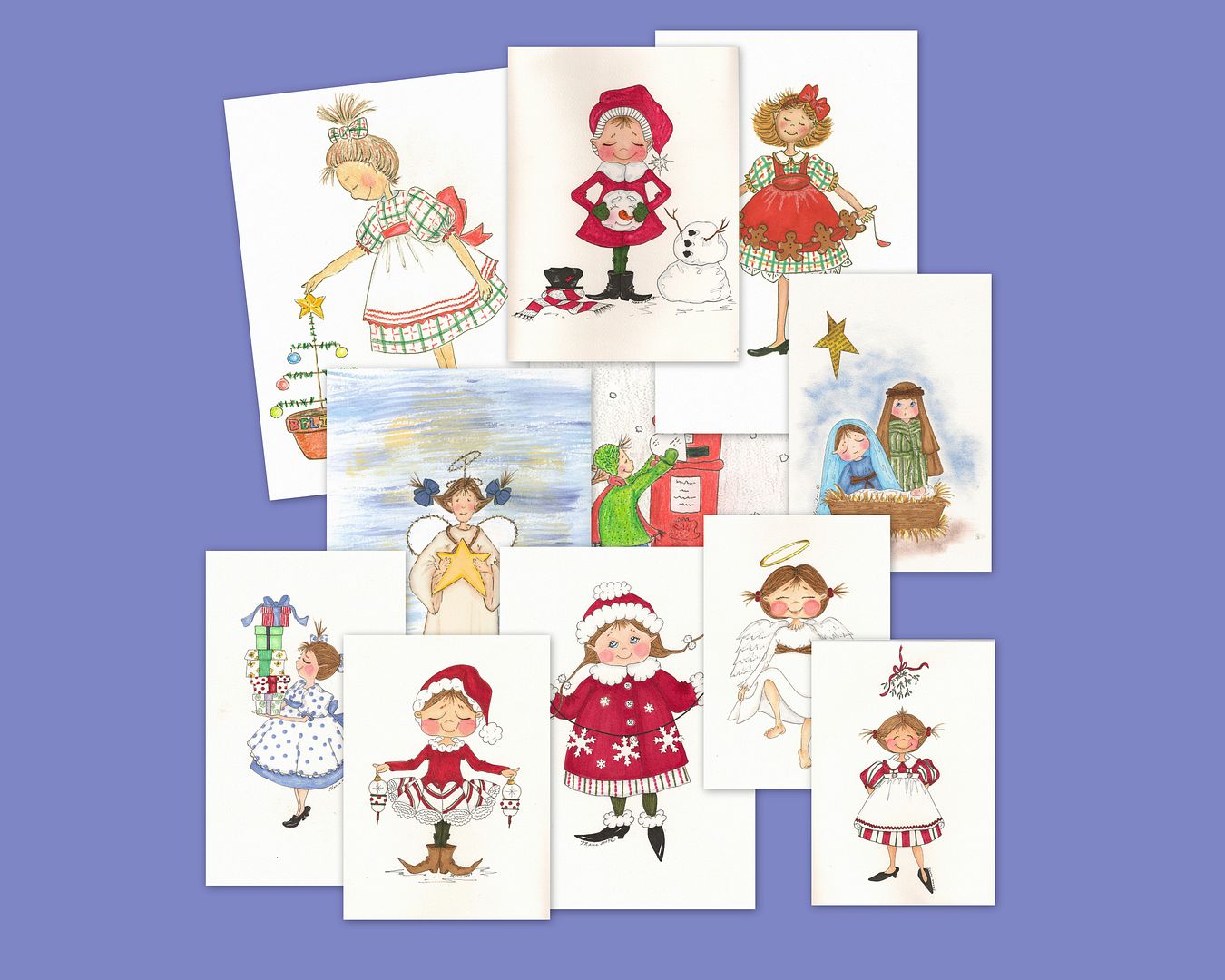 Yes, sometimes I do get a bit discouraged and I begin to doubt my talents. I wonder if anyone will ever really want these little fantasies of mine. I have so many more things I want to do with my talent and that is why I have enrolled in this course. I am hoping it will help me to channel my talents more fully and in the right way. It can't hurt at any rate and is a dream fulfilled . . . another thing to smile about!! Dreams becoming reality! One can't complain about that!!!

I found this little crow on the internet and he made me smile. I am not sure where I'm going to use him just yet, but in the meantime I can admire him. I have always loved crows. They are so very intelligent and wonderful birds. (always laying aside their dark nature that is) When I was a girl there was a lad that lived in the village that had tame crows and they used to like to chase me in my bicycle when I was out riding it around. I am afraid I didn't like crows very much then, and they frightened me near to death!! I have since come to greatly admire them though. Did you know that crows are manogomous and that they mate for life? I know, it's amazing! You can train them to talk and all sorts. They're very intelligent!!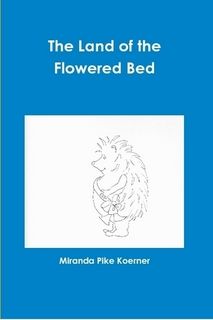 This little book I got in the mail made me smile, big time!! It is the book written by my friend Miranda, or Duckie as I lovingly call her, from A Duck in Her Pond. I just adore this girl and I predict very huge things for her one day. I did the illustrations for this book and hope to do more for her next installment! I had ever so much fun bringing these characters to life and working with Miranda on this project. It took us a couple of years to bring it to fruition, but the end result was worth it. Now I'll have to get a few more copies though so I can share them with my grandsons . . . I am keeping this first one for myself!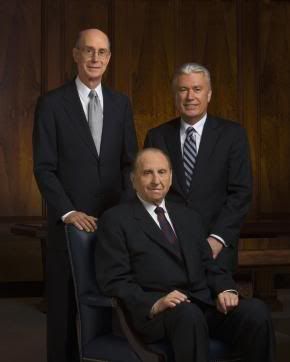 Listening to the words of our church leaders and spiritual giants every day has been making me smile all week. There is so much wisdom there and advice for living in a world that appears to be getting sadder and madder with each day that passes. It's a wonderful thing to have their words and wisdom to help encourage and guide us. We are truly a blessed people.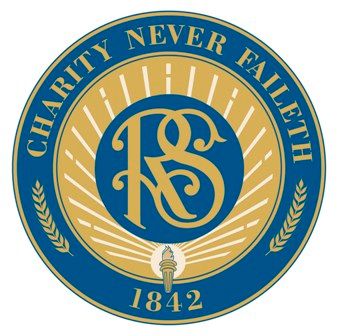 Getting to go into Relief Society, after three years of serving in the Young Women's group, really made me smile last week. I loved being with the Young Women, and I will miss them, but I really love my sisters in the church as well and I have been missing getting to spend this special hour with them each Sunday for such a long time now. It was so good to be able to sit with them and listen to the lesson and just to be a part of them. I just love the Relief Society, another wonderful institution and program in my church. I tell you . . . there is nothing about my church that doesn't uplift, uphold and inspire me. I just love everything about the restored Gospel.
I know, I have gone on a bit this morning. Is that more than six??? I don't know! It doesn't really matter if it is . . . I have something to smile about and I want the whole world to know!!! And just think!!! I get to do it again in another week's time! Oh, I am very blessed! You all and your lovely comments make me smile too. I thank you ever so much for your faithfulness and your love. It means the world to me!
I made this lovely Barley casserole as a side dish for Todd and I yesterday. It is another tasty treat from my Big Blue Binder. We just love this. Not only is it delicious, but it is wholesome and good and we feel very healthy when we eat it! Well . . . I do at any rate!!!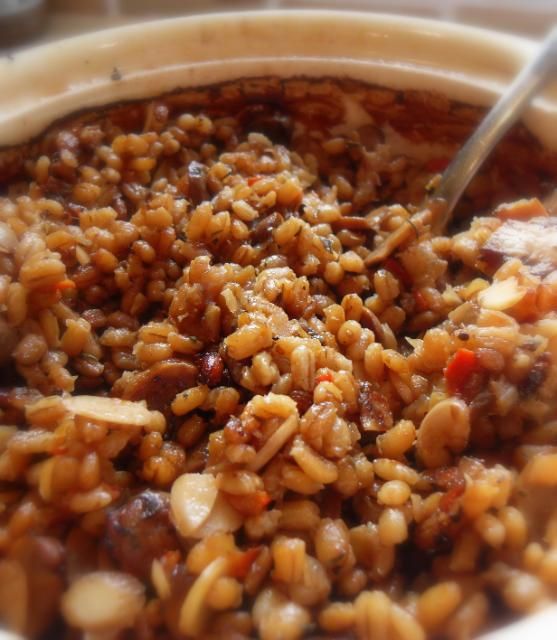 *Barley and Mushroom Casserole*
Serves 4 to 6
Printable Recipe
We love this tasty side dish. If you have never tried baking barley in this way before you really must give it a try. It's delicious! Very wholesome as well!
1/4 cup butter
1 large onion, peeled and diced
1/2 cup minced celery
1/4 cup minced sweet red pepper
1/2 pound button mushrooms, sliced
1 cup pearl barley
2 cups hot beef or chicken stock
1/3 cup slivered almonds
salt and black pepper to taste
1/2 tsp summer savoury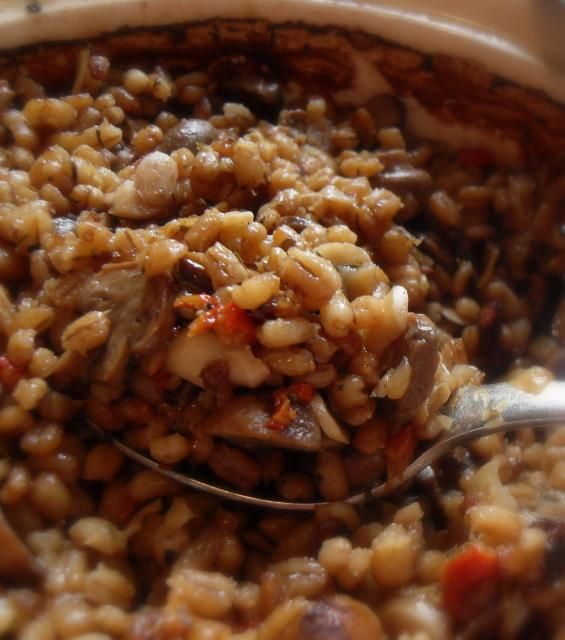 Pre-heat the oven to 180*C/350*F. Butter a 2 litre casserole dish and set aside.
Melt the butter in a large saute pan. Add the onions, celery and red pepper. Saute , stirring occasionaly until barely tender. Add the mushrooms. Cook until they begin to brown. Add the barley and stir to coat well with the vegetables and butter. Add the summer savoury and season to taste with some salt and pepper. Stir in the almonds. Scrape into the buttered dish. Pour the stock over top and cover with a lid. Bake for 35 to 40 minutes, until the barley is tender, and most of the liquid has been absorbed. Delicious!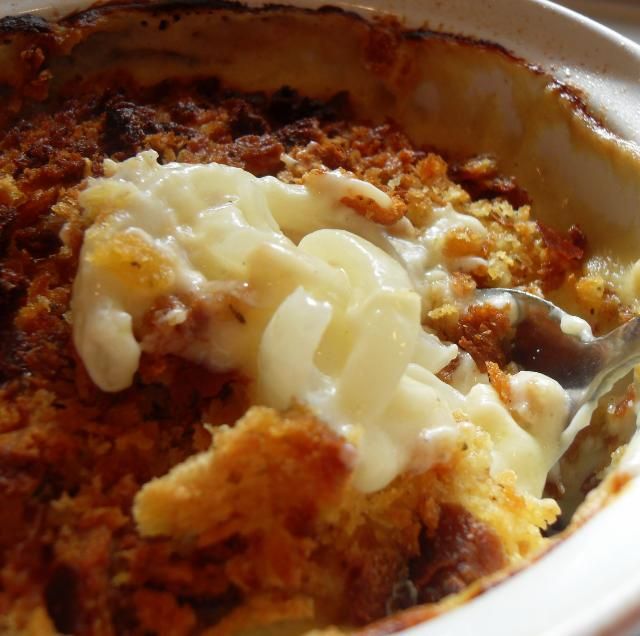 I made this delicious Cheese and Onion dish yesterday as well. My but it was scrummy. You can find the recipe for that on
The English Kitchen.