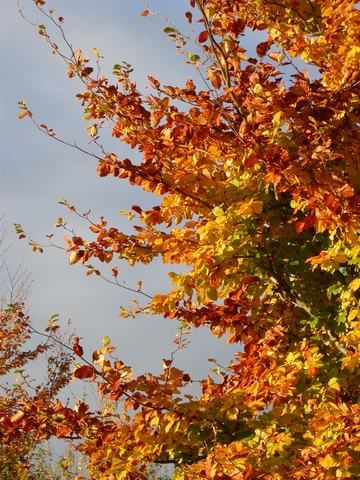 The leaves are falling fast and furious now. As I walked to work yesterday morning I looked up at the blue sky and a cascade of gold and orange was falling down around me, just like snow, except . . . it was leaves. Beautiful, just beautiful.
We've been really lucky this autumn. We may have had a pretty poor summer weatherwise, but autumn seems to be more than making up for it. We've had sunny days and warm temperatures and have been quite, quite spoint in that way. It has hardly seemed like it is October already for I am still able to wear my summer trousers out and about, and scarce have needed a jacket at all, except for early in the morning and at night.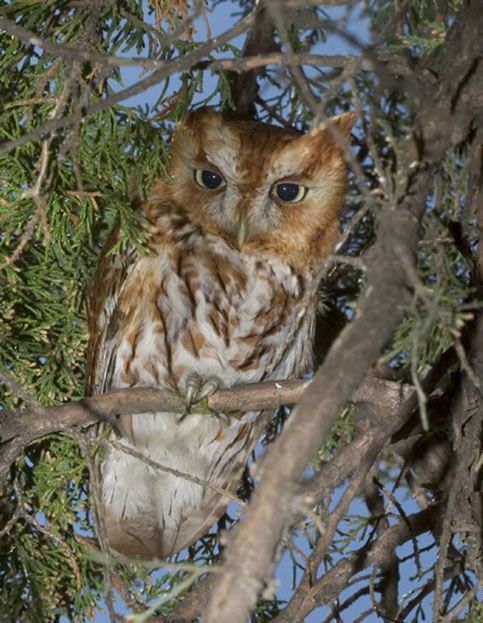 The last few weeks we have been treated to the eerie sounds of a Screech Owl in the wee hours of the morning and again at twilight. It is kind of a scary sound, but fascinating. I don't know much about Screech Owls, and didn't even know we had any over here until yesterday. I kept hearing this sound and had thought it a vixen or some such, but I was told yesterday that it was a Screech Owl. It is a very spine tingling sound and a bit frightening. In fact I have had Todd walk up to the Manor House to walk home with me every night as I haven't fancied walking home alone in the dark to that sound, and who can blame me!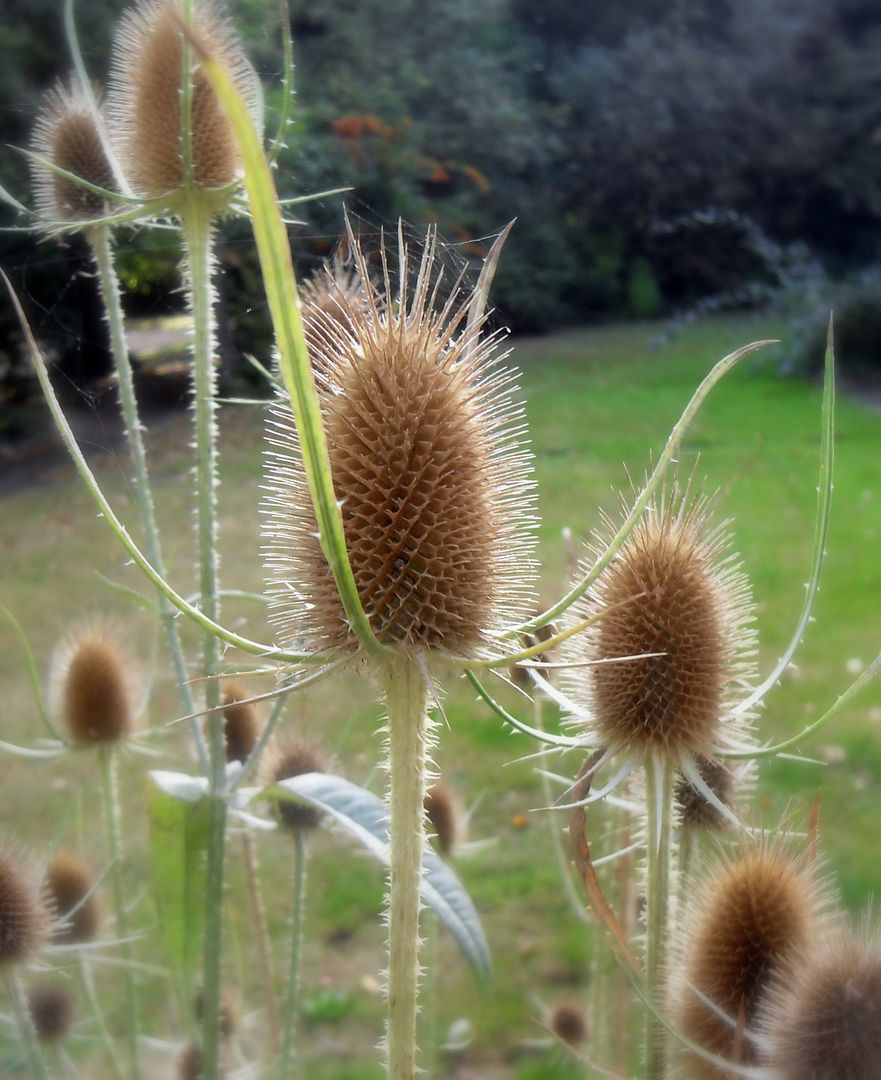 The gardens are filled now with nodding seed heads and drying plants. They are quite beautiful in their own right . . . there are still some blooms of course, but I love to see these pretty prickly heads and have been sore tempted to cut them and place them in a vase to grace our indoors . . . but I resist temptation and leave them for the birds. Likewise the hedgerows and borders are filled with all sorts of tempting berries and seeds . . . this is truly harvest time, not only for us humans, but also for the animals who are storing up for the long winter which awaits us around the corner.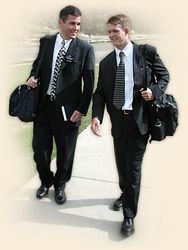 Yesterday we had the opportunity to have the missionaries over to teach an investigator in our home. We have two sister missionaries here in our Ward right now, both from America and they are such sweet young ladies. It was really nice to be able to have them over and to help them teach a young man who is interested in the church and it's teachings. It reminds me of when I was investigating and first learning about the church and how exciting it was. It's also really nice to be able to share and to help these young ladies out. I just love having the missionaries in my home. They bring such a lovely spirit with them, always.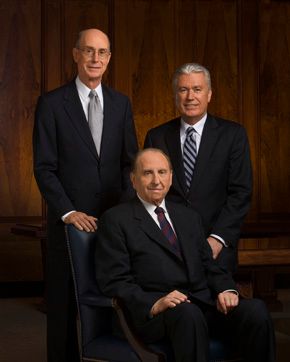 Speaking of the church, twice a year our church has what we call General Conference, both in the Spring and in the Autumn. It is a time of gathering when we all meet together and listen to things that our leaders have to share with us. I just love General Conference and this weekend is the autumn session of it. All over the world Latter Day Saints will be gathering in their meeting houses and stake centres, and in their homes as well (you can also watch it on the computer) to her what our leaders have to tell us. I just love all the talks and it is so nice to feel a part of something large. Most of our local congregations over here in the UK are very small, with not a lot of members. It's wonderful to see all our friends from all over and to hear what our leaders have to teach us. It is even more special for me now since my trip over to Salt Lake City last winter when I got to see the special conference centre where these are held. I can now imagine for real where all of this is taking place and it is pretty awesome indeed! I just love our church leaders. They are such lovely men and so very wise. You can see the love of Christ shining out from them and their eyes just radiate love and kindness, and wisdom. If you are interested in some of what they have to say and would like to watch it yourself, you can access it
here.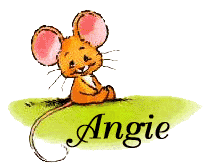 I'm really excited today because tomorrow I get to meet a lovely lady. Angie from
Can You All Hear Me At The Back
, is coming to Oak Cottage for a visit and we are finally going to get to meet in person! We've known each other for several years now, having met back on AOL journals when we were both journaling on there. We've talked on the telephone many times and text each other back and forth regularly. She's such a great gal and it will be wonderful to finally get to spend some time together in real life!! I can't wait! I am planning a slap up meal for us all to enjoy, although in reality the men will be the ones who will really be throwing it back . . . Angie and I have both been doing the Hypnosis for weight loss and so whilst we will still be enjoying it . . . it will be in much smaller amounts! If you have never had the chance to look at her page, do take a peek. She is ever so funny and interesting to read! I just adore her!
I must get on now and get started on my day, but I have enjoyed this little visit with you here on Oak Cottage this morning! I hope that wherever you are the sun is shining down on you and that you have a lovely weekend planned ahead!
I have never been to the Olive Garden Restaurant, but I have heard really good things about it. One nice thing about the internet though is that I don't have to actually go because a lot of copy cat recipes from their menu are available right on line. I have no idea if this tastes like the real deal or not, but it was mighty tasty all the same!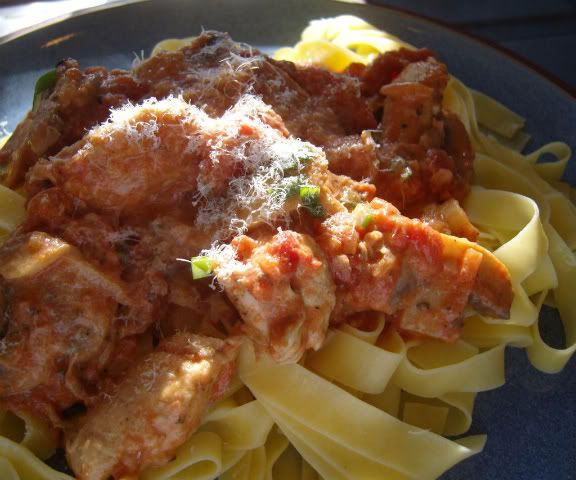 *Chicken Vino Bianco*
Serves 4
Printable Recipe
Now, I have never been to the Olive Garden Restaurant, but I hear it's really, really good. If this delicious copy cat recipe of one of their most popular dishes is any indication, then it truly must be a real treat to eat there! This was fabulously delicious!!
2 TBS olive oil
4 boneless, skinless chicken breasts, cut into strips
sea salt and freshly ground black pepper to taste
1/2 cup peeled and finely chopped onion
2 fat cloves of garlic, peeled and minced
2 cups sliced fresh mushrooms
1/2 cup white wine (or white grape juice)
1 cup chopped tinned tomatoes
1/4 cup heavy cream
2 TBS chopped fresh flat leaf parsley
freshly grated Parmesan cheese
Cooked and drained pasta to serve
Heat a large skillet over medium high heat. Add the oil and heat it until it begins to shimmer. Season the chicken strips and then add them to the hot oil. Cook, stirring occcasionally until they are well browned on all sides and cooked through. Remove them to a plate and set aside.
Add the onions and garlic to the pan. Cook, stirring until tender. Add the mushrooms and cook them until they are golden brown. Try not to stir them too much as stirring them brings out too much of their juices and they end up stewing instead of frying.
Add the wine, and bring to the simmer. Stir in the tomatoes. Let cook and reduce for about 10 minutes, then return the chicken to the pan and heat through. Taste for seasoning and adjust as necessary. Stir in the cream and parsley to finish. Serve warm spooned over cooked pasta of your choice. Pass the Parmesan for dusting over the top.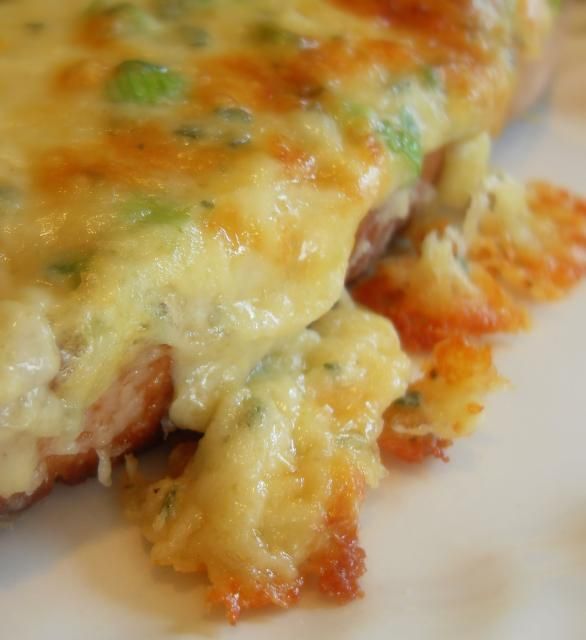 Yes, I did torture Todd with pasta again, but then . . . I did make him a rather tasty lunch. To see what I made, hop on over to
The English Kitchen.
I think I have more than redeemed myself.
Happy Saturday to one and all!!