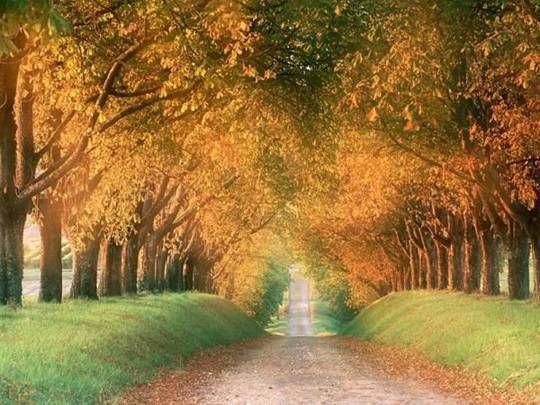 The morns are meeker than they were,
The nuts are getting brown;
The berry's cheek is plumper,
The rose is out of town.
The maple wears a gayer scarf,
The field a scarlet gown.
Lest I should be old-fashioned,
I'll put a trinket on.
- Emily Dickinson, Nature 27 - Autumn
Oh, it is so hard to believe that here it is Saturday morning again. Where has the week gone? I don't know, but it seems to have flown by very quickly. The estate is all dressed in it's autumn finery now . . . every leaf has turned to gold or red and each gust of wind brings them showering down around us in a glorious dance of beautiful colour.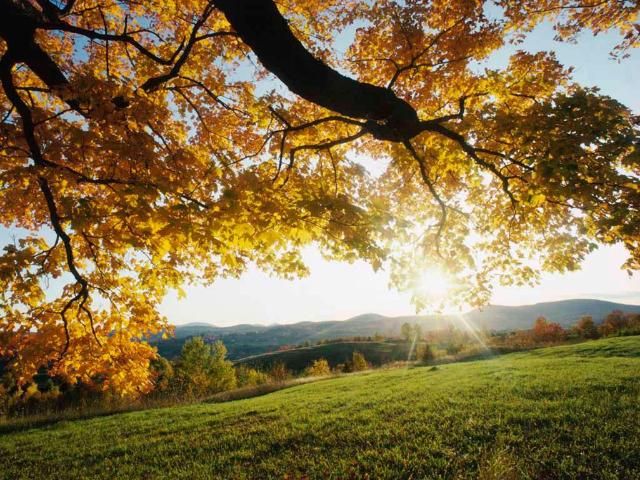 Already the mornings have grown so cool that we have had to have the fire on each day to take the chill out of the house. It seems like it was only a few days ago we were complaining of the heat . . . but it must have been weeks . . . nevermind . . . there is a comfort that comes from watching the flickering light and feeling it's soothing warmth.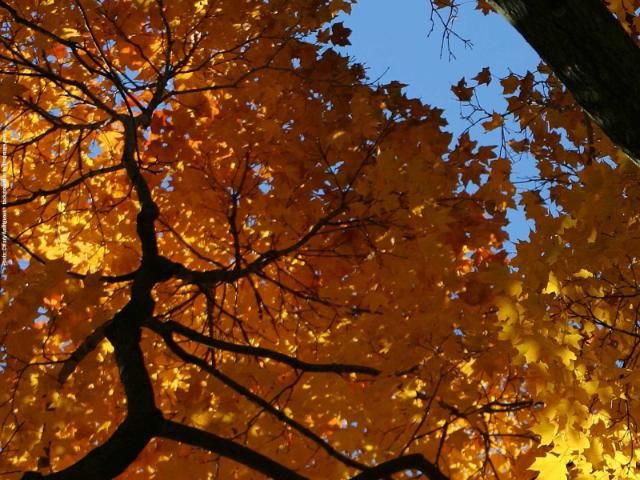 Yesterday I had the dreaded mammogram. It was hard to believe that it had been three years since my last one, but indeed it had. Over here you are entitled to one every three years after the age of 50 I believe. They are not something that I enjoy, well, seriously I doubt that anyone does, but, they are one of life's little necessary evils. My mother had breast cancer and so I am doubly cautious, as I should be.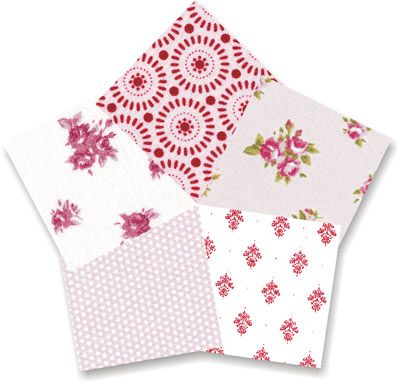 I got some lovely fabrics this week for a special project that I am working on from a beautiful fabric company called
The Cotton Patch.
I am so impressed. They have a wonderful assortment of products to choose from. I have been looking for just such a place since I moved over here 9 years ago. It's taken me ever so long to find it!!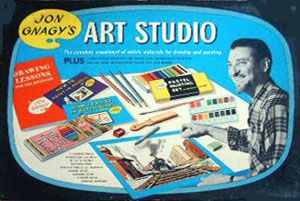 You know how I am always banging on about following one's dreams? Well, yesterday I fulfilled one of mine. I have always loved to draw and paint. When I was little I used to love to do the paint by number kits and when I was a tween I got a Jon gnagy artists kit for Christmas one year. Oh, how I loved it. It came with a little bendy twisty man that I could pose and then draw and all sorts of things like pastels, pencils, papers, charcoals etc. I got so many hours of pleasure from that thing. When it came time to me finishing regular school and moving on to more education, I really wanted to go to Art School. There was a local college that offered a Commercial Art Course and that is what I wanted to take more than anything, but my mother wouldn't let me. She thought that artists starved and so I was strongly encouraged to take a Secretarial Course instead. I cannot blame her, she had only my best interests at heart. I was a good girl and I always tried to do what my parents wanted me to, for the most part and so that is what I did . . . but through the years I have always thought about going to Art School and wondered, what if . . .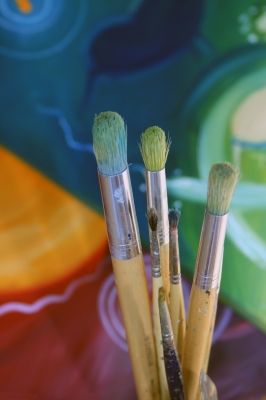 Well, yesterday I went and did it. I enrolled in the London Art College. I am taking their Art in Graphic Design course, and I am really excited about it. I haven't figured out yet how I am going to fit it into my already jam packed days, but where there's a will there's a way! It is a year long course and I can do it from home. It is a dream come true for me and at the end of the course I will have a diploma, that I have always wanted to have. I am so very grateful for a husband who believes in my talent and who has faith in me. I just can't wait to get started! It may mean that I have to cut back on some things though. I am thinking that it might be cooking in my spare time. I may have to cut back to only having a recipe on here several days a week, instead of every day. A lot depends on how you, my readers feel. I don't want to let you down. Would you be ok with my daily thoughts each morning, and then a recipe maybe three times a week?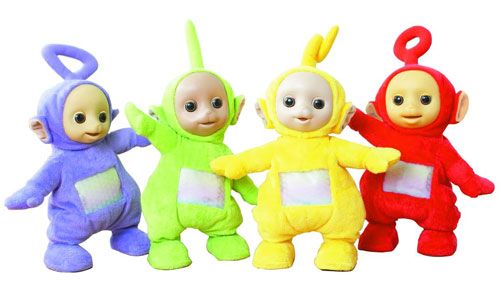 The grandson's gifts have come that I ordered for them for Christmas and I now have to wrap them and package them up to be sent over to Canada. I wish I could see their little faces when they open them up this year. I got the wee one a Dancing Lala teletubby. I tried it out of course (you need to see if it works, right?) and I found it completely delightful! In fact, I fell completely in love with it. I would love one myself, haha. I got the older ones drum sets that have a whole bunch of other instruments included as well, such as pan pipes, maracas, etc. It should be a lovely noisy Christmas!
I made a lovely Date and Nut Loaf the other day. This has to be one of my favourite quick breads. Back in the late 1970's my ex and I were posted to Batus, which was the British Army Training Unit Services in Suffield, Alberta, Canada. The British Army used to train there. I'm not sure if they still do or not. At any rate they used to come in from the field and all their leftover rations would be dumped. My ex used to snaffle them up and bring them home. We'd clean them up and we had a nice shelf full of lovely tins. You never really knew what was in them though, each one would be a surprise until we opened them. There was stewed beef, and sweeties, and canned apple pie. My favourite was always the Date Nut loaf. It was a real treat and it was round. I suppose you could still bake it in tins if you wanted to, but I just baked it in a loaf tin. It is soooo good!!! In fact I may have a piece for my breakfast today!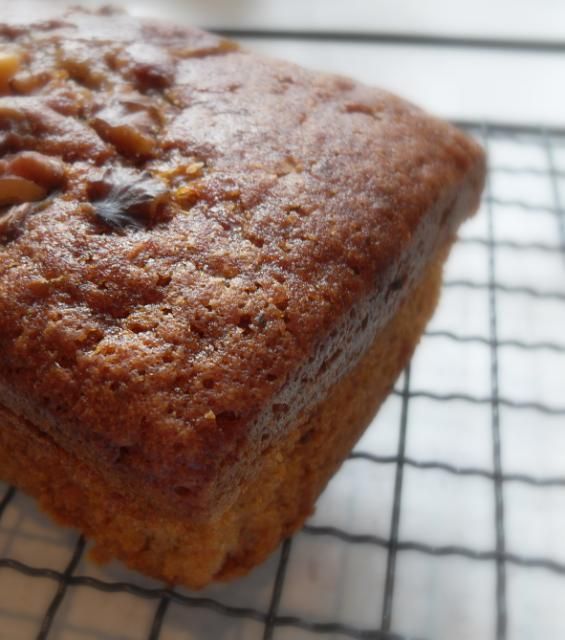 *Date and Nut Loaf*
Makes one 8 1/2 by 4 1/2 inch loaf
Printable Recipe
Try to keep from eating this for at least one day. You will find that if you can resist eating it right out of the oven, the flavour will improve upon sitting overnight.
We like this sliced thinly and spread with softened butter. mmm . . . delicious!!
1 tsp baking soda
1 cup boiling water
1 cup chopped dates
1 egg
1 cup soft light brown sugar
1 cup chopped walnuts
1 tsp vanilla
1/2 tsp salt
1 1/2 cups flour
1 TBS melted butter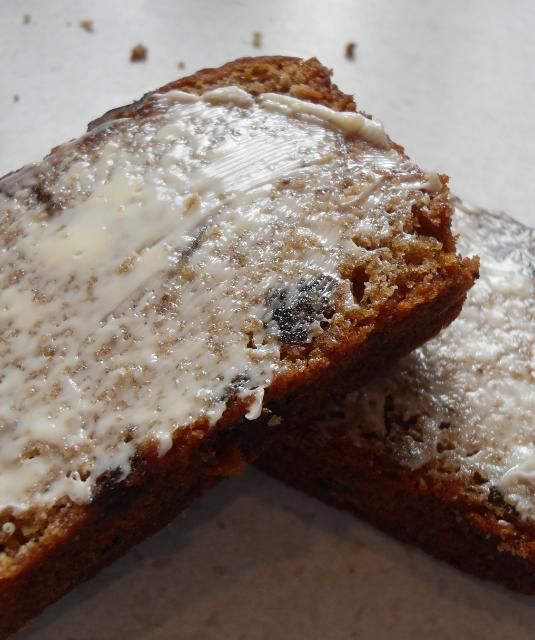 Pre-heat the oven to 180*C/350*F. Butter and flour an 8 1/2 inch by 4 1/2 inch loaf tin, tapping out any excess flour. Set aside.
Dissolve the baking soda in the boiling water and pour over the dates. Let sit until cold. Beat the egg then gradually beat in the brown sugar. Add to the cooled date mixture and mix well. Stir in the chopped nuts, vanilla, salt and flour. Add the melted butter, mixing in well. Pour into the prepared pan. Bake for 50 to 60 minutes until well risen and a toothpick inserted in the centre comes out clean. Allow to cool in the pan for about 10 minutes before turning out onto a wire rack to finish cooling. Wrap tightly when cold and allow to ripen overnight if you can before eating!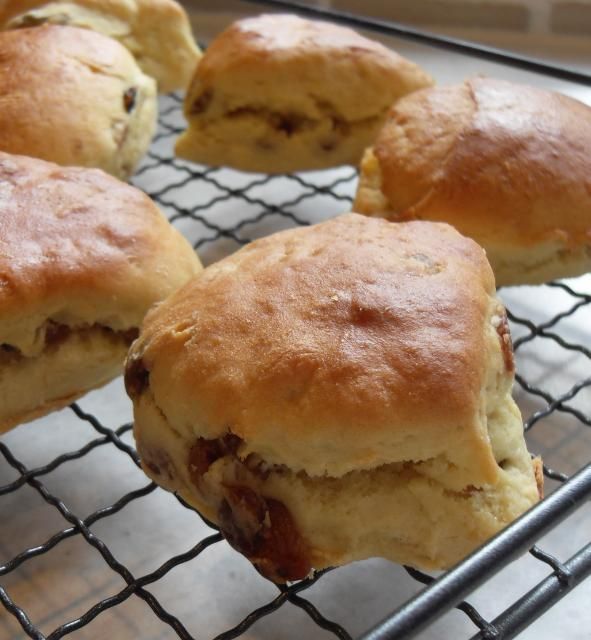 There's tasty Sultana Scones over on
The English Kitchen
this morning as well. What to choose . . . what to choose. Maybe I'll have both?