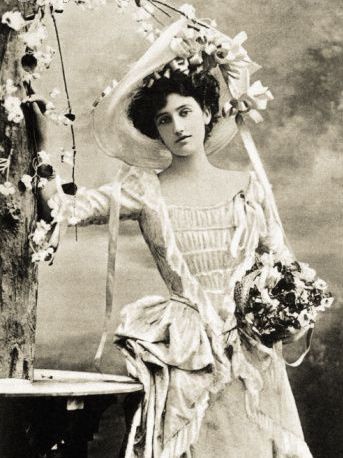 Today I am going to tell you about a beautiful Victorian love brooch, made of silver, which bears the name Sarah upon it's face.
Sarah, a young woman in the 1800's, was the daughter of a widowed clergyman. She lived at home with her father for many years, until he re-married, and then she left to work in an ironmonger's shop, her home life having become somewhat unsettled. This was quite a huge step for a young lady in the 1800's, as you can imagine! One day, a young gentleman named George came into the shop, and, as luck would have it . . . it was love at first sight.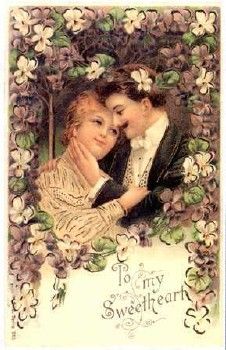 This brooch was a gift to Sarah from George, a token of his great love and esteem for her. It is beautifully embellished, each token having meaning . . . small tendrils of trailing ivy standing for fidelity, miniscule forget-me-nots for love and remembrance and three-leafed clovers for good luck.
Of course, as any married couple does, Sarah and George experienced both the good and the not so good times together during their married years . . . Their marriage however, was a long and happy one, blessed with many children and filled with a great and abiding love for each other . . . strong enough to weather the tumultuous seas of life and matrimony.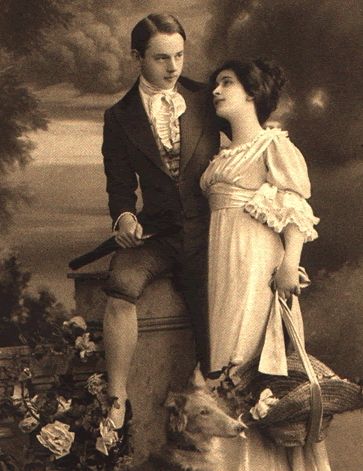 I am a great fan of all things Victorian. I used to love to buy Victoria magazine, and, although I do know that the harsh realities of Victorian life were often quite far removed from the romanticized notion that I have of them . . . I sometimes daydream about the way things might have been back then. That's probably why I love the film, Miss Potter so much . . . it is a time in history that I have quite idealized in my mind. One thing that I love most about Victorian ways is the habit that they had of including symbolism and great meaning into a lot of their trinkets and gifts.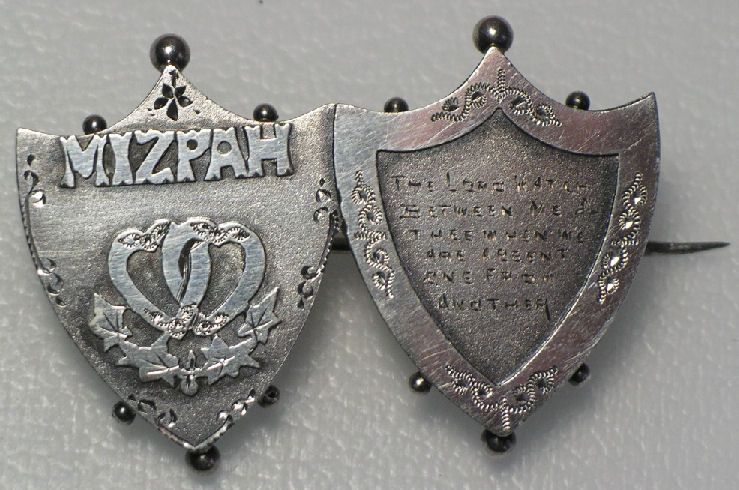 Sometimes these beautiful Victorian brooches carried the word "Mizpah" engraved upon their surface . . .
"may the Lord watch between me and thee, while we are absent one from another."
A wish which, today as in Victorian times, expresses all our thoughts and wishes for a loved one, when they are apart from us . . .
And so today I say to each of you . . .
Mizpah
. May God go with each of you . . . every step of the day.
I baked this lovely coffee cake yesterday. You all know I have a big blue binder filled to overflowing with recipes clipped from old magazines, handwritten slips of paper given to me by friends and relatives . . . in fact I have a cookbook published of the same name . . .
Recipes From The Big Blue Binder
. . . this is one of them, although not in my book. (There were far too many scrumptious recipes to include. I may have to do a volume 2!!) I just know you will love this. It's very easy to make and very impressive when done. You'll really wow your family and friends with this one!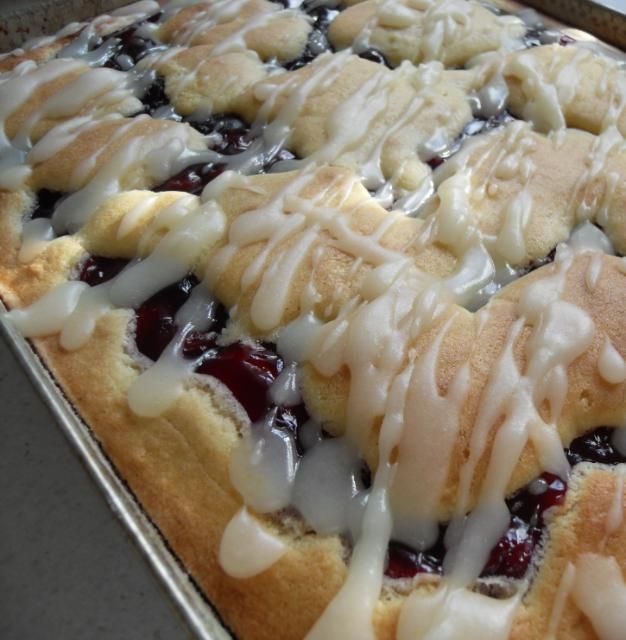 *Cherry Danish Coffee Cake*
Serves 10
Printable Recipe
Moist and buttery cake filled with tasty cherry filling. Drizzled with a glaze it never fails to please. If you like you can also sprinkle on some toasted slivered almonds right after you glaze it.
1/2 cup butter, softened
1/2 cup vegetable shortening
1 cup white sugar
1 tsp almond extract
1 tsp vanilla extract
1/2 tsp lemon extract
4 large eggs
3 cups flour
1 1/2 tsp baking powder
1/2 tsp salt
1/2 cup milk
2 to 3 cups cherry pie filling (you may also use apple or blueberry)
For the glaze:
1./2 cup icing sugar, sifted
2 TBS milk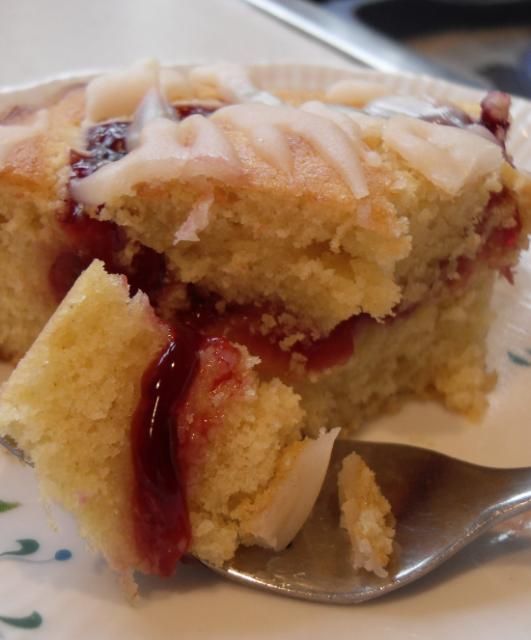 Pre-heat the oven to 180*C/350*F. Butter and flour a 10 by 15 inch baking pan. Set aside.
Cream together the shortening, butter and sugar until light and fluffy. Beat in the eggs and the extracts. Sift together the flour, baking powder and salt. Fold this into the creamed mixture alternately with the milk, beginning and ending with dry. Spread 2/3 of this batter into the prepared baking dish. Smooth out evenly. Spoon the pie filling over top. Drop the remaining batter over the top by teaspoonfuls. It's ok to have gaps, in fact it looks better when baked if there is. Bake in the pre-heted oven for 20 to 30 minutes until golden brown.
Mix together the glaze ingredients until smooth. Drizzle over top of the warm cake. Serve warm, cut into squares.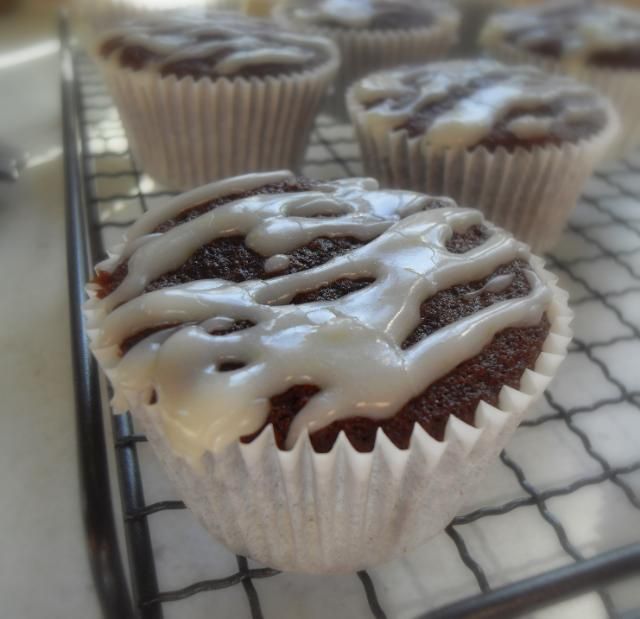 Got ginger??? Then bake these Magnificent Ginger Muffins, stogged full of sweet little bits of preserved ginger and dried apricot, not to mention that fabulous lemon glaze dripping down the sides. These are the tasty offer being served up today at
The English Kitchen
. Seriously . . . they're fabulously delicious!