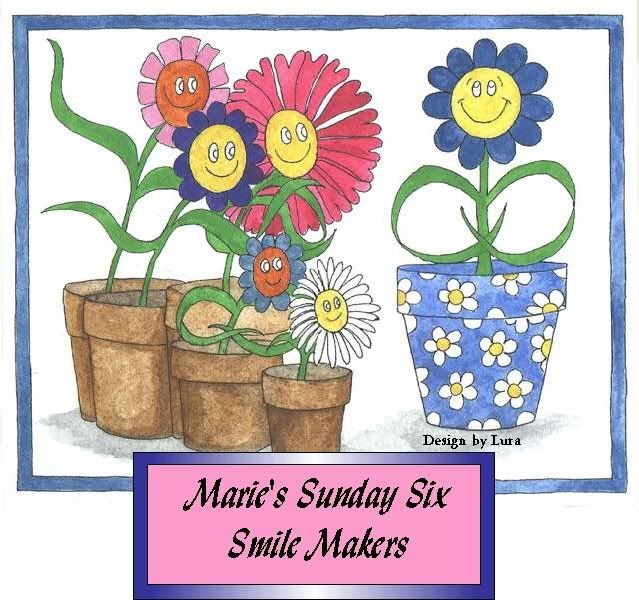 I just love Sunday's and being able to share with you some of the blessings that I have received in the previous week. I am grateful for them every day of course, but setting aside a special day to dwell on some of them is a blessing in and of itself. So without further adieu I give you my Sunday Six Smile Makers for this past week!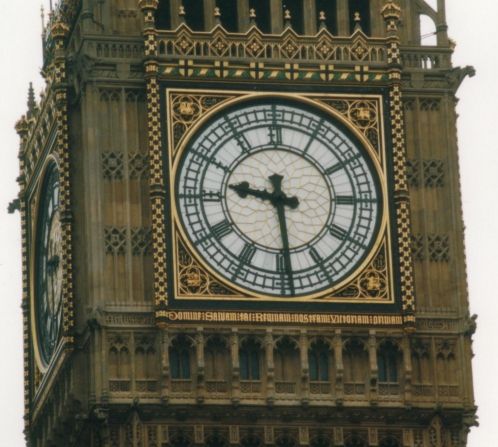 The clocks going back one hour this week, last night in fact, makes me smile. It means one extra hour that I get to do whatever I want with! I could have stayed in bed an extra hour, or I could bake, or paint, or whatever! It's an extra hour and I get to do what I want with it! Hooray for extra hours! And to think, the other day I was just wishing that I could have some extra time to get all the things done that I need to get done!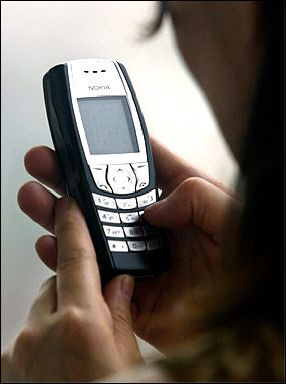 Texting with my son. A hundred years ago, even twenty years ago, being separated from your family, like I am over here in England, was very hard. A hundred years ago, telephones were rare things, and even twenty years ago, being able to call someone on the telephone from such a distance away was a rare and expensive procedure. Thank goodness for modern technology which means that we are never much more than a few seconds away from communication with our loved ones. I will be bustling around at work that that little tell tale beep will sound and I can pick up my phone and there right at my fingertips will be a special message from my boy! My oldest son and I are very close and it's so nice to be able to send him special messages and to receive special messages from him. It helps me not to feel so isolated from my family and each message makes me smile in a very big way! And to think I resisted getting one of those new fangled cell phones for a very long time!! I could not live without mine now!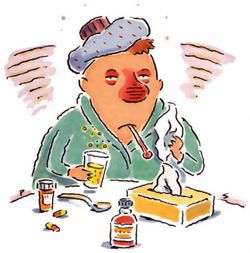 All around me people have been suffering with colds and flu. Thankfully up til now (fingers crossed) I have been able to resist their germs. Lots of handwashing and disinfectant hand gel works to help keep the germs at bay, as does increasing my vitamin C intake. I cannot afford to be sick like that. I am the only cook at work, and so when I am ill, I pretty much have to go to work anyways, and there is nothing worse than having to be on your feet all day when you are feeling blah . . . blah . . . blah, and all you want to do is have a hot bath and go to bed. I've had to do it in the past, and it is no fun. Thankfully I am not a person that gets ill very often! So for today I am smiling because thus far, I've been germ free. I hope and pray it continues!!!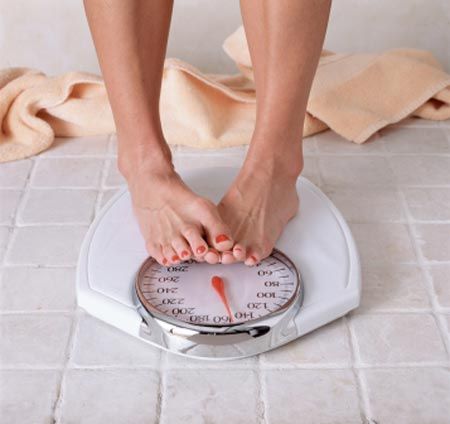 The scales continue to go down. That really makes me smile. I try hard not to weigh myself every day, but every few days curiosity gets the better of me, and I just have to have a peek. It makes me smile to see that the needle hasn't gone up, but it really makes me smile to see that the needle has gone down, even if it is only a pound! I can live with a pound a week! That means 52 pounds in a year, which can't be bad! I'm slowly disappearing, and that does make me very happy.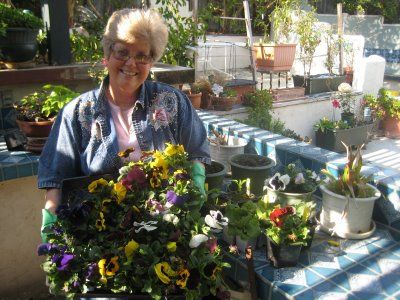 Every Tuesday, my good friend Lura, from
Grammy's News

,
and I get to speak on the telephone. She was away visiting her family for a couple of weeks, and I surely missed our conversations. This past Tuesday she was back and we got to talk for a bit. It was so nice to hear her voice and to catch up with all her goings on and to share all mine with her! She is such a ray of light in my life and I surely am blessed to have her in it. I just love her to bits! You know when you meet someone for the first time and you have that feeling that you have always known them? That kindred spirit kind of a feeling? Well, Lura and I have always felt that way about each other. She is a kindred spirit friend and means the world to me. It kind of sucks that she lives a whole half a world away, but again . . . we are blessed because of modern technology, for it means that we are never further apart than the tips of our fingers, some punched numbers and voices thru the ether!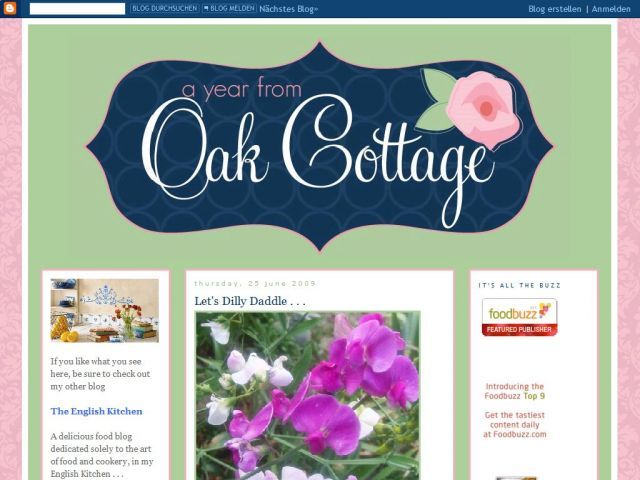 Blogging and getting to talk to each you every morning makes me smile in a very big way! It has opened up such a wonderful window in my life and blessed me in so many ways. I just love being able to share with each of you and to make new friends. I love visiting your pages in return, and reading your words and about all that you do. Blogging is about sharing and friendship and learning and growing. I learn so much from your pages, and I get to see and experience things I never would have without your words and pictures. Blogging has enriched my life in so very many ways. I am so thankful that I decided to jump in with both feet some four years ago now and start blogging. I love each of my readers, and I am so grateful to all of you for helping to fill a void in my life, and for the love that you so generously share with me, with your comments, with your own words and blogs, and just knowing that you are there. I adore you, my sweet invisible friends, and I am so thankful for each and every one of you!
Oh, I got the surprise of a new cookbook in the post yesterday!! I just love anything to do with the Amish and when I saw this new cookbook on Amazon, I was sorely tempted to get it. I just could not resist actually. It arrived yesterday and right away I was thumbing through it's pages.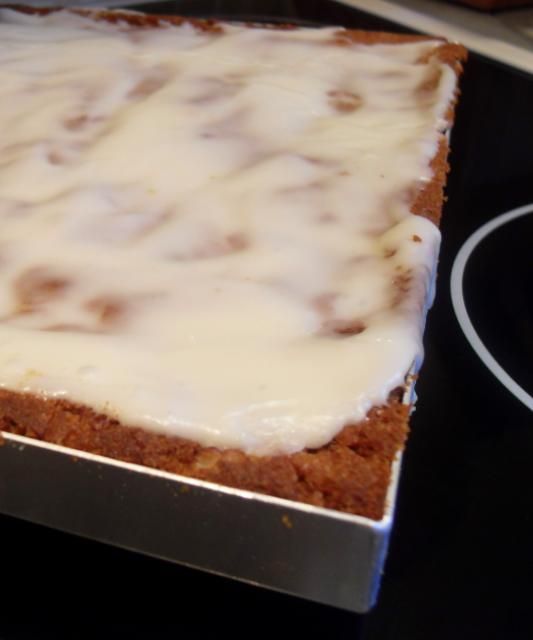 Everything looks so yummy and delicious and it was not long before I had my flour, sugar and eggs out and was baking a recipe from it's pages. Oh my, but these are yummy! Delicious Honey Squares with a most fabulous glaze that uses mayonnaise of all things! I know! Wierd! But my oh my, these are soooo scrummy!!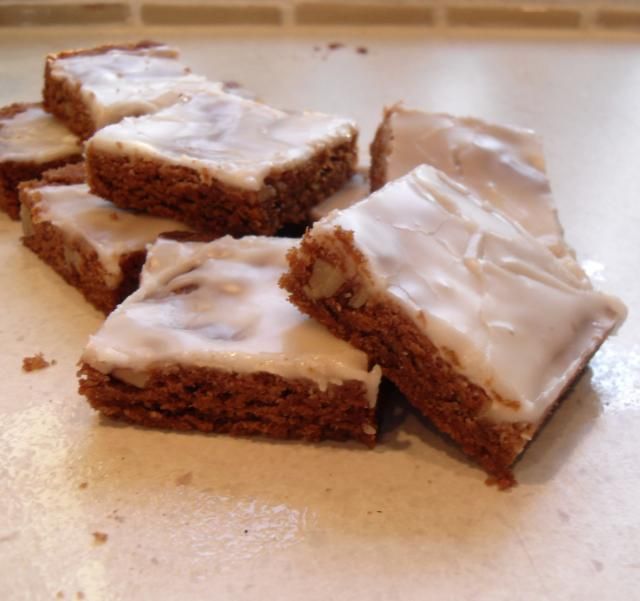 *Honey Bars*
Makes 2 dozen
Printable Recipe
These are deliciously filled with honey flavour and toasty nuts. The glaze is unusual but incredibly tasty as well!
Bars:
1 cup sugar
2 cups flour
1 tsp soda
1 1/4 tsp ground cinnamon
1 large egg, lightly beaten
3/4 cup vegetable oil
1/4 cup honey
1 cup toasted pecans, chopped
Glaze:
1 cup icing sugar, sifted
1 tsp vanilla extract
1 TBS water
2 TBS mayonnaise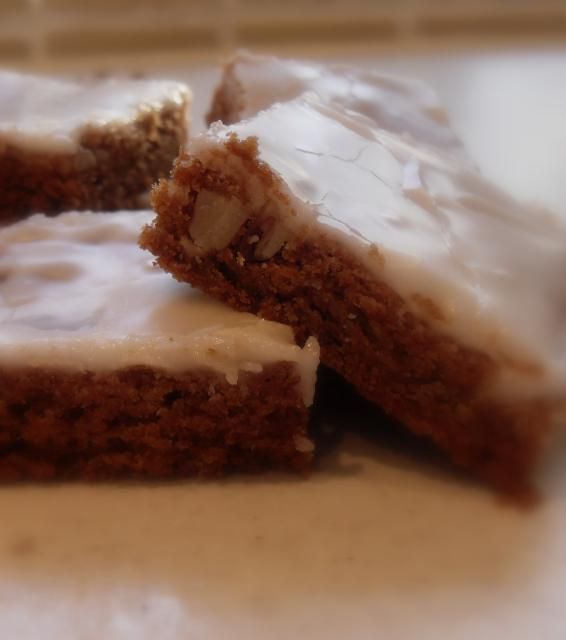 Pre-heat the oven to 180*C/350*F. You will need an ungreased jelly roll pan or 9 by 13 inch pan.
Whisk the flour, sugar, baking soda, and cinnamon together until well blended. Beat the egg, vegetable oil and honey together. Pour over the dry mixture and stir until the mixture is smooth. Stir in the nuts. Spread into the pan. (You do not need to grease it) Bake until a toothpick inserted in the centre comes out clean, about 20 minutes.
In a small bowl, stir together the sifted icing sugar, vanilla, water and mayonnaise until smooth and creamy. Spread over the bars while still warm.
Cut into bars to serve. Store in a tightly sealed container. Will stay fresh for 3 to 4 days.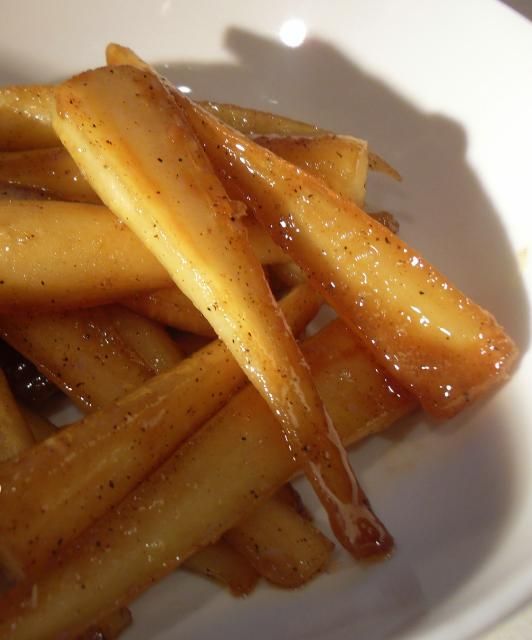 Over on
The English Kitchen
I've been glazing parsnips with brown sugar and butter! My, but these are some good!
Happy Sabbath Day everyone!