I thought it would be fun this morning to show you this Recipe Album I have been working on these past couple of weeks. It's been a lot of fun and has really inspired me to want to do more of this type of work. Of course these papers are just gorgeous from the Graphic 45 Home Sweet Home series. They speak to the country girl in my heart!
For this one I used their Black album, which I was able to get through Amazon. I love the way it really makes the papers pop, especially when I left a black frame around each picture. I used my MS Lace border punch to do a lot of the lacework in the album. It is nice to finally be using some of the things I have had in my craft room for a while now. I loved this particular illustration and so I used it for the cover and I applied a chipboard embellishment on top. I don't think I have finished the cover yet. It is a work in progress.
.
I also applied papers to the insides of the covers. I used an old fashioned quilt paper inside the front cover . . . and more of the same inside the front cover.
On the very back cover I used this beautiful floral print. With holly hocks and bees and butterflies, Emily Dickenson quotes, etc. I really love it. It reminds me of the botanical prints I love so much.
There are four main divider pages in the album which also have pockets on both sides. I have tried to do each one differently so as to divide different sections in the album. I am not sure what I will put in each section yet . . .
These photos are really not the best, probably because I just took them and had to use the flash. This is the back of the first divider. The front of it came out pretty over-exposed. (A photographer I am not) Anyways, you can see the back of the divider with it's pocket and index tab. I tried to use different papers for each one.
I love this little old lady print of a grandma trimming the crust on a pie and the little boy watching. I chose it for a highlight page, which is one of the smaller pages I made scattered throughout the album, one per section. the grandma picture is on a hinge, which opens up . . .
To reveal a little surprise inside. A recipe for Grandma's apple pie and a cute apple pie saying. And on the back of this . . . there is another, smaller pocket page, which you can use to pop in some recipe cards etc.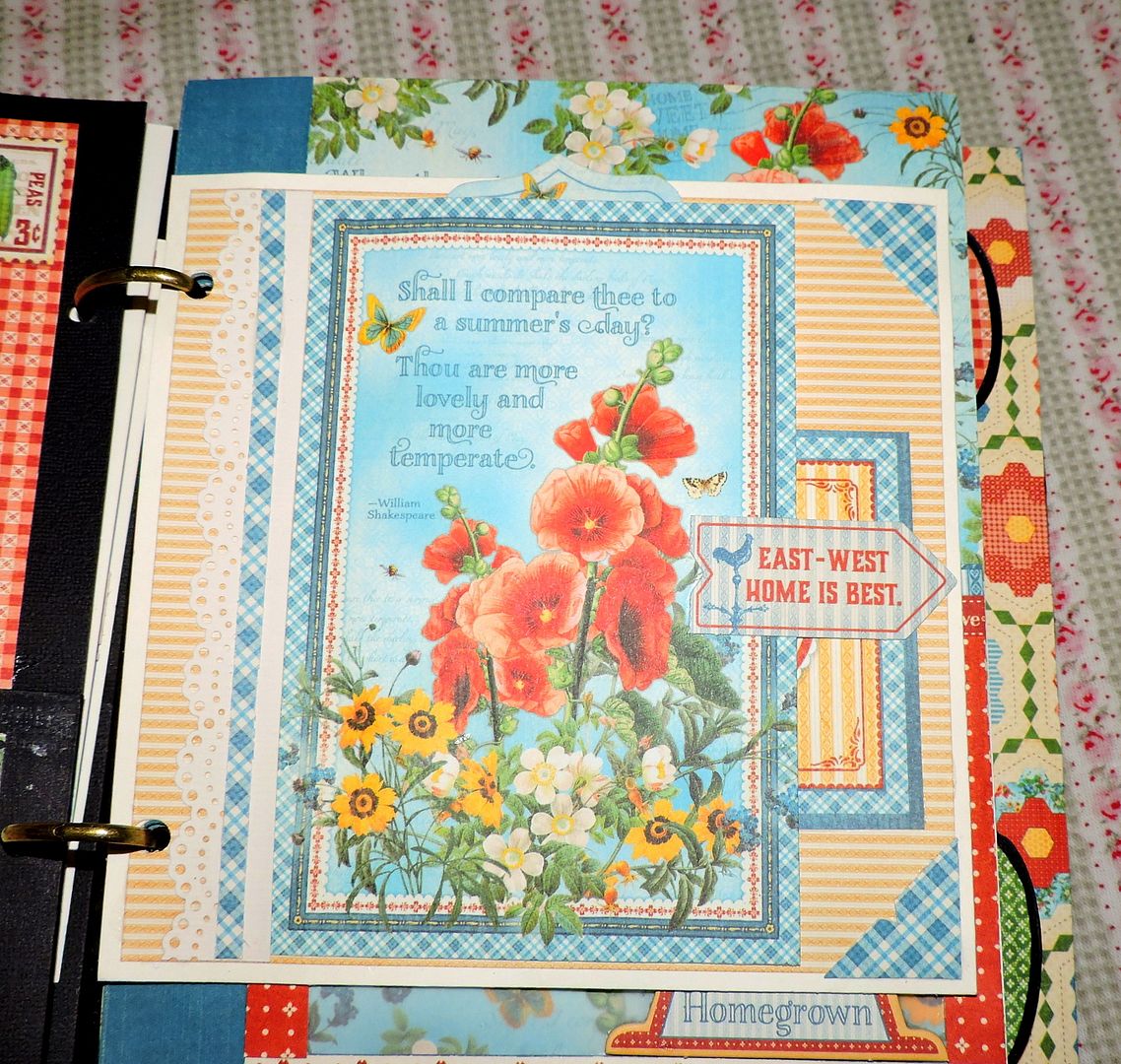 I did a few of these smaller hinge pages. This is another one. The East-West, Home is Best is also a tab that you can use to open the little hinge page . . .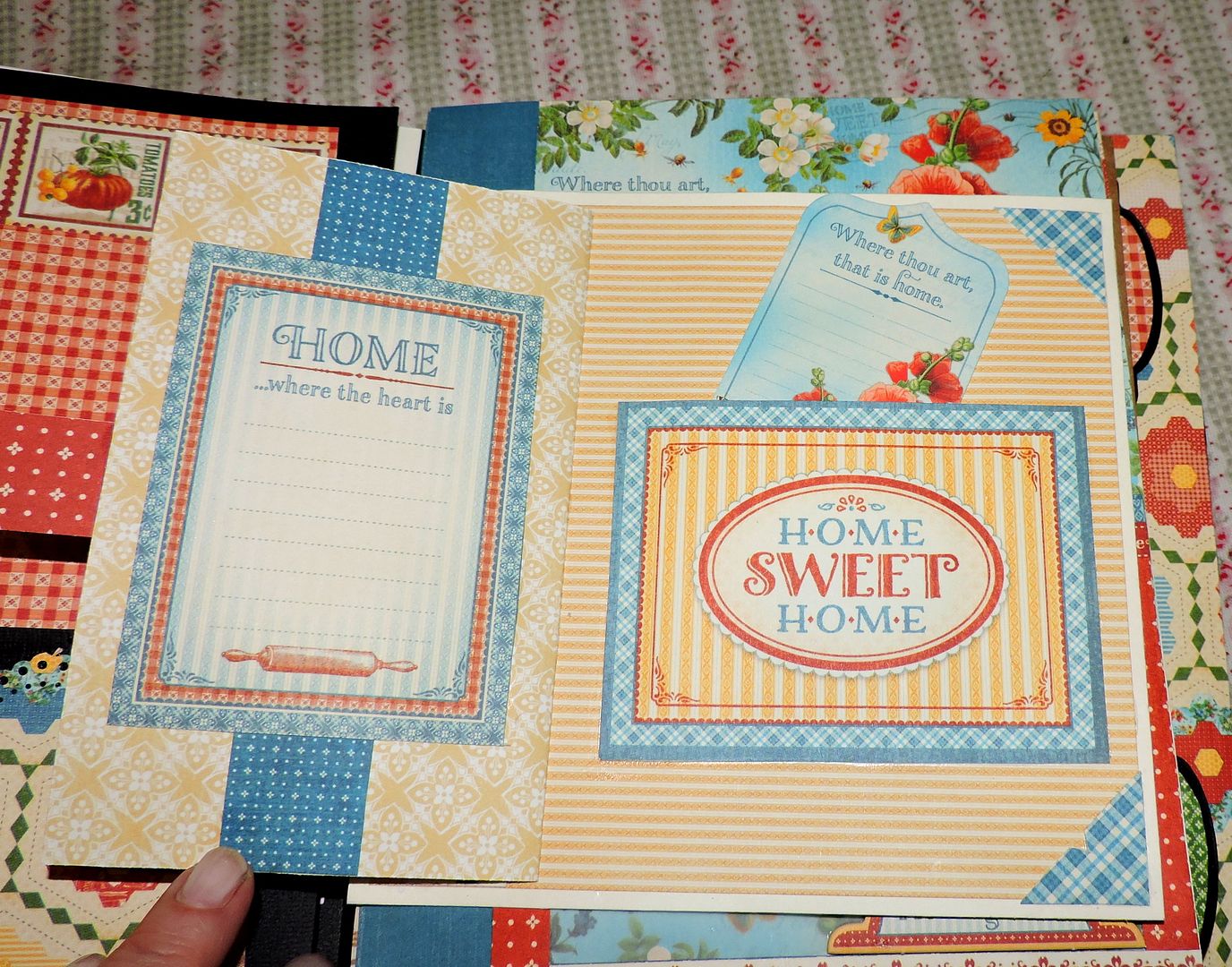 And inside more home sweet home sentiments with a tag you can pull out of that little envelope which you could write a speial message on and on the left a space where you can write a special cooking memory or whatever . . .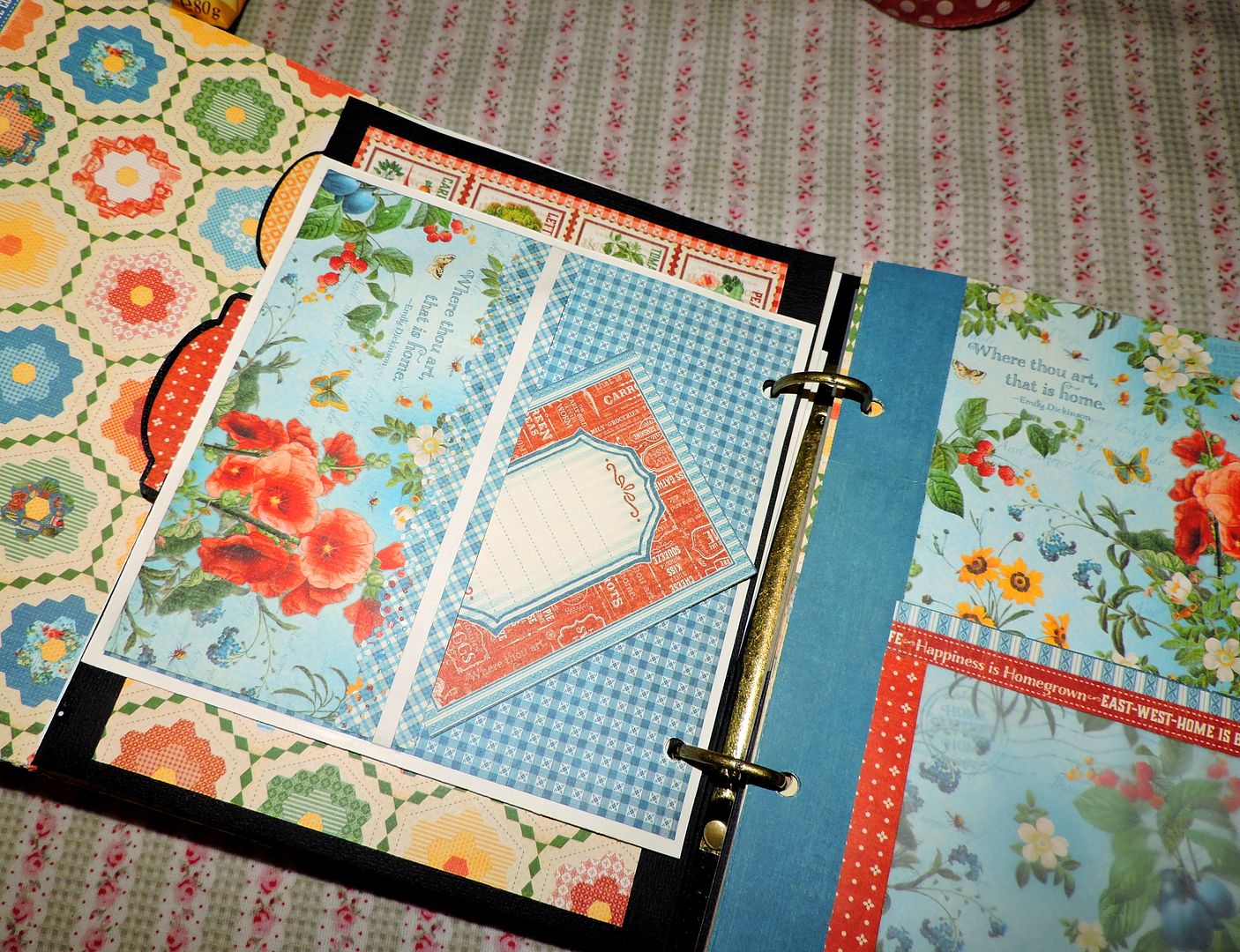 And I made another pocket page on the back with a slide in tag to do some more writing and of course you could also fit in more recipe cards. I just love these papers.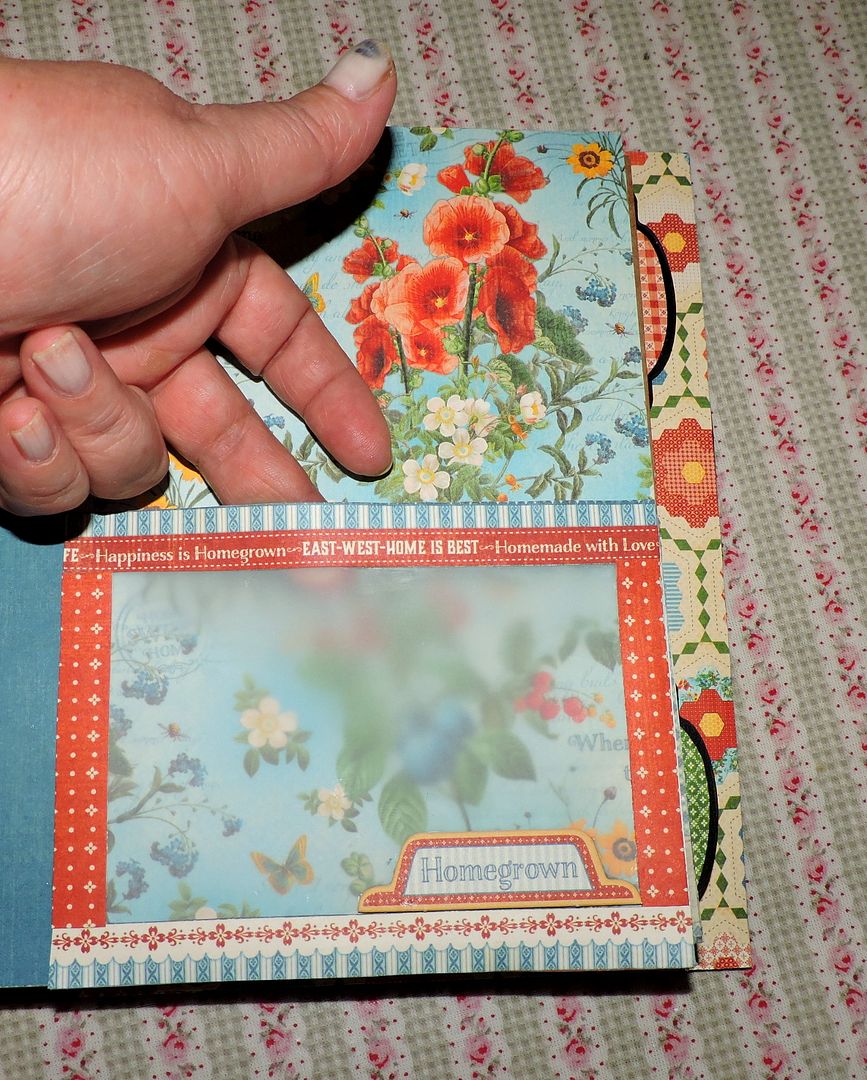 A Pocket page made using vellum for the pocket and there is a chipboard embellisment on the lower right hand corner.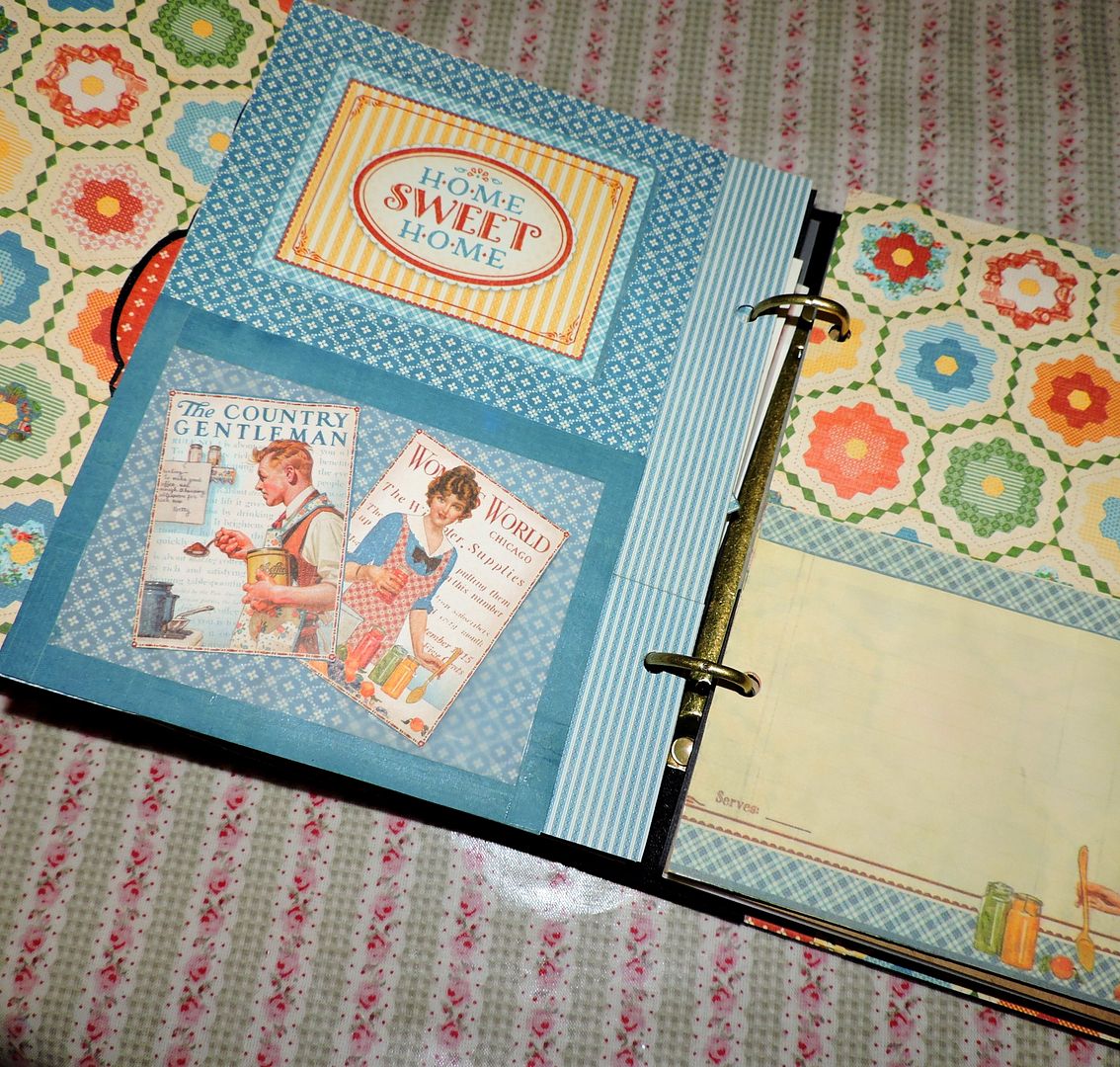 With velum pockets on both sides and pretty papers decorating them. I love this.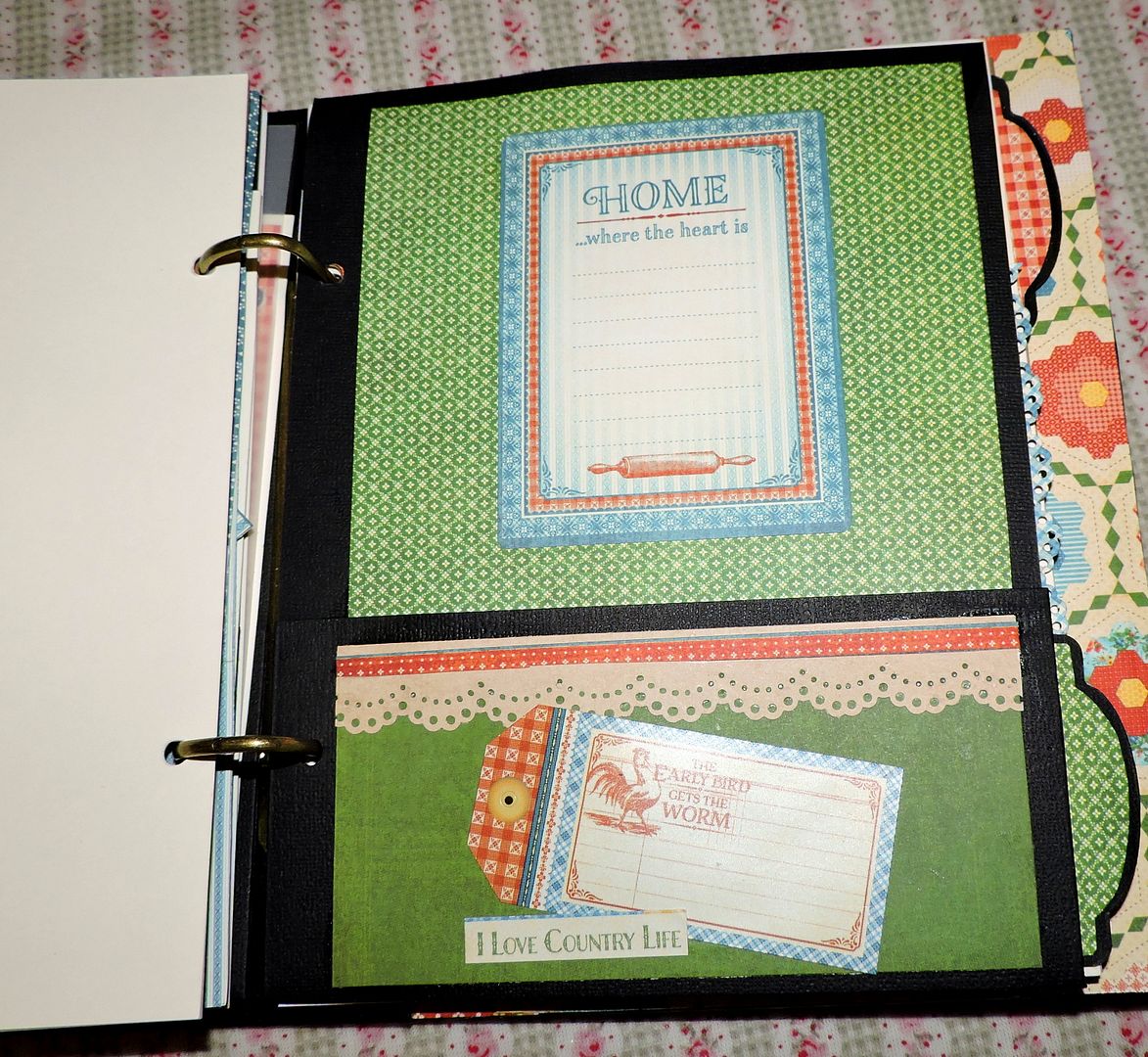 Another Divider page with pockets and spaces to write some special hints or tips on . . .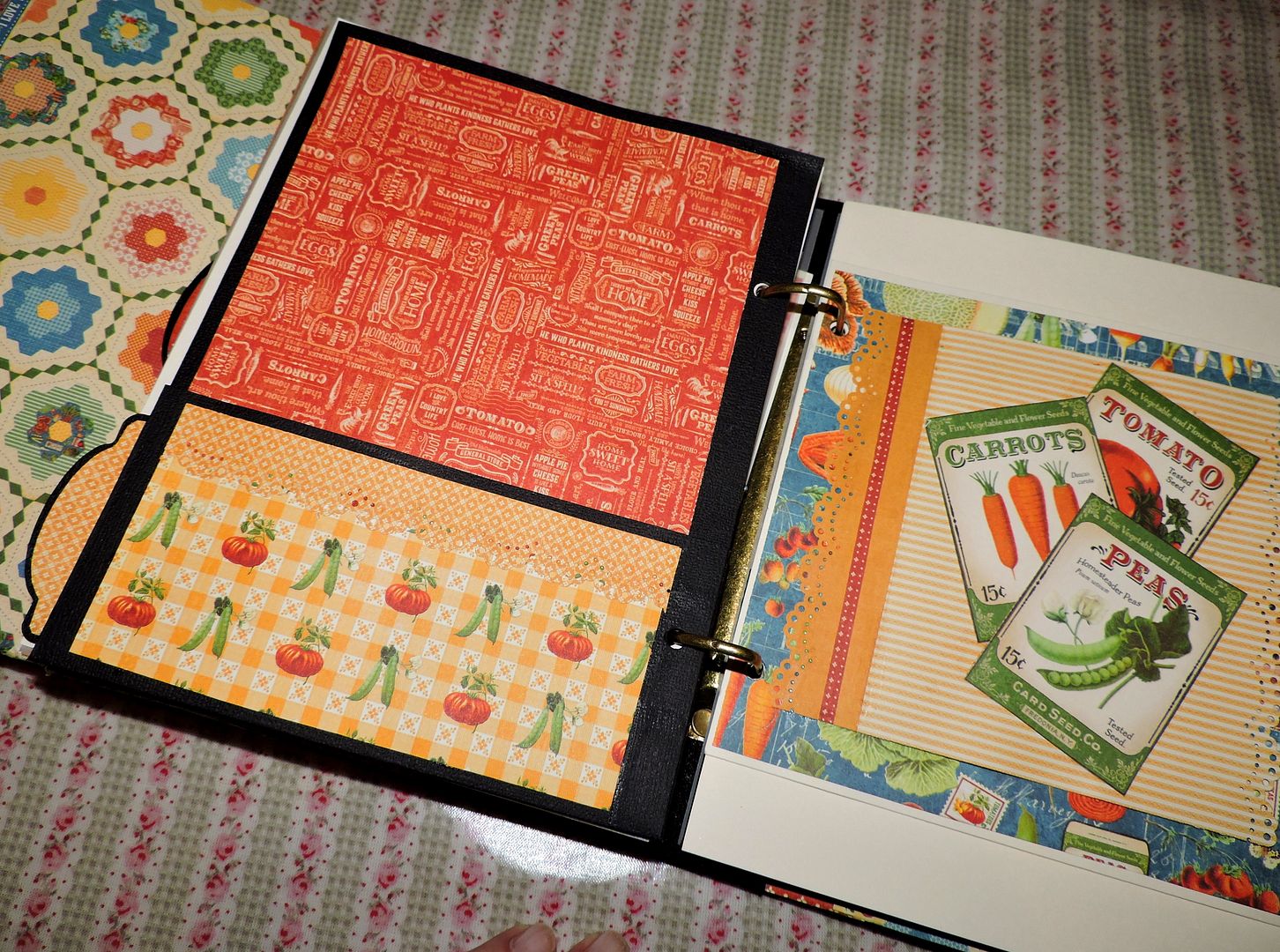 And on the back. I just love these papers. I think they are so sweet and it is great fun trying to come up with different combinations and arrangements of them.
Another mini page with a hinged top . . . what's inside?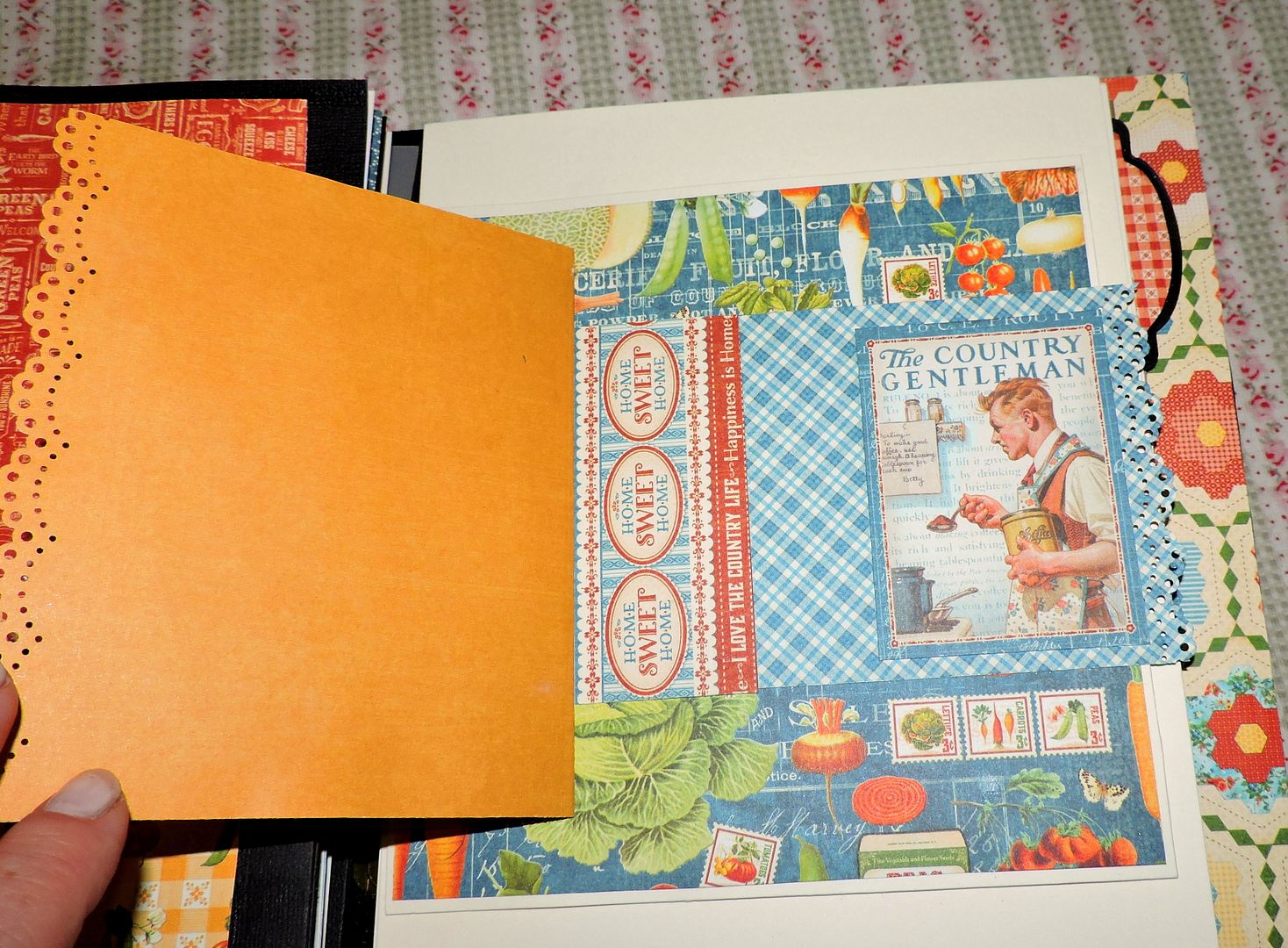 Some men make the best cooks doncha know! I left a space on the inside hinge so that you could perhaps put a photograph of grandpa cooking or a grandson cooking, or even a man enjoying something which has been cooked for him!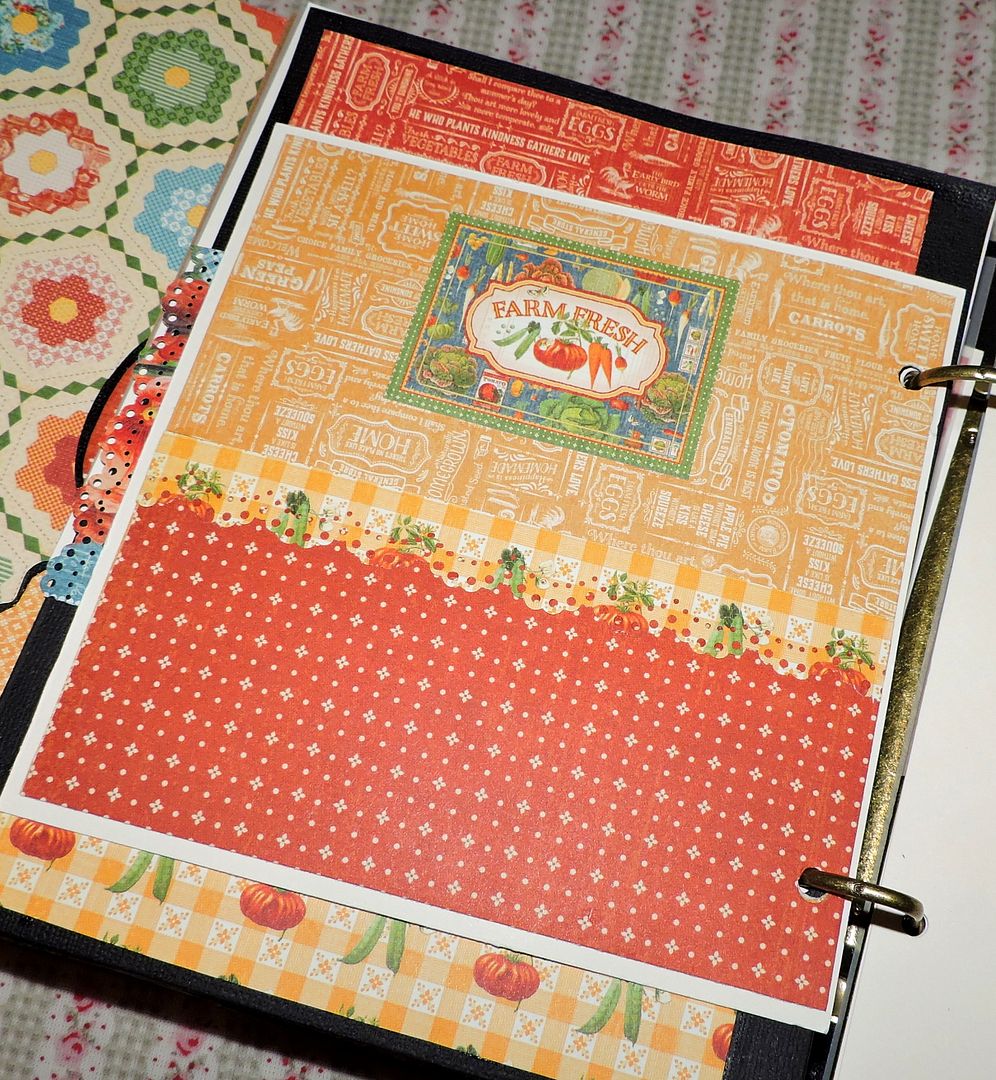 And of course another little pocket page on the other side.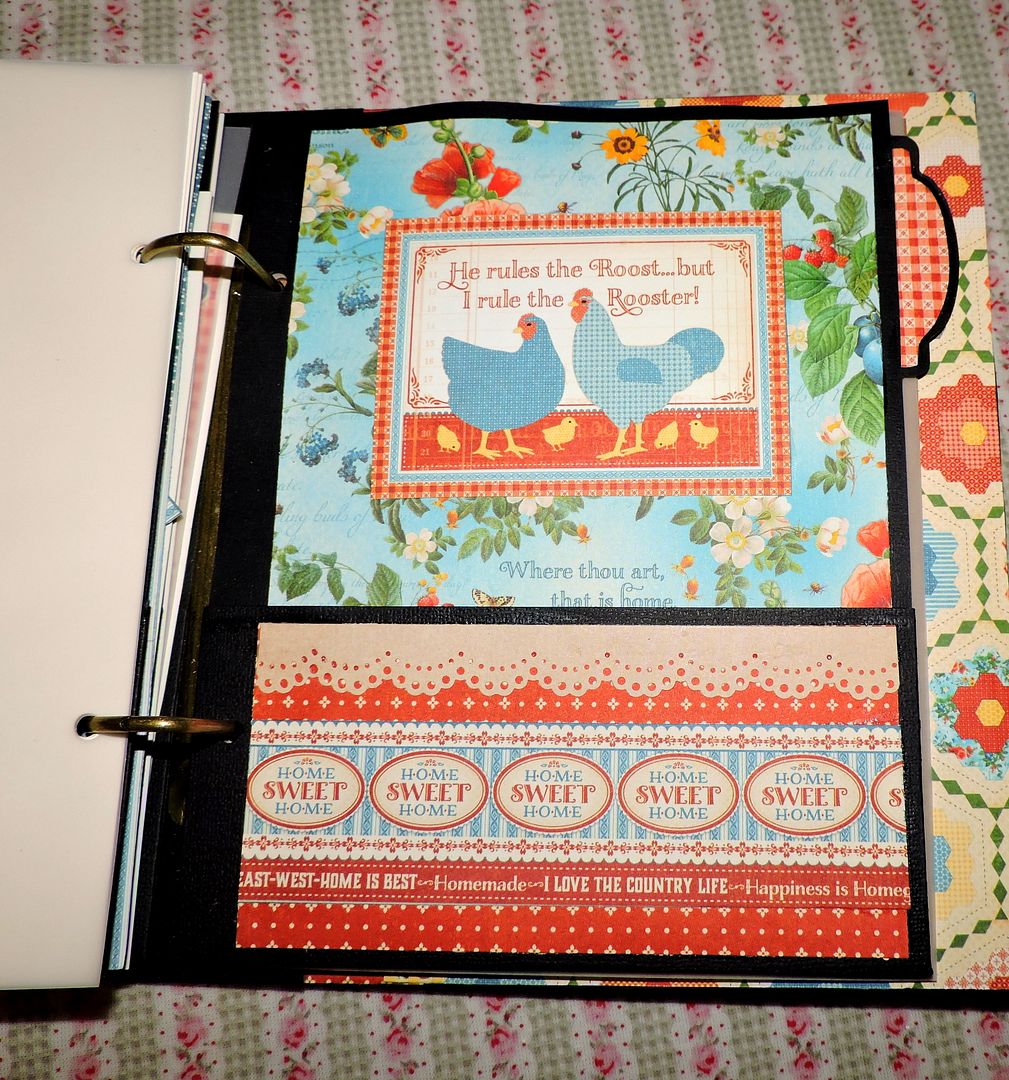 My final divider page on the front . . .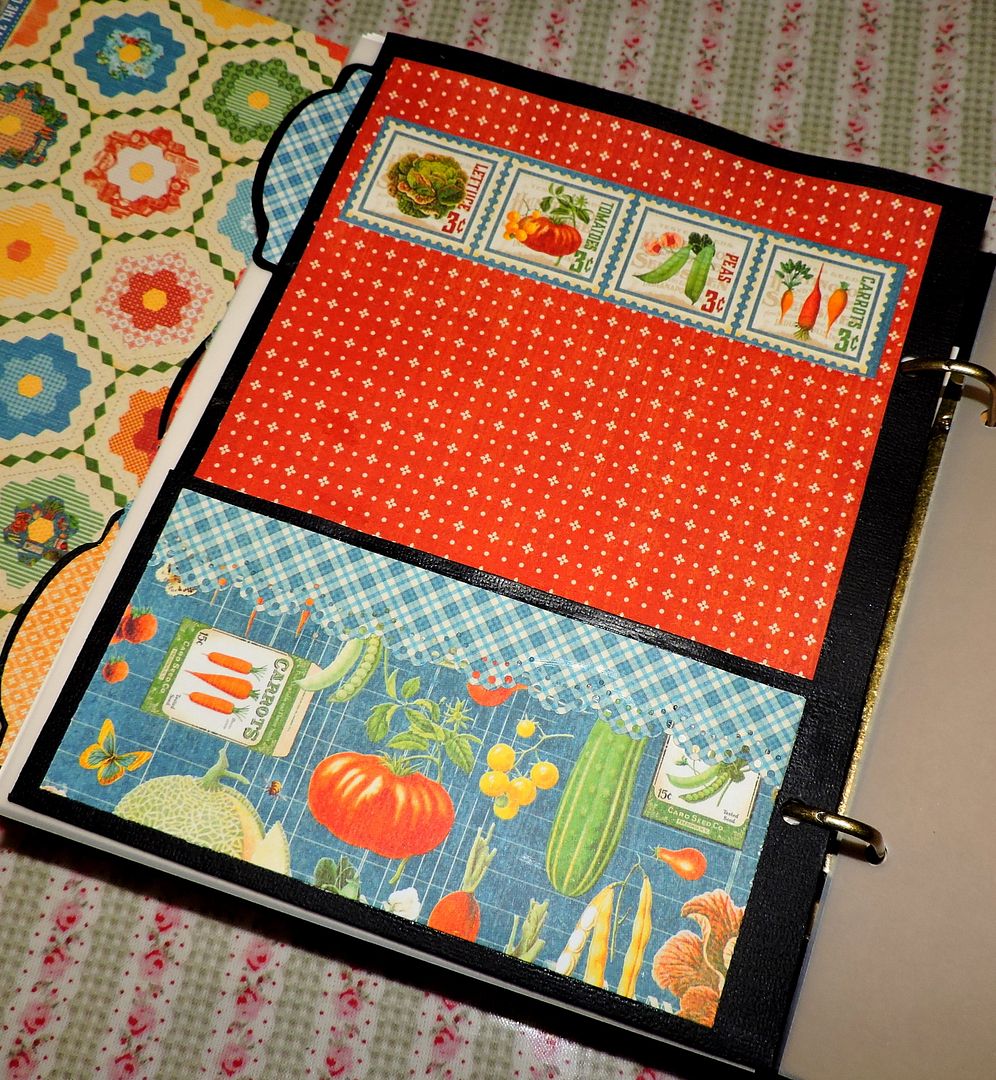 And on the back . . . and in between all of these pages are plain ivory and kraft paper pages with recipe cards to fill in that have been set in place using picture corners so that you can take the cards out and read the instructions on the back.
It would make a beautiful gift for a young newly wed couple, or even a nice album to keep for oneself. I haven't decided yet what I am going to do with it. Of course I also have more work to do on it, but it's sure been a lot of fun thus far!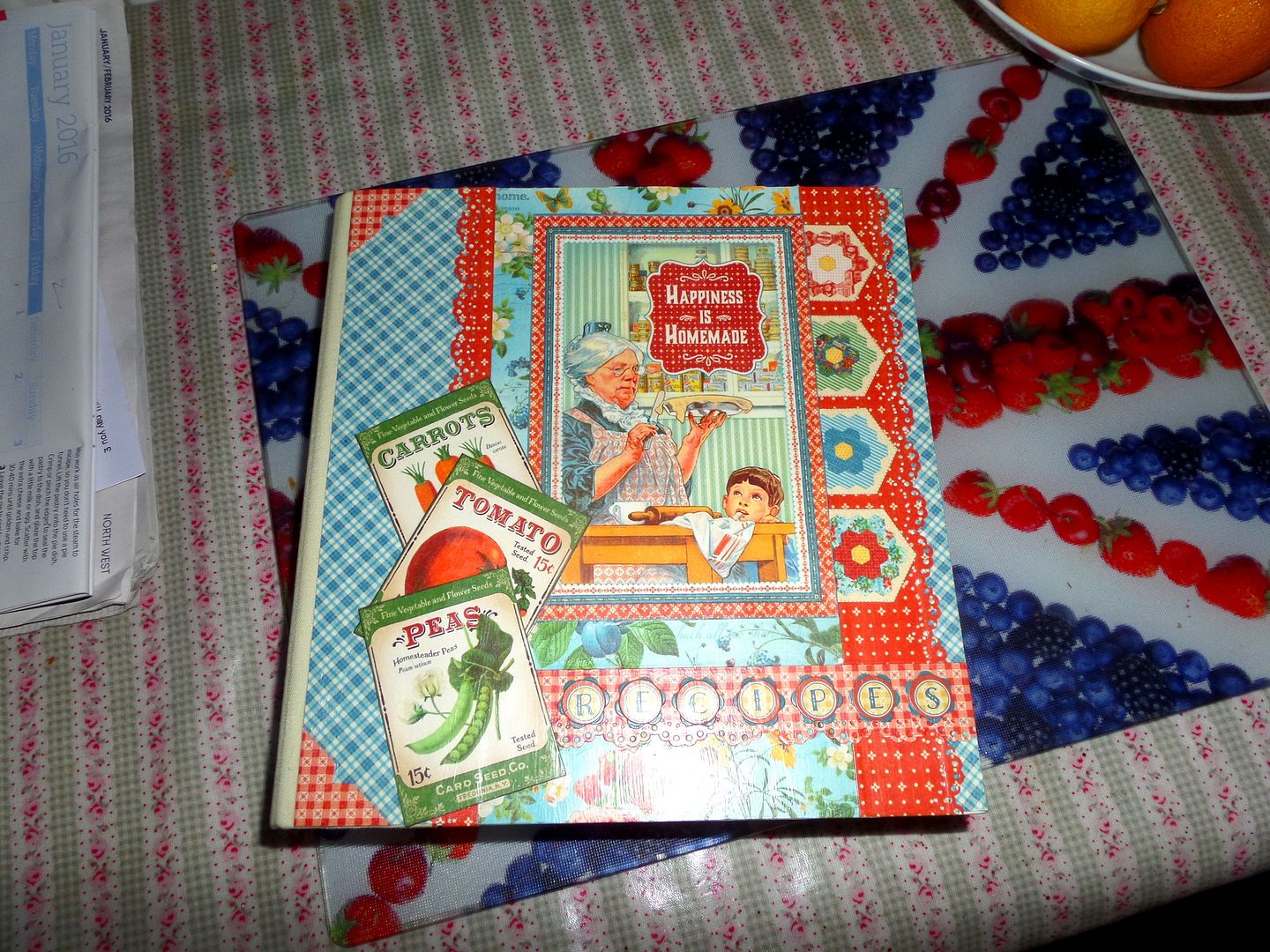 And of course it makes a great companion to the Ivory coloured one I did earlier this month. I am really enjoying this. Almost as much as creating my own art. Close at any rate. I have been thinking to myself . . . what kind of album could I create using my own artwork. We will have to see!
Look who stopped by yesterday afternoon. Its Elder Judd and Elder Candland. What great lads. Mitzie always loves it when the Missionaries stop by. I fed them up with some sandwiches and cake and we discussed some teaching opportunities and ways in which we could help them out.
So, yesterday ended up being a very full day and now I have to go because it is already seven and I have a ton of things to do before I leave for church, so I will leave you with a thought for today . . .
~•~♥♥♥~•.~•~♥♥♥~• ~~•~♥♥♥~•.~•~♥♥♥~• ~
"As you take the normal opportunities
of your daily life
and create something of beauty and helpfulness,
you improve not only the world around you
but also the world within you."
~Dieter F. Uchtdorf
~•~♥♥♥~•.~•~♥♥♥~• ~~•~♥♥♥~•.~•~♥♥♥~• ~
Spiritual Enlightenment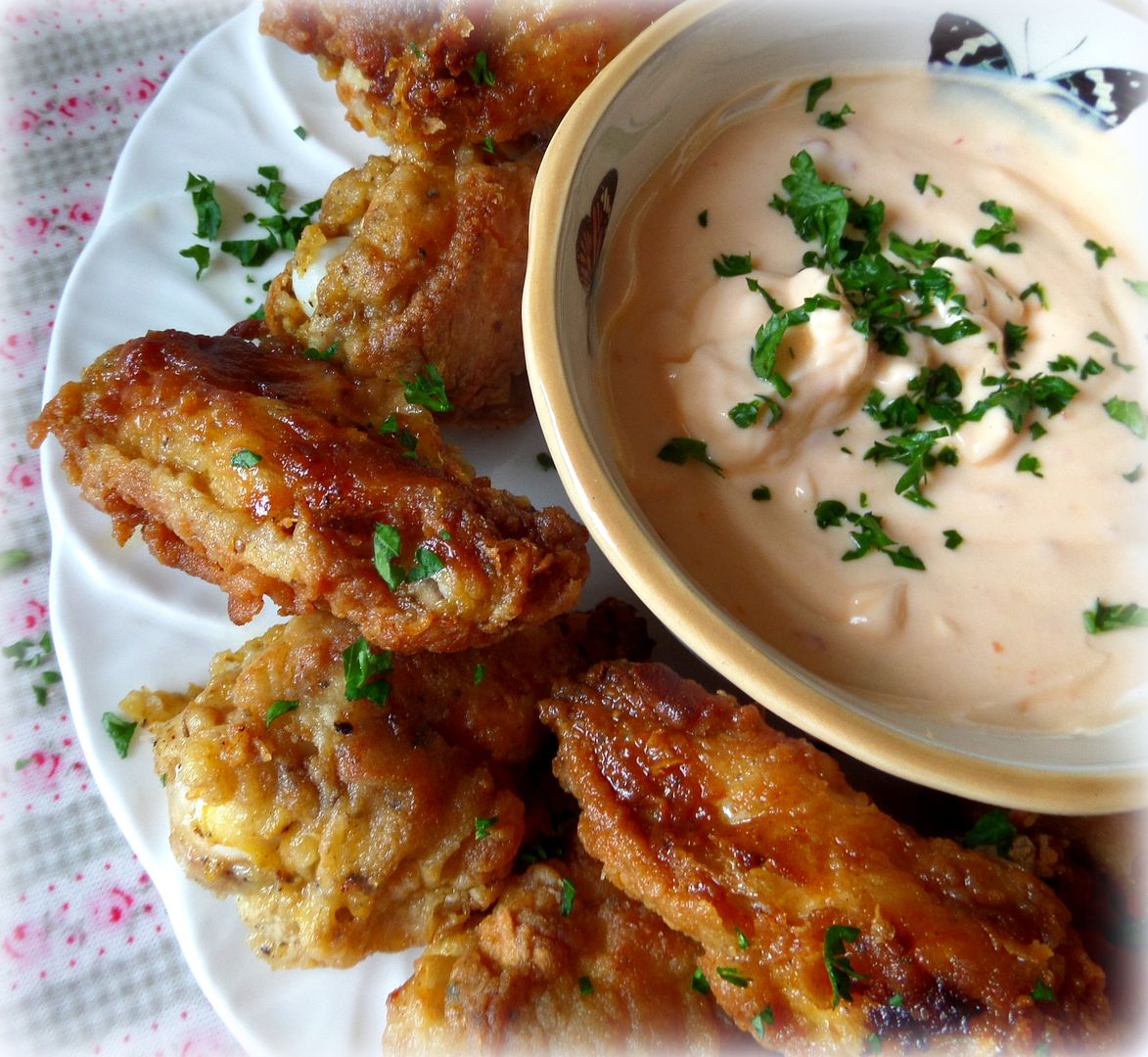 There isn't too much going on in the kitchen today . . . I just did a round up of
finger food treats
for game day!
Have a wonderful Sabbath Day. I hope it's filled with pockets of love and of joy, no matter what you get up to. Don't forget . . .
═══════════ ღೋƸ̵̡Ӝ̵̨̄Ʒღೋ ═══════════ ⊰✿░G░O░D⊰✿⊰L░O░V░E░S⊰✿⊰░Y░O░U░⊰✿
═══════════ ღೋƸ̵̡Ӝ̵̨̄Ʒღೋ ═══════════
And I do too!