A few of the things I find each week which strike my fancy and I hope that they strike yours also!(Can you believe that already this is the last one for February! The month has just flown by!)
From
the Happier Homemaker
. . . I have my doubts, but I am going to try it and see if it's true! I'll let you know!
From
36th Avenue.
DIY Mini Gardens. These are so cute. What a great "Mother's Day", "Teacher Thankyou" at the end of the year, or "just because I care about you" gift these would be!
Let's make all of our mail pretty! From
Postnome ru.
It's in Russian but has an English trtanslator. This is a fabulous idea. If you are like me, there is very little "real post" that goes out to people these days, why not make what you do send a feast for the eyes from the get go!
DIY Beginners Sewing Kit. What a fabulous idea for a little girl! A complete tutorial from
Smashed Peas and Carrots.
Free Printable Chalkboard Tags. From
The Ellie Blog
.
This birdhouse made from old books is really cute.
Architecture, Art and Design
, ten delightful diy birdhouse designs.
Pom Pom Ballerinas. So cute! I tried really hard to find a source but could not. I don't think they would be very hard to create with a bit of paint and some large pompoms, felt for the wings, some gold thread for the slipper laces, etc. Sweet!
Ruffled Pillow Case Dress. So adorable. From
Simply Modern Mom
.
Pretty Prudent
. Printable Recipe Binder and Templates.
Now, this is a really great idea. Using an old book you might be thinking of throwing away as a Scrapbook project. For photographs, etc. From
Happy Little Moments
.
And that's my finds for this week. I haven't been feeling very well for a couple of days now. Somewhat of a tummy upset and I am getting a chest infection. Even though we were having the Missionary Elders for supper last night (I did a simple curry) I took myself upstairs to do some creating (artwise) of my own, which I hadn't done for a while.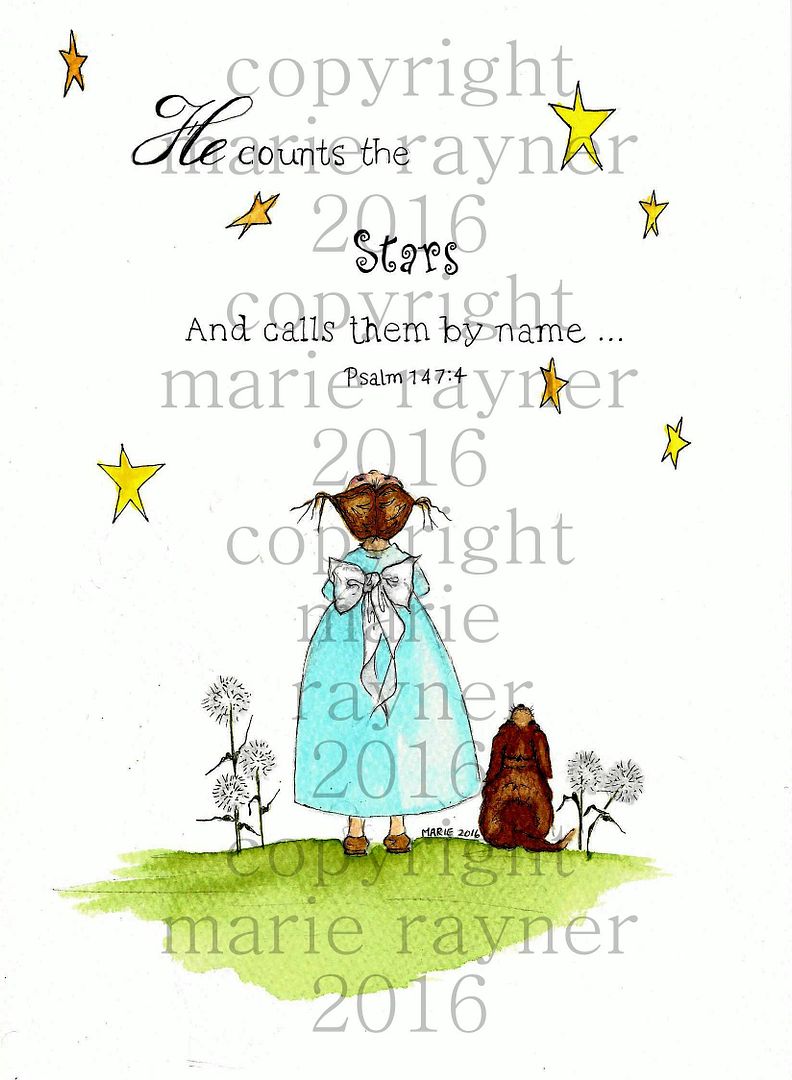 (Sorry for all the copyright imagery, but someone on facebook has been stealing my art and erasing my copyright and making it their own, I thought this would be a lot harder to copy.) I am trying hard to be positive in the face of my impending colonoscopy etc. It really freaked me out when the Specialist said I think you have bowel cancer. And it's really freaking me out that it is taking them so long to come to a conclusive diagnosis . . . being able to escape into my art helps, so does keeping busy. I'm a bit of a hypocondriac anyways, so I am not sure if I am imagining things now or if I am really experiencing things. I know . . . what
am
I like! Putting it in the Lord's hands. If He knows each star by name and counts them, then I know He counts me too and knows me by name. Of course saying that I am doing that and actually doing that are two different things. It's always there niggling at the back of my mind . . .
A thought to carry with you through today . . .
~•~♥♥♥~•.~•~♥♥♥~• ~
My faith is to rest not in the outcome
I think God should work out for me,
My faith rests in who God is,
the quietness of my heart is the fruit
of an absolute confidence in God.
~Elizabeth Elliot
~•~♥♥♥~•.~•~♥♥♥~• ~
Spiritual Enlightenment
In The English Kitchen today . . .
Bagel Hole Eggs
. Deliciously different!
Have a fabulous Friday. Wherever you go, whatever you do, don't forget!
═══════════ ღೋƸ̵̡Ӝ̵̨̄Ʒღೋ ═══════════ ⊰✿░G░O░D⊰✿⊰L░O░V░E░S⊰✿⊰░Y░O░U░⊰✿
═══════════ ღೋƸ̵̡Ӝ̵̨̄Ʒღೋ ═══════════
And I do too!