These are a few of my favourite things . . .
I just adore Peanut Butter. It's one of my absolute weaknesses. I have never made my own. My Peanut Butter of choice is Skippy. I am not overly fond of British Peanut Butter. (Sorry folks!) I like Skippy. It's creamier, probably because it is more full of fat. I don't know . . . I only know I prefer it. When I was a child we used to get Squirrel Peanut Butter. It was the only one with a real peanut on top. At one time Peanut Butter came in drinking glass jars! They were decorated with diamonds, hearts, clubs and spades in black and red. My mom collected a whole set and still has them.
Susan Branch. I have loved her artwork since the late 1970's/early 80's when she started doing illustrated recipes in Country Living Magazine. I have collected her art, books and calendars, etc. ever since. I follow
her blog
. It's compelling reading. I love all that she writes about, and all that she paints/illustrates. She seems like a very nice and genuine person, approachable. I admire woman who can make it in the art world and make a living at it, really . . . Susan Branch, Mary Englebreit, Holly Hobbie, Tascha Tudor, Marjolein Bastin, and a few others whose names escape me at the moment. (It's my brain really . . . it doesn't work like it used to do!)
Another woman I greatly admire is Ellen Degeneres. I think she is very funny. She makes me laugh. She, too, seems very approachable, and very nice. Her generosity astounds me. That is why we are here. When we are given talents and abundance, it is not just for our own enjoyment. We are meant to share them with others, and this woman does. She seems to be very compassionate and giving. She is good people. You cannot fake being a good person. It always shows, eventually. Always.
I like genuine and good people.
The Holy Scriptures. I love the Book of Mormon, no more and no less than I love the Bible. I will be the first one to tell you that I have not sat down and read the Book of Mormon in one go from the front cover to the back cover, but I have never done that with the Bible either. They just don't appeal to me in that way . . . like a novel does. But I have studied both, from cover to cover and I have discovered gems of knowledge and inspiration within those covers. And that is the difference. The study. The delving into the Word of God, and I firmly believe that both are the Word of God. I have favourite scriptures from both books. Passages of verse which bring me comfort and inspiration. The Scriptures have helped to bring me into a closer relationship with my Saviour and my Heavenly Father. There is a difference between merely reading the scriptures and feasting on the scriptures. Feasting upon the word of God brings untold blessings . . . understanding, and yes . . . comfort in times of trouble. To me they are like the Driver's Manual to life.
I love Country Music. It was not always so. I was very much a pop music enthusiast when I was at school. Something happened when I was 18 however. I started going to Vocational Training and our bus driver was a Country Music lover. That is all he played on the bus. It began to grow on me. I started to love what I thought I had hated. Country music gets to the heart. I love it. Sadly it is not a music you hear much of over here in the UK, although it is very popular in Ireland. I have to watch it on You Tube and I am probably way behind on who is who in the Country Music Industry nowadays. I have my favourites . . . Clint Black, Kenny Chesney, Reba MacIntyre, Tim McGraw, George Strait, Loretta Lynn, Keith Whitley, Johnny Cash, Garth Brooks, Martina McBridge, Allison Kraus, Patty Loveless, Ricky Scraggs, Pasty Cline, Alan Jackson . . . tons of favourites. I just love country music and could listen to it 24/7. I especially love Blue Grass and Gospel.
I love Butterflies. When I was a girl there were lots of butterflies. There doesn't seem to be as many nowadays. I was thrilled a few years back when I noticed these in my garden . . .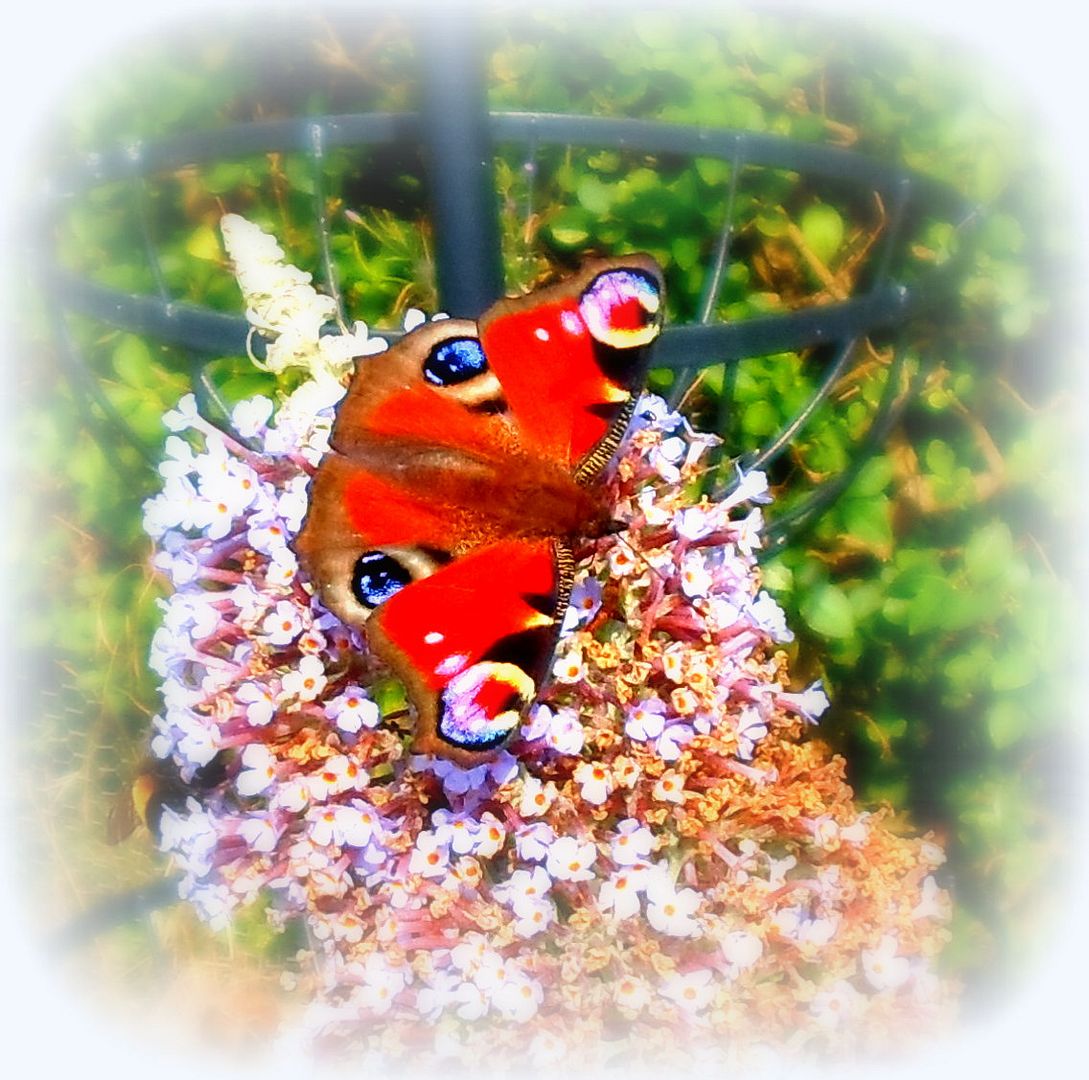 Peacock Butterflies. They are so beautiful. I have seen quite a few of these now, and alot of the Cabbage Whites . . . and these . . .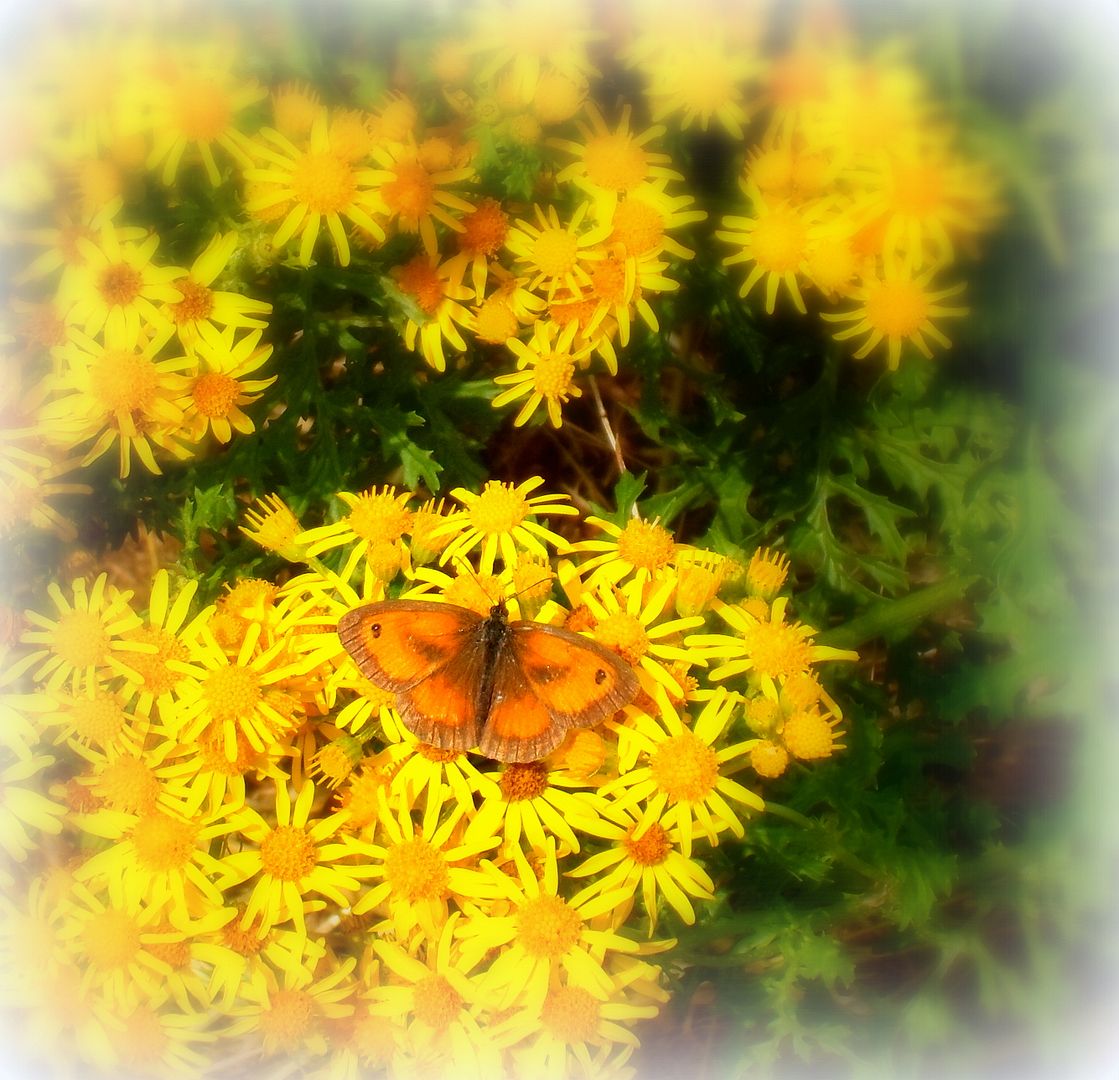 They're all beautiful. It's as if flowers have been given wings to fly . . .
Writing. Stories, poetry, letters, blogs, journals . . . I love writing. Of course today it is more typing than actual writing. It is all about getting my thoughts out and down onto paper. I love stringing words together in interesting ways. I guess I am just a very creative person in that way. It doesn't really matter to me if people read them . . . that's not why I do it. I do it because I can't not do it.
Fred Astaire and Ginger Rogers. I love watching people dance, and especially traditional, ballet, tap and ball room dance. Not so much modern dance, although I am sure that a lot of people do like it. I am a traditionalist at heart I think. I haven't danced in years. My ex and I took Ballroom Dance classes once upon a time, and I did square dancing when I was first separated which was something which I had always wanted to do. Todd has two left feet, or so he says, and I believe him. I love to watch dancing though and so . . . I do. I love those telly programs Dancing with the Stars, and such. It's amazing to see how these people improve from week to week. I love the skating one they had on a few years ago which involved dancing on ice . . . but they don't seem to do it anymore. It brought together two of my loves Dancing and Figure Skating.
and that is just a
few
of my favourite things . . . what are some of yours? I really want to know!
A thought to carry with you through today . . .
~~•~♥♥♥~•.~•~♥♥♥~• ~♥♥♥~• ~~
"Teach your children that they live
in a world of magnificent abundance,
that there is enough for everyone . . .
and that it is in sharing the most,
not in gathering the most,
that the most is received.
~Neale Donald Walsch
~~•~♥♥♥~•.~•~♥♥♥~• ~♥♥♥~• ~~
Spiritual Enlightenment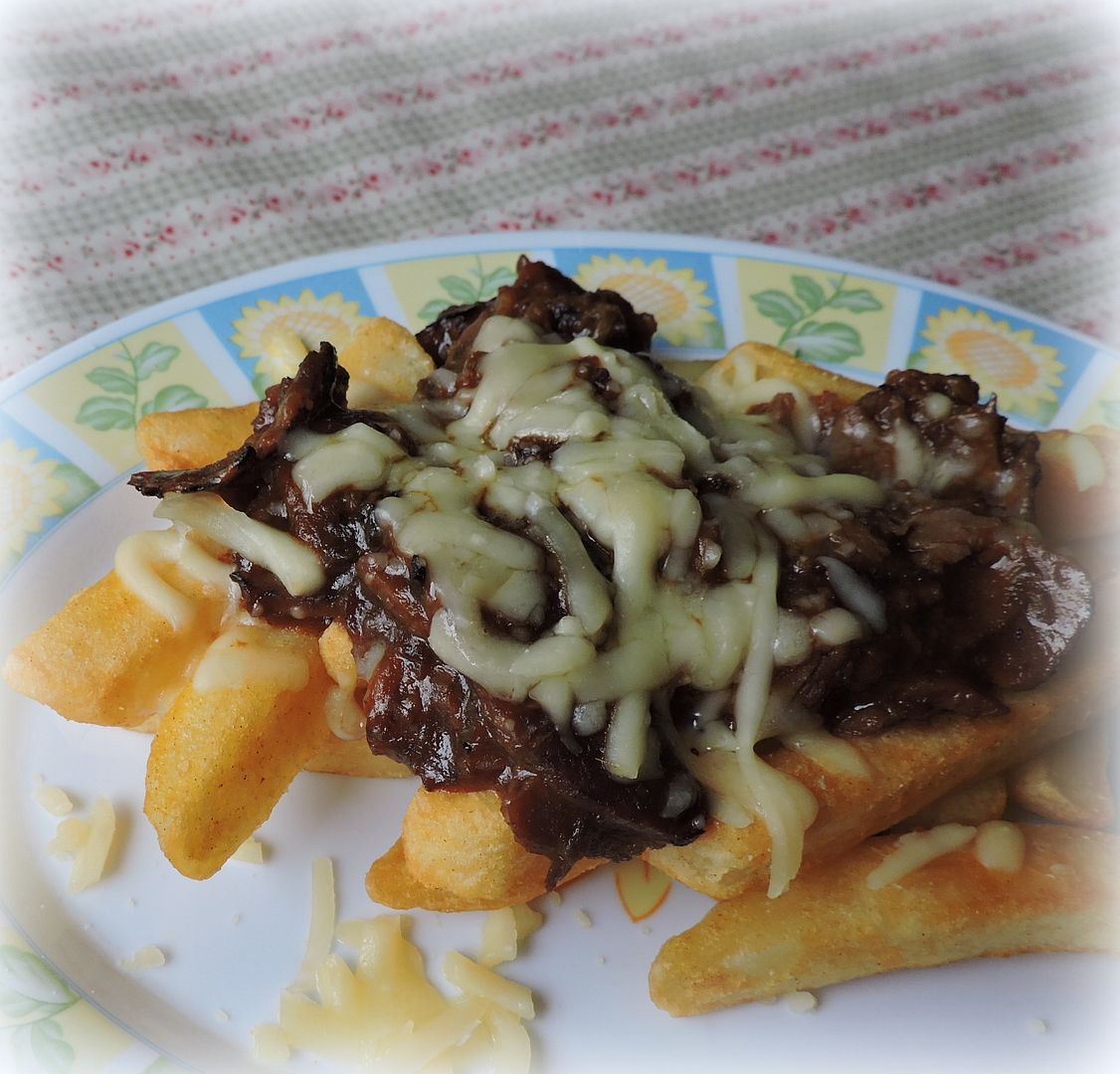 Cooking in The English Kitchen today . . .
Barbeque Beef Poutine
. Delish!
HAPPY Thursday. I hope your day is as special as YOU are. Don't forget . . .
═══════════ ღೋƸ̵̡Ӝ̵̨̄Ʒღೋ ═══════════ ⊰✿░G░O░D⊰✿⊰L░O░V░E░S⊰✿⊰░Y░O░U░⊰✿
═══════════ ღೋƸ̵̡Ӝ̵̨̄Ʒღೋ ═══════════
And I do too!