Courage does not mean an absence of fear,
but the ability not to let yourself
be paralysed by that fear.
~Paulo Coelho
I will not be afraid. It would be easy to be afraid, in light of recent events. To change the way you do things or the places that you choose to go. But to change these things is to let them win. They want us to be afraid and that is why everything they do is calculated to make us feel uncertain and afraid to live our every day lives to the fullest.
They want us to be afraid to go to concerts, or to football games, or to shopping malls . . . they want us to stay inside our houses, afraid to go to any public place for fear of what might happen if we do. They want us to stop flying. To stop going on holidays to beautiful places. They want us to shut our mouths, not to speak how we really feel because of fear of any repercussions from doing so.
That is why they do the things they do.
We cannot let them win. We can be sad. We can be outraged. But . . . we cannot let them win.
"Fear is the enemy of love."
~St Augustine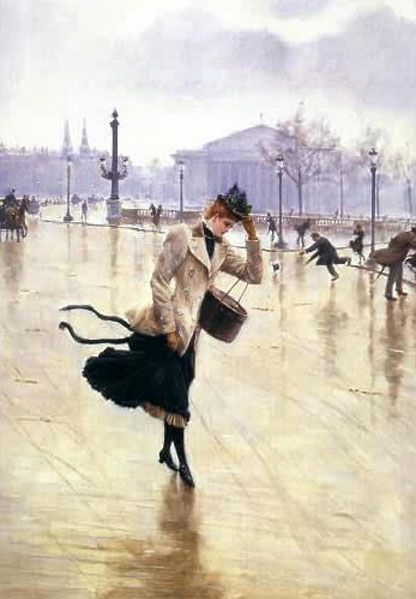 'A Windy Day' by French Impressionist painter, Jean Béraud (1849-1936)
Oh, but the wind is blowing hard out there this morning and the rain is beating upon the windows in such a way as to make one feel very glad to be inside. Alas, we cannot stay in side because we have church. Todd and I are teaching in the Gospel Doctrine Class this morning and it is the day of the Primary Presentation during the latter part of Sacrament meeting, which we are very keen to see.
All year long the children work towards this Primary Presentation and it is always one of Todd's and my favourite sacrament meetings during the year . . . where the children show us all that they have been learning over this past year through song and through small presentations. They are always so cute to watch. It's also very soul enriching to see how much they know and how much they love the Saviour. Can't wait!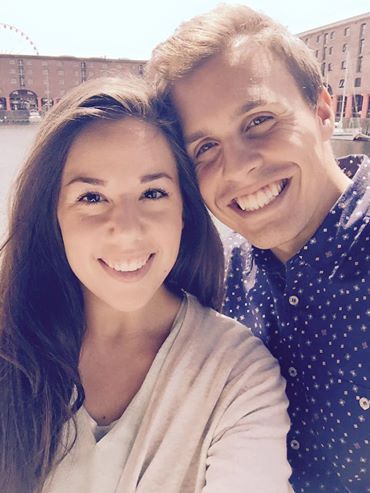 This is such a cute young couple. We miss having Ariana in the house, but she and Jose have moved just around the corner from us now and so we hope to get to see more of them. They called yesterday to see if they could do their laundry here as their laundry facilities where they have moved are not yet ready to use. (They have the same landlord as we do and it's a work in progress. ☺) We said no problem and they walked over in the rain with it. They were going to go shopping for some groceries. It was pouring of rain, and so Todd took them to the shops in the car and I did their laundry for them. It does my heart good to see them so happy and in love with each other. I gave them some of the cookies I had baked, and some of my fruit crumble to Jose because he is a diabetic and he could eat it and Ariana doesn't like cooked fruit so it was highly unlikely she would ever cook such a thing for him. He was happy about it and she was happy about the cookies.
I need to make them a peanut butter cake one day that they can both eat.
We watched this last night on the telly. It was okay. I think my main problem with it was Colin Farrel. There is just something about him that I don't like. I also don't like Russell Crowe. And they were both in this film. But other than that it was okay.
And with that I best dash and hop into the shower as the morning is beginning to get away from me and I don't have much time to spare today!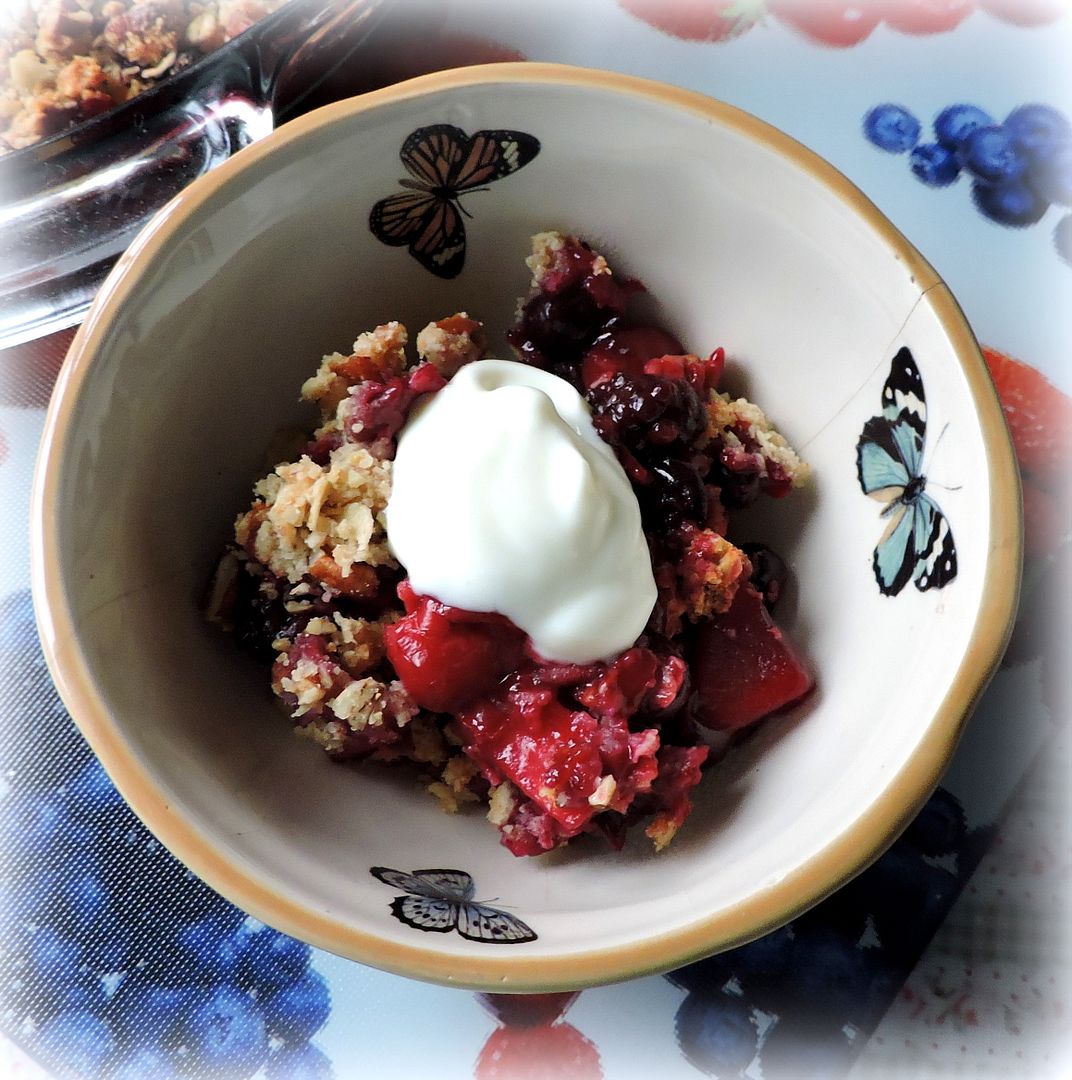 Cooking in The English Kitchen today . . .
Berry and Apple Crumble
, with a pecan and oat topping. This is very good and on top of being quite delicious it is low fat and almost sugar free! A real treat!
Have a fabulous Sabbath/Sunday. Wherever you go, whatever you do, don't forget!
═══════════ ღೋƸ̵̡Ӝ̵̨̄Ʒღೋ ═══════════ ⊰✿░G░O░D⊰✿⊰L░O░V░E░S⊰✿⊰░Y░O░U░⊰✿
═══════════ ღೋƸ̵̡Ӝ̵̨̄Ʒღೋ ═══════════
And I do too!