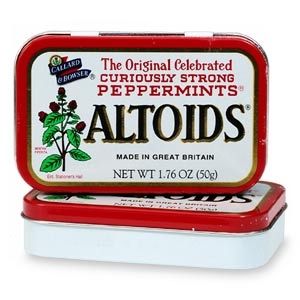 I've been collecting these altoid tins for a couple of years now. I love small tins and have a collection of them, some of them from Celestial Seasons herbal teas, etc., in my craft room holding pins, tiny buttons and other things.
I've been exploring all the altered altoid tins on Pinterest lately. Some are quite fascinating and I have long been wanting to do something with mine. This week was the week. I did one altered tin with a Christmas theme using one of my tins. It involved several days work . . . I was really quite pleased with how it turned out!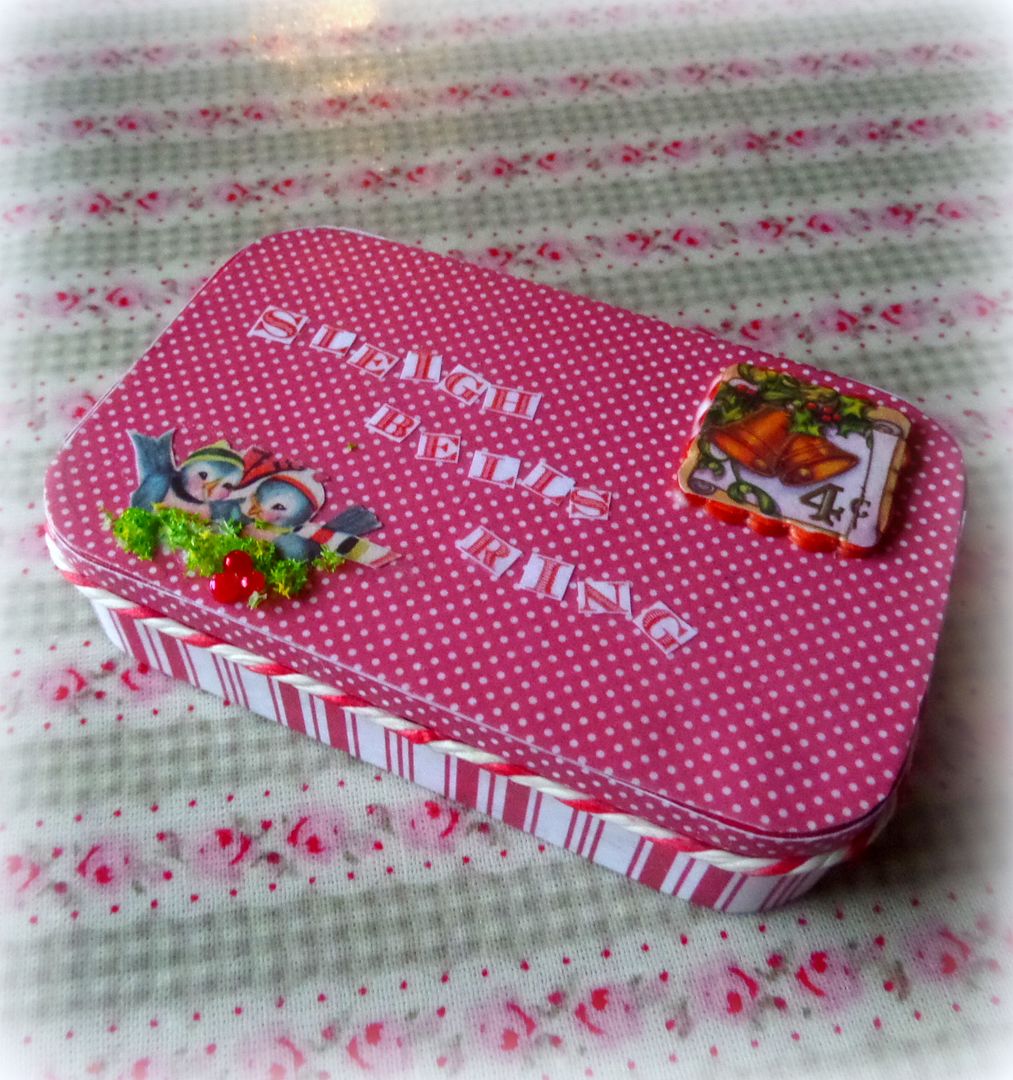 I am not sure why it looks pink in the photographs. It's actually red and white. There's no accounting of how a camera will make things look however . . . so you will just have to use your imagination to pretend that it is red not pink. I made use of several scrap book papers on this project . . . a red with a white pin dot on it and a red and white candy stripe for the outside of the tin. I just traced the shape of the lid onto the red and white pin dot first, and then cut it out inside the lines so that it would fit on the lid and then applied it with mod podge. (Don't you just love mod podge?)
The Lettering was done via a word document using a chunky script. Cameo Antique, in red. I really liked the way it looked.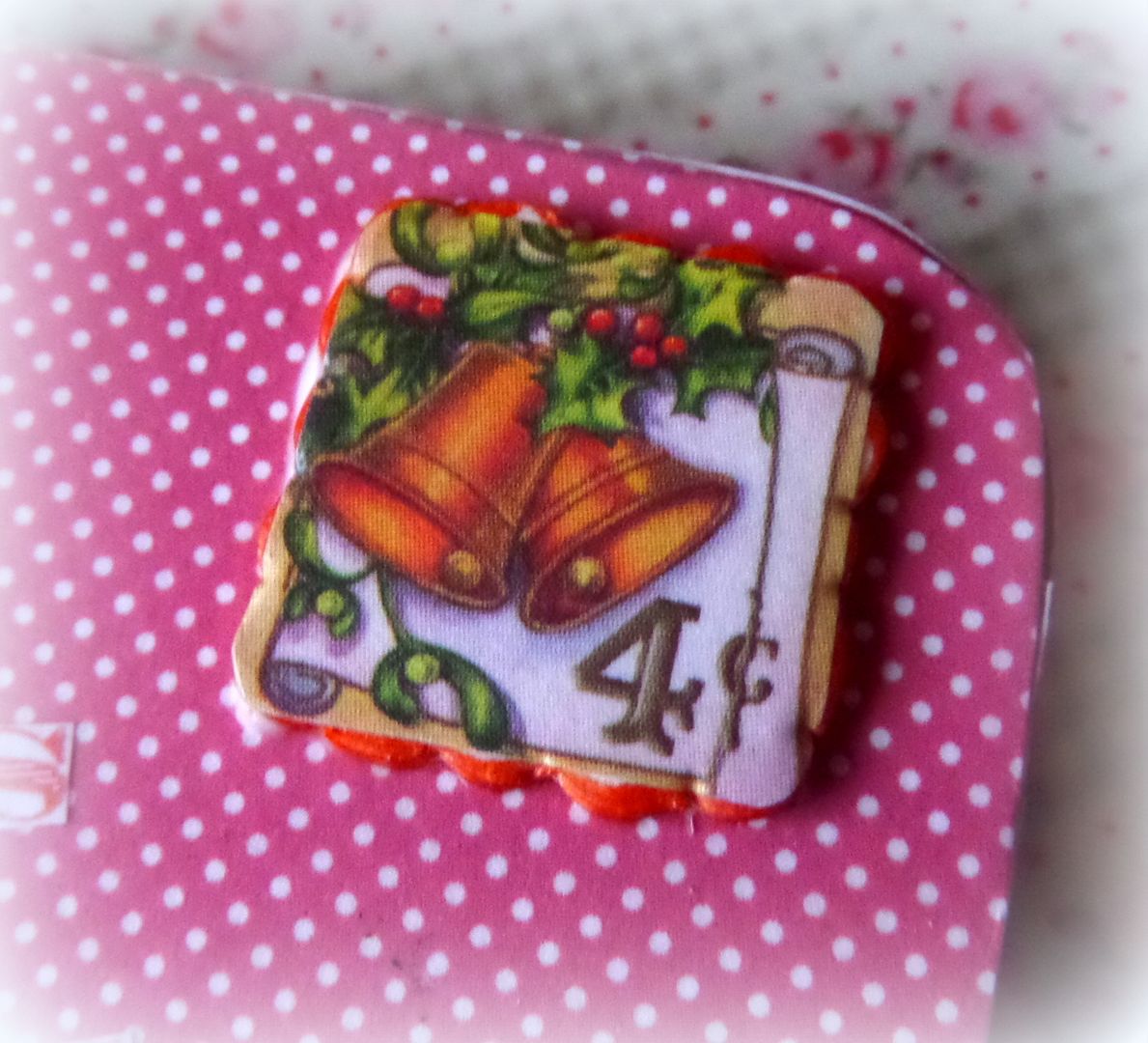 This corner is from a package I had bought a couple of years ago from Crafty Secrets in one of their Christmas Postcard kit packs. It's a little print of a postage stamp with bells on it that I put on a little cardboard stamp square.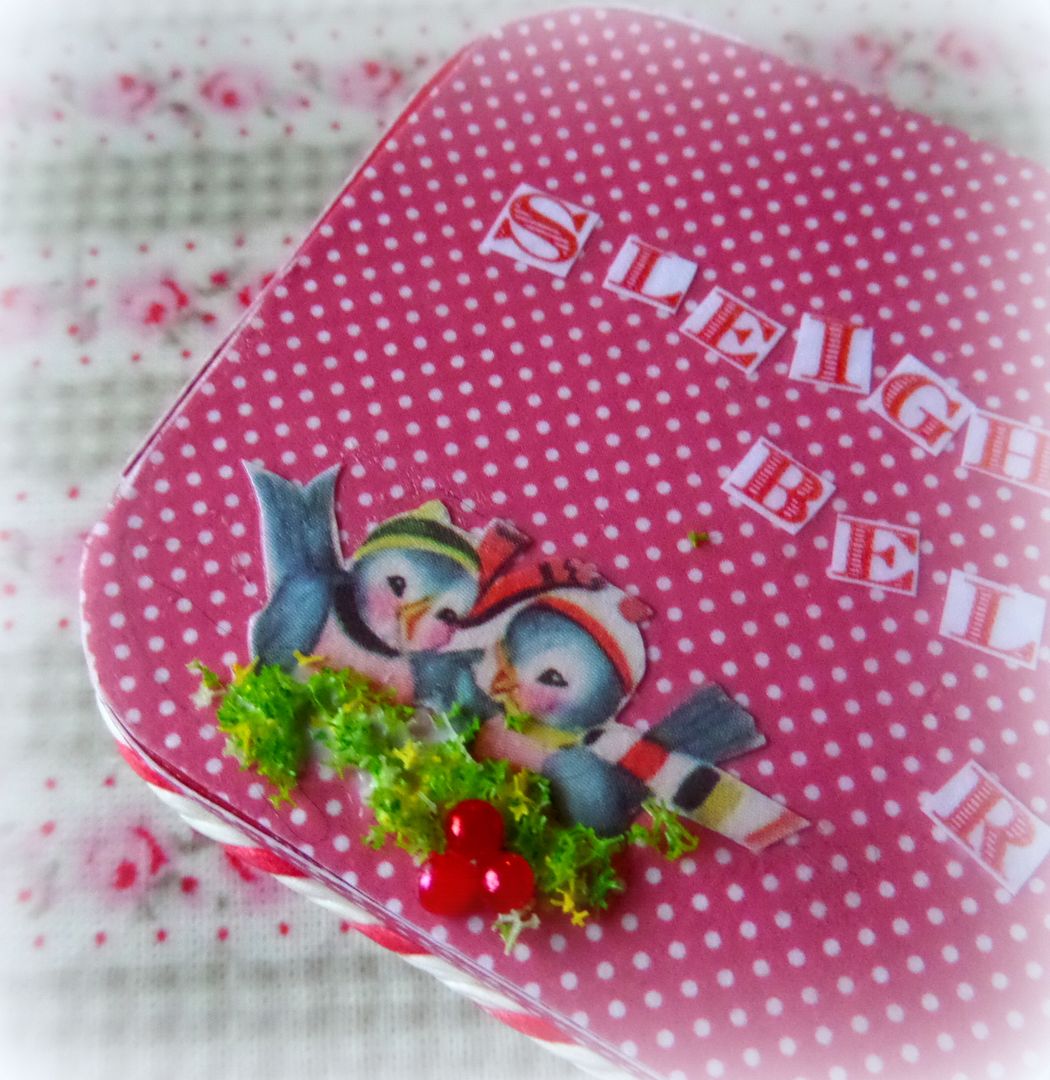 The bluebirds are from the same packet. I cut them out and applied them with mod podge and then created a little nest of holly using glue and green flower soft and several red holly berries which are tiny red pearly scrapbook jewels. I like the way that turned out.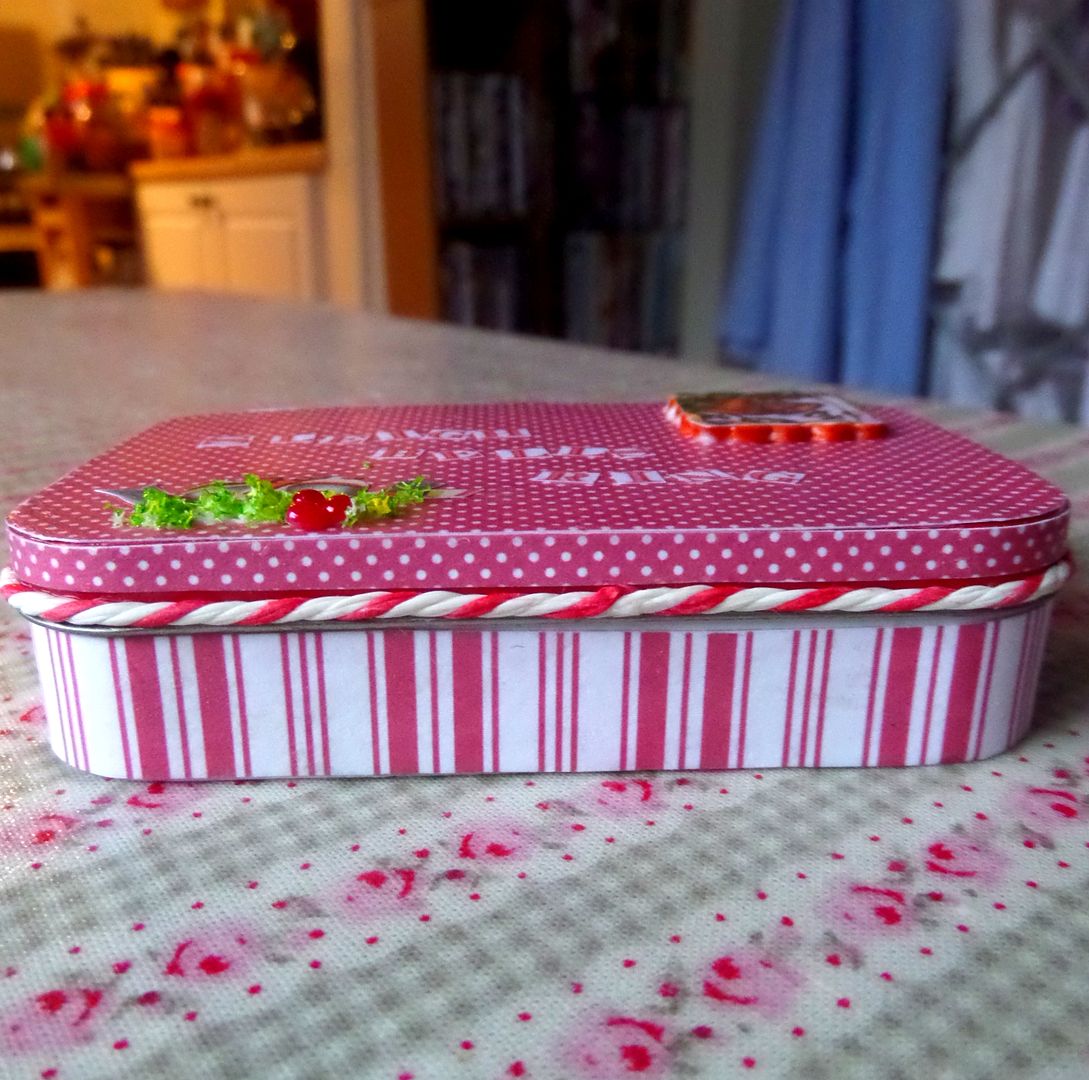 I applied red and white butchers twine around the edge of the lid. I also cut scrapbook paper strips in applicable widths to apply to both the top and bottom edges all the way around. On the bottom I used another scrap book paper which is identical to the one I applied inside the lid.
It's a textured one and kind of looks like the textured wall paper we have in our lounge. I added the second line of the carol . . . then I applied a bunch of small imaged i cut out from the same post card pack. A small Santa, some children bringing home the tree . . . a small snowman . . . some angels listening and a few stars. There's another one beneath the bells which says December 25th but it didn't show up in the photo because the bells are hiding it. I threaded tiny bells onto red embroidery floss and then tied them together, added an embroidery floss bow and then applied it to the inside of the tin with more mod podge. If you shake the tin you can hear them ring . . . really! Sleigh bells ring . . . are you listening!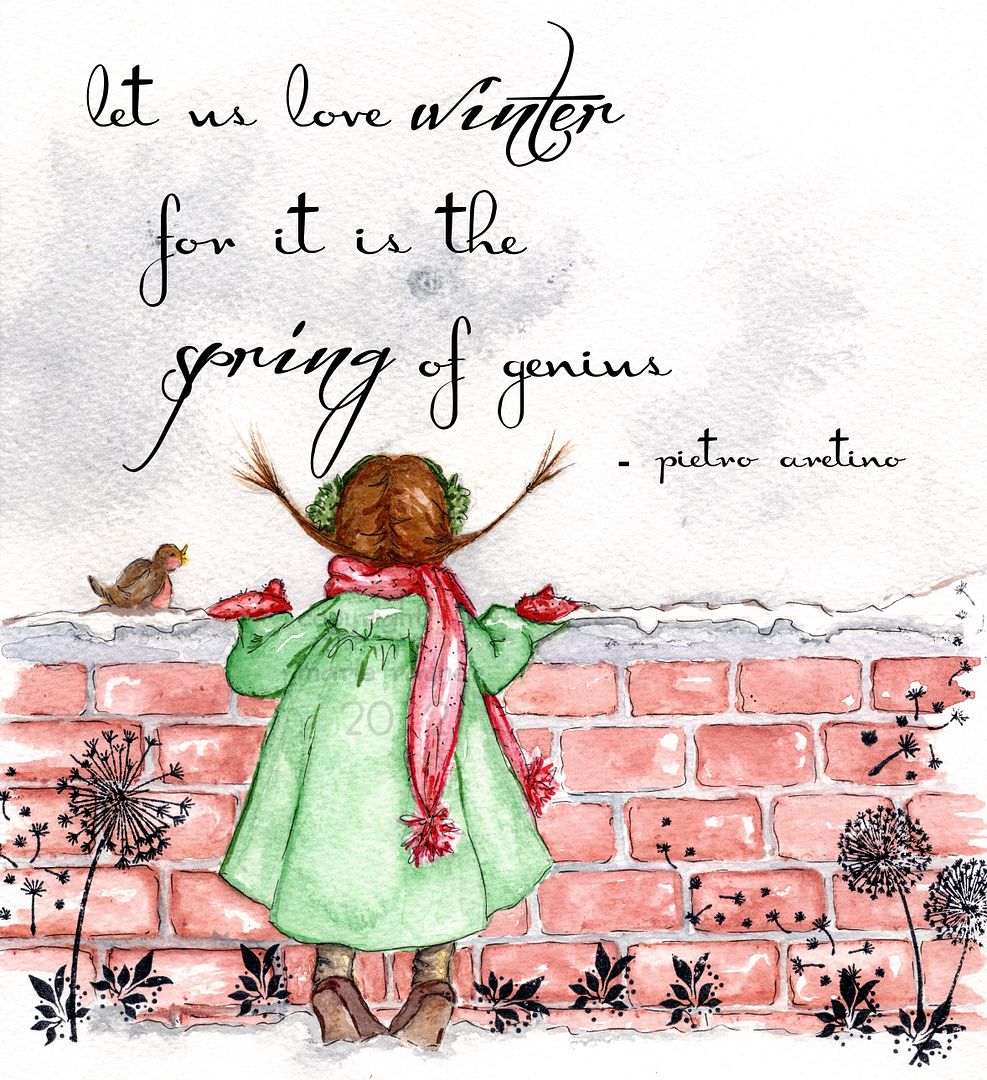 I wanted to use this image in the tin. It's from one of my
Christmas card designs
from
last year. I didn't do any this year. Not sure why . . .
Anyways, I cut out the little girl, the brick wall and the bird.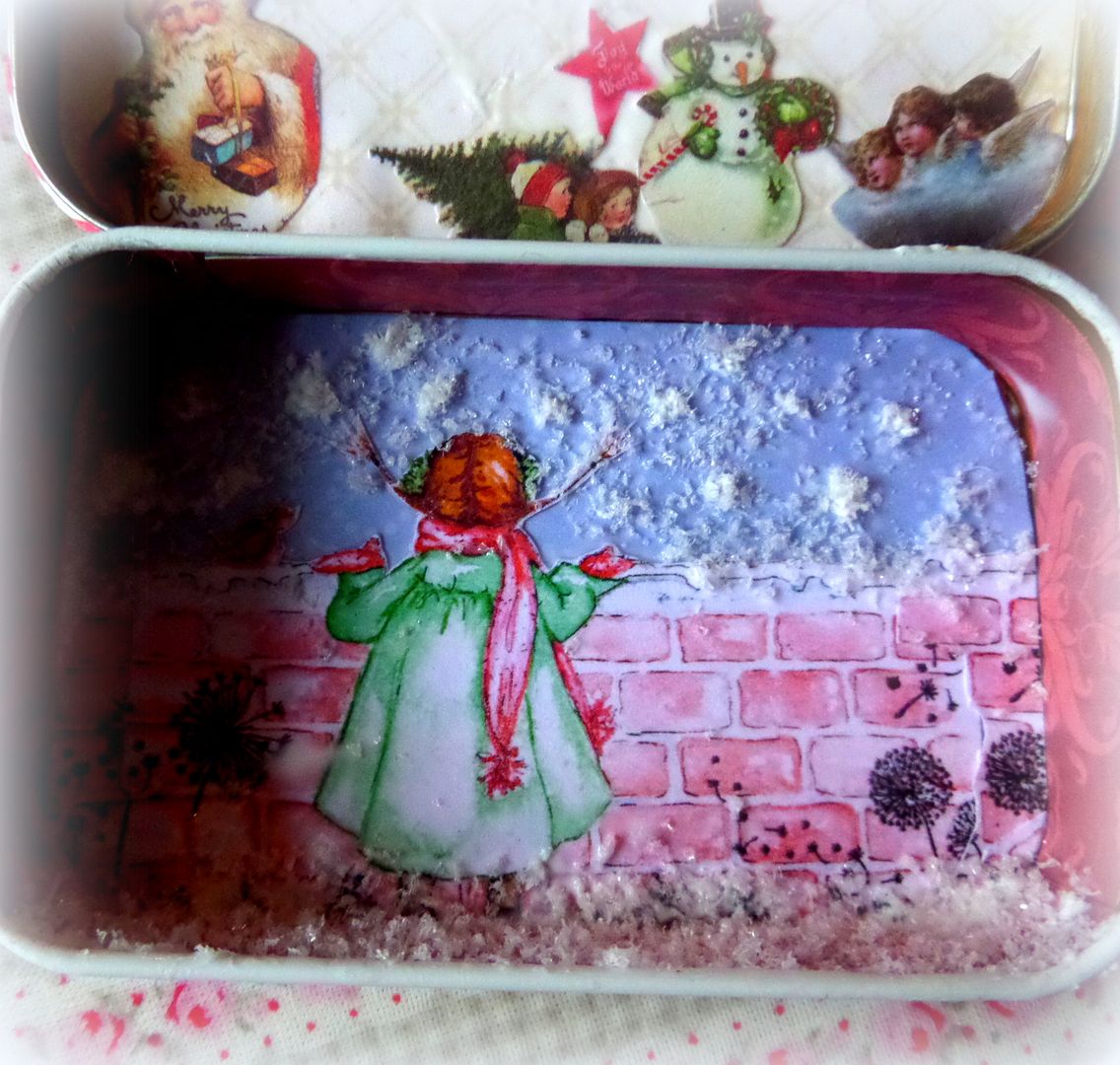 First I applied some blue scrapbook paper to the bottom which had white pin dots over it, which I thought looked like a sky with snow falling. I also applied some red textured paper to the inside lip all the way around. Then I applied the little girl over top of the bottom half. I used some more glue and white flower soft to make it look like there was snow on the ground and falling from the sky and settling on the ledge a bit. I may go back and add two really tiny sparkle red pom poms to her scarf ends, but I am not sure yet about that . . . in any case it looks like she and the bird are indeed listening to sleigh bells . . .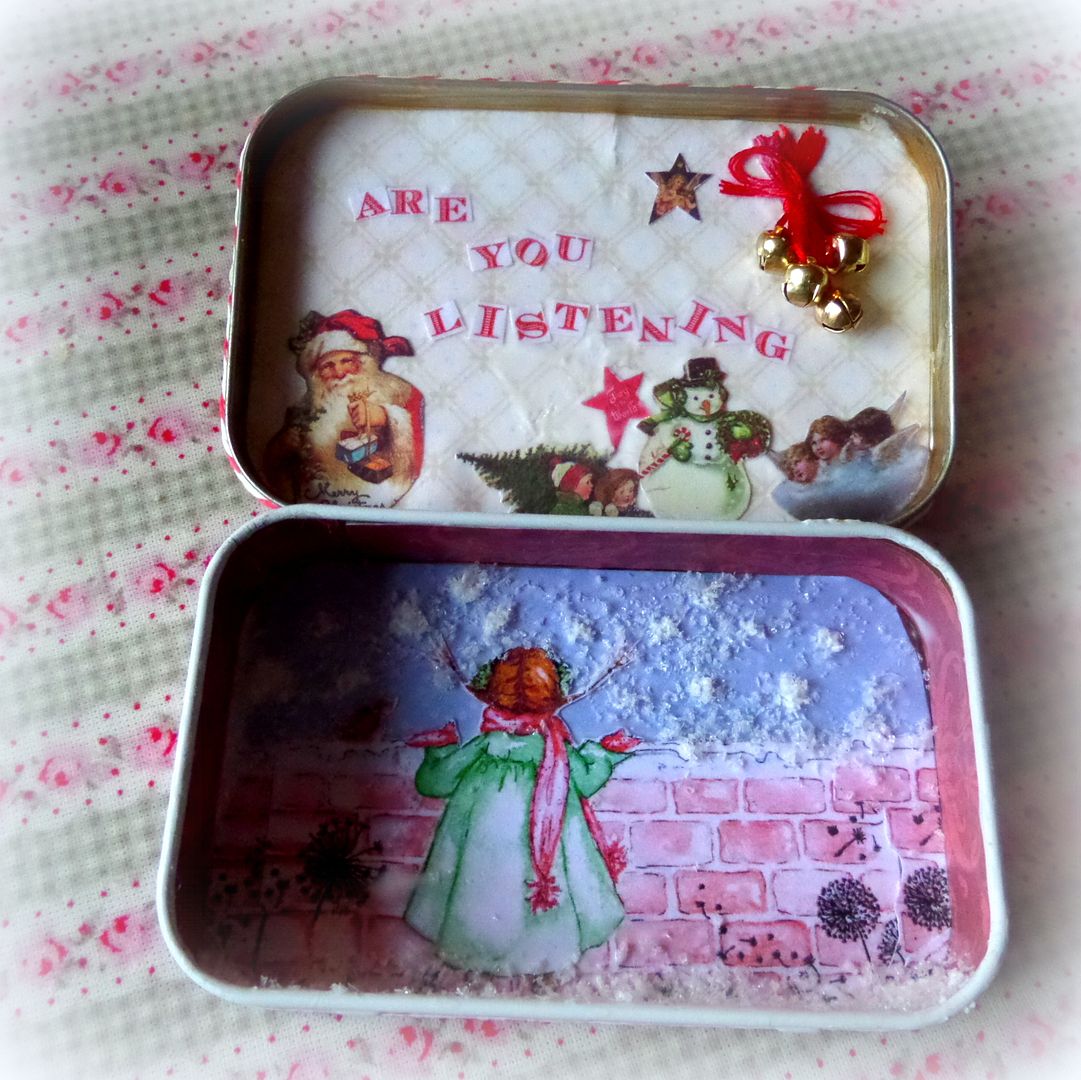 At least I thought it did. I did not apply anything to the inside lip of the lid or the bottom top of the base so that the lid would shut properly.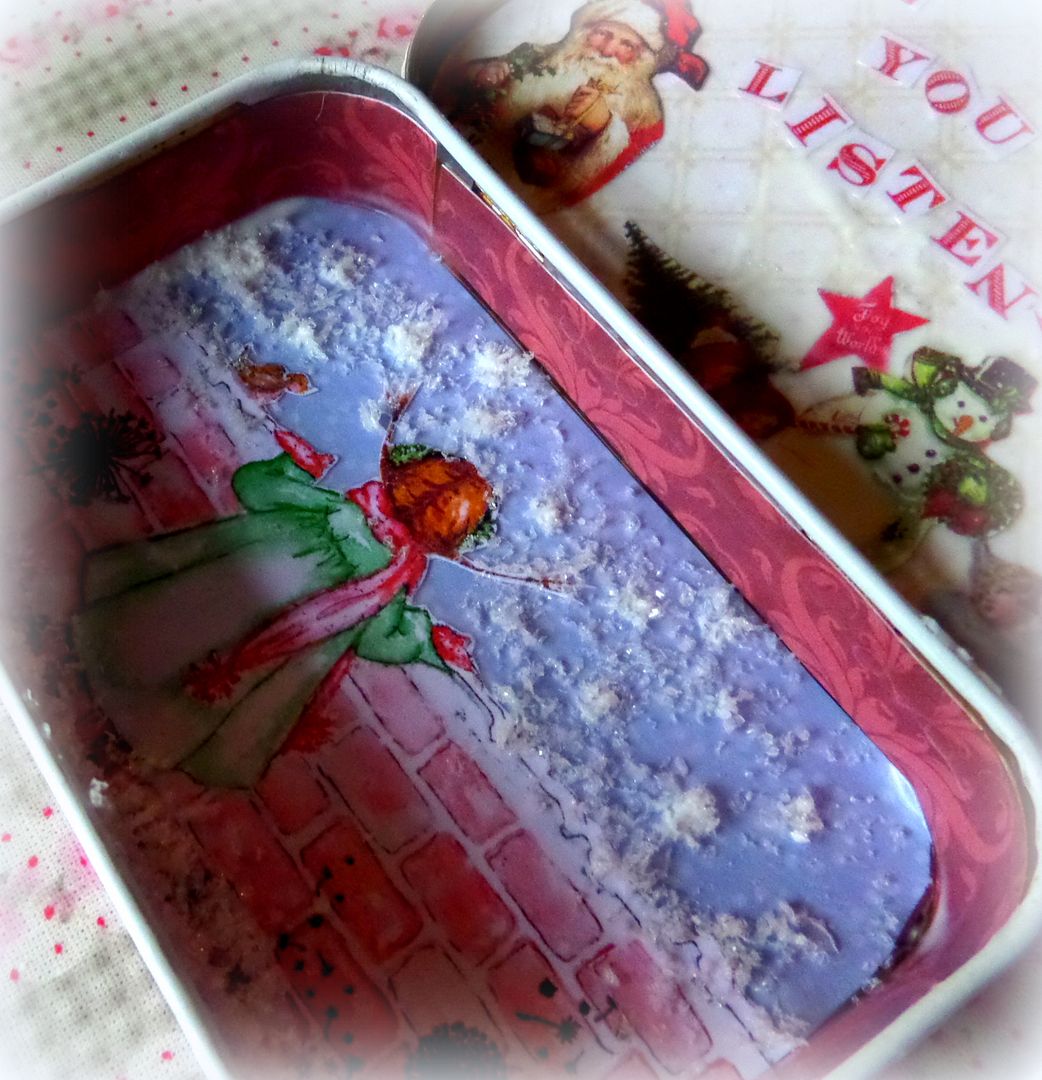 I was really quite happy with how it turned out. Now that I have done one, I will probably do some more.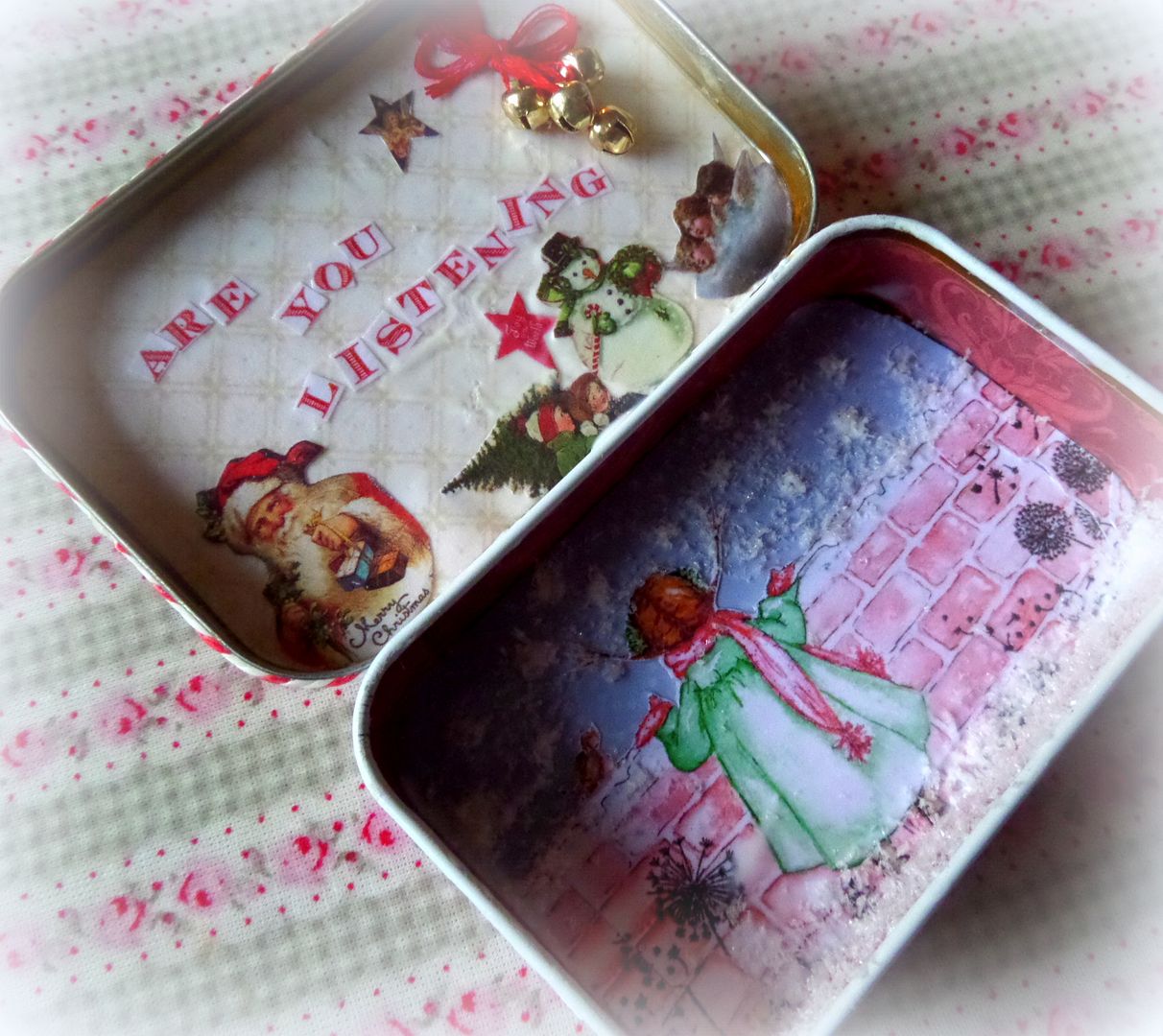 Creating something new, that is what makes me happiest . . . be it a cake, or a painting or something else.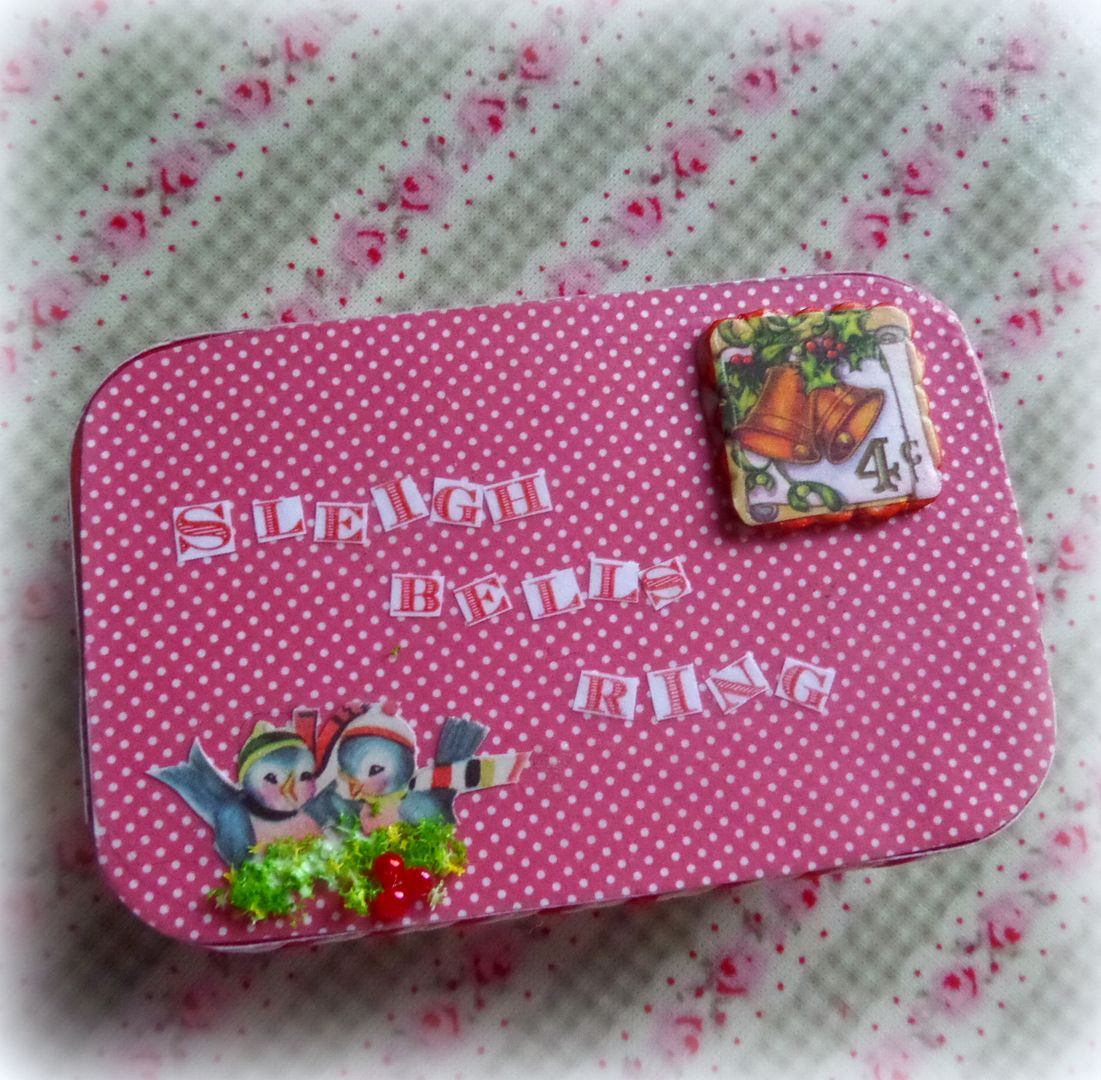 "The desire to create is one of the deepest yearnings of the human soul."
~President Dieter F Uchtdorf
I've been a tiny bit blue lately. It's a bunch of little things. I have so much to be joyful about and grateful for . . . a husband who loves me, a warm and comfortable home, a beautiful dog who adores me . . . and all of my needs are met . . . I have my faith and a deep love for the Saviour and all that He and the Gospel bring into my life . . . but there is this under current of sadness that I cannot seem to shake no matter how hard I try. I can stuff it down for a short while, but then something will happen and it will raise it's head again and smack me in the face. I feel sometimes like there is this tiny crack inside my heart that no matter how much I try to glue it together . . . it weakens and then starts to spread apart again and it tints the edges of my days and nights with a tiny hue of sadness that is always there, no matter how hard I try to pretend that it isn't.
I think it has to do with my perceived failure as a mother. Todd keeps telling me I should be happy that I have three of my five children's love and respect . . . but my mother's heart cannot help but mourn and grieve for the two which I feel are lost . . . it even invades my dreams. I awoke at 4 am today crying because I had been dreaming about my youngest son and in the dream he had been telling me that his mother didn't like him driving a truck . . . and in the dream I realized that he had been talking about his step mom . . . not me. I think that it all has to do with the fact that he told me a few years ago that I had done nothing for him at all during his life. His dad and I divorced when he was 12 years old, and for some reason he has chosen to discount or not remember everything that came before. I wanted shared custody at the time, but was told that he cried everytime it was mentioned and so I agreed to give up custody. In retrospect that was the wrong decision. But I can't change that now.
I don't know how to make it better. I think it is just something I am going to have to learn to live with. I have ever so much else to be grateful for.
A thought to carry with you through today . . .
❥✻❥.¸¸.✿¨¯`❥✻❥¸¸.✿¨¯`❥✻❥.¸¸.✿¨¯`❥✻❥
"The simplification of life
is one of the steps to inner peace.
A persistent simplification
will create an inner and outer well-being
that places harmony in one's life."
~Pilgrims Peace
❥✻❥.¸¸.✿¨¯`❥✻❥¸¸.✿¨¯`❥✻❥.¸¸.✿¨¯`❥✻❥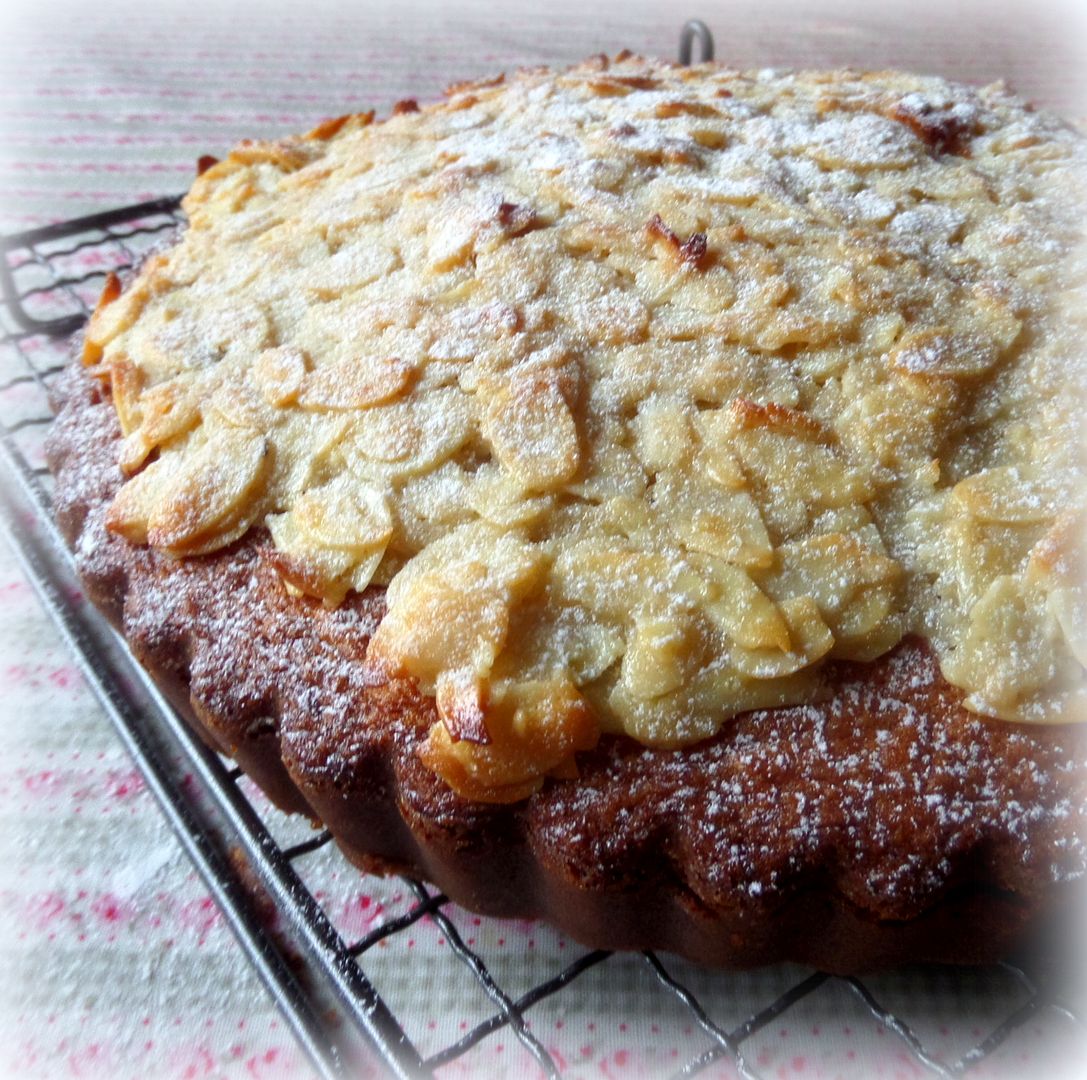 Baking in The English Kitchen today . . . a
Swedish Almond Cake
. Delish!
═══════════ ღೋƸ̵̡Ӝ̵̨̄Ʒღೋ ═══════════ ⊰✿░L░O░V░E⊰✿⊰✿⊰✿⊰✿⊰✿⊰░Y░O░U░⊰✿
═══════════ ღೋƸ̵̡Ӝ̵̨̄Ʒღೋ ═══════════
May your Wednesday be filled with joy and blessings. Today and all days may your cups runneth over.