A few of the wow moments, or things I discover each week that tickle my fancy. I hope that they may inspire or tickle yours too!
I love this crochet cardigan. What a great way to use up bits and bobs of yarn. I found it on
Free Crochet Patterns.
It's a Vanna pattern.
Got old bits of smelly candles hanging around in unsightly jars? This shows you what to do with them and you get to use the mis-matched odd bits of unbroken glass and china you have hanging around that you haven't had the heart to get rid of.
Re-purpose
it all!
The simplest Advent Calendar ever. Found on
Hi Sugarplum
!
Free Printables from
GrannyEnchanted
. There are Paris Printables Monique! I know how you (and I) love them!
A Snowman's Hat Holiday Centre Piece. Isn't it cute? There is a complete tutorial on
All Red Designs.
How unique! I think I would crunch the tin can over to the side a bit before painting to make it look used.
I can't resist sharing this! You know those little papier mache boxes you can buy in craft stores? This is an ornament made with one. And you can make another one with the lid. Isn't it cute? I know! From
American Crafts Studio
. So simple!
The absolute sweetest Paper Doll Flannel Board Playset ever. Why didn't I think of that? I don't know! From
Four Little Munchkins
. (Even the blog name is sweet!!) I am thinking Anya would love this Tracy! Come to think of it, so would Maryn.
I couldn't find a source for this, but I also couldn't resist showing it to you. Antique or not? I don't know, but it is ADORABLE. I love it.
I don't know if you have a problem with getting frames to hang perfectly, but I sure do. here's how to do it perfectly every time from
View Along the Way
.
Sewn Felt Slippers. Aren't they cute! From
Martha Stewart
! Inspired by moccasins and constructed from a single piece of felt. I love them!
An infographic guide to setting your table for Thanksgiving from
The Salt Lake Tribune
. Always helpful are these types of things. ☺
And that's it for this week. I hope that you found something useful amongst it all.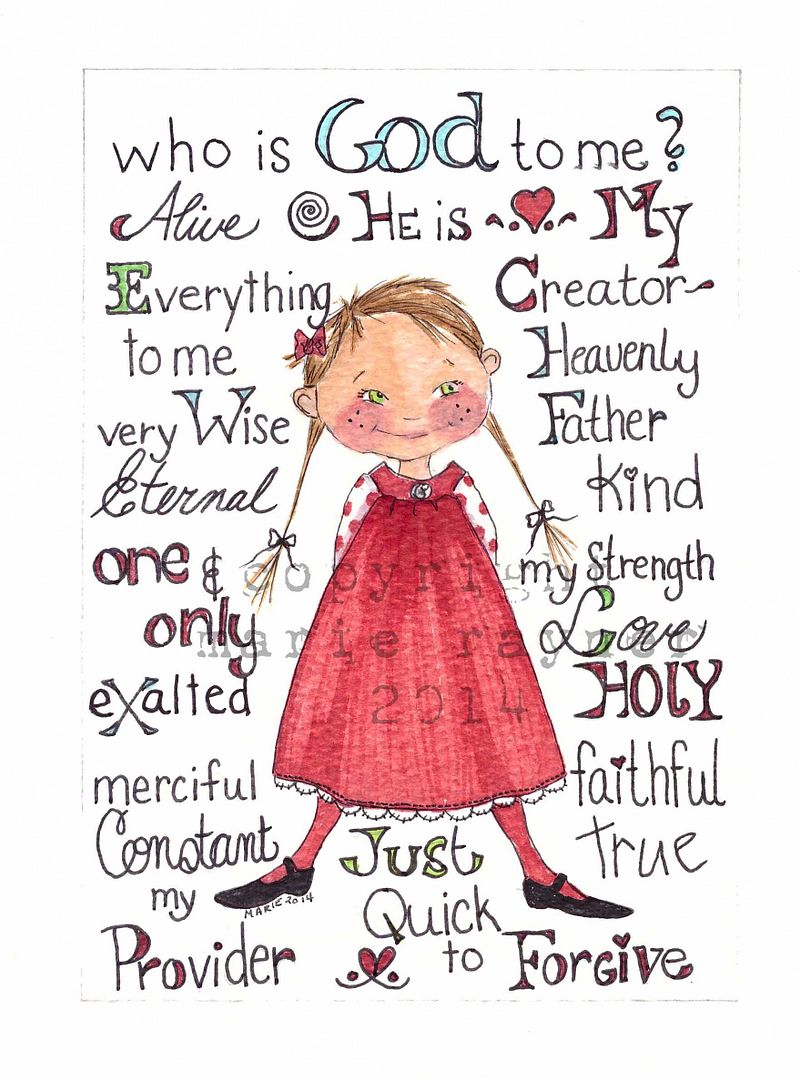 Creatively speaking, I've had a very productive week myself. I did this yesterday afternoon and she is already sold. I was actually quite surprised that she sold so quickly because it's kind of religious and her cheeks are really chubby, but she did and I am happy about that!
A thought to carry with you through today . . .
❥✻❥.¸¸.✿¨¯`❥✻❥¸¸.✿¨¯`❥✻❥.¸¸.✿¨¯`❥✻❥
"I do not know all the reasons why the circumstances
of birth, health education and economic
opportunities vary so widely here in mortality but
when I see the want among so many, I do know that
'there but for the grace of God go I.' I also know that
although I may not be my brother's keeper, I am my
brother's brother, and because I have been given much . . .
I, too . . . must give."
~Elder Jeffrey R Holland, Are We Not All Beggars
❥✻❥.¸¸.✿¨¯`❥✻❥¸¸.✿¨¯`❥✻❥.¸¸.✿¨¯`❥✻❥
Cooking in The English Kitchen today . . .
Easy Steak Pie
!
═══════════ ღೋƸ̵̡Ӝ̵̨̄Ʒღೋ ═══════════ ⊰✿░L░O░V░E⊰✿⊰✿⊰✿⊰✿⊰✿⊰░Y░O░U░⊰✿
═══════════ ღೋƸ̵̡Ӝ̵̨̄Ʒღೋ ═══════════
Have a wonderful Friday! Hasn't the week just flown by?