A few of the wow moments, or things I discover each week that tickle my fancy. I hope that they may inspire or tickle yours too!
What a unique and incredible gift to make for some one who loves tea or herbal teas. It's a tea wreath. There is a complete tutorial on
Kojo Designs.
It's simple and easy to make and a gift you can really personalize!
I've heard of cookie mixes in jars, but this is a Quick Bread in a bottle. What a marvelous idea from
Sunset Magazine.
I love it
.
From
Craftiness is Not Optional
, a lovely little key fob tutorial, using up your fabric scraps. These are so cute and what a great little gift to make for someone that you can totally personalize!
Quick and easy ways to dress up jars for gifts from
Martha Stewart
. Such a simple concept and yet I had never thought of it. Leave it to Martha!
I love these quick sew Potluck Companions from
Hancock Fabrics, Crafts and More
. I am always scrambling at the last minute when I am going to a covered dish affair to find a way to transport my casserole or salad safely. It's not a free pattern, but it's a nice pattern!
DIY Re-usuable towels that you can use, wash and then snap back into place. I love this concept. Better for the environment, and so colourful. I couldn't find a source or a tutorial, but they look fairly easy to make. Cotton toweling on oen side, fabric on the other, snaps to hold them together.
I love these cute little birds nest pins made from felted wool. No source of instructions once again, but they look quite easy to make. Simply cut a large circle from felted wool and then cut into a spiral and coil and secure. Drop some felted balls in the middle. You can pick them up in all sizes and colours at craft stores and then some wool felt leaves on the back and sew on a pin backing. Cute!
I tried really hard to find a source for this lamp shade also today, but to no avail. I love it however. How very unique and interesting. Fabric birds appliqued onto the lamp shade . . . they are standing on twine. Once again, how cute!
Paper Hot Air Balloons. What a cute idea for a mobile! Now this has the instructions. I found it on
Paper Matrix
. Genius!
A simple tutorial on how to emboss a metal altoid tin. Easy peasy. So cute. I love tiny tins don't you? Found on
Craft Stylish.
Well, I am not sure that I found anything all that interesting this week, but hopefully you'll find something there that strikes your fancy or inspires you to want to make something for yourself! I am always amazed at the craftiness of others! Seriously!
My sister and I have always been interested in nature, birdwatching, etc. This is a photo she captured of their resident chipmunk coming out of his little house. Isn't he cute?
And this is a Blue Jay she's been feeding peanuts. Jays are quite friendly and very cocky. We have Blue Jays here in the UK, but they look totally different. Ours here are mostly grey but with some blue banding on their wings.
Anyways, that's it for this Friday. I shall leave you with a thought and then be on my way! The Missionary Sisters are coming over to do some yard service for us today.
ღϠ₡ღ✻
(¯`✻´¯)
`*.¸.*✻ღϠ₡ღ¸.✻´´¯`✻.¸¸.Ƹ̴Ӂ̴Ʒ..
LOVE GENERATES LOVE
✻ღϠ₡ღ✻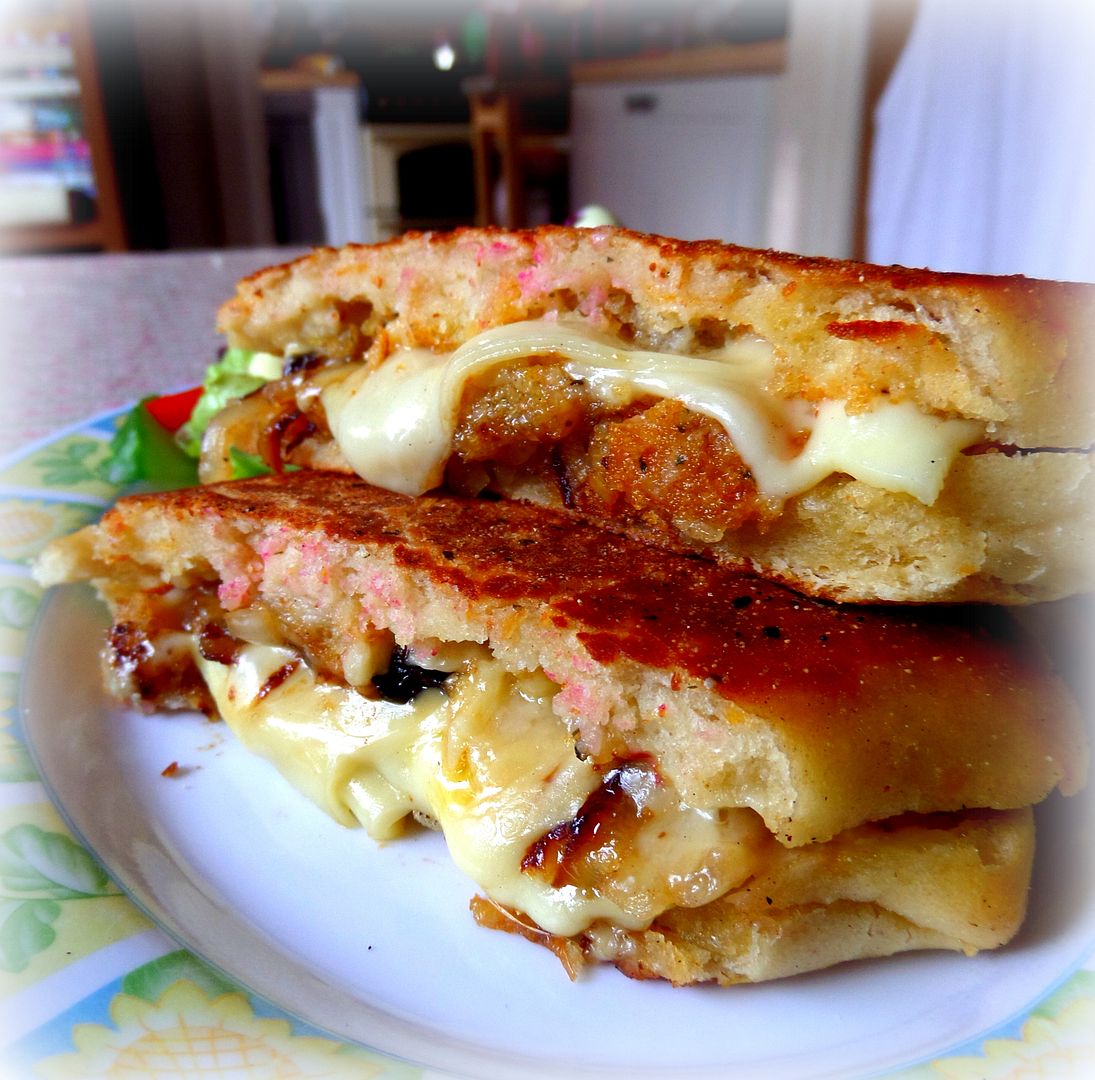 In The English Kitchen today . . .
French Onion Panini
. Quite simply delicious!
═══════════ ღೋƸ̵̡Ӝ̵̨̄Ʒღೋ ═══════════ ⊰✿░L░O░V░E⊰✿⊰✿⊰✿⊰✿⊰✿⊰░Y░O░U░⊰✿
═══════════ ღೋƸ̵̡Ӝ̵̨̄Ʒღೋ ═══════════
Have a wonderful Friday!!