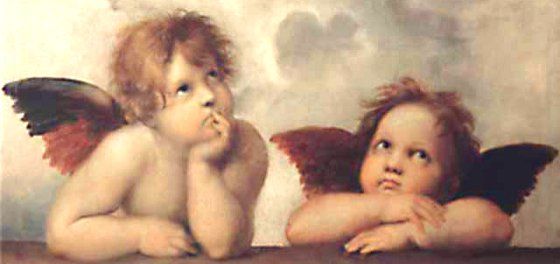 The holiday season is just about upon us. I don't know about you, but it seems to have crept up every so quickly! Didn't summer just finish??? I was in the shops yesterday and they are filled to the rafters with Christmas goodies. I did pick up some Christmas cards and wrapping paper, but in all honesty the budget isn't stretching very far this year at all. And so I have been thinking of homemade gifts andholiday decor that I could do myself which would be just as nice as something purchased, but also fall within our budget. Pinterest is the best place for things like that. You can find anything on Pinterest. I used to use Google, but Pinterest is better when it comes to these types of things!
There is no source attributed for this idea, but I think it is a fabulous table decoration! I love it. I am not sure where I could find the pine cones, but I know where to get the ribbon, and then as I say that I am thinking a Christmas bauble on the end would be just as pretty. What do you think?
I think these pompom bookmarks are adorable! Also no source attributed. I love them though. Makes me wish I was in Young Women's as they would make the perfect gift for a crowd like that. They would also make great stocking stuffers!
Free Printable Reindeer Nose Bag Toppers. You know the things I mean . . . you fill a small baggie with red round candy balls and then staple it shut with one of these tags on top. Voila Reindeer Noses for in the stocking! If you
click here
you will find not only these but a bunch of other really sweet Christmas Printables, for free!
No source again, but aren't these adorable??? Looks like baby food jars. What a sweet idea for making hot chocolate snowmen. I don't know who wouldn't love to get something like this.
DIY Vanilla and Cinnamon Sugar Scrub.
And it even includes printable labels. Body scrubs are very popular and this sounds fabulous. Who wouldn't love something like this? I am sure glad that I am a jar saver! It uses simple ingredients such as olive oil, brown sugar, cinnamon, vanilla . . . I can smell it already!
Another cute jar idea. No source again, but I think it is adorable. I love those little putz houses, don't you? That reminds me . . .
A Tutorial on how to make your own on
Pink Cupcake Vintage Blog
. I have always been fascinated with these little glitter houses. I would love to have a whole row of them to put on our mantle at Christmas. Guess I better get busy eh?
DIY Lavender and Chamomile Bath Melts. You can find the instructions for these on a page called
Be Beautiful.
My sister makes a lot of body bars and stuff. They are not all that hard to make apparently.
Coconut Oil Lip Gloss. Sounds and looks fab. You can find out how on
Mad In Crafts
.
Handmade Microwaveable Cosies.
You just pop them into the microwave and use them to warm up the bed or whatever. So easy to make and people just love them! I love the bright colours used on these ones! That's one thing I have a lot of is fabric!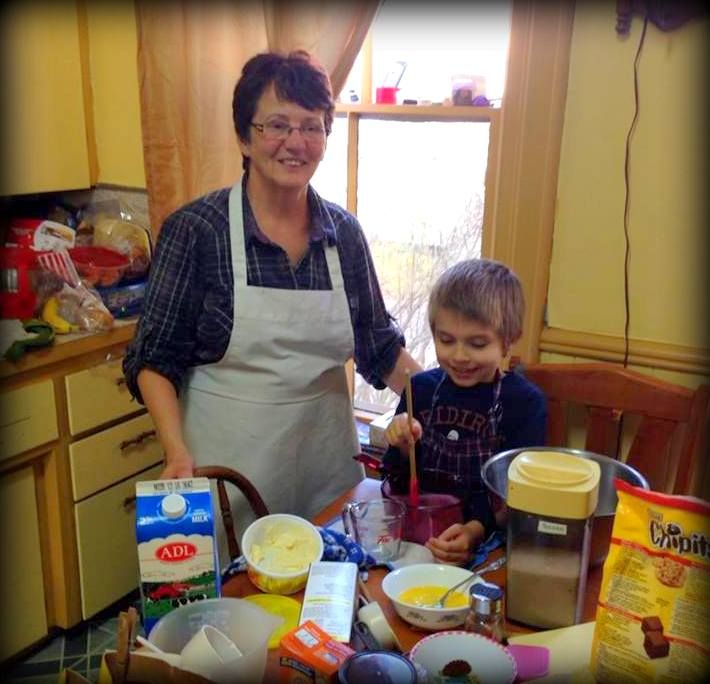 Speaking of cute, here is my grandson Jonathan helping his other nan bake some Chocolate Gingerbread. He is such a delightful little boy. I really enjoyed the time I spent with each of my grandsons last spring. I wish I could spend time with them all the time. Mary is so lucky because these three (along with their mom and dad) actually live with them. I can only wish . . .
A thought to carry with you through today . . .
(¯`v´¯)
.`•.¸.•´ ★
¸.•´.•´¨) ¸.•¨)
(¸.•´(¸.•´ (¸.•¨¯`*

♥


Find a place inside where there's joy,
and the joy will burn out the pain..
~Joseph Campbell
Baking in The English Kitchen today . . . a delicious
Pumpkin Crumb Pie!
Have a wonderful weekend!