FOR TODAY, October 18, 2016
Outside my window ...
It is dark and raining and cold. Very autumnal. The clocks don't go back until the 30th of October. It will get lighter a bit earlier then, but it will also get dark earlier! Wish they would just leave things as they are.
I am thinking ...
Elder Hallstrom challenged us on Saturday to try change in at least one way each day for the better. He said as well that repentence was a continual process of progression. I have been thinking about that and I know it to be true. When we know better and are sorry for what we have done, we can and should do better. None of us is perfect, nor are we expected to be, but all of us can surely do better in some areas.
In the kitchen ...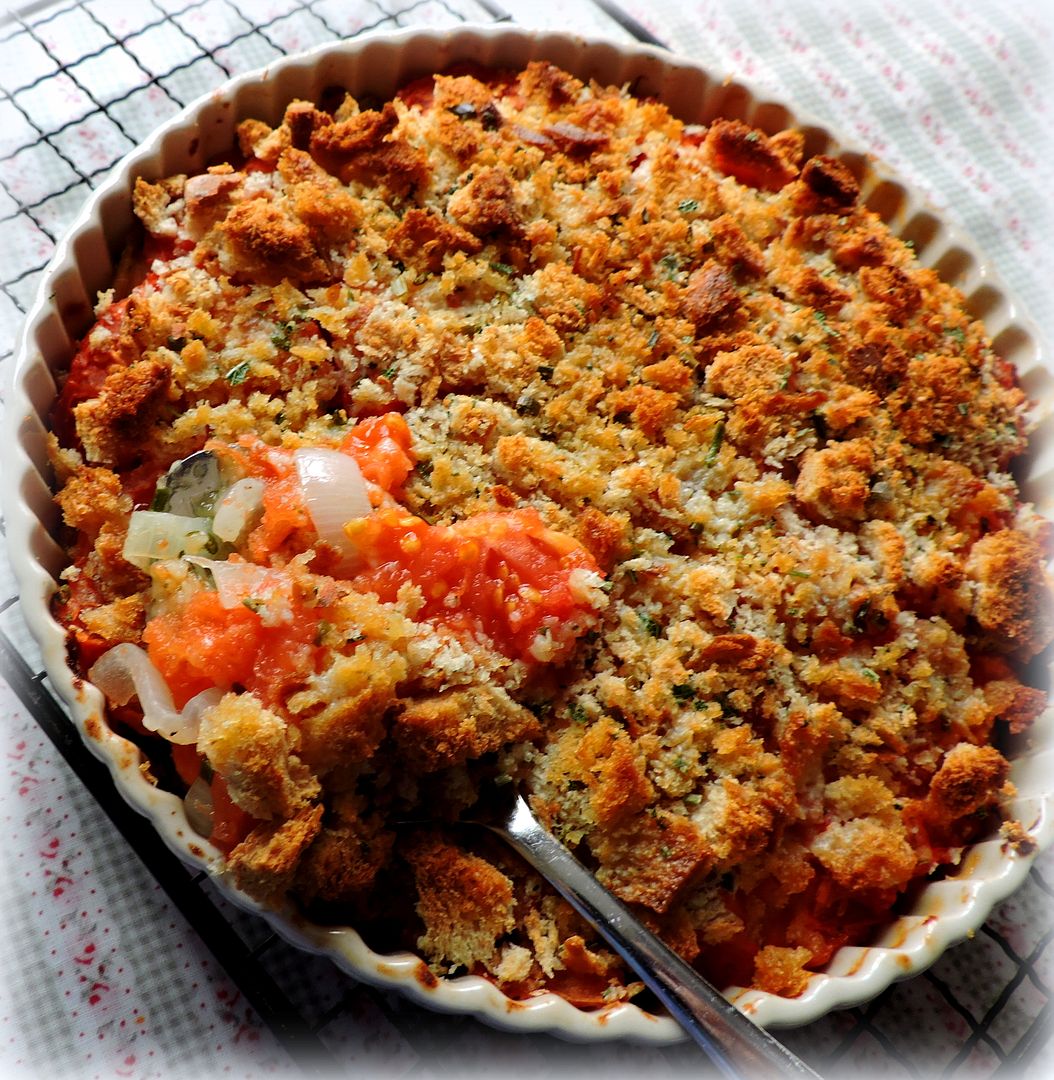 Scalloped Tomatoes with Herbs
. I made this for our tea yesterday with the last of the tomatoes from our garden. It is some delicious and so simple to make. I am looking forward to the leftovers today!
On my "To Cook" list ...
These Stacked Chicken Enchiladas sure look plenty delicious. I love anything Tex Mex. This recipe is from
Gimme Some Oven
.
Good to know ...
I am creating ...
I love this buttoned wrap. It would come in handy now! Alas I could not find the source or the pattern. Love the colours. I did find this however . . .
From
Moogly Blog.
There are some really nice ones. All free patterns and using not a lot of yarn.
Simple paper Halloween Decorations from
Meaningful Mama
.
From
Party Delights
. Tin Can Bowling, a Halloween Activity for the children.
No source, but flower pot cake stands made from terra cotta flower pots and saucers, painted and glued together. I love them!
Wire Crochet from
wonderful DIY.
I am reading ...
Behind Closed Doors,
by B. A. Paris
Everyone knows a couple like Jack and Grace: he has looks and wealth, she has charm and elegance. You'd like to get to know Grace better. But it's difficult, because you realize Jack and Grace are never apart. Some might call this true love.
Picture this: a dinner party at their perfect home, the conversation and wine flowing. They appear to be in their element while entertaining. And Grace's friends are eager to reciprocate with lunch the following week. Grace wants to go, but knows she never will. Her friends call—so why doesn't Grace ever answer the phone? And how can she cook such elaborate meals but remain so slim?
And why are there bars on one of the bedroom windows?
The perfect marriage? Or the perfect lie?
A cracking read thus far! Loving it.
I am looking forward to ...
There is a Birthday Party Pot Luck Lunch on Thursday for a friend. Looking forward to that.
Dreaming about ...
Painted wooden floors dappled with sunlight . . .
A window seat . . . and more sunshine . . .
Vintage French Fabrics . . .
Reclaimed doors made into a sliding door. This is so pretty and what a fab idea.
I'd always be napping . . .
Something to watch ...
We watched this last evening. Totally delightful. Even Todd (who thought it would be boring) was in love with it. I highly recommend.
A favourite quote for the day ...
(¯`v´¯)
`*.¸.*´Ƹ̵̡Ӝ̵̨̄Ʒ ¸. •´¸.•~♥♥♥~•. ~ ღϠ₡ღ¸.
✻´´¯`✻.¸¸.Ƹ̴Ӂ̴Ʒ. ( ¸. ❀⁀ ⋱‿✿"`
* .¸.* ✻ღϠ₡ ღ¸.✻´´¯`✻.¸¸.Ƹ̴Ӂ̴Ʒ..
"there are many points in life when we cannot see what awaits us around the corner, and it is precisely at such times, when our path forward is unclear, that we must bravely keep our nerve, resolutely putting one foot before the other as we march blindly into the dark."
~Richard C. Morais, The Hundred-Foot Journey
Makes me smile ...
One of my favourite things ...
Crisp bacon . . . especially on brown toast with peanut butter spread on top. Sooooo good.
Darn! Now I want bacon! And there is none in the house. Probably a good thing . . .
Corners of my kingdom ...
They're flying south for the winter . . . just happened to be out in the back of our house the other afternoon and I heard that sound. I was able to grab the camera just in time to catch them flying over. Oh what a sound . . . it took me back to my childhood. This is the sound of winter's impending arrival. The air crisp and smelling of woodsmoke.
Just think, its done by instinct. And people say there is no God.
And that's my daybook for this week!
⋱ ⋮ ⋰
⋯ ◯ ⋯ Take time to enjoy the small *´¯`.¸¸.☆
⋰ ⋮ ⋱ blessings in life.*´¯`.¸¸.☆
✿¸.•*¨`*•..¸✿ ✿¸.•*¨`*•..¸✿ ✿¸.•*¨`*•..¸✿
╬♥═╬╬═♥=╬╬═♥╬╬═♥╬╬═♥=╬╬♥═╬
░░░░░░░░░░░░░ ░░░░░░░░░░░░░
Wherever you go and whatever you do, I hope there's a great day ahead of you! Don't forget!
═══════════ ღೋƸ̵̡Ӝ̵̨̄Ʒღೋ ═══════════ ⊰✿░G░O░D⊰✿⊰L░O░V░E░S⊰✿⊰░Y░O░U░⊰✿
═══════════ ღೋƸ̵̡Ӝ̵̨̄Ʒღೋ ═══════════
And I do too!