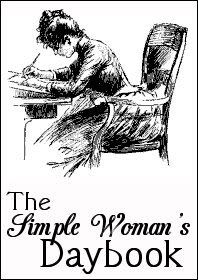 FOR TODAY, March 12th, 2013...

Outside My Window...
It's very cold, but the sun is up and it looks to be a fine day. There is a fine dusting of goose-down snow here and there and the pond has frozen over. Winter's last hurrah?
I am thinking...
Mom will be calling her surgeon today and setting up a date for her surgery. (Or at the very least telling him she has chosen to have surgery.) Things should begin moving now. My brother is going to be taking a week off work so that he can drive her to the hospital and stay in there with her while she has the surgery. I'll be holding down the fort at home. (Feeding the cat, etc.) That is important to her. Making sure Pumpkin is taken care of is her primary concern. What can I say . . . I would be the same about Mitzie.
I am thankful for...
From the kitchen...
There is not a heck of a lot in all honesty!
I am wearing...
Pink flower sprigged blue nightie. Robe. Slippers. Nothing chan

g

es except the colour.

I am creating...
I have seriously done no creating at all since last week. I am hoping that today, where I am feeling somewhat better, I will be able to get stuck into something!
In the meantime here are a few interesting finds! My theme today is . . . Easter and Spring!!
Spring in a jar! This is so cute. This would bring a smile to anyone's face I think!
I think these Easter themed tea towels are completely adorable. This idea would work well as table runners as well!
A gorgeously colourful wreath made entirely from egg cartons! Isn't it just beautiful???
These smiling flowers on this sunny pillow make me smile! I think it's adorable.
Loving these button trimmed linen napkins. So sweet. Easy to do too!
I am going...
No plans this week. No surprise there. There is Stake Auxiliary Training tonight, but I am giving it a miss this time around. If I just manage to get dressed today that will be something. I did get dressed yesterday. I cancelled my dentist appointment for today and have not made another one. I want to be sure I am well completely before I risk going to the Dentist.
In The Company of Angels
, by David Farland. I am totally in love with this book.
This is a novel based on the true life story of the Willie Handcart expedition of 1856. This was a group of Mormon Pioneers, having gone to American from the British Isles and a few other European Countries, who then make their way across America pulling handcarts to Zion in Utah. They encountered many obstacles along the way and all suffered, and many of them perished. It is a moving story, told through the eyes of three historical characters: James Willie, the handcart company's captain, Eliza Gadd, the agnostic wife of a faithful British convert and a mother with several children, and Baline Mortensen, a Danish child, sent ahead to America by parents who feared persecutors in Denmark might target her. I am reading it on my Kindle and Todd is reading a copy he got from our library. We are BOTH enjoying it very much. He's a brilliant writer!
Lucky Man
, by Michael J Fox
A funny, highly personal, gorgeously written account of what it's like to be a 30-year-old man who is told he has an 80-year-old's disease.
"Life is great. Sometimes, though, you just have to put up with a little more crap." --Michael J. Fox

In September 1998, Michael J. Fox stunned the world by announcing he had been diagnosed with Parkinson's disease -- a degenerative neurological condition. In fact, he had been secretly fighting it for seven years. The worldwide response was staggering. Fortunately, he had accepted the diagnosis and by the time the public started grieving for him, he had stopped grieving for himself. Now, with the same passion, humor, and energy that Fox has invested in his dozens of performances over the last 18 years, he tells the story of his life, his career, and his campaign to find a cure for Parkinson's.
I am a great fan of autobiographies, which is why I am also reading this . . .
To The Rescue
, by Heidi S Swinton
The Autobiography of Thomas S. Monson. I have only just begun this book, but it is compelling reading. It's a slow slog for me though because this is not on my kindle and it's a really large book and I have a hard time holding it with my arthritic wrists. He is such a fascinating man, truly. He is the Prophet and President of our church. Called as a Bishop at the age of 22 and as an Apostle at age 36, this is a man who has spent his entire life serving and leading others, sometimes flying halfway around the world just to give a blessing to one individual. I think all of the Presidents of our church have been fascinating men. I love reading about their lives.
Nothing has changed here!
I am hoping . . .
I am hoping Spring is just around the corner. Enough of Winter already! Bring on Spring! I think that at this time of year everyone has had about more than they can stand of Winter, don't you?
I am hearing...
Ordinary morning sounds. My play list, Mitzie snoring . . . the clock ticking. My fingers clicking on the keys. The odd car driving by. Nothing changes . . .
Around the house...
I know I don't live in a cottage. A bricked terrace house is a far cry from a cottage . . . but I've been thinking . . . brick terrace on the outside, but cottage on the inside. It can be done . . .
It's in the small details like pillow slips made from overblown rose patterned chintz, trimmed with bobble trim . . . so pretty . . .
Artistically displayed collectables. I just love this idea where they have used assorted cream ware of all shapes and sized and displayed them together, using green ribbons as a common touch to bring them all together as a whole.
Although the main color here seems to be cream . . . they have used lots of brightly colored accents to bring this room to life. I love it!
I love the idea of decoupaged and painted furniture. I am going to do this with our coffee table. It's a really unique way of bringing something which is old and tatty, and maybe even way out of style, back into usefulness and turning it into something which is really very charming.
One of my favourite things . . .
I just love Country Music. It's my favourite out of all the styles of Music out there. It is a love that both Todd and I share. There's not a lot of it to be found over here in the UK, but thankfully with YouTube and other means we do manage to get some of it now and again. I fell in love with it when I was going to Vocational School back in the early 1970's. Our Bus Driver always played it on the bus radio and from the moment I heard Dolly Parton singing Jolene . . . my heart was smitten. Country Music has soul. I am particularly fond of Country Blue Grass, which always tells a tale.
Something new about me ...
I have been wearing eye glasses since I was 5 1/2 years old. I cannot remember what it is like to look at something and seeing it clearly without it being framed by my eye glasses.
One of my guilty pleasures ...
A nicely grilled steak and a plate of chips on the side. And if I could have onion rings as well . . . that would be heaven. Yep, if I had to choose my last meal ever. This would be it.
Pet Peeves...
People who use the comment section on blogs to drop in their links. I think that's the lowest of the low. I visited my friend Angie's page recently because I was thinking of her, remembering her . . . missing her, and her comments section on her blog is filled with tons of horrible links, left there by scum. I think it's despicable.
Here is picture thought I am sharing...
"There are only two ways to live your life. One is as though nothing is a miracle. The other is as though everything is a miracle."~Albert Einstein

I am grateful each morning when I open my eyes that my Heavenly Father has given me another day here on earth. I try to take each day for the gift that it is, even when I am not feeling whole . . .
As a closing thought I would like to leave you with this:
"The weak can never forgive. Forgiveness is the attribute of the strong."Mahatma Ghandhi

And there you have it . . . my day book for this week. Don't forget to hop on over to the Simple Woman

to check out the other day book entries! (Or better yet, do a simple day book entry yourself! It's not that hard and I am betting you would enjoy it!
Cooking in The English Kitchen today . . . Swiss Steak Rolls. Deliciously different!
I am hoping that today is a real turning point and things are all uphill from here. I have missed you all so very much. Let's get things back to normal!