A wise man was known to be writing a book, but the years went by and he was still a long way from reaching the last page. One day, when he was very old, a young man asked him if he was not impatient to see it completed.
The old man smiled. "All my life it has been my ambition to finish writing my book, but an ambition realized is like a snowflake in a warm hand. Take away my dream, and what would I have left?"
When he died, his pen was still in his hand, the unfinished manuscript in front of him. It is said he was smiling happily.
If the story has a moral, it is this: Don't take away people's hopes and dreams. Often they are the most precious things in their lives.
When I first read this story, I thought how sweet . . . but then, when I really started thinking about and pondering the words I thought . . . how sad. This poor man was so wrapped up in pursuing his dream, that he never ever
really
accomplished it. All his life and his work was in vain.
I have hopes and dreams, and I have more than one! I find them inspiring and they do give me hope, and everyone needs that. I like to think however, that once accomplished, these dreams and hopes will be replaced with other ones. I have a list that I keep on the computer. It is called Marie's Dream list. Yesterday I was looking at it, and I realized that, out of 12 items on the list, I have already accomplished four!!! To me that's amazing, and it brings me even more hope! I'm a third of the way through my list! I think it is also something which is called a bucket list . . . or a list of things you would like to accomplish or see before you die.
I think if we keep our hopes and dreams realistic, then there is more chance of them coming to fruition. And what are hopes and dreams for, if they never have any chance of coming true? People do need hope, and they need dreams. These are often the driving forces in our lives. The things that keep us going. But if they can never be achieved, and always lie outside of our grasp, they might well end up being the very things that serve to bring us down!
I would inspire you all to make yourself a dream or a bucket list. Fill it with pictures of the things you hope for. Look at it often and visualize yourself living within the grasp of these hopes and dreams. I dare say that it won't be too long before, like me, you are able to strike some of them off your list . . . as they will already have come true. The nice thing about that is you get to replace them with new ones, and not to coin a famous phrase or anything, but . . .
"That's a good thing."
I am so late getting up this morning. I don't think I slept barely a wink last night. I spent the whole night in a dream state just below consciousness! Crazy dreams too! The last one I had was about crocodiles in ponds (In my father's bedroom) and baby mice, which were running about and getting eaten by cats. Not sure what it all means, but . . . they were white mice with pink eyes!! Crazy stuff!
Here's a tasty pasta dish that will have your family drooling and sitting about the table in great anticipation!! I also make another version of these which has a taco filling. Both are very popular!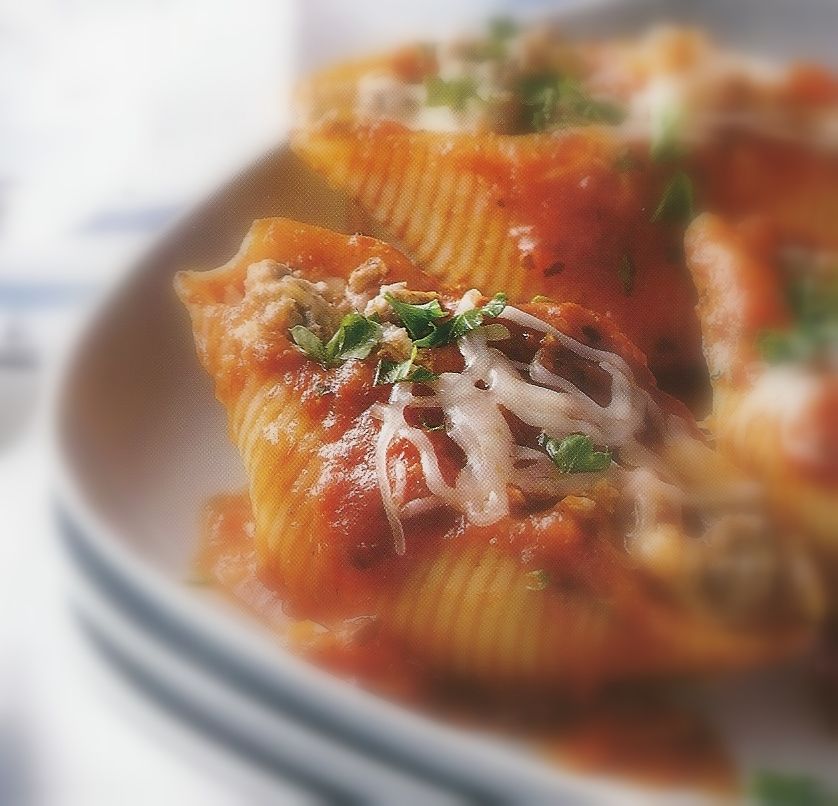 *Stuffed Pasta Shells*
Serves 8
Printable Recipe
Pasta shells stuffed with a delicious meat and three cheese filling. It does make rather a lot, so I usually divide it into two casseroles and freeze one for another time. Be sure to cook your shells only to al dente (Still slightly firm). This makes them a lot easier to fill and means that they won't over cook during the baking.
24 uncooked extra large pasta shells
1 pound extra lean ground beef
fine sea salt, black pepper and garlic powder to taste
1 large jar (26 ounces) chunky spaghetti sauce
1/4 cup water
1 container of chive and onion cream cheese (8 ounce)
1 1/2 cups shredded Italian blend cheese (6 ces)
1/2 cup finely grated Parmesan cheese
1 large free range egg
1 to 2 TBS chopped fresh flat leaf parsley to garnish, if desired
Preheat the oven to 180*C/350*F/ gas mark 4. Cook and drain pasta as directed on the package for al dente pasta. Set aside.
Cook the ground beef in a large skillet over medium high heat, seasoning with some salt, pepper and garlic powder. Cook until browned thoroughly, stirring occasionally. Taste and adjust seasoning as necessary. Drain off any fat or liquid that may accumulate and allow to cool slightly, about 5 minutes.
Mix the pasta sauce and water in a large bowl. Place one cup of it into the bottom of an ungreased 13 by 9 inch glass baking dish. Mix together the cream cheese, 1 cup of the Italian cheese blend, the Parmesan cheese, egg and ground beef in a medium bowl. Mix well together. Spoon heaping tablespoons of the mixture into each cooked pasta shell. Arrange the stuffed shells over the sauc ein the baking dish. Pour the remaining sauce over top of the shells, covering them completely. Cover the dish with foil.
Bake for 40 to 45 minutes, or until bubbly and the filling has set. Sprinkle with the remaining 1/2 cup of Italian Cheese blend. Bake for 10 minutes longer, or until the cheese has melted. Sprinkle with the parsley just prior to serving, if using.
Cooking in The English Kitchen today, Heuvos Rancheros! Ole!!