I've not a lot of time this morning as I have a hospital appointment to go to and I need to be there at 9:30, which is a bit early for us to be out and about. When we went the other morning for the blood test the traffic was horrendous! Morning rush hour traffic and the cars pouring into the hospital were just unreal. Everyone going in to work I suppose! You should see the bruise I still have on my arm. The plebotonist was in a bit of a hurry that morning, and I don't know why. There was nobody waiting behind me. In any case when I got home I noticed a large red lump next to the plaster and when I took the plaster off, it spread into a large bruised area about 4 inches in diameter. It still looks really bad, some five days later. That is the first time this has happened to me, although I have known it to happen to other people at different times. I have had to defend Todd's honour all week!! No, he didn't beat me! haha.
I was able to get a piece of work finished yesterday that I have been working at over a space of time. I wanted to present it in two ways.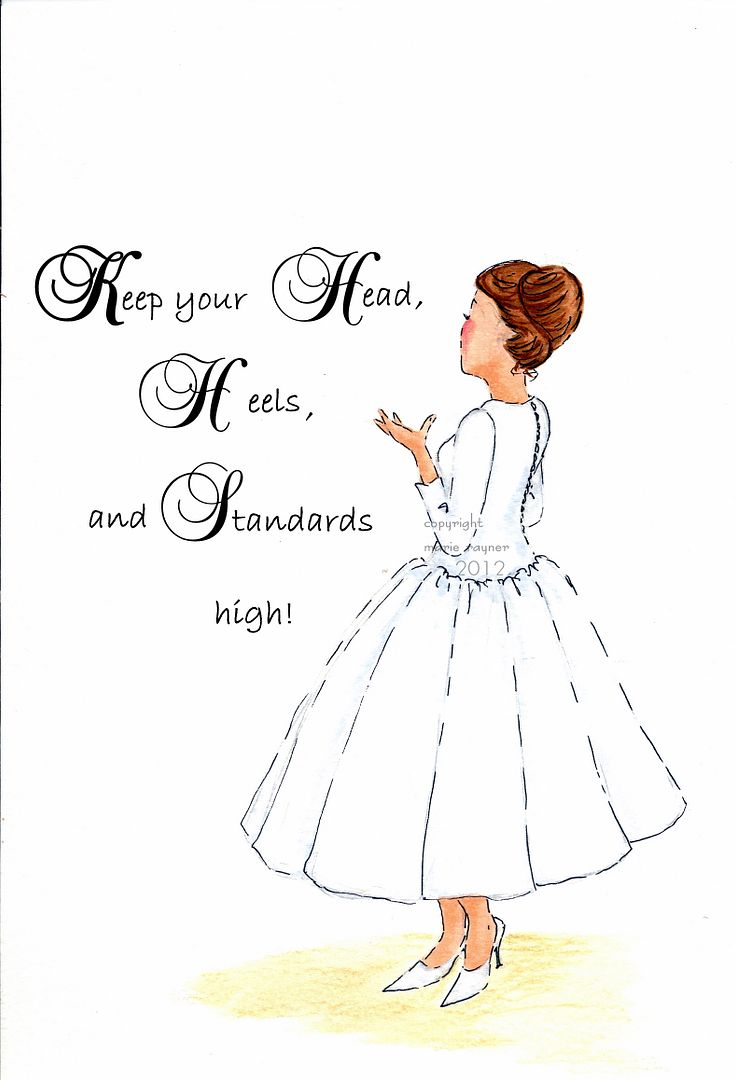 This is the first way. (I don't know why the shading on her dress isn't showing. It's very faint in the pictures, but I can assure you it's there in real life!) This is the non-LDS version. Of course it's available as a print or a card. Then there is the LDS verson: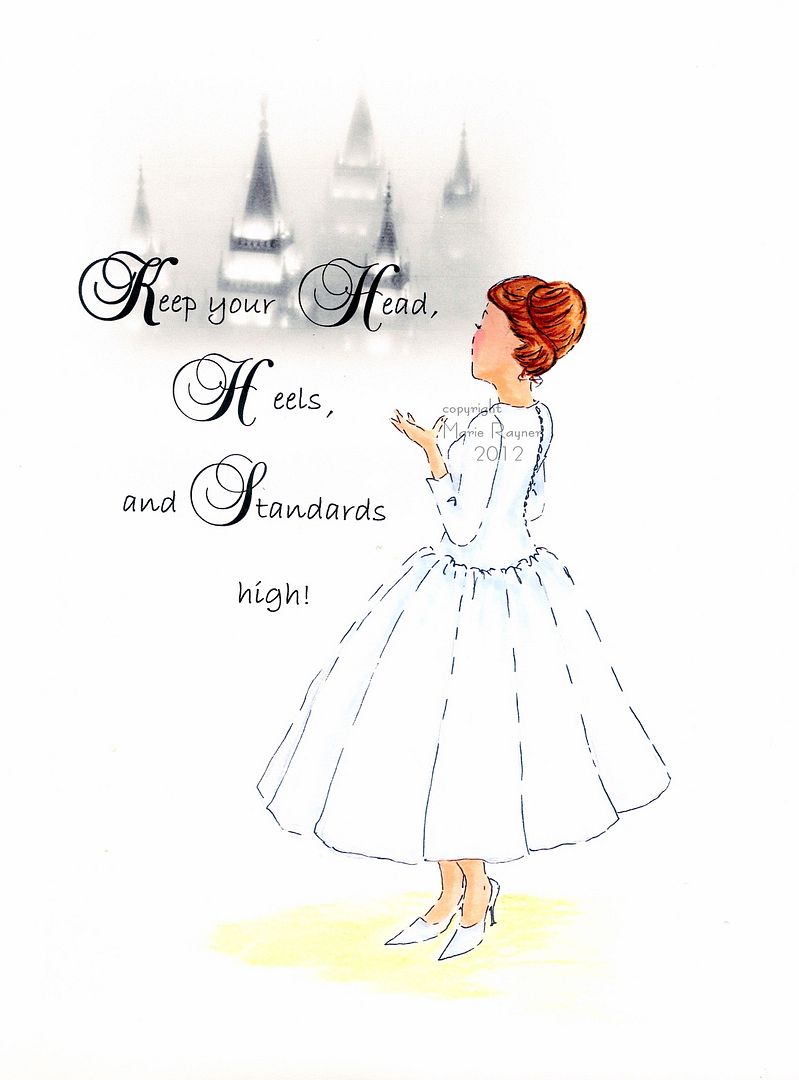 This version had the image of the temple on it. One of the things our church believes in is called the law of chastity. This means keeping yourselves pure in thought, word and deed, dressing modestly, and in keeping those intimate things between a man and a woman exclusively for marriage . . . keeping ourselves worthy to go to the Temple and to be sealed together with our mates for Time and all Eternity. This is something that is very sacred and very important to us and a great blessing in our lives. In any case this is a young woman looking towards the Temple where she hopes one day to make sacred covenants with her Heavenly Father and to be sealed together with her husband for Time and all Eternity. I think it would be lovely framed and hung on the bedroom wall of that special young woman in your life, so if you are interested, just let me know and I'll tell you how you can have it! (Either version! We all need to keep our standards high, whether we are LDS or not!)
Sorry for the brevity of my post today but duty calls. (It's nothing to worry about, just a follow up appointment from the problems I had last autumn. I am not concerned in any way.)
The recipe today is for a really delicious lasagne which has all the flavours of a delicious pepperoni pizza, except it's not pizza . . . it's lasagne! The recipe comes from one of those grocery store leaflets I think. It is copied into my Big Blue Binder and it is something that my kids always enjoyed. Todd's not overly fond of it . . . it's the pizza and pasta thing . . . he just doesn't care for either one, but he does eat it when I make it for the missionaries. I usually make it in two dishes so that I can freeze one if it doesn't get cut into.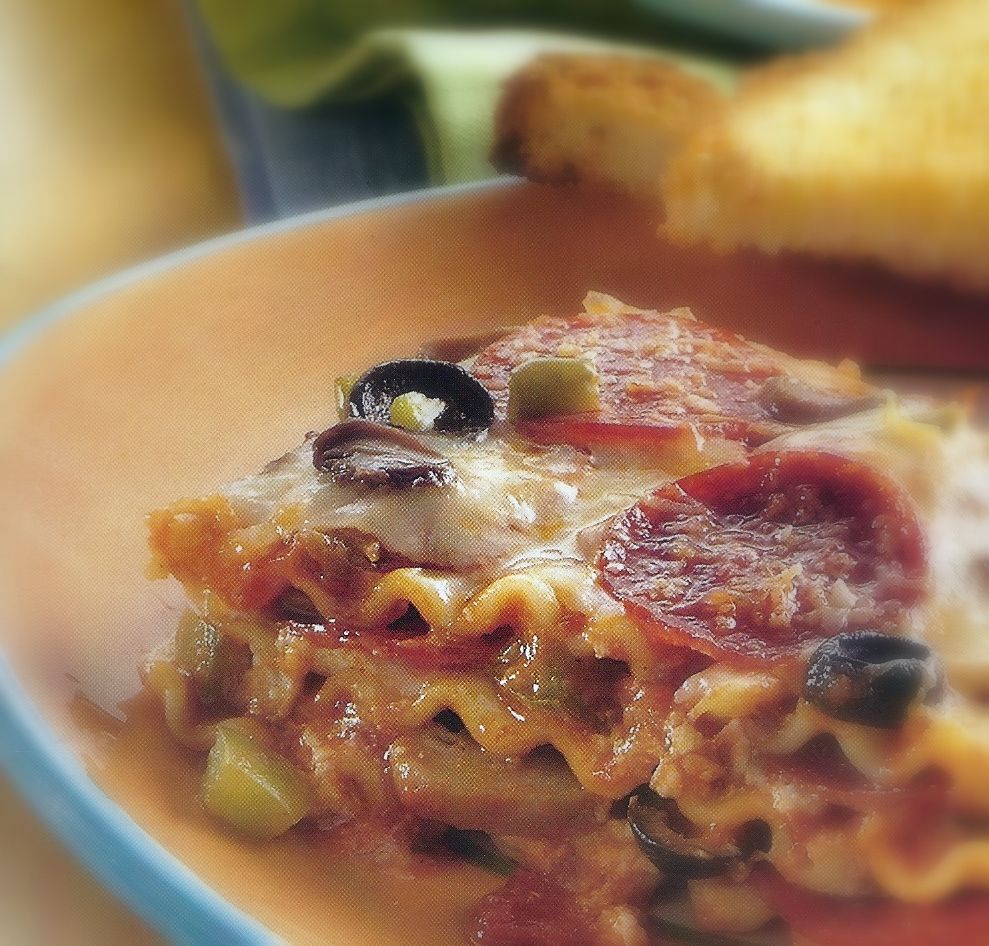 *Pizza Lasagne*
Serves 8
Printable Recipe
If you like pizza, you are going to love this!
9 uncooked lasagne noodles
1 can (15 ounce) pizza sauce
1 can (14.5 ounce) tin of diced tomatoes with green pepper and onion, undrained
1 (15 ounce) container of ricotta cheese
1 tsp Italian seasoning
2 cups of shredded mozzarella cheese (8 ounces)
7 ounces sliced pepperoni
1 tin of sliced mushrooms, drained
1 (2 1/4 ounce) tin of sliced ripe olives, drained
1/2 cup chopped green bell pepper
2 TBS grated Parmesan cheese
Cook the lasagne noodles as directed on the package. Drain, rinse and then drain again. Set aside.
Preheat the oven to 180*C/350*F/ gas mark 4. Have ready a 12 by 9 inch baking dish which you have sprayed with nonstick cooking spray.
Mix the pizza sauce and tomatoes together in a saucepan. Heat over medium heat, stirring often, until heated through. Mix the ricotta cheese and Italian Seasoning together in a bowl.
Spread 1/4 cup of the sauce mixture into the bottom of the baking dish. Arrange 3 cooked noodles over the sauce. Spoon and spread half of the ricotta mixture over top of the noodles. Top with 1/2 cup of the mozzarella cheese, 1 cup of the sauce, 1/3 each of the pepperoni slices, mushrooms, olives and green pepper. Repeat layers once.
Top with the remaining three noodles, sauce mixture, mozzarella cheese, pepperoni slices, mushrooms, olives and bell pepper. Sprinkle the Parmesan Cheese evenly over all.
Bake, uncovered, for 30 to 40 minutes, or until bubbly and golden. Let stand 15 minutes before cutting into squares to serve. I would serve this with hot buttered toast and a salad on the side.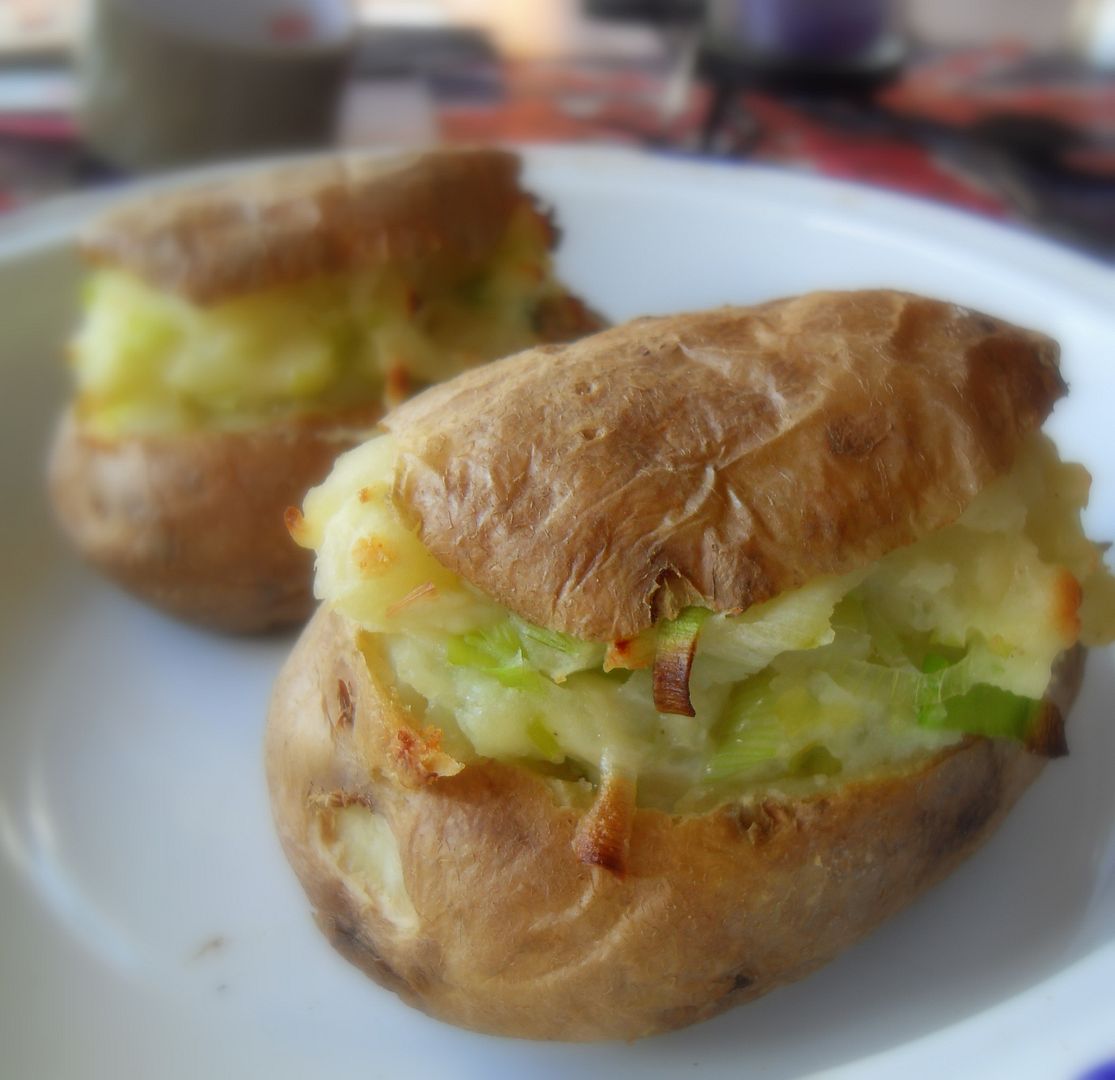 There are Baked Potatoes Stuffed with Leeks and Cheese on offer over in
The English Kitchen
today along with a few other bits and pieces and some seriously fantastic cookbooks! Do hop over and take a look!