Twinkle
, Twinkle,
little
star
How I
wonder
what you are!
Up
above the
world
so high,
Like a
diamond
in the sky.
When the
blazing
sun is gone,
When
he
nothing
shines
upon,
Then you
show
your little light,
Twinkle
, twinkle,
all
the night.
Then the
traveller
in the dark,
Thanks
you for your
tiny
spark,
He could
not
see
which
way to go,
If you did not
twinkle
so.
In the
dark
blue
sky
you keep,
And
often
through my
curtains
peep,
For you
never
shut
your
eye,
Til the
sun
is in the sky.
As your
bright
and
tiny
spark,
Lights the
traveller
in the dark . . .
Though
I know
not
what you are,
Twinkle,
twinkle
,
little
star.
~Jane Taylor
You know my whole life I have been singing "Twinkle Twinkle, Little Star," and until this morning I never realized that there were more verses or even knew who wrote it. I had always thought it was just a little child's nursery rhyme.
It actually is an early nineteenth-century English poem, first published in 1806 in Rhymes for the Nursery, a collection of poems by Jane Taylor and her sister Ann. Born in 1783, Jane wrote the poem at the age of 23. You can read more about her
here
, on the wikepedia page. It's all very interesting and tragic. She died at the young age of 40 of breast cancer. I wonder how they know things like that . . . amazing to me.
The Wiggles for your amusement.
At any rate that is my poem for today! Oh, I do so love poetry, don't you?? I also love all these starry pieces of artwork that I have showcased here this morning as well. You can click on the source links at the bottom of each piece and see more of the work of these very talented artists. I am hoping to get into my artroom at some point today myself. (Fingers crossed!)
Here's another star!! A star in my kitchen in the way of a delicious casserole that we just love. It's a great way to use up leftover cooked chicken and one that my kids always really enjoyed. I have never been to Mexico. I have never even been to New Mexico, but I love anything with a bit of Mexican flavour! Ole!
*Chicken Enchilada Pie*
Serves 6
Printable Recipe
A Tex Mex favourite, lightened up a bit. Delicious as ever.
8 flour tortillas for burritos
2 cups cubed cooked chicken
1 cup cooked long grain rice
2 cups grated low fat Monterey Jack Cheese
1 (15 ounce) tin of black beans, drained and rinsed
1 (19 ounce) tin of Red Enchilada Sauce
1 cup of sweet corn, thawed
1 cup of thick and chunky tomato salsa
2 TBS thinly sliced spring onions, green and white parts
To Garnish: (optional)
reduced fat sour cream
chopped spring onions
Preheat the oven to 180*C/350*F/ gas mark 4. Spray a round (1 litre) baking dish, 9 inches in diameter, with some nonstick cooking spray. Set aside.
Cut 5 of the tortillas in half. Cut the remaining tortillas into 2 1/2 inch wide strips. In a large bowl, combine the chicken, rice, 1 cup of the cheese, the beans and 1 cup of the enchilada sauce. Mix together well.
Layer 4 tortilla halves in the bottom of the baking dish. Top with 1/4 cup of enchilada sauce and half of the chicken mixture. Top with 2 tortilla halves. Fill in any empty spaces with 3 tortilla strips. Spoon the corn over the tortillas. Spread the salsa over the corn. Layer with 2 more tortilla halves and 3 strips. Top with remaining half of the chicken mixture. Finish layering with the remaining 2 tortilla halves and strips, the remaining enchilada sauce, the remaining cheese and the 2 TBS of spring onions.
Bake for 35 to 45 minutes or until the mixture is heated thoroughly and the cheese has melted. Cool for 5 minutes before cutting into wedges to serve. Top each serving with a dollop of sour cream and some spring onions if desired.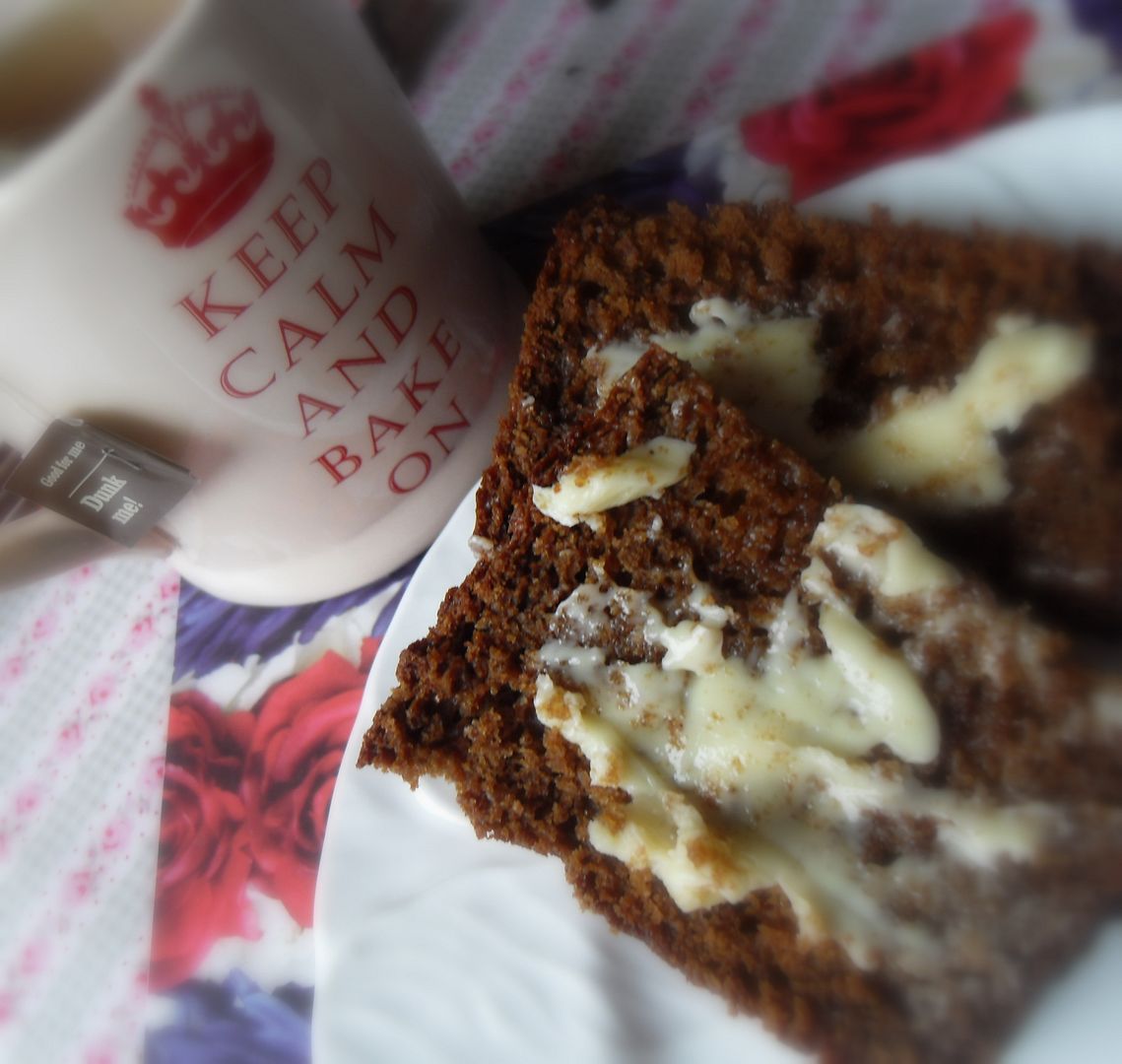 In
The English Kitchen
today, a delicious Treacle Gingerbread Loaf.