"Every gardener knows that under the cloak of winter lies a miracle ... a seed waiting to sprout, a bulb opening to the light, a bud straining to unfurl. And the anticipation nurtures our dream."
- Barbara Winkler
There is something about the word . . . February . . . that stirs the heart with an irrepressible joy, however irrational that may be.
Arrows of rain may fall . . . sharp and cold from a wintery sky.
The doors of the North are not yet barred to the possibility of snow.
But . . . once the month of January slips off our calendar . . . nothing can ever be quite the same again. Little ghostly snowdrops flutter in the grass.
This year . . . the sharp spikes of daffodils can already be seen poking up through the ground, and the camelia bush by the front door is covered with pink tinged buds of blossom . . . just waiting to burst into a riot of colour. It seems that they do not know what month it is, and the mild air that was January has fooled them somewhat . . .
There is a blue light which lingers on the edge of the lengthening days, and the voice of the February's thrush comes trickling down the wind . . . the promise of sweeter, warmer days to come.
Soon . . . it seems to say . . . soon . . . but not . . . just . . . yet.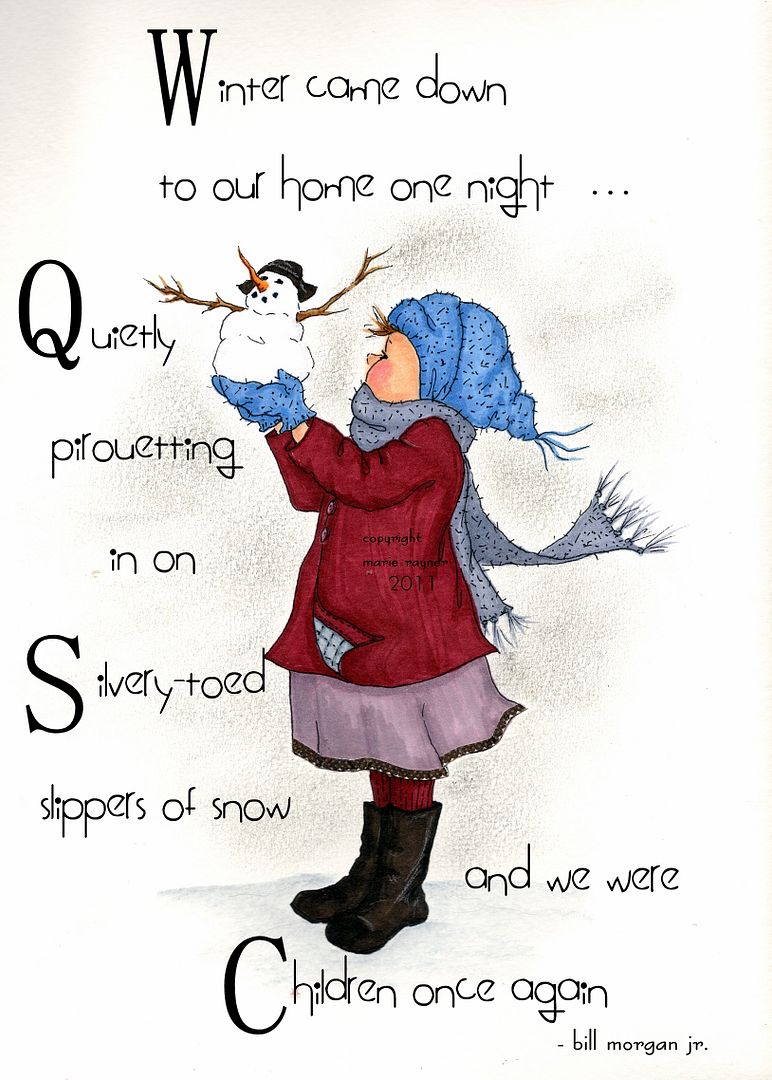 With the threat of snow across most of the country yesterday, I was in a very wintery mood and so I painted this little girl with her offering of a cute little snowman. That's the most snow we get over here for the most part . . . just enough to make a little snowman, and only ever very rarely enough for a biggun! We still don't have any snow here in Chester, but we did have a spot of freezing rain yesterday.
I'm all ready for my lesson that I have to teach this morning. I was a bit worried that I wouldn't sleep last night because of nerves, but I did manage to sleep, even if I did have quite a few crazy dreams. That will teach me to watch crazy stuff on the telly before I go to bed!
My left knee is still very sore after the shot I had in it on Friday, but I am hopeful that will soon pass and it will be a bit better. My right hip is popping now . . . I have never had any injections in my hips yet. Not sure that I want to. Todd has decided he is going to come with me to Canada to go to my Daughter's wedding in July as we are not sure I could manage everything by myself. I am relieved to say the least. We can't really afford it, but we'll just have to do what we can. I cannot miss the wedding, and I cannot go alone.
Having said all that I must dash off as I just remembered a few little things I need to do before we go to church. I will leave you with a tasty recipe from my Marie's Muses archives . . . some delicious Vanilla Glazed Apple Bars! Moist and scrummilicious!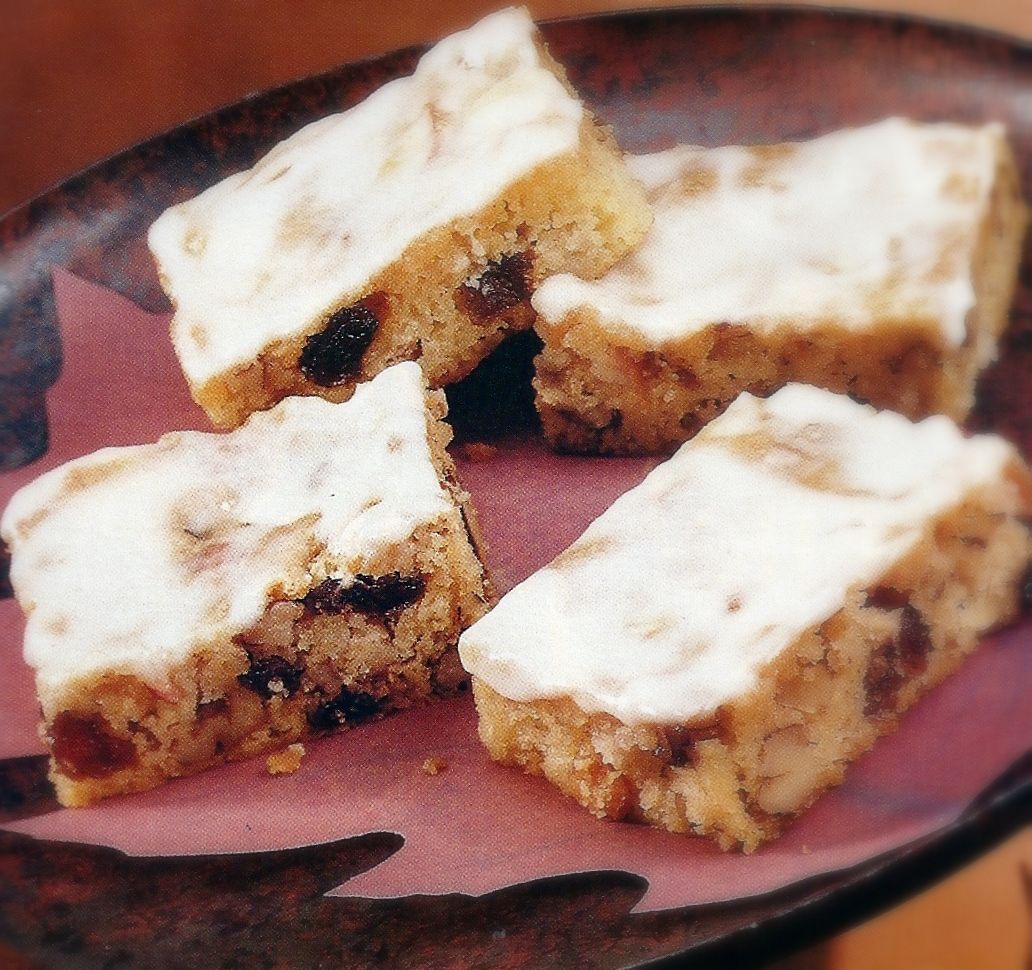 *Vanilla Glazed Apple Bars*
Makes 32
Printable Recipe
Moist and delicious apple bars topped with a sweet vanilla glaze.
2 medium cooking apples, peeled, cored and finely chopped (about 1 3/4 cups)
1 cup granulated sugar
1 large free range egg, beaten
1/2 cup butter, melted
1 1/2 cups all purpose flour
1 tsp soda
1 tsp vanilla
1/2 tsp baking powder
1/4 tsp salt
1/4 tsp ground nutmeg
14 tsp ground cinnamon
1/2 cup raisins
1/2 cup chopped nuts
For the Vanilla Glaze:
1 1/2 cups of icing sugar, sifted
3 TBS butter, softened
1/2 tsp vanilla
1 to 2 TBS milk
Preheat the oven to 180*C/350*F/ gas mark 4. Butter a 13 by 9 by 2 inch baking pan. Set aside.
Stir together the apples and sugar in a bowl. Let stand for 10 minutes. Stir in the egg and vanilla. Stir in the remaining ingredients until smooth. Fold in the raisins and nuts.. Pour the batter into the prepared pan.
Bake for 20 10 30 minutes, until a toothpick inserted in the centre comes out clean. Spread with the vanilla glaze while warm. For bars, cut into 8 rows by 4 rows.
To make the glaze, mix all the ingredients together until smooth and spreadable.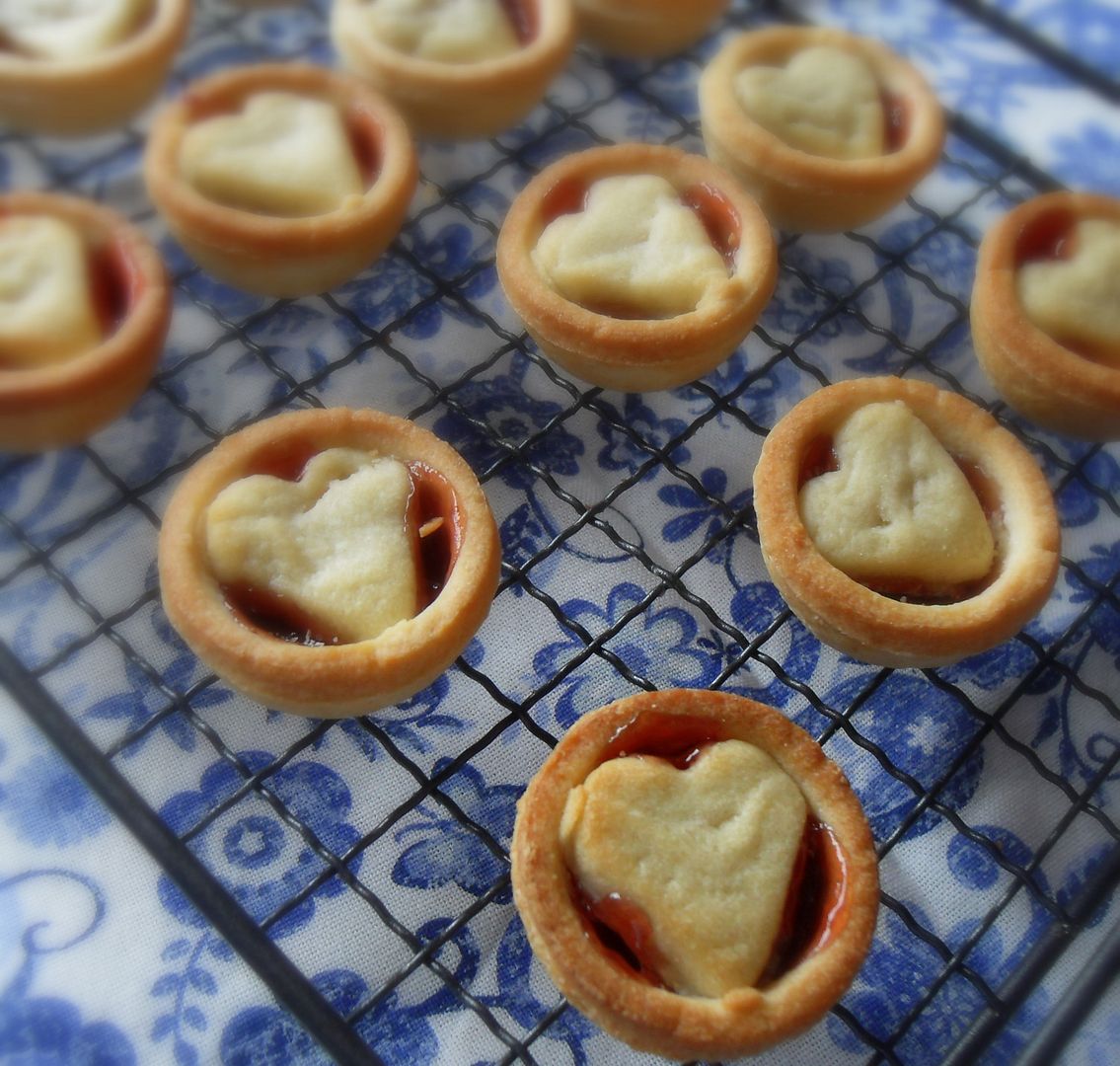 Over in
The English Kitchen
today, Valentine Berry Cutie Pies!