"I like living. I have sometimes been wildly, desparingly, acutely miserable, racked with sorrow, but through it all I still know quite certainly that just to be alive is a grand thing."
~Agatha Christie
I found this quote by Agatha Christie the other day and for some reason found great comfort in it. Here she was a famous mystery writer . . . a woman who wove many human stories into the tapestry of her novels, and enjoying a long and successful career until her death in 1976. As famous and as wealthy as she may have been . . . she still had the same doubts and frailties that affect the rest of us from time to time. Having success and money do not necessarily mean you will live happily ever after. Bad times come to us all . . . despite them, life is still a beautiful gift, and there is joy to be found in every day.
I think one of the unhappiest and most miserable women I have ever known was my last employer. Here was a woman who had everything that money could possibly buy, a beautiful home, designer clothing, expensive jewels . . . a handsome husband, lovely children, people at her beck and call 24 hours a day . . . and yet . . . I have never known an unhappier person in my life. She had no joy in her life . . . or at least none that really mattered, or that was lasting. If you have ever seen the film,
"The Devil Wears Prada,"
then you have seen her . . . because the character that Meryl Streep played in it is almost identical in personality to my ex boss.
It was quite sad really. There was not a charitable bone in her body . . . all her feelings, thoughts, desires etc. were centred only on one being . . . herself . . . and that is all she cared for or about. In fact she made the statement to me on one occasion that, anyone who knew her would know that she
never
did anything for anyone without expecting something in return . . . She was the most selfish creature I ever came across and I doubt that I will ever meet anyone quite like that ever again. She was the perfect example to me of exactly what money can never buy . . . class, character, humility, respect, love and most important of all . . . happiness.
We're invited out to lunch today. We are going over to some good friends for lunch and I'm really looking forward to it. I love spending time with friends. I love spending time with the Toddster too . . . but friends are nice as well. I am sure that Todd must get tired of my chatter from time to time. It's always nice to have times spent with other people and to enjoy all that they bring to the table. Variety
is
the spice of life!
Here's a quick skillet meal that is perfect for those weeknights when you are in a real hurry and starving. It can be put together in literally minutes and within half an hour you can be sitting down to a nice meal that is not only delicious, but very healthy as well. All you need serve on the side is perhaps a nice tossed salad, and perhaps some crusty rolls. If I'm serving pasta to Todd . . . he better have a crusty roll to make up for it! ☺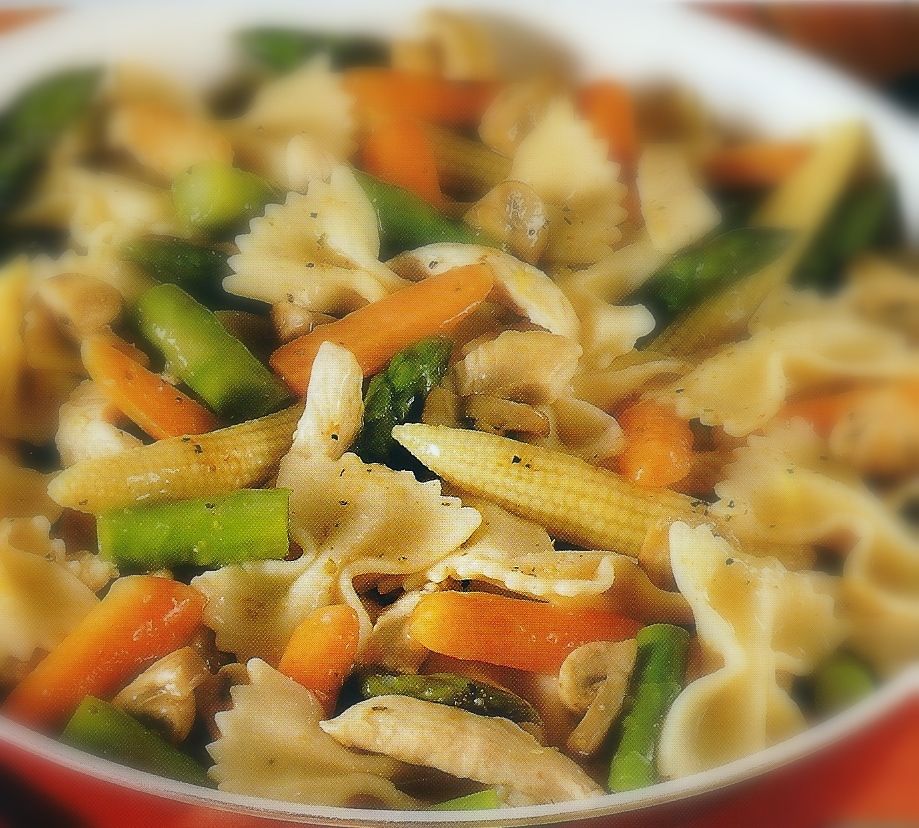 *Skillet Turkey Primavera*
Serves 6
Printable Recipe
You can use chicken breast for this if you wish. Make sure that if your asparagus spears are thick and woody, you peel the lower half of each stalk to get rid of the woody bits. Quick, easy and delicious!
1 1/2 cups uncooked bow tie pasta
1/2 pound fresh asparagus spears, trimmed and cut into 1 1/2 inch pieces (2 cups)
1 1/3 cup fresh baby carrots, halved lengthwise
1 cup chicken broth
4 tsp cornstarch
1/4 tsp garlic powder
1/4 tsp salt
1/8 tsp black pepper
1 pound fresh turkey breast slices, cut into thin bite sized strips
1 cup fresh whole mushrooms, quartered
1 (14 oz) tin of whole baby corn, drained and rinsed
1 tsp grated lemon zest.
Cook the pasta to desired doneness using the package directions, adding the aspagarus and carrots during the last 2 to 4 minutes of cooking time. Cook until the asparagus is just crispy tender. Drain.
In a small bowl, combine the broth, cornstarch, garlic powder, salt and black pepper. Blend well and set aside.
Spray a large nonstick skillet with low fat cooking spray. Heat over medium high heat. Add the turkey and mushrooms. Cook, stirring frequently, until the turkey is lightly browned and no longer pink. Add the broth mixture, cooking and stirring until the mixture begins to thicken. Add the cooked pasta and vegetables, along with the corn and lemon zest. Cook and stir until thoroughly heated through. Taste and adjust seasoning as necessary. Serve hot.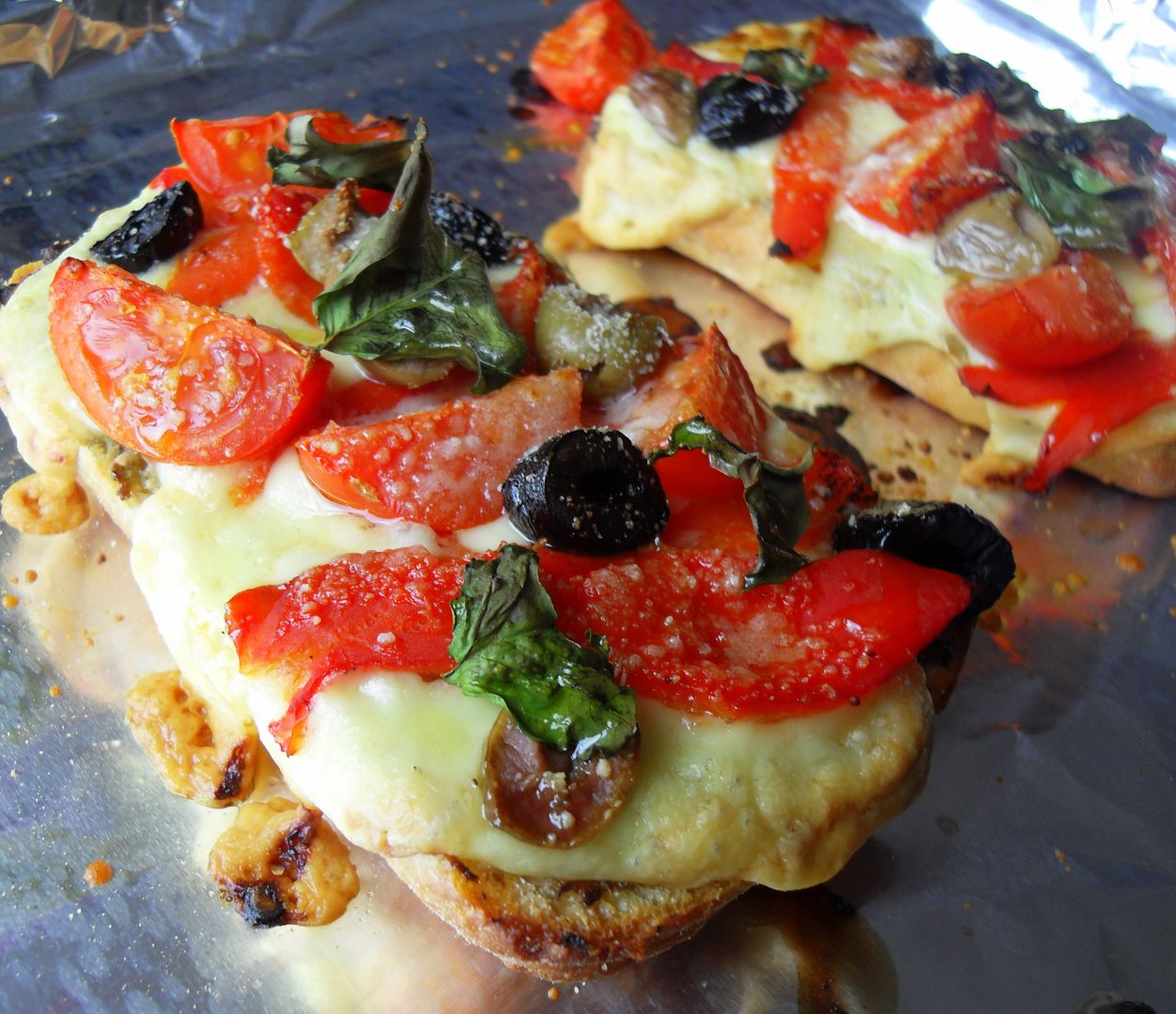 There are some tasty
Ciabatta Pizzas
cooking in The English Kitchen today.