A journey of a thousand miles begins with a single step.
~Lao Tzu
Back in the early 1990's, when I was married to my ex, we built our own house from scratch. It was a ginormous project, and something that the whole family participated in, right from the oldest down to our three year old at the time, Bruce. We contracted out the big stuff, like digging the foundation and the pouring of it . . . and the things that had to be done by professionals such as the electrics and the plumbing, but everything else was done by us. It had been my ex's life long dream and it
really
was a once in a lifetime project.
The idea of building your own home might seem impossible to some . . . but it wasn't impossible to us. We started with what we knew, and then went from there. My ex had taken a carpentry course in Vocational School before he had gone into the army, and so he began with the knowledge that he had been given during that time . . . I began with a willingness to do whatever it was that was required of me. It would never have gotten done otherwise . . . we didn't allow our fears of what we may not have known, or lack of knowledge hold us back and we learnt as we went along. We ended up with a beautiful house that was the envy of many, and the best part was that it was
truly
a family home in every sense of the word . . . as we had all played a part in building it.
You will never get anywhere in life unless you start. Every journey begins with just one step forward. If you begin with the urge to do something you've never done before and have the confidence and freedom to believe it can be done, then somehow . . . along the way . . . any difficulties that may be attached to it will begin to lose their scary power of intimidation. We can trust in our Heavenly Father who has promised us that He will give us the power and the skill to overcome any obstacles in our way. I truly believe this to be so. We can climb mountains and accomplish many things if only we will have the courage to start . . . with what we DO know and have a willingness to learn along the way. With faith . . .
all
things are possible.
Just my thoughts this morning.
I am becoming a little braver in my breadmaking. For years I told myself I just couldn't make a decent loaf of bread, but I've been practicing and yesterday I made some lovely bread. I surprised even myself! This bread is lovely with a sweetness from the honey and a wholesome nuttiness from the wheatgerm and the toasted walnuts. I think toasting nuts before using them brings out their lovely flavour to the n'th degree!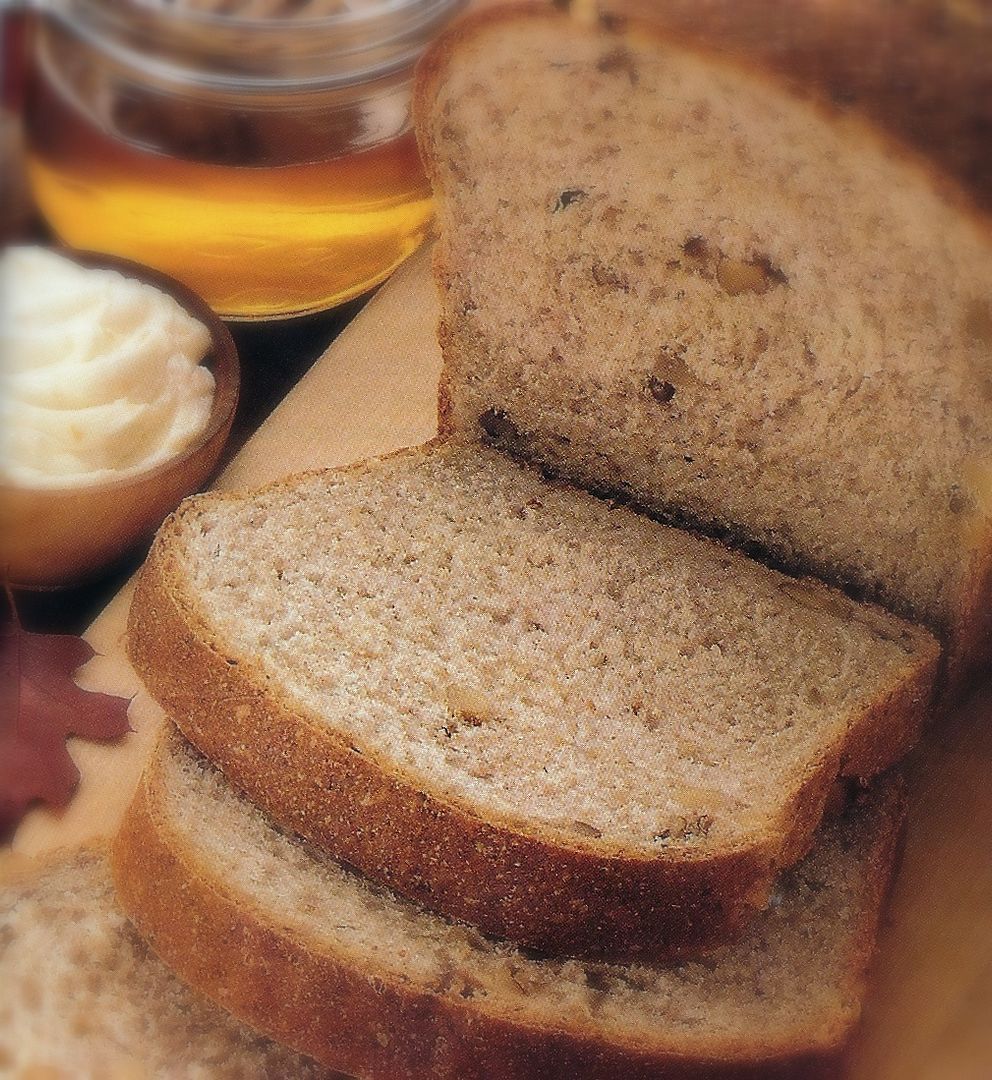 *Nutty Wheat Bread*
Makes 2 loaves
Printable Recipe
A delicious light textured bread with the nuttiness of wheat germ and toasted walnuts added.
3 1/2 to 4 cups plain flour
1 tsp salt
2 pkg of rapid rise dry yeast (4 1/2 tsp)
1 1/2 cups milk
1/2 cup water
1/3 cup runny honey
1/4 cup butter
1 1/2 cups whole wheat flour
2/4 cup chopped toasted walnuts
1/4 cup wheat germ
Butter two 8 by 4 inch loaf pans. Set aside.
Measure 2 cups of the plain flour into a large bowl, combine with the salt and yeast, mixing together well. Combine the milk, water, honey and butter in a saucepan. Warm to melt the butter and melt the honey. (120 -130*F) Add the warm liquid to the flour mixture. Blend at low speed with an electric hand whisk until moistened, then at .medium speed for two minutes. Add the whole wheat flour, another 1 cup of plain flour, the walnuts and wheat germ by hand.
Tip out onto a floured surface and knead in the remaining 1/2 to 1 cup of flour until the dough is smooth and elastic, about 5 minutes. Place dough into a greased bowl, turning to grease the top, cover loosely with plastic wrap or a tea towel and leave to rise in a warm place for about an hour, until light and doubled in size.
Punch down the dough several times to remove all air bubbles. Divide the dough in half. Roll each half out on a lightly floured surface to a 10 by 8 inch rectangle. Starting with the shorter side, roll up tightly, pinch edges and ends firmly to seal. Place seam side down into the greased pans. Cover and let rise i a warm place until the dough fills the pans and the tops are about 1 inch above the edge of the pans, 35 to 40 minutes.
Preheat the oven to 180*C/350*F/ gas mark 4. Bake the bread for 30 to 40 minutes or until the loaves sound slightly hollow when tapped on the bottoms. Remove from the pans and allow to cool on a wire rack.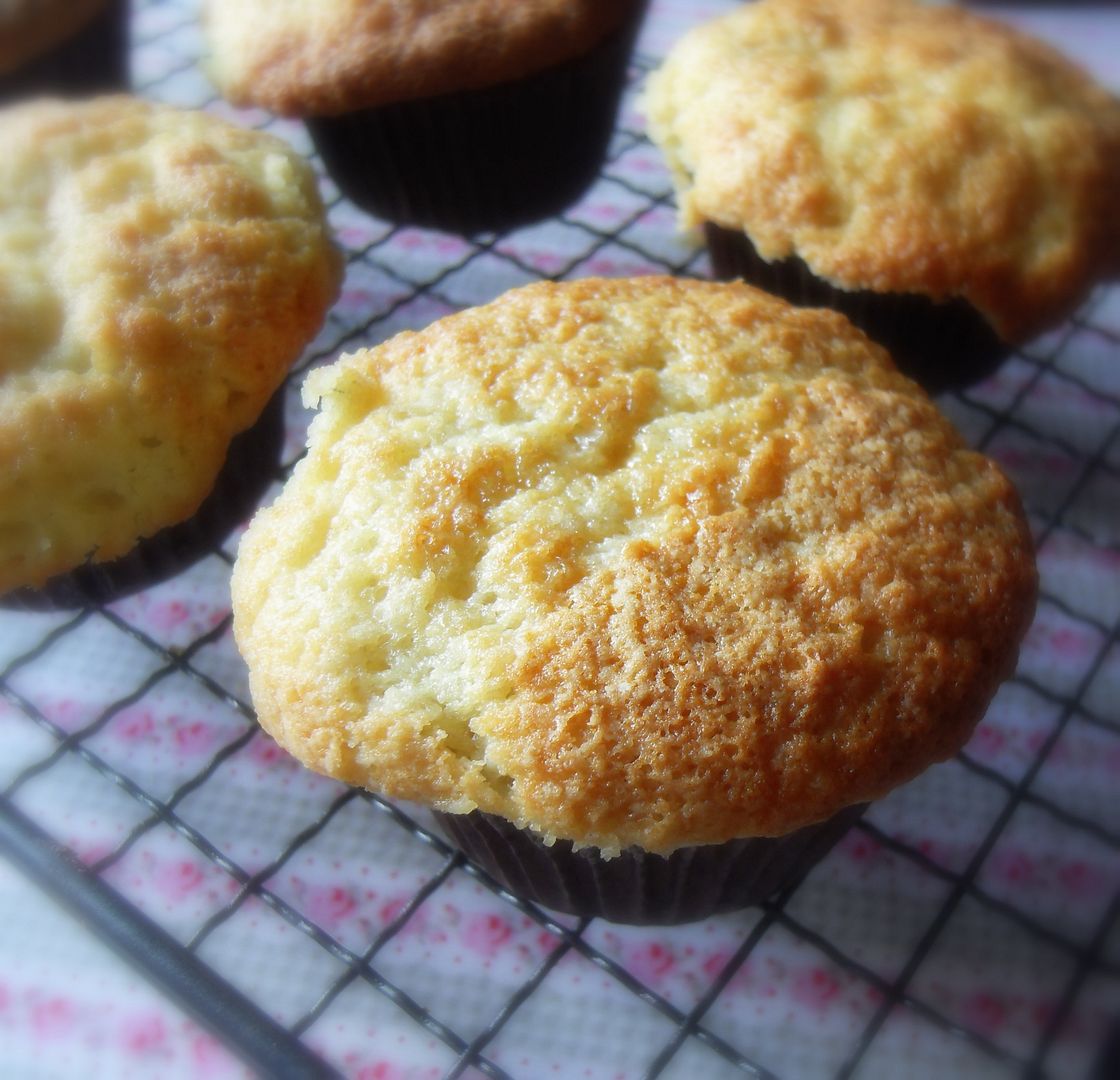 Over in
The English Kitchen
today, Banana Banoffee Muffins.