When I was about 6 years old, I got my first and the only bicycle I ever had as a child. I had a little job cleaning telephone booths and saved up the money I made by doing so to buy it. Way back in the olden days not alot of people had telephones in their homes, so there were a lot more telephone booths scattered about. I guess there must have been 6 or 7 of them in our small sub division in Gimli, Manitoba, and each week I would go around to them all and clean them. I would wash the floor, pick up any garbage, etc. I got $1 a week and to a 6 year old that's plenty of moolah!
I started when I was 5 ( I know amazing eh? How many 5 year olds would do that today!) I saved and saved and finally I had enough money, not only to buy myself a Brownie uniform, but also a bicycle! A brand new CCM bicyle! It was blue, with a blue and white seat. Nothing spectacular by today's standards, but it was pretty special to me! I also had enough to buy myself a little red bicycle horn with a fantastic propeller on the front and a red wire basket to match!
My dad taught me to ride my new bicycle in the back garden of our small two bedroom house on Willow Drive. It had a lovely sloping grassed area with a nice big fence separating it from the train tracks, so it was pretty safe there . . . and well cushioned should I fall down.
My bicycle was a full sized bike . . . so it was quite a stretch for my little legs, but I perched myself up on it's seat and my dad ran along with me, holding onto the back of the seat, countless times. I sat there . . . my little face grinning, the wind blowing through my hair and adrenaline pumping through my veins. I knew I was safe, coz dad was holding on . . . I was flying!
He did this over and over again, and then finally, when he thought I could manage it on my own, and my confidence was built . . . he let go. I flew down the back garden straight as an arrow . . . the only wobble occuring when I realized he was no longer hanging on. But then . . . recovery . . . I could do it. I was riding my bike . . . all by myself!
That was only the beginning of many adventures! Before too long, I was cruising up and down the gravel roads and back lanes of Gimli with all the confidence of a well seasoned bicycle rider and new world adventurer explorer! I had a few spills from time to time . . . but nothing could keep me down for long. My job cleaning the telephone booths also got alot easier beacause I could now lug all my "tools" around in my little red basket. Going to the store for my mom became alot easier too!
That bicycle meant the world to me and I had it for a very long time . . . well into my teens. I'm not sure if the reason it was so special to me was because I had bought it for myself, with money I had earned, or if it was because of those golden memories of my dad running alongside of me, pushing me along. I suspect it was a little bit of both.
My dad did that alot for me in my life . . . run along side of me . . . pushing me. Holding on when I needed him to and only letting go when the time was right. Encouraging me to succeed, and then applauding me when I did . . . commiserating with me when I didn't . . . but mostly loving me. He calls me the apple of his eye, and that is special to me. I'm sure he has pet names for my brother and sister as well . . . but I am the apple of his eye . . .
"Keep me as the apple of the eye , hide me under the shadow of thy wings.
~Psalm 17:8
That is what a good parent does. Thanks Dad.
Here's a nice quick lunch that, aside from the cheese . . . I like to think it a tiny bit healthy! It has lots of vegetables in it and is very tasty. It makes a change from a regular grilled cheese sandwich!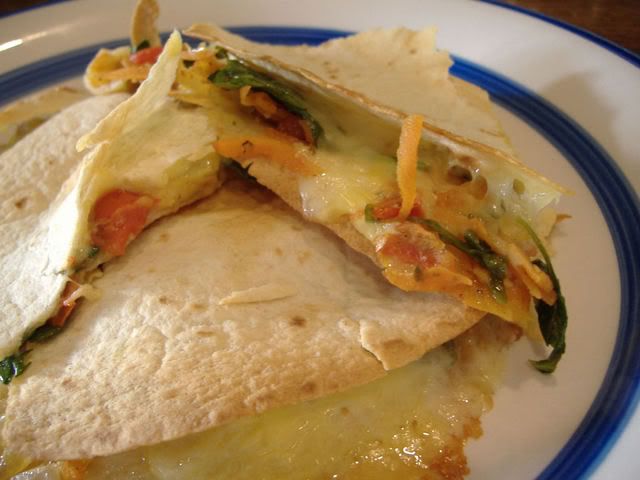 *Tortilla Veggie Melts*
Serves 2
Printable Recipe
This is a delicious way of getting your kids and husband to eat vegetables. You can use the vegetables as described or be inventive and use leftover cooked veg such as broccoli spears or sweet corn. Great as an accompaniment to soup, or on it's own as a light lunch or snack. It's real easy to increase the amounts and feed more people.
4 wheat flour tortillas
2 tsp olive oil
2 cups baby spinach leaves
1 medium carrot, peeled and shredded
1 small onion, chopped
6 cherry tomatoes, quartered
1 cup shredded strong cheddar cheese
¼ cup shredded gouda cheese
1 tsp garlic granules
1 tsp Italian seasoning
½ tsp Worcestershire sauce
Salt and freshly ground black pepper to taste
Pre-heat oven to 200*C/400*F/Gas mark 6. Heat the olive oil in a medium skillet and saute the onion and carrot for a few minutes, until the onion is tender. Toss in the cherry tomatoes and spinach and turn off the heat. Addthe garlic granules, Italian seasoning and Worcestershire sauce. Season to taste with the salt and pepper.
Place two tortillas on a large baking sheet. Divide the vegetable mixture in half and spread over the tortillas. Divide the cheese evenly between the two scattering on top of the vegetable mixture. Top each with another tortilla.
Bake in the pre-heated oven until the cheese is melted and oozing out and the top is lightly browned. Remove from oven and let sit for 5 minutes before cutting into quarters to serve.
Over in
The English Kitchen
today, some delicious Pizza Puffs!
"The divine love of God turns ordinary acts into extraordinary service."
― Dieter F. Uchtdorf