He
doesn't
need
a
coach
and four,
To
call
for him at his
front
door,
Or trains or
buses
or
white
wings,
To
show
him the
amazing
things,
Scattered
abroad
upon the earth,
Of every kind of
creed
and worth.
His
magic
is the
printed
word,
Whose
wings
are
swifter
than a bird,
And here
within
one golden line,
He
visits
ancient
Palestine,
Follows a
camel
caravan,
O'er
dusty
roads as
old
as man.
He
journeys
up the
sluggish
Nile,
Visits the
pyramids
a while,
Hops with a
glance
to far Bombay,
Walks
in the streets of
old
Cathay,
Buys
silk
and
lace
at the bazaars,
Dreams
in the
night
beneath the stars.
He hears the
hucksters
call their
wares,
The
Arab
priest
recite
his prayers,
Walks
in a meadow bright with
flowers,
So far
away
. . . yet
much
like ours,
With
grass
and rocks and
grazing
sheep,
And
arching
skies
serene and deep.
The
clock
strikes ten . . . and
with
a start.
He sees the
old
log fall apart,
Scattering
bright coals
upon
the hearth,
And he comes
back
to common earth,
The
quiet
room, the
curtains
drawn,
A
table
with
bright
dishes on . . .
~Edna Jaques
Oh how I love to read . . . the journies I take, the people I meet . . . and the places I see, are absolutely amazing to me. Todd is a reader as well. That is something we both have in common and our tastes in reading are somewhat similar as well.
Last night we were reading travel brochures and dreaming . . . oh, if only one had all the resources you could ever want to be able to travel and go wherever you wanted to go. How wonderful that would be! We had a set of Geography Books as an addition to our encyclopedia when I was a child and I used to love going through them and looking at the pictures of all the foreign and exotic places within their covers. I remember dreaming of being able to see some of those places for real one day. Holland springs to mind as does Italy.
Oh well . . . you got to have a dream to have a dream come true. I never dreamed way back then that I would ever be living in England, and look at me now! Life does take some amazing and interesting twists!
Had no gas in the house yesterday until almost 8pm, it will be the same on Monday, but blessedly we will have gas all weekend. It was getting rather cold in here last night before it got turned on, and I couldn't cook using our stove . . . so I made do with microwave and electric skillet! We got there in the end!
Happy Saturday everyone! We're off in to town today for a boo around, and I want to pick up some Hot Cross Buns at M&S. Theirs are fabulously fruity and soooo delicious!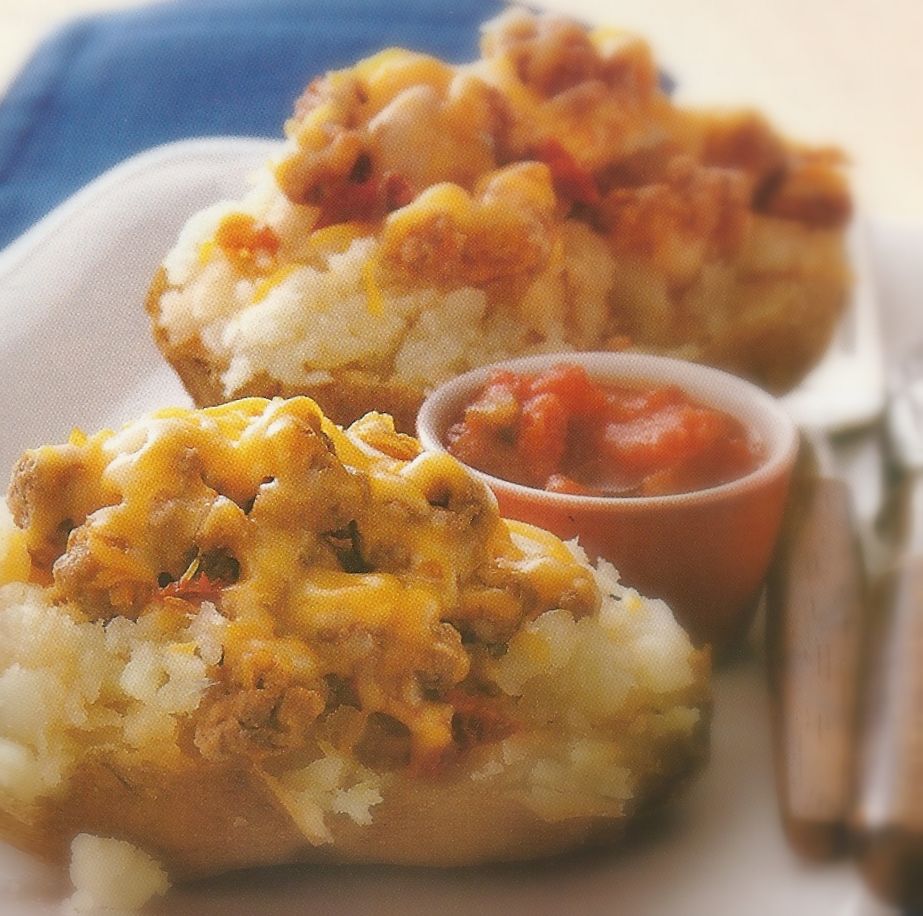 *Tex Mex Taters*
Serves 4
Printable Recipe
These please my meat and potatoes loving husband to no end. Baked potatoes topped with chili and cheese!
4 medium baking potatoes
1 lb extra lean minced beef
2 chipoltle chilies in adobe sauce, chopped (if desired)
1 can (8-oz) tomato sauce
1 can (4.5 oz) chopped green chilies
1/4 cup water
1 1/2 cups grated Mexican Cheese Blend
salt and pepper to taste
Prick the potatoes several times with a fork. Place on a microwavable paper towel in the microwave. Microwave on high for 11 to 14 minutes, or until tender, turning them over and rearranging halfway through the cooking time. Let stand for 3 minutes.
Brown the ground beef over medium high heat in a large skillet, until no pink remains. Stir in the chipoltle chilis, tomato sauce, green chiles, water and 1 cup of the cheese. Cook, uncovered for several minutes, stirring occasionally, until thoroughly heated through. Taste and adjust seasoning as necessary.
Slice the potatoes in half lengthwise. Place on plates. Fork up the insides a bit with a fork. Spoon the beef mixture over top and then sprinkle with the remaining cheese. Serve immediately.
Note: You may serve with some sour cream and chopped spring onion and salsa if desired. A green salad goes very well on the side!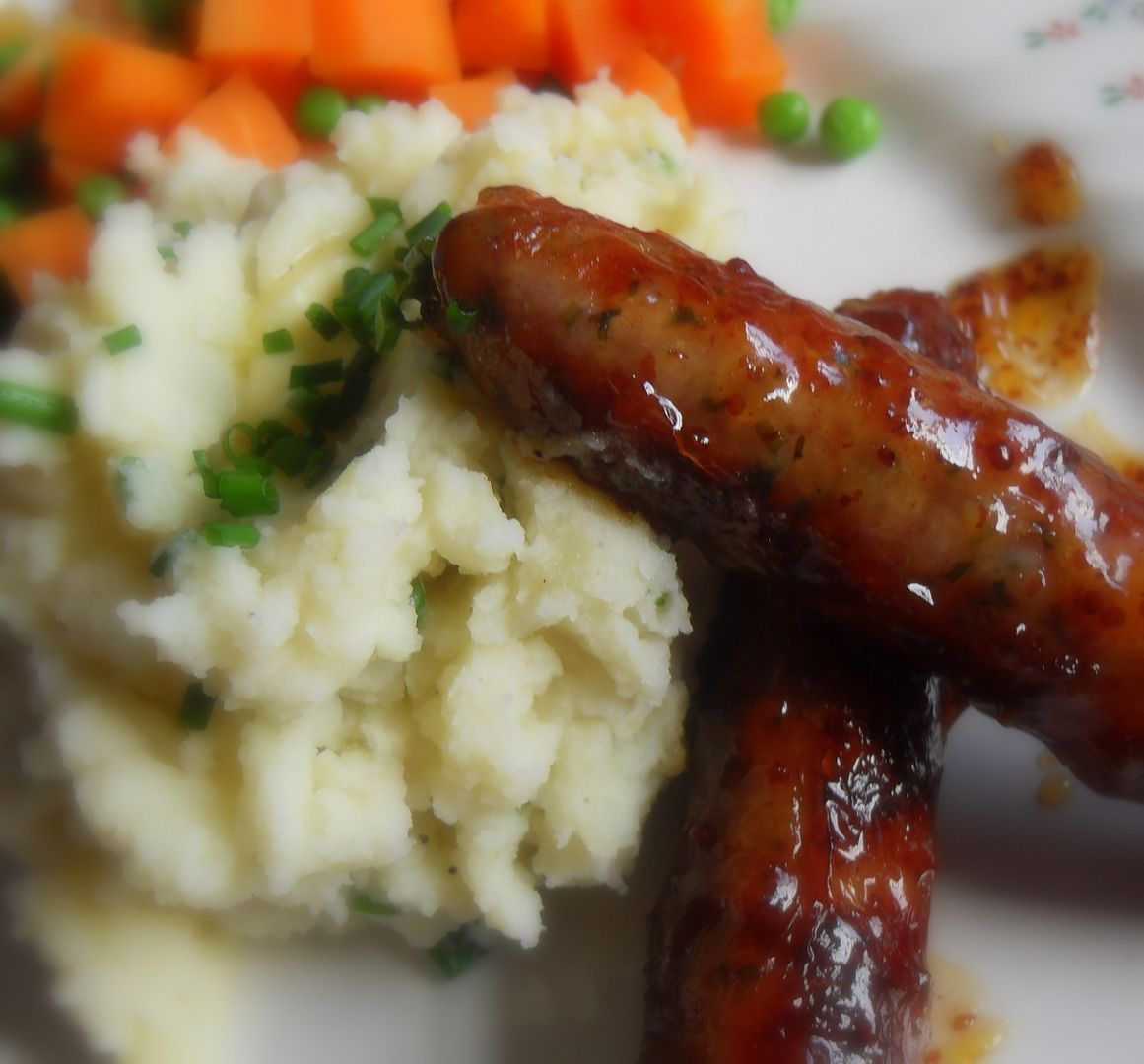 In
The English Kitchen
today, a round up of my favourite British Main Courses and my tweaks on them!