Now and then . . . in between all the grim and grey days of winter . . . in between all the storms and gales . . . God sends us a golden beautiful day, with bright morning skies of blue which are so beautiful to behold. It is only because of the dull days they are sandwiched in between though that we really can appreciate them for the little gems that they are!
Now and then . . . in life's darkest times . . . times of sorrow and distress . . . in between tears and dismay . . . there will come a flash of happiness . . . loving words from much beloved friends, tender smiles, gentle hugs and kisses . . . these too, making everthing seem worth while and oh so very appreciated. Joy felt amidst sorrow is double joy, I think . . .
Now and then . . . we're given glimpses of a perfect love . . . breaking through out hearts like shafts of sunlight from above. A sudden glory fills our sky and our hearts are filled with an unseen presence . . . we know who it is. His name is engraved upon our hearts . . . his presence fills our lives with joy and peace. His arms help to carry us when we are down . . . when we feel like we just can't move forward any further . . . He lifts us up and helps to shoulder our burdens. Oh, now very grateful I am . . . that He sees
this
little sparrow fall . . .
This was one of my favourite hymns when I was a child. You know . . . I was thinking last night in bed, as you do . . . and I cannot remember a time when I did not feel the Lord's presence in my life. I may not have always enjoyed the close relationship that I enjoy with Him now . . . but that was because of me. I have always known He was there though, and I am grateful for that.
I did another painting yesterday afternoon. I have always held a certain fondness for Alice in Wonderland. I know a few years ago when the movie came out lots of people were painting her. As usual . . . I am a bit behind the times . . .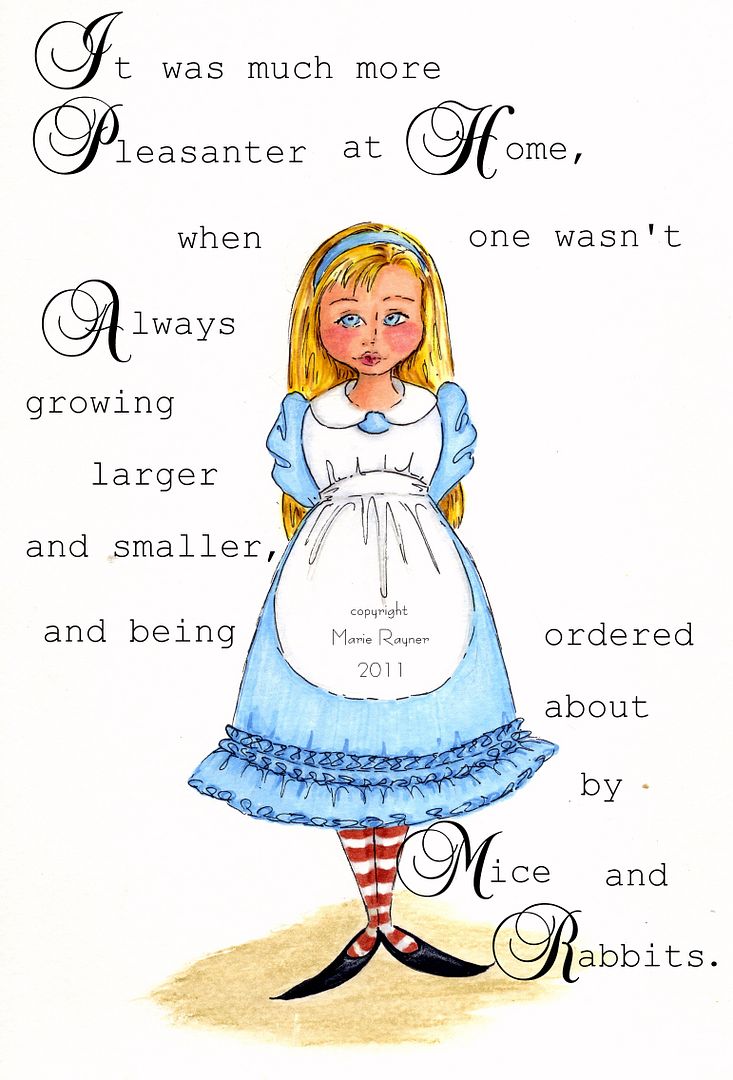 What do you think? Todd really loved this. I am thinking that I may do a whole series of storybook girls. Sounds like a plan.
The gas people pushed a note through the door yesterday afternoon saying that they want in to our house by 8am this morning and then off and on all day. We have to go out this morning though as Miztie has an appointment with her groomer and so we won't be available for part of the day. They'll just have to work around our absence. We sure won't be letting them in without us being here. Another day where I will have to prepare our meals around the gas supply being interrupted. Such is life. These little interruptions are what makes it so exciting!
Here's one of our favourite meals. A delicious Beef and Vegetable Stir Fry. You don't have to use Beef if you don't want to. You could also use pork strips or chicken strips. All are equally delicious in my opinion!!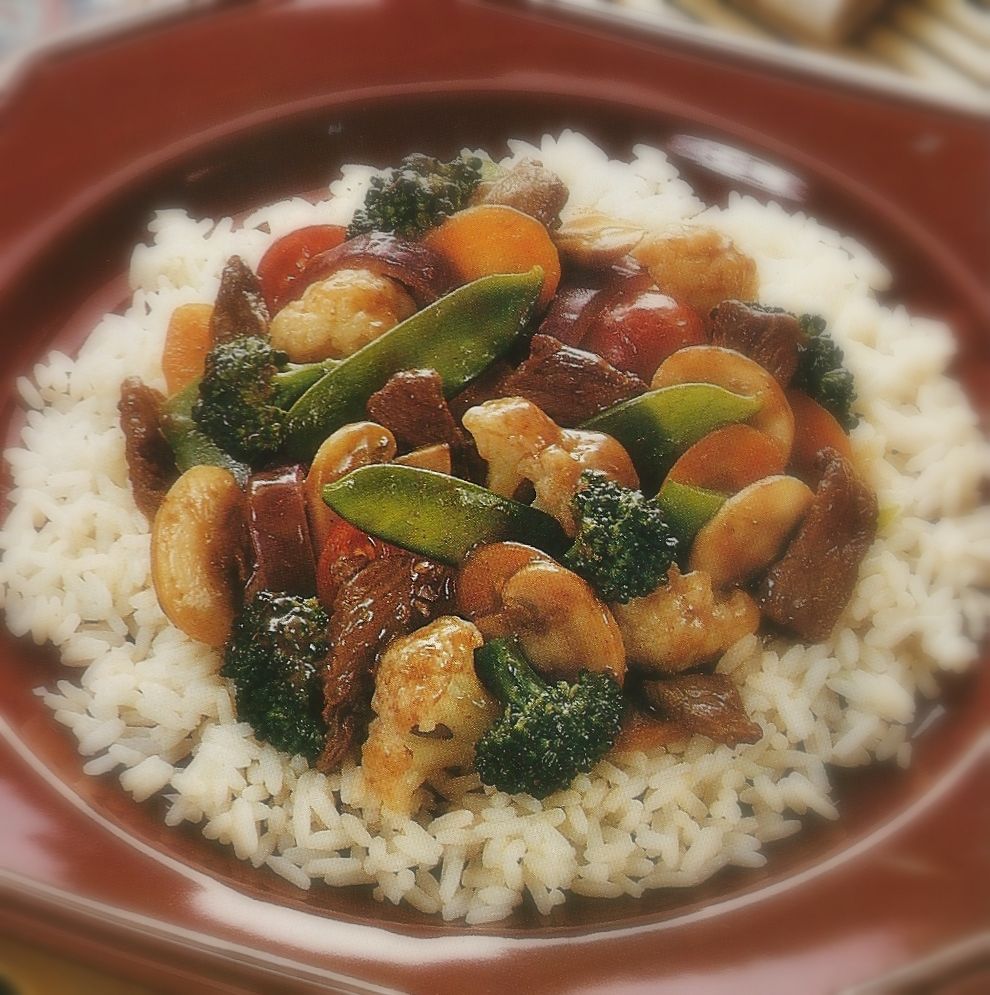 *Beef and Vegetable Stir Fry*
Serves 4-5
Printable Recipe
This is one of our favourite quick suppers. You can't beat a good stir fry. You can use any vegetables which you wish, or that you have on hand. I find also that you can often get a good stir fry vegetable mix at the supermarket already packaged up, which makes it even easier. (It's often cheaper as well to just buy a bag of the mix, rather than all of the vegetables on their own.)
For the sauce:
1/3 cup water
1 TBS cornstarch
2 TBS soy sauce
2 TBS runny honey
1/2 tsp ground ginger
1/3 tsp salt
1/8 tsp cinnamon
For the stir fry:
2 TBS oil
3/4 pound of less beef sirloin
(Freeze slightly, then cut into paper thin strips,
about 2 by 1 inch in size)
2 cloves of garlic, peeled and chopped
1 1/2 pounds (about 6 cups) assorted cut up fresh vegetables
(Snow peas, cauliflower, carrots, broccoli, mushrooms, onions, peppers, etc.)
Blend all the sauce ingredients together in a small bowl. Set aside.
Heat a large skillet or wok over medium high heat. Add 1 TBS of the oil and heat until it ripples. Add the beef and garlic. Cook and stir 3 to 4 minutes, or until browned. Remove and reserve the beef and any liquid which has accumulated in the skillet.
Add the remaining 1 TBS of oil to the same skillet. Once again, heat until it ripples. Add any firm vegetables (cauliflower, broccoli, carrots) and cook, stirring, until the vegetables are slightly limp. Add the less firm vegetables (onions, peppers) and cook and stir for 2 to 3 minutes. Add soft vegetables (mushrooms, bean sprouts, snow peas) and cook for 1 to 2 minutes longer, until all vegetables are crispy tender. Return the beef and any juices to the skillet. Stir in the sauce mixture. Cook and stir until the sauce is bubbly and thickened. If you are using tomatoes, stir in and heat until warm.
Serve the stir fry with hot cooked rice or Chinese noodles if desired. Delicious!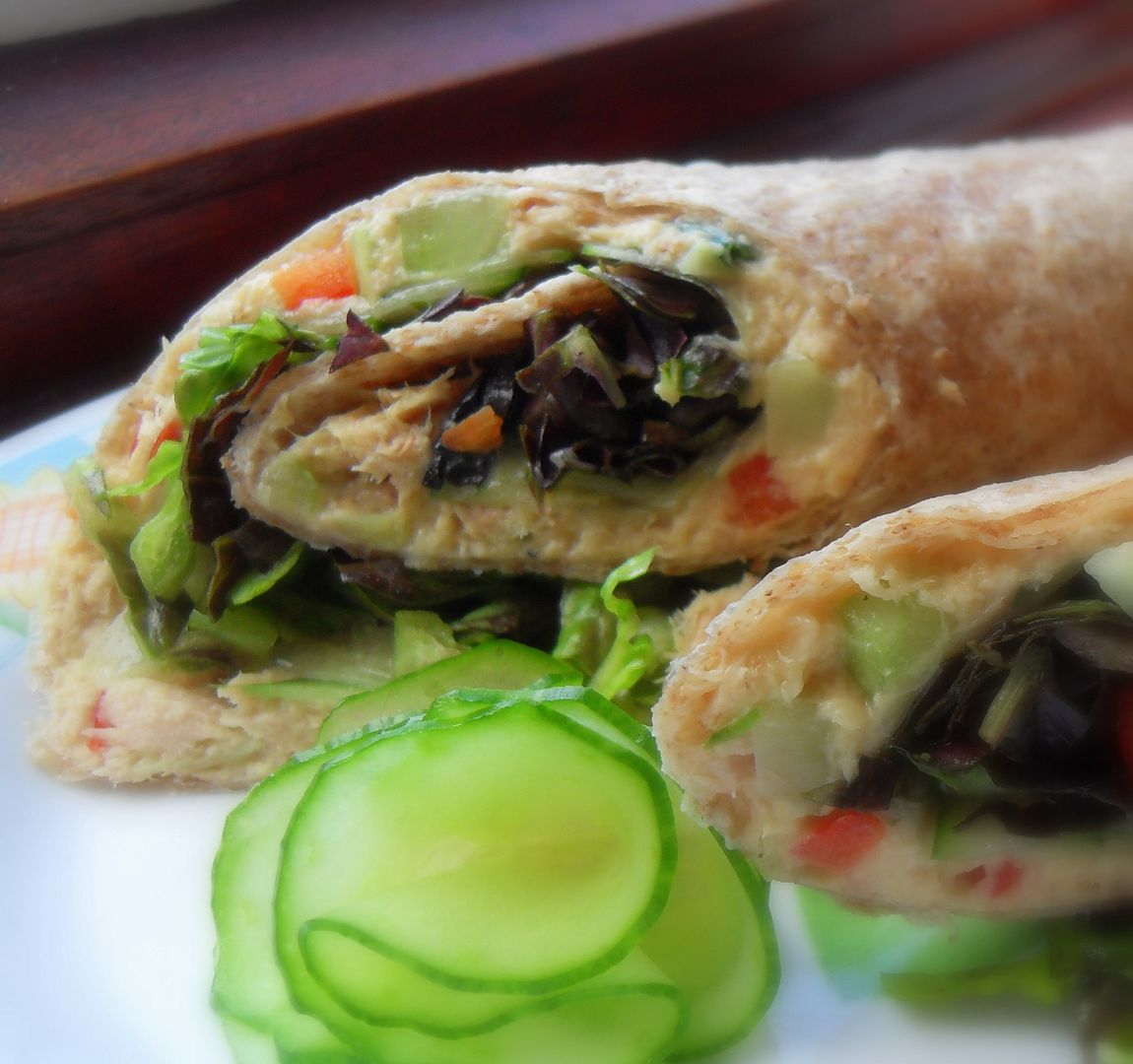 Cooking in
The English Kitchen
today, Crunchy Tuna Wraps!