We have had heavy frosts the past three mornings . . . all the garden covered as if by a magic brush, each leaf and errant petal, fooled into blooming far too soon by an overly mild winter thus far . . . tinged with tiny crystals, so very pretty.
The garden sleeps now. No splash of colour stains the fallow mould. The trees are stark, the hedges bare . . . the air all damp and cold. It is as if nature, on the quiet, has spread a quilt of crystal ice over all . . . as if to cover and protect the life that hides below . . .
How very still it is. No sound, save that of the odd car or bus which passes, disturbs the silence of the day. No sign or hint revealing what lays beneath the frozen clay . . . oh bulbs and roots and seeds from which will come at Winter's close a flurry of bloom . . . flames of gold and crimson . . . dreams of ivory and rose . . . the lavender and pinks and blues.
It seems like a miracle at the moment and doesn't seem possible . . . yet the Camellia is covered with buds, just waiting for the warmth of the April sun to burst out in colour . . . and here and there a snowdrop nods it's tiny white head . . . a tiny promise of what's to come.
"Lone Flower, hemmed in with snows, and white as they
But hardier far, once more I see thee bend
Thy forehead, as if fearful to offend,
Like an unbidden guest."
~Wordsworth
Sleep garden . . . sleep. Rest in repose. These are the days of healing peace for all of us. For though the cold is bitter and the wild wind blows . . . there are joys to compensate for fog and frost and sleet. The world of firelight and books is cosy and comforting. Sleep garden . . . sleep.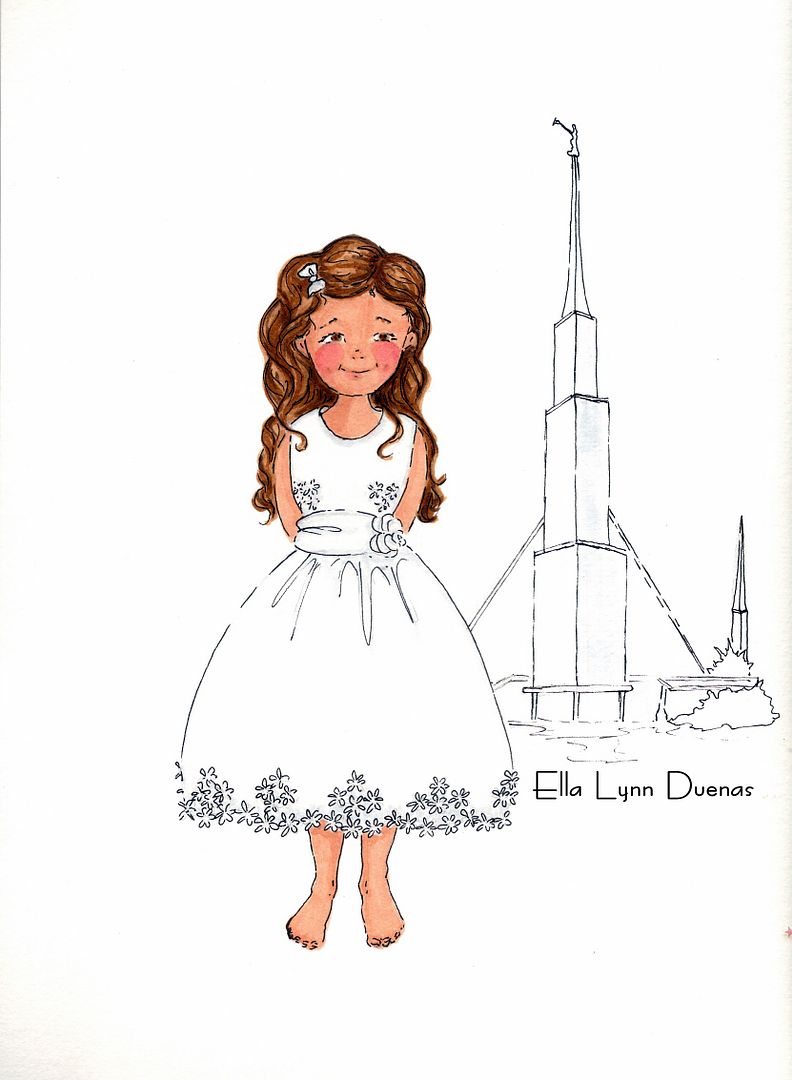 Now that she has received it, I can show you the Baptism piece that I did for a little girl who was recently Baptised. She has the original piece, but this is the scan that I used to make her cards. There was a full sized picture, the original, with her full name, birth date and Baptism Date on it and then a bundle of cards which were exactly as above for her to use as thank you cards, etc. That is the nearest temple to where they live in the picture and that is the Baptism Dress that she wore on the day. I love doing these Baptism Commission pieces. They are really special to me and a wonderful keepsake for the recipient of their special day.
We are off into town today to pay a bill. I dare say we will have a frosted journey! It is very cold and wintery, although they do say it will become milder as the week goes on and with that will come . . . what else but rain! Whatever you are going to get up to this day, stay safe and warm. Go with God . . .
This has to be my all time favourite cake recipe. It's a lovely version of a Victorian Sponge filled with raspberries and baked, then filled with clotted cream and more raspberries to serve, covered in a sweet drizzle and garnished with sugar frosted rose petals(optional). It is a cake that you bake when you want to pull out all the stops for sure!!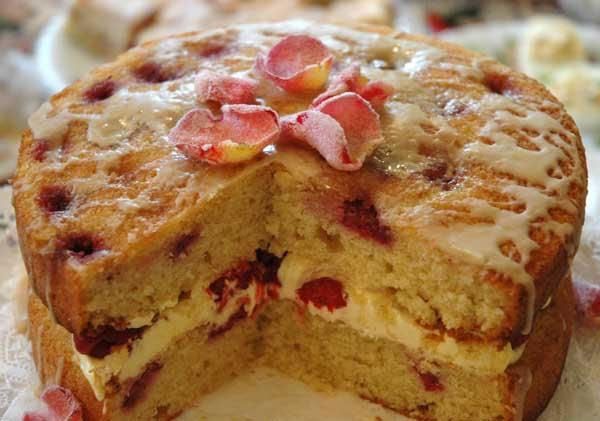 *Golden Jubilee Cake*
Serves 12
Printable Recipe
This delicious Victorian sponge type of cake was developed in the Queen's Jubilee year. It's lovely and moist with a delicious clotted cream and raspberry filling. The perfect "tea party" cake.
6 ounces golden castor sugar (3/4 cup)
(Can use regular caster sugar with no problems)
(Caster sugar is fine granulated sugar, I think it is called fruit sugar in North America)
6 ounces butter, softened (3/4 cup)
4 large free range eggs, separated
4 ounces self rising flour (1 cup)
1 tsp baking powder
4 ounces ground almonds (1 1/3 cup)
3 to 5 drops almond essence
1 cup fresh raspberries
FOR THE FILLING:
1-227g container of clotted cream (about 1 cup)
1 cup fresh raspberries
FOR THE TOPPING:
2 - 3 ounces golden castor sugar (1/4 to 1/2 cup approx.)
1 egg white, lightly beaten to a froth
4 ounces icing sugar (scant cup)
pesticide free rose petals
Make the frosted rose petals the day before. Separate the petals and spread the castor sugar over a plate. Holding one petal at a time, lightly paint both sides with egg white. (I used tweezers to hold the petals) Spoon sugar over it, then using tweezers, shake off the excess. Dry on parchment paper for a day. (Use only pesticide free roses)
Preheat the oven to 180°C (350°F).
Butter two 8-inch round cake tins and line their bases with parchment paper. Tip the sugar into a mixing bowl and add the softened butter. Beat for a minute or so until pale and fluffy, then beat in the egg yolks. Sift together the flour and baking powder, then sift over the cake mixture. Fold in as lightly as you can using a large metal spoon, then fold in the almonds and extract. Stop folding as soon as the flour traces have gone.
Whisk the egg whites until they just hold their shape. Gently fold in a third of the egg white into the cake mix, using a whisk. Repeat with another third, then the final third. Take care not to over mix and lose the lightness of the egg whites.
Lightly fold in the raspberries. Divide between the prepared tins and level the mixture using a round bladed knife. Bake for 30-35 minutes.
Cool in the tin for 5 minutes, then turn out, peel off the lining paper and leave to cool completely.
Set one cake on a serving plate. Spoon the clotted cream on top. Scatter the raspberries over the cream and put the other cake on top.
Blend the icing sugar with 1 to 1 1/2 Tbsp cold water until it is smooth and coats the back of a spoon thinly. Drizzle the icing over the cake.
Scatter the rose petals over and around the cake, dust with icing sugar and serve to some very lucky people.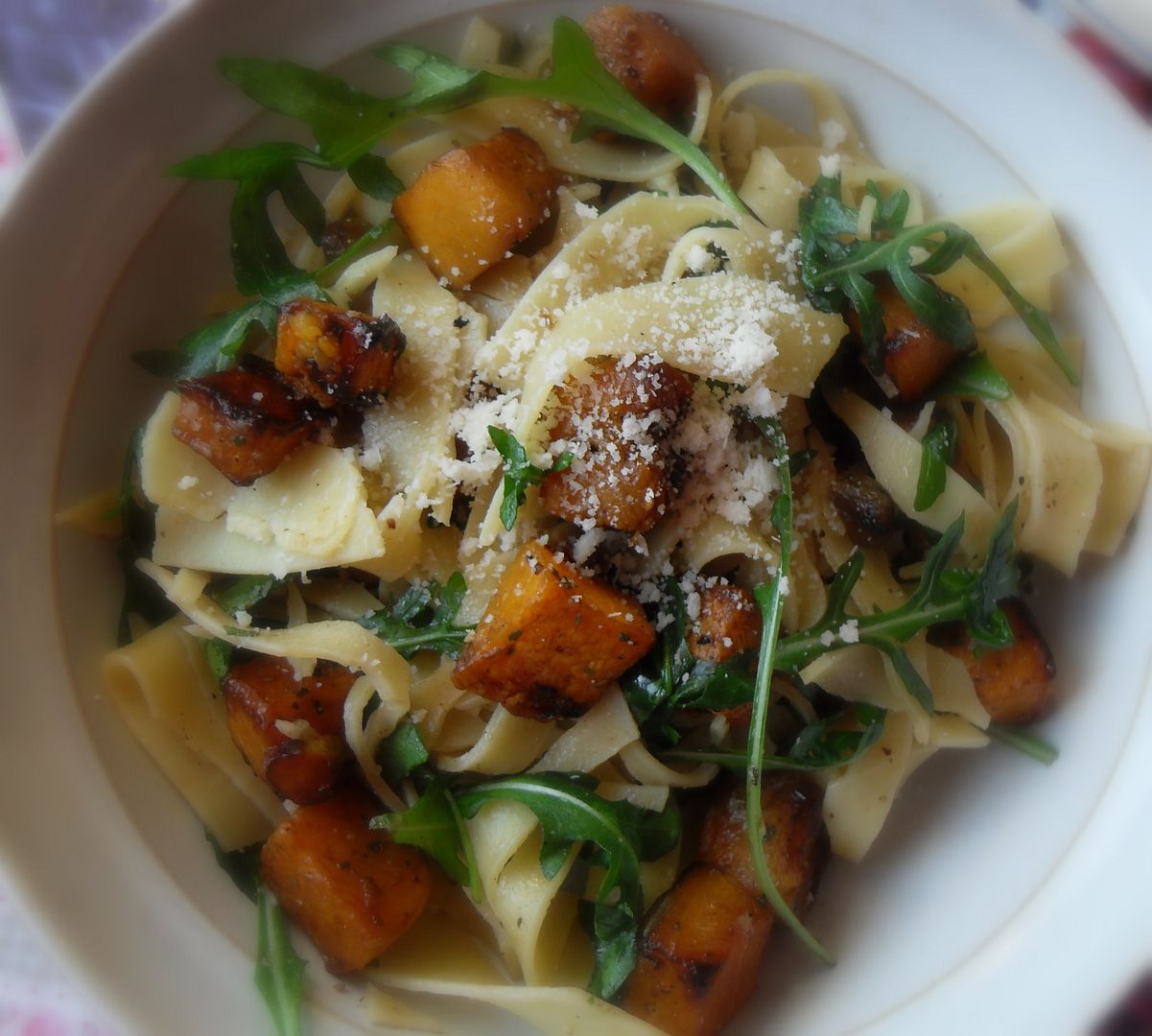 Cooking in
The English Kitchen
today delicious Pappardelle with Roasted Winter Squash, Rocket and Pistachios.
"Patience is a godly attribute that can heal souls, unlock treasures of knowledge and understanding, and transform ordinary men and women into saints and angels. Patience is truly a fruit of the Spirit. Patience means staying with something until the end. It means delaying immediate gratification for future blessings."
― Dieter F. Uchtdorf