Todd and I love watching old television shows. We often tune into the Gold Channel on the telly and we have lots of dvd's of old sitcoms, which we watch frequently. (It is surprising that despite having SKY television, there is often nothing on the tube to watch or at least that we
feel
like watching!) Last night we watched some Country Files that we had taped over the holidays and then we watched an episode of Leave It To Beaver just before we retired for the night. It was the one where Beaver and Wally go camping in the back yard.
It's raining cats and dogs. Beaver says to Wally that Eddie told him that if you touch a tent on the inside when it's raining it starts a leak. He touches the inside of the tent to see if it's true . . . and sure enough . . . it starts to leak. "That's crazy!" says Wally, and then he touches the inside of the tent. Sure enough up springs another leak . . . and then it came to me . . . something I had forgotten entirely . . .
The memory came rushing back and filled my mind with the smell and sound and all the joys of days gone by. One year, when my brother, sister and I were young children . . . my parents bought us a tee pee. It wasn't a really fancy one . . . with bright colours or anything, or with sticks poking out the top. Ours was orange, and it had the black silouette of an American Indian printed on the outside.
It smelled like a strange mixture of canvas, wax and petroleum. We thought it was cool. You could sit in there, in the orange twilight and block out all the outside world. Things seemed quieter in there. Things seemed special in there. In there, we were Indian Princesses and Princes. I remember laying in there with my face pressed against the grass (it wasn't a fancy one . . . there was no floor) and I would daydream about what it would be like to be a real Indian.
Of course it was my childlike imaginations of what a real Indian was like . . . not the reality. These imaginations had evolved from having watched hours of Saturday afternoon matinees at the local cinema, and Cowboy films with Roy Rogers and Dale Evans . . . Hop Along Cassidy . . . and of course Sunday Evening hours spent watching Bonanaza. Some days I imagined myself to be Annie Oakley, pigtails flying in the wind as I practiced my sharp shooting for the imaginary Wild West Show.
Sometimes I just lay in there and read . . . in my own private orange lit oasis. It made playing house better. We didn't have to stretch a blanket over a skipping rope across the front porch anymore. We had an actual dwelling, and many a salad composed of grass, dandelion heads and chickweed was tossed inside it's confines. . . . plastic babys were lulled to sleep . . . and imaginary husband's were chastised and told to take their feet off the coffee table.
We used to beg our mother to let us spend the night outside in it, but . . . of course . . . we were never allowed. I think she knew it would be a sleepless night for her. A night where we would want to come crawling back into the house at three or four in the morning. Besides we had no sleeping bags . . .
Every child should have a tee pee to help fuel their dreams and imaginations. Things so ordinary are sadly lacking in today's mad rush of video games, television and computer technology. I suppose a child today would probably find it quite boring actually. The child which lives in my memory though, would love to go back and once again feel the innocence and the lack of urgency that runs our modern lives . . . once again to smell that odd smell . . . once again to be an Indian Princess in a small, small world . . . if only for a day or a moment or two . . .
I wish you Summer memories
To warm each Winter's day,
And all the hope and joy of Spring,
When Winter slips away . . .
I wish you many blessings
Along the path you tread,
And all the love of all the years
To light the way ahead.
~Iris Hesselden
Isn't the mind a wonderful thing? I do believe that I actually was back in that old orange teepee for a few minutes! Did anyone else have a teepee??? I know . . . I am a big daydreamer and time waster . . . but I can't help myself. I think all creative people are like that, don't you?
I haven't had one of these delicious treats in years. My, but it's so very good to revisit an old friend like this after such a long absence . . . I love delicious friends such as these . . .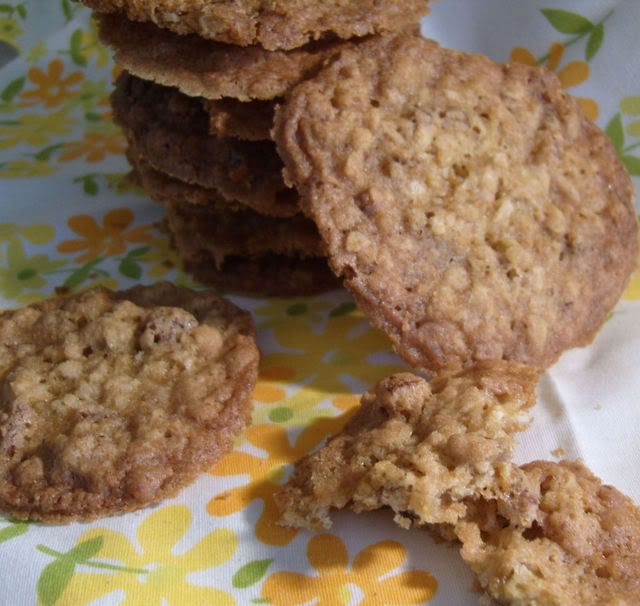 *Aunt Ferns Coconut Cookies*
Makes about 4 dozen
Printable Recipe
Aunt Fern was my ex husband's Aunt on his mother's side. She lives in an rambling old farmhouse set amongst huge old oak trees in the beautiful countryside of rural Prince Edward Island, and these cookies are exactly what country cooking is all about. Crisp, buttery, wholesome and moreish as the British say. I bet you
can't
eat just one!
1 cup butter
1 cup white sugar
1 cup brown sugar
2 eggs
1 1/2 cups plain flour
1 tsp baking powder
1/2 tsp baking soda
1/2 tsp salt
1 tsp vanilla
1 cup flaked coconut
2 cups rolled oats
1 cup chopped pecan nuts (not in the original recipe, but something I like to add)
Pre-heat the oven to 180*C/350*F. Line some baking sheets with aluminum foil and then spray them lightly with cooking spray.
Cream together the butter and the sugars, until light and fluffy. Beat in the eggs and vanilla.
Whisk together the flour, baking powder, soda and salt. Stir this into the creamed mixture. Stir in the coconut, oats and pecan nuts. Mix well.
Drop by tablespoons onto the prepared baking sheets, at least 2 inches apart. Bake for 12 to 14 minutes until lightly browned.
Remove from the oven and let sit on the baking sheet for several minutes before removing to a wire rack to finish cooling.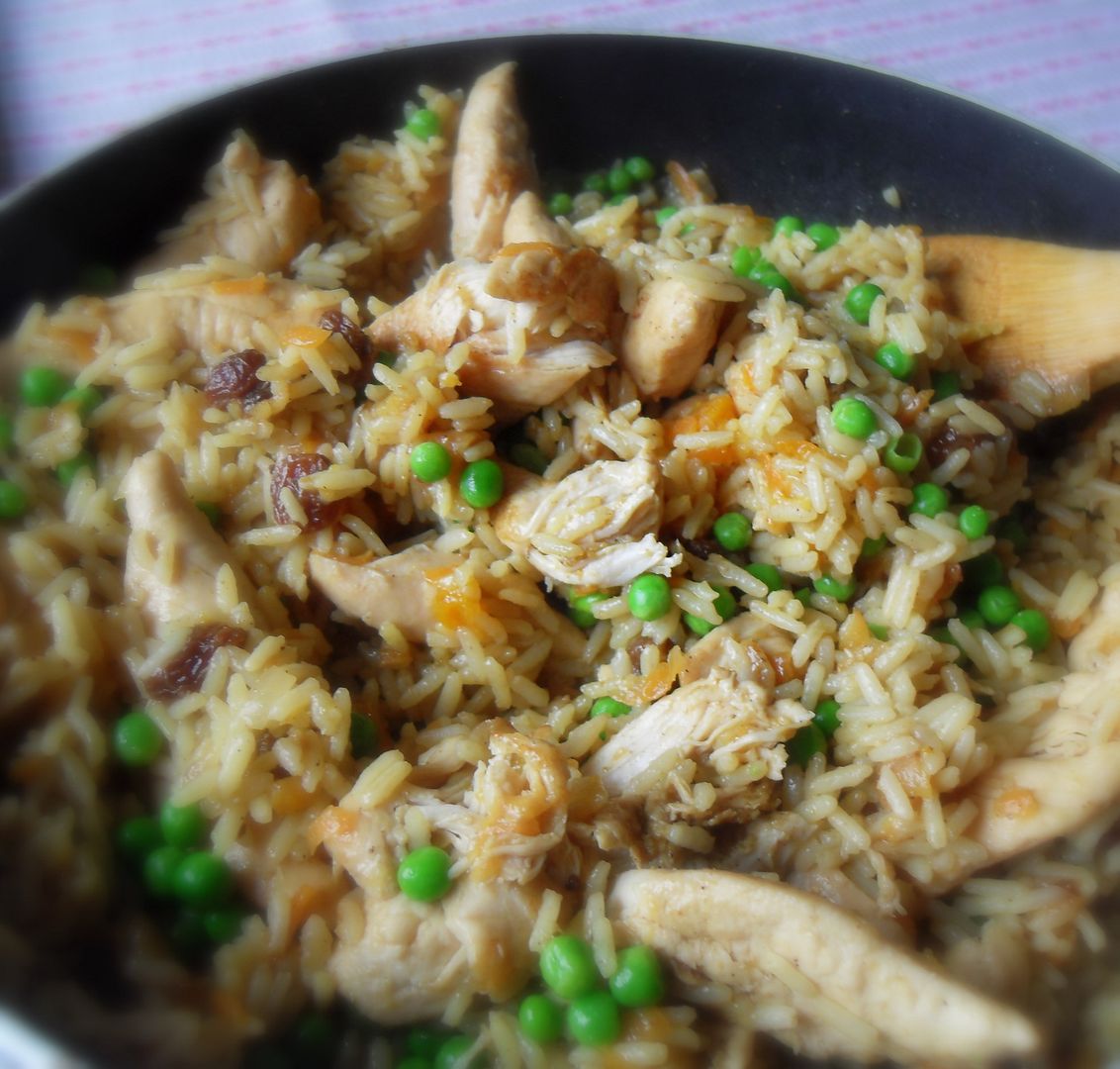 Over in
The English Kitchen
today, a delicious Golden Rice and Chicken Pilaf!
"What we love determines what we seek. What we seek determines what we think and do. What we think and do determines who we are — and who we will become."
― Dieter F. Uchtdorf