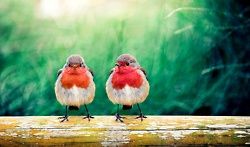 Light is beginning to show itself over the rooftops that lay to the front of me via the picture window in the lounge as I write to you this morning. At first just a glimmer, accompanied by the song of birds in the hedgerows to the back of me . . . the morning chorus. Oh how I love it. I can remember when I worked at the big house on packing nights I always arrived home at the end of my nights labors accompanied by that delightful chorus. I think that was the best part of those nights, made all the sweeter from knowing a very long night had come to an end and I could now fall into bed, for a few hours at least. It was hard to sleep for much longer than that knowing life was going forward without me . . .
Birdsong is such a delight. The love of wild birds is a love both Todd and I share with each other. We both thrill at the sight of a new visitor to our garden. All too often it is just sparrows that we see here, with the occasional robin, a pair of gold finches, some common tits, a couple of nice fat wood pigeons, and a few black birds. Were we at the edge of a woodland rather than city, there would be far more I think . . . but we do appreciate the ones we get. We reward them generously for the pleasure that they bring to us. They are very well fed, with meal worms, nuts, wild birdseed and fat balls in the winter. Toast crumbs, cake crumbs, stale rolls, apple slices, etc. Yes, very well fed.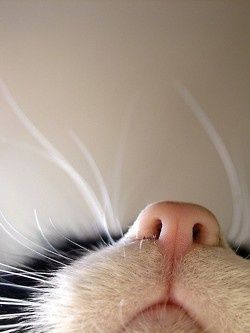 Unfortunately there are far too many of these in the neighborhood who see our bird feeders as somewhat of a drive through luncheonette! We try hard to keep them at bay, sending Mitzie out frequently to put chase to them, but they are such haughty creatures. It's as if they know her bark is much worse than her bite . . . they stare at her with disdain and then with a flick of the tail and a haughty look, they turn and flee at a most leisurely pace . . . unless the garden gate is open, and then they make haste.
We have great expectations for our garden this year. We had such a lovely dry summer last year which was a boon for wildlife. I had never seen so many beautiful butterflies and caterpillars . . . toads and frogs. And the wild flowers were just gorgeous, and plenty of bumbly bees . . .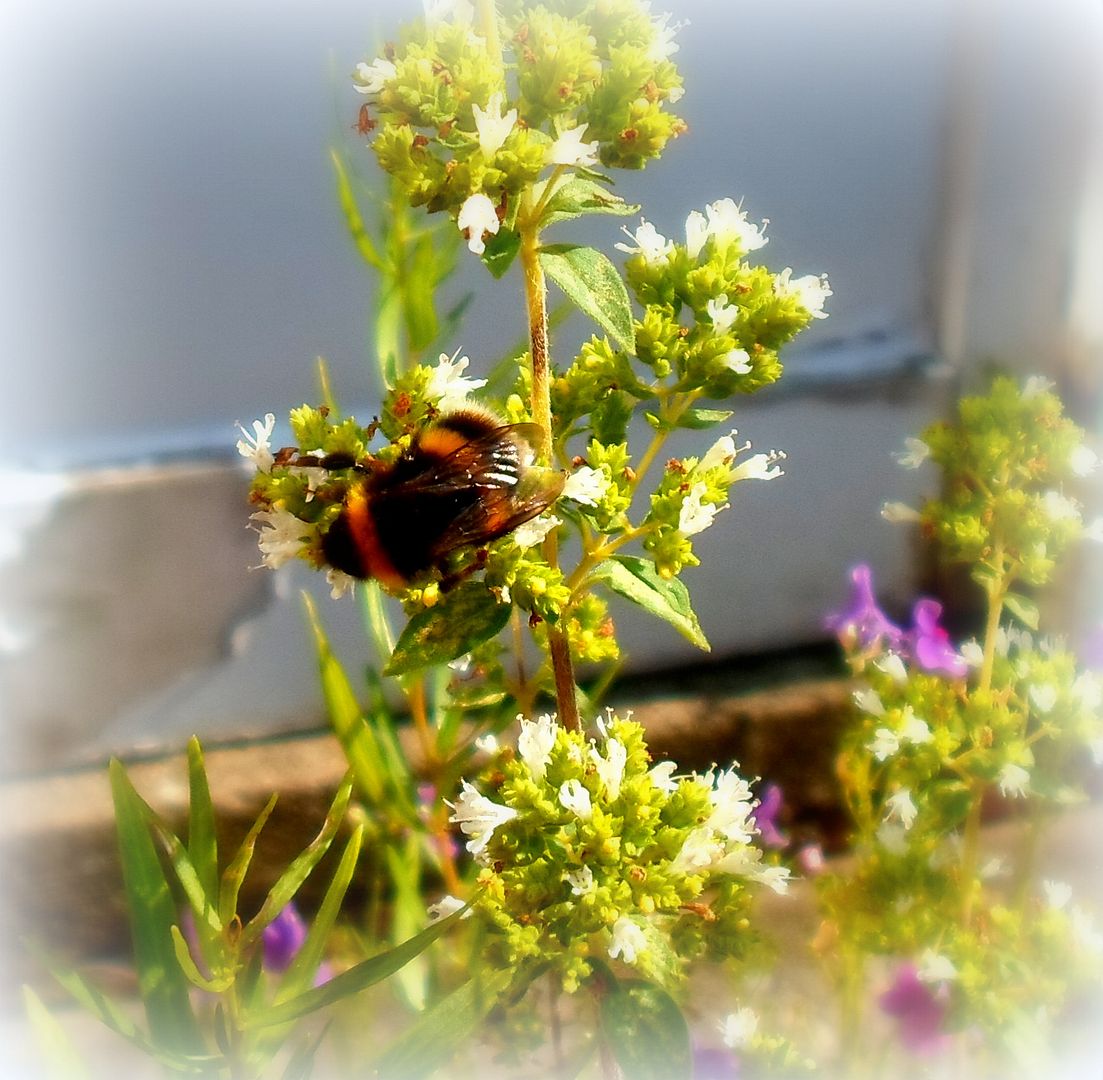 The Bumble Bee is our harbinger of spring over here in the UK, or at least it is to me . . . the snow drops are blooming now, can crocus and bumble bees be far behind??? I think not. They are such bumbling creatures, bobbing heavily from early bloom to early bloom, their tiny wings humming and whirring . . . the fact that they are airborne at all is a minor miracle and a wonder. Those wings look so frail and small . . . their bodies so big and so hairy. You could pin a pair of tiny wings to my back and I would not be able to fly . . . but they can and they do. Who says there is no God or that He does not have a brilliant sense of humor?? There is and He does . . .
I have a little book called Daily Inspiration For Women, from the poems of Helen Steiner Rice. This morning it said . . .
My cross is not too heaavy,
my road is not too rough,
because God walks beside me
and to know this is enough.
I read those words and was immediately filled with gratitude for this knowledge which so many do not have. It brings me peace in a tumultuous world that is ever-changing and fraught with upheaval . . .
There are many who see faith as being a list of do not's and should not's and must not's . . . I see my faith as empowering. It helps me to be the best that I can be, and there is nothing wrong with that at all. I have often said I would rather live my life as if there is a God and die to find out there isn't than to live it as if there wasn't and to die to find out there was . . .
It was about this time of year we went on holiday to the South of France a number of years back. Oh what a lovely time we had. The temperatures were about 10 degrees warmer and spring had already arrived, with orchards beginning to show their first flush of spring and the grape vines beginning to wind their way around the rows of posts which lay in the vineyards which danced upon the hillsides. Lambs were being born in the field next to the stone cottage we were staying in . . . we had lovely warm days and cool nights enjoyed by a roaring fire in the fireplace . . . with just enough heat to warm the cottage and our hearts. It was really quite blissful and one could almost imagine living like that forever . . . but then, it would be every day and not so special afterall me thinks . . .
I have warm and fond memories of throwing open the shutters on our bedroom windows in the mornings and seeing sunshine beating down upon the field next to the cottage . . . crisp and cool, but oh so bright and then the bleating of the sheep and lambs . . . so wonderful. Country walks were accompanied with the smell of wild garlic as we brushed our feet across greening field and stone pathway . . . oh we did have ever such a delightful time. It warms my heart and memory still.
All of my holidays are my favourite holidays. I am blessed in that way. I have never had a poor one yet. Tis all a matter of perspective I think. Some choose to dwell on the negative of everything they touch. Me, I relish in the positive. I think that's the best way to be, don't you?
My glass is always half full, or even overflowing . . .
A thought to carry with you through today . . .
(¯`•.•´¯)¸.•´ ☆
¸.•´ ☆
¸.•´ ☆
¸.•´ ☆
¸.•´ ☆
¸.•´ ☆
`•.¸¸.•´
The more difficulites one has to encounter,
within and without,
the more significant and
the higher in inspiration his life will be.
~Horace Bushnell
¸.•´ ☆
¸.•´ ☆
¸.•´ ☆
¸.•´ ☆
¸.•´ ☆
¸.•´ ☆
¸.•´ ☆
¸.•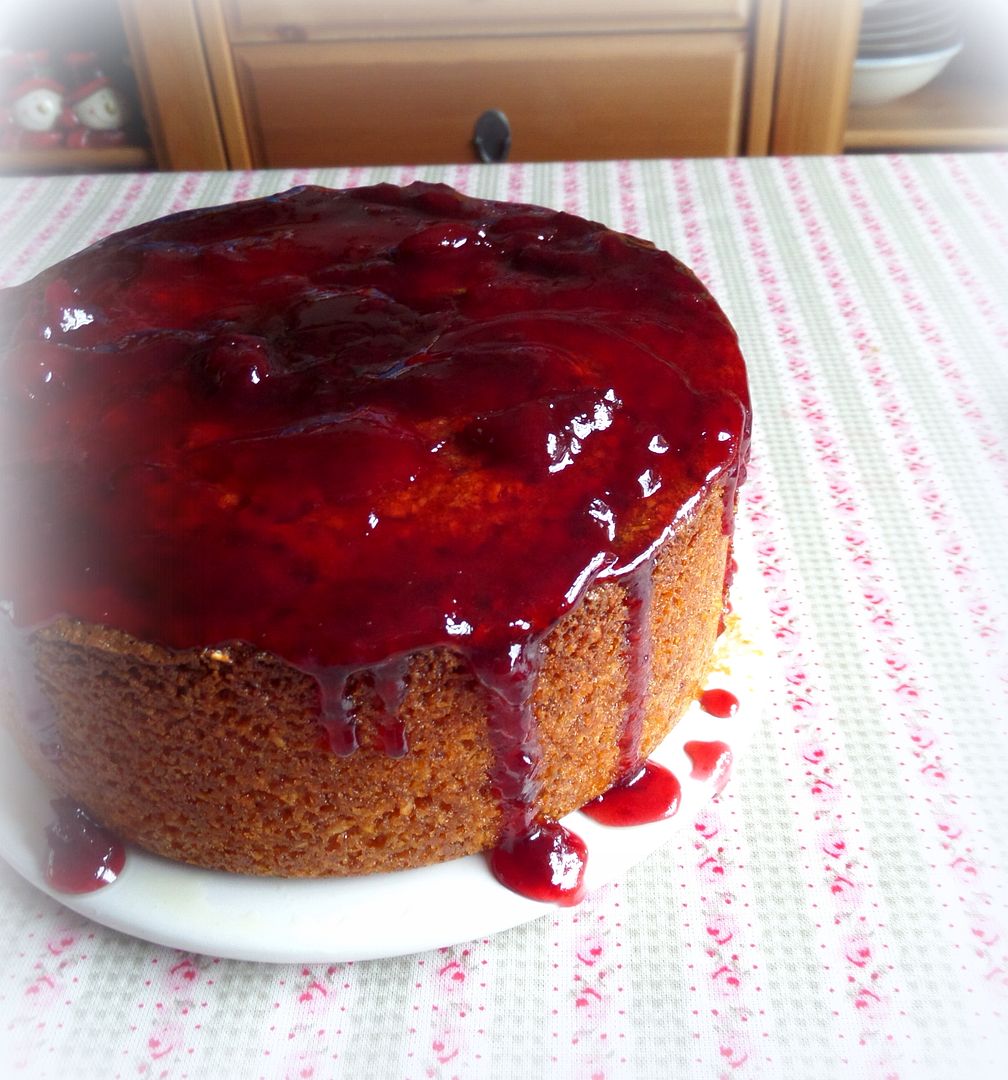 Baking in The English Kitchen today . . . a Jam Topped Almond Cake. Very nice.
I wish for you a wonderful Wednesday!