A few of the wow moments, or things I discover each week that tickle my fancy. I hope that they may inspire or tickle yours too!A few of the wow moments, or things I discover each week that tickle my fancy. I hope that they may inspire or tickle yours too!
Nail polish flowers done on craft wire. I can remember doing this same thing years ago using fabric covered wire and scraps of gaily coloured fabric. You just made a petal shaped loop with the wire, leaving a long end free. You then coated the petal look with tacky glue and pressed it onto the fabric with the "long stem" part sticking up. Once it dried you cut the petals out around the edges of the fabric wire and used the long stems to twist several together to make flowers. Very pretty and you could taylor your Bouquet to your room's color scheme.
I found a tutorial on how to make this fabulous fabric lined heart crochet bag on
The Heartfelt Company
. It's a wonderful step by step tutorial. The orginal pattern is from Molly Makes. If you can't crochet I am sure you could adapt the tutorial to use ordinary fabric quite easily. It is fabric lined. It kind of reminds me of the bags my lovely friend
Tracy
from Norway used to make. I bought several of her bags and they are just gorgeous. Have had them for yonks now and use them all the time! You can't beat homemade!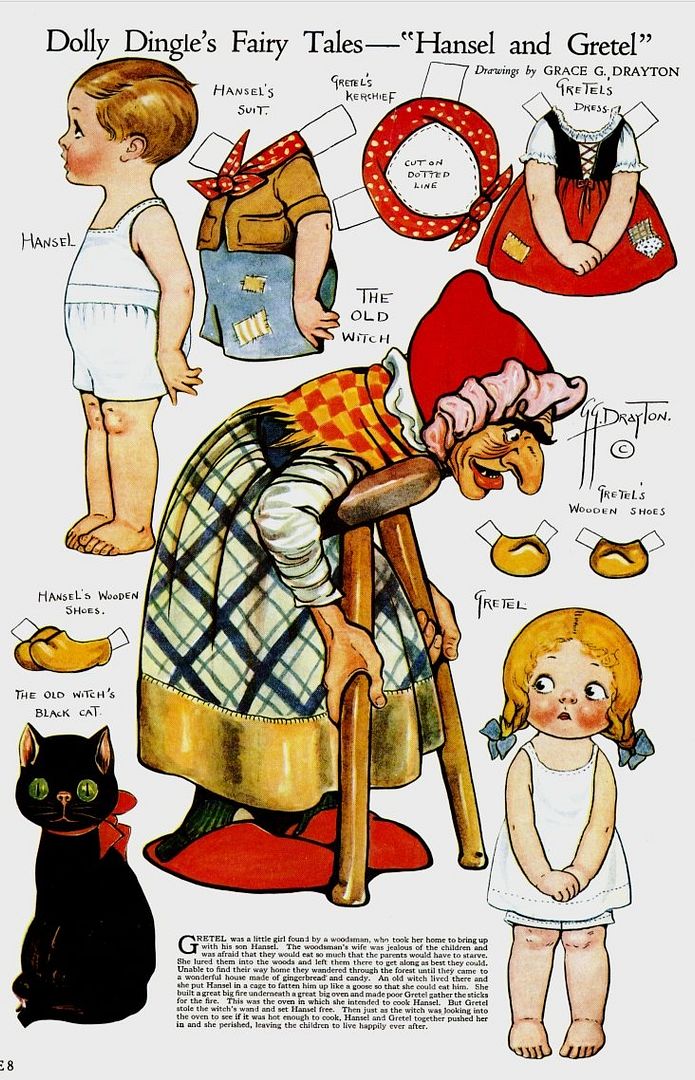 A blog filled with nothing but paper dolls.
Bonecas de Papel
is filled with lots of paper dolls. Most very old. I adore paper dolls. It's a foreign language blog, not sure what it is. Spanish or some such, but you don't need to understand the language to appreciate what you find there. I was in paper doll heaven!!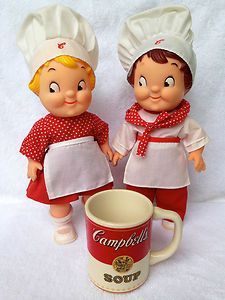 Campbell's Soup Dolls! I had these exact same ones when I was a little girl. I remember saving up soup labels for months and months along with my allowance and sending away for them. I was so excited when they came. I loved them. I wonder what ever happened to them . . . sigh . . . when I saw this picture all these memories came flooding back! I love it when that happens!
Love, love this idea of using decorative tins for utensil storage in the kitchen. It would work very well in a craft room also. I can see it being used for all sorts of things. People are so smart! Found this on Tumblr, and do not know the original source.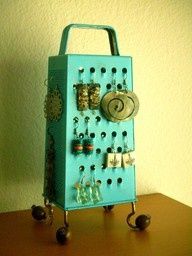 An old box grater painted and then used to store earrings on. I love it! What a unique idea! Next time I see an old box grater at a charity shop I am picking it up!
The Micro Gardner
. There is a truly eye opening article about the garlic we buy. I was disgusted and fabberghasted, but not really suprised. I have been saying for a long time that you cannot trust most things which come out of China. Buy locally produced organic, or grow your own. It's a bit too late to grow your own this year as garlic needs to be put in in the autumn, but there's always next year!!
There is a fabulous downloadable and printable chart on Spring Cleaning (It is right around the corner), plus a host of other tips on
Living Well Spending Less
. Fabulous site for getting organized and keeping organized. I always need help with this type of thing. Organization that is. I am probably the most disorganized person you could ever want to meet. Just ask Todd! I drive him to distraction. It's because I am artsy fartsy.
An illustrated guide to food storage, from
Yahoo Shine
. Very handy to have. The original article is on
All You
, where you can find an embedable image.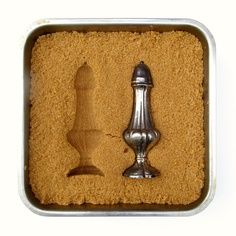 Here is one for
Monique
, which I can totally see her doing. Brown Sugar cast chocolates from
Rise and Shine
, a wonderful blog filled with all sorts of fabulous things. Just loverly!
And that's it for this week! I hope you found something new to try here today. I love finding new things that are helpful!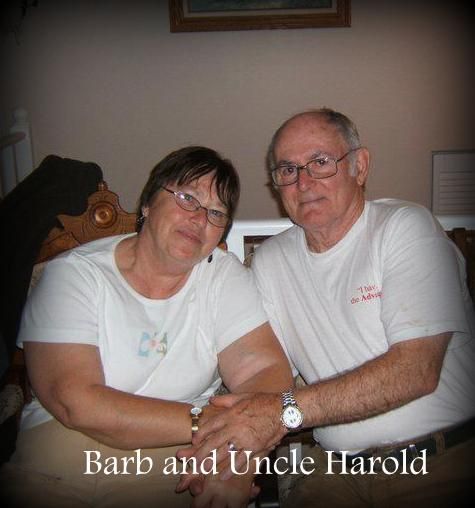 Speaking of help, could I ask for some prayers? My Uncle Harold's wife Barbara is in the hospital at the moment, after them having removed a mass from her bowels. She and my Uncle could surely use some prayers at the moment. We lost my Aunt Freda (my mother's youngest sister) to lung cancer about 7 years ago now. She and my Uncle Harold had been together since their teens. Then he met Barb and they got married. They have been very happy together. Your prayers for them are very much appreciated.
A thought to carry with you through today . . .
✻ღϠ₡ღ¸.✻´´¯`✻
✻ღϠ₡ღ¸.✻´´¯`✻
"In the attitude of silence
the soul finds the path in a clearer light,
and what is elusive and deceptive
resolves itself into crystal clearness. -
-Mahatma Gandhi
✻ღϠ₡ღ¸.✻´´¯`✻
✻ღϠ₡ღ¸.✻´´¯`✻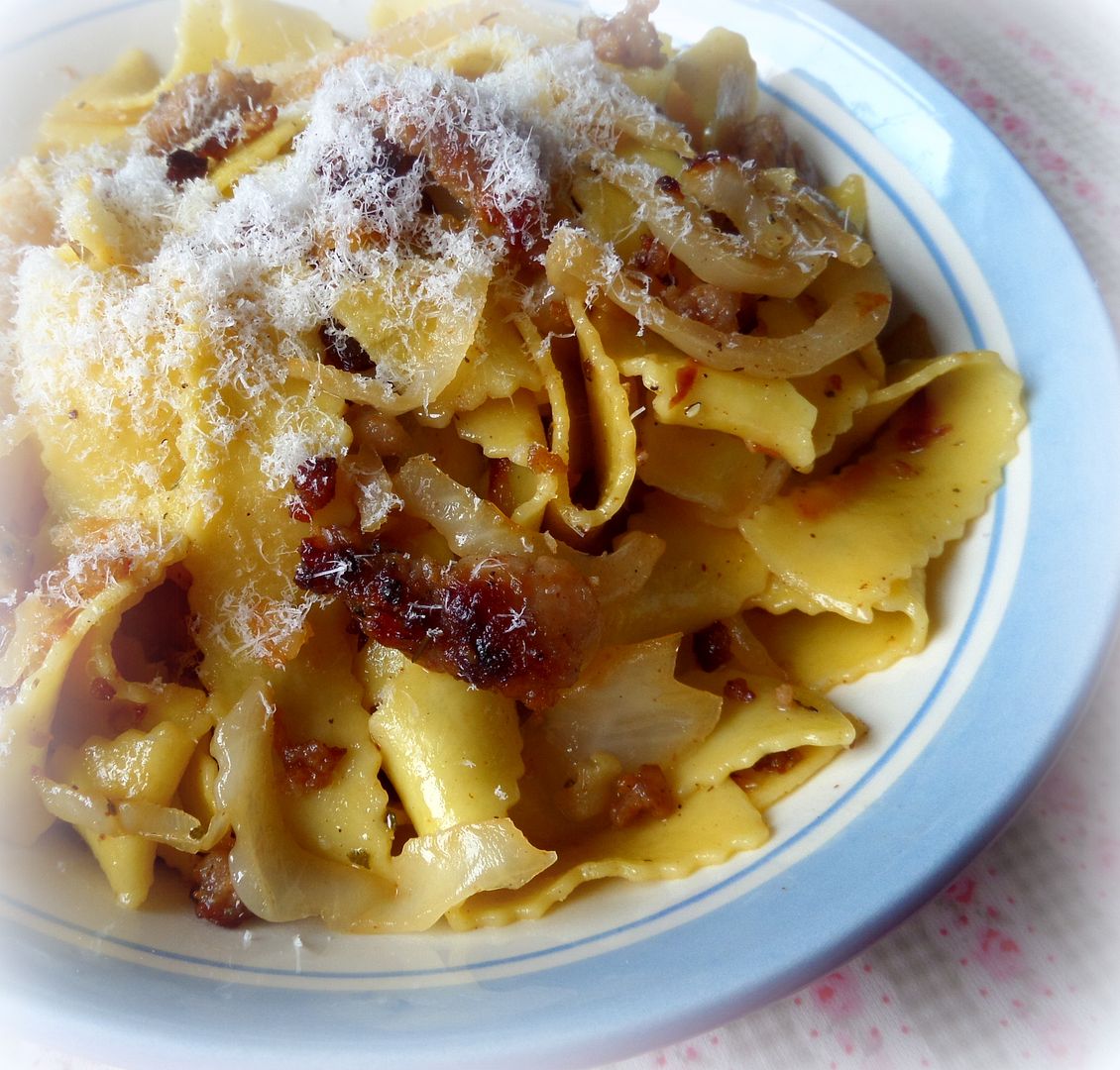 There is something totally delicious, economical and easy cooking up in The English Kitchen today . . . it's called
Irish Supper.
Don't know how Irish it really is, but I do know it's mighty tasty!
Have a fab Friday! The weekend is upon us! Whew!