A few of the wow moments, or things I discover each week that tickle my fancy. I hope that they may inspire or tickle yours too!A few of the wow moments, or things I discover each week that tickle my fancy. I hope that they may inspire or tickle yours too!
A free printable that you can download and colour in, using whatever colours you want to use. I found this on a blog called
Tried and True
. I love free printables. I would give more of these types of things away myself, except I don't know where to store them so that you can download them. I need to adopt a teenager!
Recycled jeans made into carrier bags from
Crafty Recycling
. This is nothing new. We used to make things out of our old jeans when I was a teen. We also used to sew materials onto the bottoms of our jeans to lengthen them and make them pretty, or add wedges of fabric to make them really wide bell bottomed! Yes, we have always been creative!
And while we are on that vein of thought, look at this picture of a fridge magnet I found. It is made from the recycled pocket of an old pair of jeans. A bit of embroidery on the hemline and it's the perfect size to pop onto the fridge to hold a pen and your grocery coupons. Pretty too!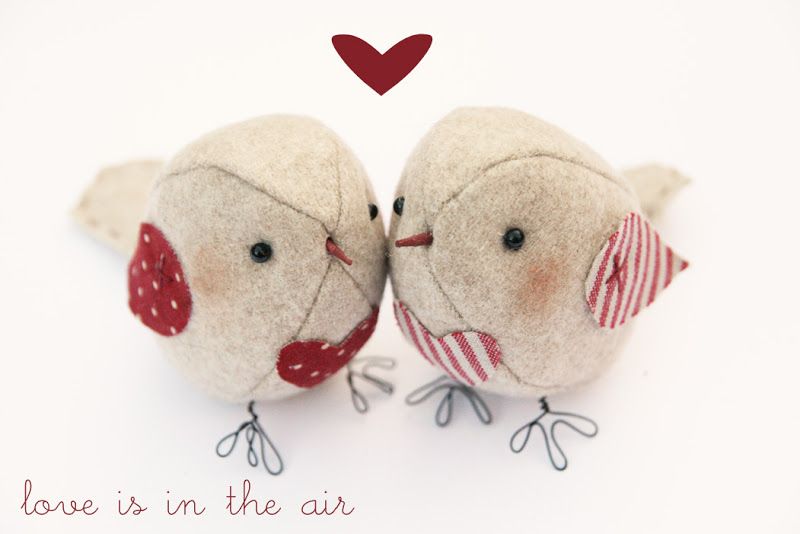 The cutest little love birds ever, found on
Country Kitty Land.
I actually have this pattern. I bought it on Etsy from someone else. (
The Paper Shed
) I have had it for yonks and not done anything with it. I think it's time to rectify that! These are adorable. I love the pale colours of felt she used and the red and white trims. Watch this space.
I love the little painted arch cornices on this doorway from
Lilac Lane Cottage
. It just goes to show that it doesn't take a lot to make something look pretty and fresh and new. I actually love this blog. She has such a pretty little cottage, well not so little. It just appears little. I love her style.
Oh my heart longs for wall papered steps such as these from
Pretty Petals.
Our house is filled with ugly burgandy coloured wall to wall carpeting. It is everywhere, except the kitchen and the bath and bedrooms. I long to just tear it all up and replace it with wooden floors . . . this staircase is so pretty. Sigh . . . alas, that is a young man's game and work and we are too poor to replace it. So it remains a dream, but they do say you gotta have a dream to make a dream come true!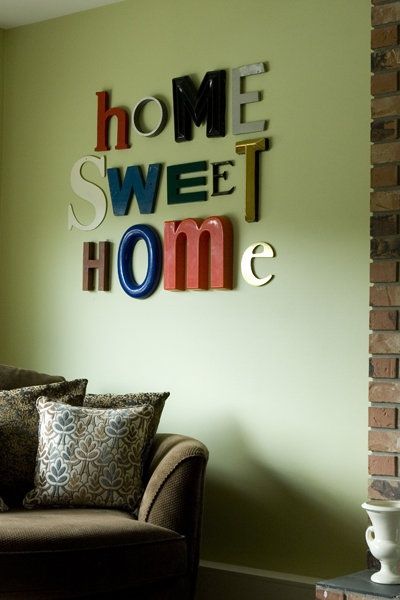 This is a fabulous idea. I found it on
Scrapstudio Tumblr
. I love the idea of spelling out Home Sweet Home on a wall in the house. I would not use these exact type of letters per se, and maybe not these colours, but I love the haphazard look of it. It looks like the letters just found each other and spelt out what this is, a home sweet home! I love it!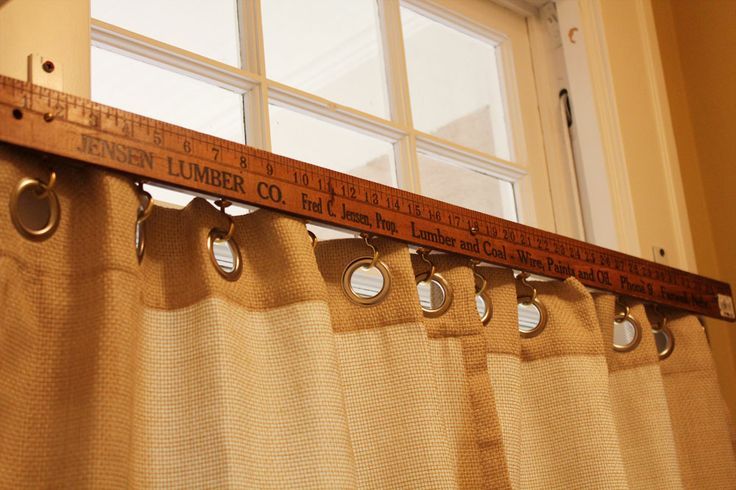 Now this is a very ingenius use for an old yard stick as a curtain rod. It's from
Itsy Bitsy Pieces
. I can appreciate that these types of things are difficult to find, but I love the idea. I think that some people are so visionary when they see old things and can think up new ways to repurpose them. I am just not that talented or visionary!
I mean, look at this!! It's an Ottoman made from a styrofoam cooler! Found on
Imparting Grace
. Do you know how many styrofoam coolers I have taken to the tip this year from food being sent to me to try out? And to think I could have been repurposing them in this fantastic way! This is one of those V8 moments! Brilliant! If I ever get sent another one I know what I am doing with it! I have wanted an ottoman for ages now but the price of a new one keeps putting us off!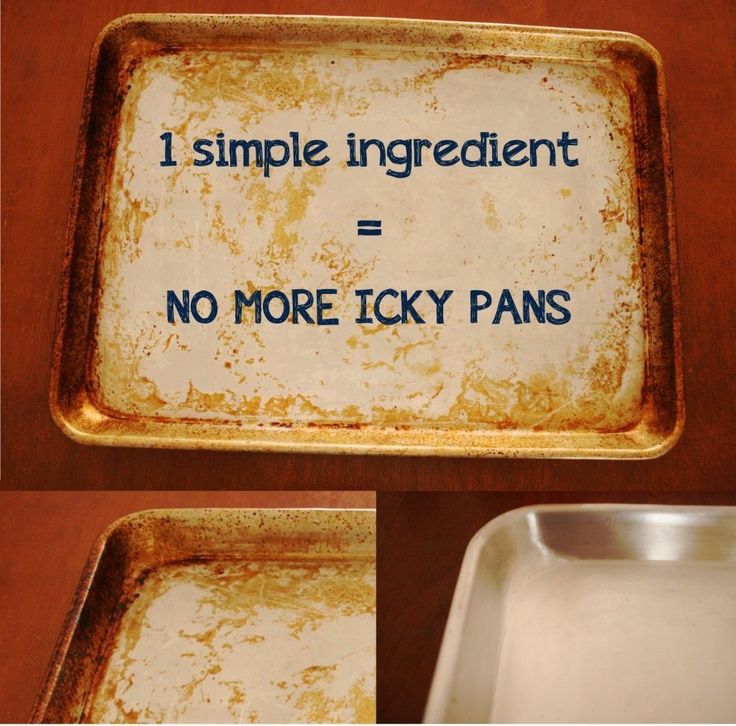 How to make old baking sheets shine like new! I could have used this tip when I worked at the big house. She was always making me scrub up the old baking pans so that they looked like new. There were some that were rusted and she kept insisting I wasn't cleaning them properly. Her "scientist" husband had to tell her they were old and they were rusty and needed replacing,
as she would not believe me. Some people's children! Whew! Anyways, there is fab tips for cleaning these and a whole host of other things on
DIY Home Sweet Home
!
And that's it for this week. I shall have to dash now. I am so behind on my e-mailing it isn't funny! I don't know where my time flies, but it flies!
A thought to carry with you through today . . .
✻ღϠ₡ღ¸.✻´´¯`✻.¸¸.Ƹ̴Ӂ̴Ʒ..
Nothing can bring a real sense of security
into the home except true love.
~Billy Graham
(¯`v´¯)
`*.¸.*´Ƹ̵̡Ӝ̵̨̄Ʒ
¸.•´¸.•~♥♥♥~•.~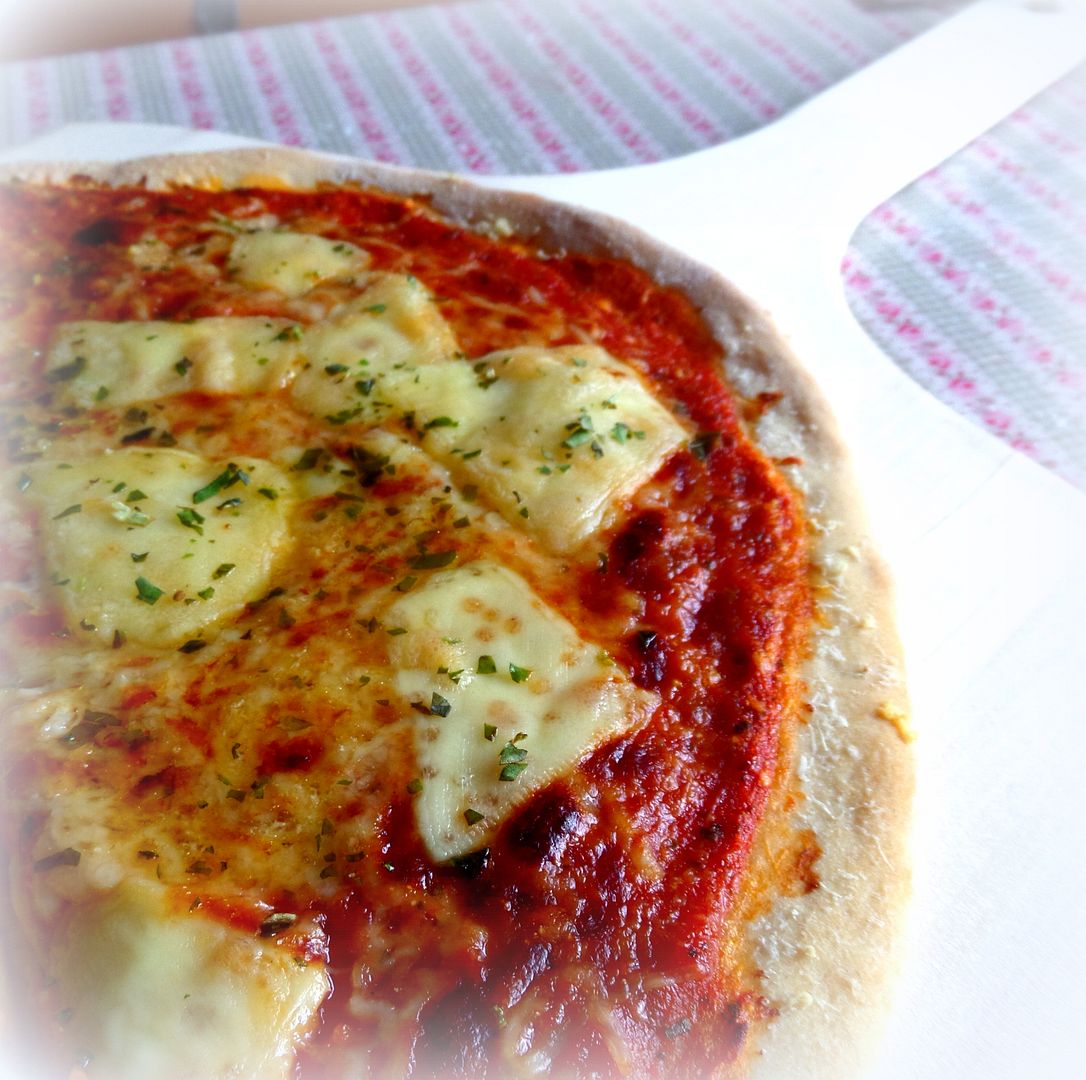 Cooking in The English Kitchen today,
Pizza Margharita Style
!
Have a wonderful Friday! This week has just flown by. I hope you have a wonderful weekend too!