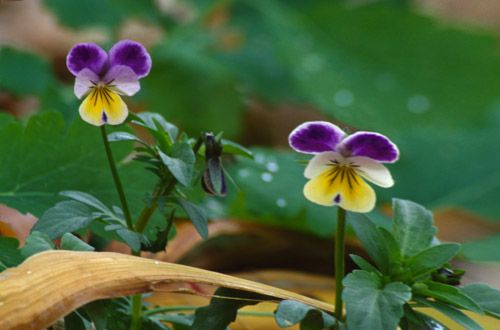 To be given a new day is to be given a new lease of life. Don't snatch at God's gifts without a thankyou as if your mere existance entitled you to expect a fresh supply of blessings every morning. Accept the gift of the new day with reverence, grace and gratitude.
~from "The Morning Watch"
I am sitting here this morning listening to my Jackie Album . . . For those of you who don't know Jackie was a teen magazine over here in the UK back in the 70's. This album is filled with the songs and songster pop idols of my youth . . . Donnie Osmond, David Cassidy, David Essex, Rod Stewart . . . and a host of others. It's very sweet and sure brings back a lot of memories
Oh to be 16 again and have your whole life waiting in front of you . . . with all the innocence of youth, un tried and un tested by the world. Teen idol crushes, hopes and dreams yet unrealized. It was the best of times . . . it was the worst of times!!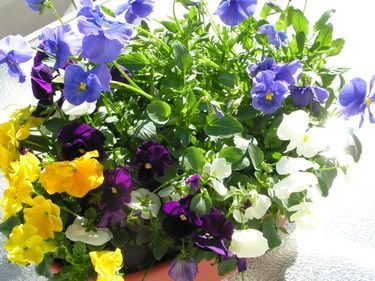 I never started dating boys until I was 16. I wasn't allowed to and I wasn't a kid that went against the rules my parents had set for me, so I guess I was a bit of a late starter compared to some. I only ever dated two boys seriously and I married both of them! (Not at the same time mind you!) I was so incredibly naive compared to the young people of today . . . very, very innocent. I was married and a mom by the age of 19. I thought I knew it all then and that I was really wise, not to mention pretty cool with my bell bottoms and platform shoes . . . but, when I look back I realize . . . I didn't know anything at all! I don't reckon I would relive those days for anything, although I wouldn't mind having the same figure I did then . . .
and
knowing the things I know now!
I had my hair trimmed etc. yesterday. My young friend Jenny did it for me. I just had a bit trimmed off the back and a light fringe (bangs to you North Americans) cut in the front with a bit feathered at the sides. She did a lovely job and she even straightened my hair. Wow, what a difference. I look 10 years younger . . . seriously! And I have never had straight hair in my life. I am going to have to go and get myself some hair straighteners now! I really like it. Jenny is the grand daughter of a friend of ours. When I first moved over here she used to come and spend time with us all the time. She was only about 11 years old then. She would bring her Steps CD ( a pop group over here) and then she'd put it in and dance all the moves for us that the band did in their videos. She's all grown up now and a hair dresser. Time sure flies!!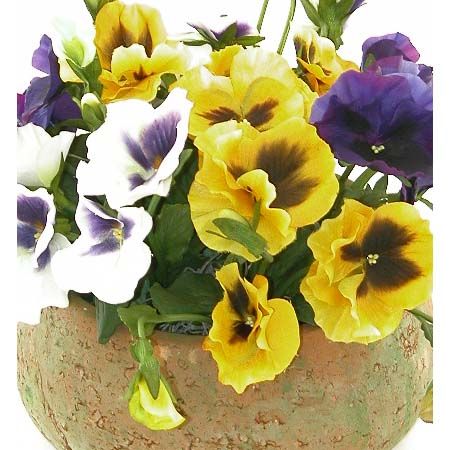 I have been stressing a bit over the Sharing Time I have to do tomorrow for the Primary Classes. Sharing time , for those who don't know, is a time during the Sunday School when you have a fun learning activity. There is a very wide age group in our Primary class . . . so I have to do two separate ones. One suitable for younger ones and one for the older ones. I have never been in a Ward that had such a large Primary before and there are some real active children in this one that can be a real challenge. The theme is "By The Power of the Holy Ghost We can Know All Things." Any suggestions would be much appreciated!
We got ourselves a cheap phone yesterday that we can use when we are in Canada. It's a pretty basic one, but it will work. (Just so long as we remember to bring chargers and adaptors!) It took me about two hours yesterday just to figure out how to send a text, and I needed Jenny to show me how to remove the text sounds last night. They were driving me nuts. I like quiet texting and as far as the predictive texting goes . . . forget it!! I just can't handle that! Anyways, it's all sorted now. (I think!!) Things are so much harder to understand when you get older! At least they are for me, and I don't think I am alone in this. Our house phone has a full mail box and we can't for the life of us figure out how to empty it. We think we have emptied it and then when Todd calls the house phone to test it, we keep getting the same message that the voice message box is full. It's a complete mystery to us!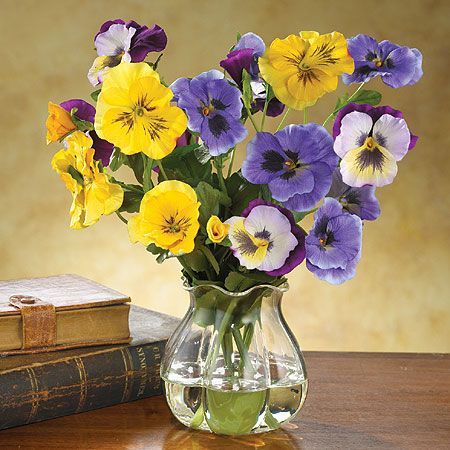 We're having a couple of friends over for supper tonight. We're finally going to try out the Barbeque that we bought when we moved here . . . just some burgers and salads, but it will be nice regardless. The weather has been so lovely and it's about time we had a barbeque! We'll probably eat outside on the patio as well.
And so there you have it . . . it's all go in the Rayner household! Life is pretty wonderful . . . each and every day!
Oh, I made some chocolate covered raisin cookies yesterday for our little friend Jenny. She will always be my little friend, no matter how old she gets!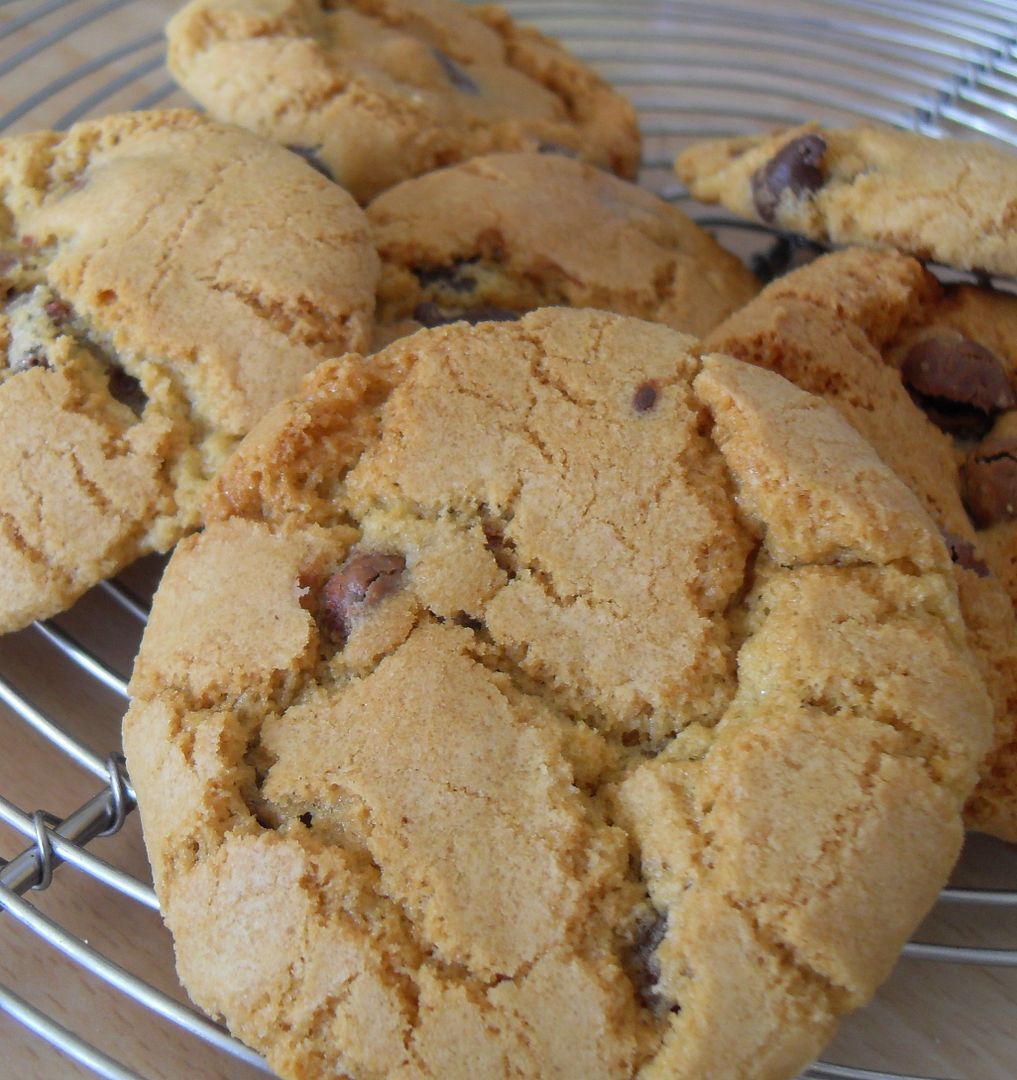 *Chocolate Covered Raisin Cookies*
Makes about 36
Printable Recipe
Kind of like a chocolate chip cookie, but with chocolate covered raisins in them, as well as chocolate chips. Very, very good! (if you like raisins!)
4 ounces butter, softened
3/4 cup sugar
1/2 cup firmly packed dark brown sugar
1 egg, slightly beaten
1 tsp vanilla
1 3/4 cup flour
1 tsp baking powder
1/2 tsp baking soda
1/2 tsp salt
1 cup chocolate covered raisins
1/2 cup chocolate chips
Preheat the oven to 190*C/375*F/ gas mark 5. Line a couple of baking sheets with some parchment paper. Set aside.
Cream together the butter and sugars until fluffy. Beat in the egg and vanilla. Whisk together the flour, baking powder, soda and salt. Stir this into the creamed mixture. Stir in the chocolate covered raisins and the chocolate chips. Using your hands, shape the dough into walnut sized balls. Place on the prepared baking sheets, leaving 2 inches between each.
Bake for 12 to 15 minutes, until lightly browned on top. Allow to rest on baking sheets for about 5 minutes before removing to a wire rack to finish cooling completely.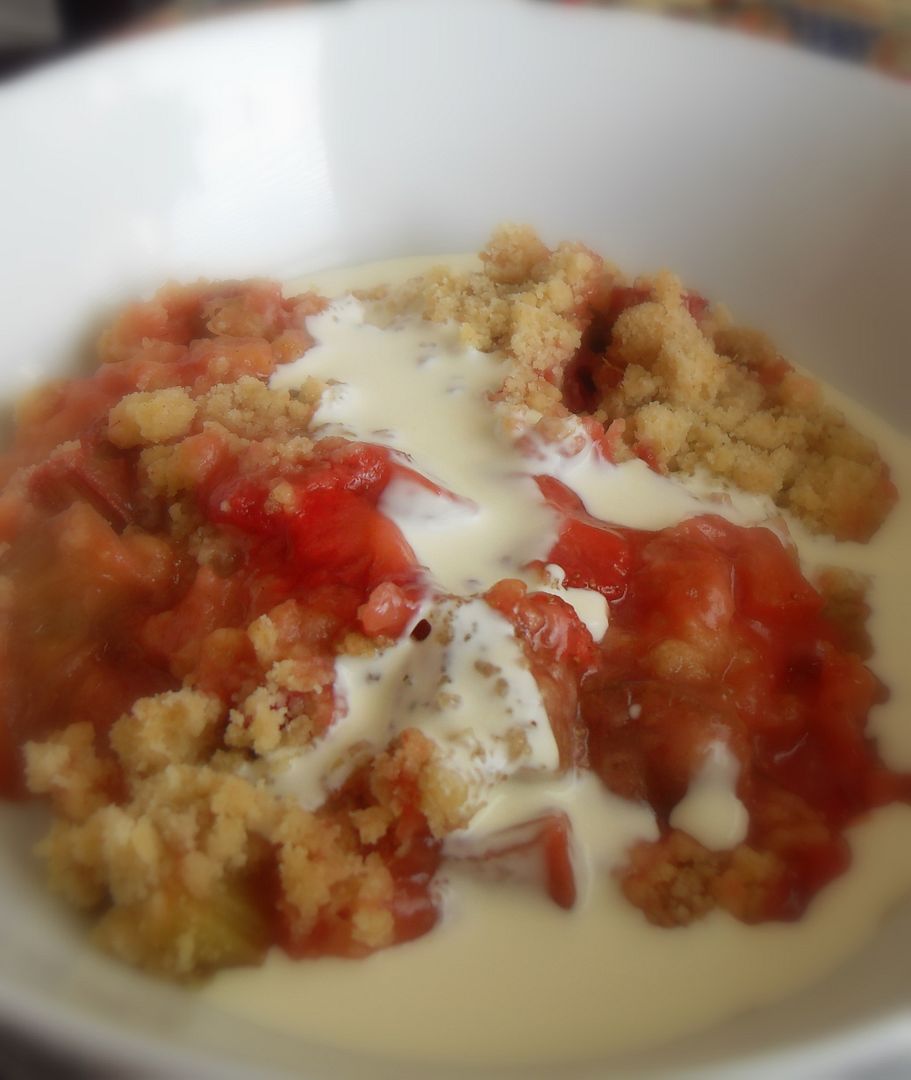 There's a delicious Strawberry and Rhubarb Crumble over on
The English Kitchen
this morning, using fruit from our own garden. Traditional flavours, and oh so scrummy!