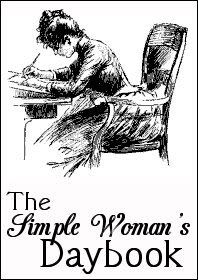 FOR TODAY, January 18th, 2009 ...

Outside My Window...
The snow is pretty much all gone now, although they do say that we can expect more later this week. I had forgotten how much of a pain in the butt it can be!! I am thankful for the reminder! Last night I looked out our upstairs window and the sky was as clear as a bell and full of beautiful stars. It was gorgeous and reminded me of when I lived in Northern Alberta. I used to lay in bed at night and outside our window (We were in a basement apartment) I could look up and see the Northern Lights in the night-time sky. What a beautiful sight they were. These stars in our sky last night were not quite like the Northern Lights, but beautiful all the same.
I am thinking...
About all the people in the world that are suffering right now through no fault of their own. I think we have a responsability to care for them as best as we can. Part of the reason we have been blessed the way we have is so that we can reach out to those who are not so blessed. I firmly believe that. We will one day have to account for what we did or didn't do. But just giving is not enough . . . we have to want to give and to do it out of a sincere love for others. I don't think that simply giving "lip service" will count in much the same way.
I am thankful for...
Oh my . . . where do I begin. I have always been a very thankful kind of person, but just lately I have been even more grateful for just what I do have in every way. I hope that I never become the type of person that would take all this for granted.
From the kitchen...
I have the loveliest fruit loaf to share with you all in just a little bit and some other goodies throughout the coming week. Todd has just about finished the Christmas Cake now! There is only a tiny sliver left. He sure has enjoyed it. I love it when he feels that way about things I have cooked or baked. That makes it all worthwhile. I used to bake oodles of cookies almost every day when my kids were growing up. I always had a plate of fresh something or other waiting when they got home from school, or at least most days I did. I didn't mind that they disappeared quickly and I would have to make more. It showed that they appreciated what I had done. Nowadays, I always end up having to put a lot of what I bake out for the birds, and they appreciate what I have done. It would be nice though to have small eager hands reaching for it as well . . . you mom's with your children still at home . . . cherish these days with all the activity and breathlessness and noise . . . they will all too soon pass.
I am wearing...
Pink and white polka dotted pajamas. I love polka dots. They are one of my favourite things. I love red with white polka dots most of all, but all polka dots make me smile!
I am creating...
I worked mostly on my art course this past weekend, so not a lot to show you on the creativity front. One of the things I've had to do is to draw five or six pictures relating to one of my favourite television shows. One of my favourite shows is Cranford and so I have been doing that. I am not completely happy with the candle stick. I will have to re-do the finger holder part I think. I do have several dolls to do and a few prints to put out. OH, I wish so much that I could do this type of thing full time instead of having to fit it in where I can . . .
I am going...

With the snow all gone, everything should be back to normal this week . . . Seminary, work, my hypnotherapy tomorrow afternoon, and the freeze clinic at the Doctor's on Thursday afternoon. It's all systems go!
I am reading...
Open House, by Elizabeth Berg
I am about halfway through this book and still quite enjoying it, although I do have to say that there was one part I was quite disappointed in. It was quite explicit and I did not like it very much and couldn't see why it had been included. It kind of spoilt it for me, so if you have started to read this book on my suggestion, please do not hold it against me! I didn't know it was in there until I ran across it. I think there should be warnings on covers don't you think? Other than that, it is a very enjoyable book!
I am hoping...
That I can get all the things that I need to get done, done this week! Perhaps I need to begin getting up even earlier? I don't know!! If I keep it up I will soon not have to even bother going to bed!!! haha
I am hearing...
It is silent in here, save the ticking of the clock and the tap tapping of my fingers on the keyboard. Have you ever noticed that silence is a sound? I have . . . it is quite peculiar, and I am not sure that I can even begin to describe it . . . kind of like a hollow distant ringing . . . not loud, but there all the same . . . is this normal???
Around the house...
All is normal. I have cluttered up the top of the table again. Oh dear . . . I better clear it up before Todd starts moaning about it!
One of my favorite things...
Is trying to get around to all of my favourite blogs each week. Some weeks I seem to do better than others! I don't think last week was a very good week for me. I seemed to be oversleeping most mornings. It's amazing what just a half an hour less of awake time can do! I miss out on so much!
A Few Plans For The Rest Of The Week...
Work, Seminary, cooking and baking. More on my art course and hopefully some more creativity. Just plain ordinary life it would seem!
Here is picture thought I am sharing...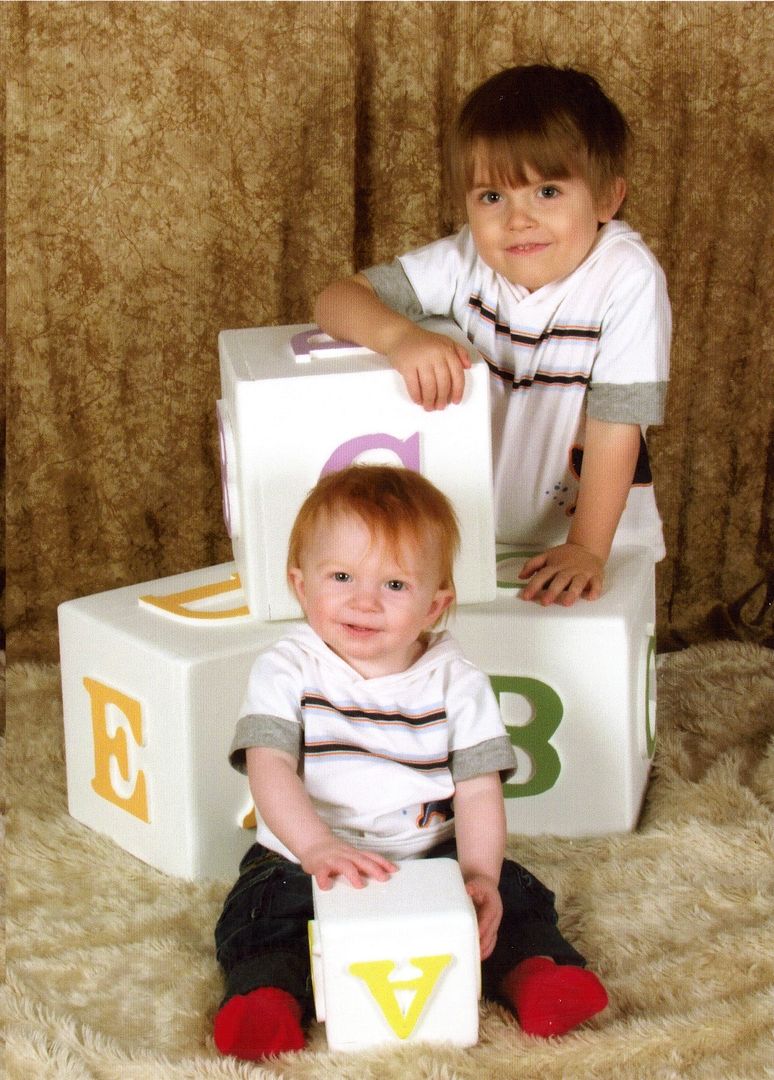 This is a picture my middle son sent me of his two boys. The latest one. Jonathan is the older one and Joshua is my little red head. I just love it and can't wait to print it out and frame it to hang on my family wall. I'll also print a copy for my mom. These are the two grandsons that I have never met in person yet, but I am really looking forward to meeting them and spending time with them this coming summer. I love all of my grandchildren so very much, it's a pretty hard feeling to describe. It's very special. My other son and his wife are expecting their baby to arrive any day now. It is a boy as well, so that will make 4 grandsons!! I shall actually get to hold this next one when he is not very old, so that's exciting! My daughter that is married has not had any children yet. I wonder . . . . will she have girls when she does???? A grand-daughter would be nice sometime as well. I love them all so very much though, be they boys or girls, and sock monkeys are just as much fun to make as dolls are. ☺
And there you have it, my Simple Woman's Day Book for today. Don't forget to hop on over to the
Simple Woman
to check out the other day book entries! (Or better yet, do a simple day book entry yourself! It's not that hard and I am betting you would enjoy it!)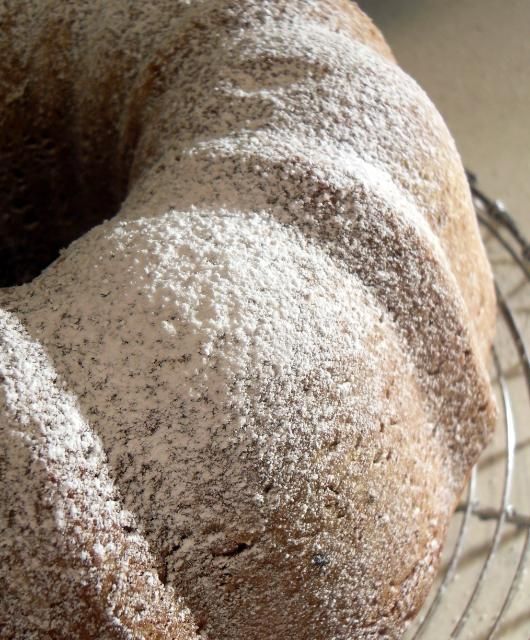 Here's that lovely fruit bread I was telling you about earlier. Todd really enjoyed this last evening when we were watching Larkrise to Candleford. (Don't you just LOVE that show! We do!) I had a little nibble and it was very , very tasty indeed! In fact, I may just have a slice for my breakfast! It's a tough job . . . but someone's got to do it!!!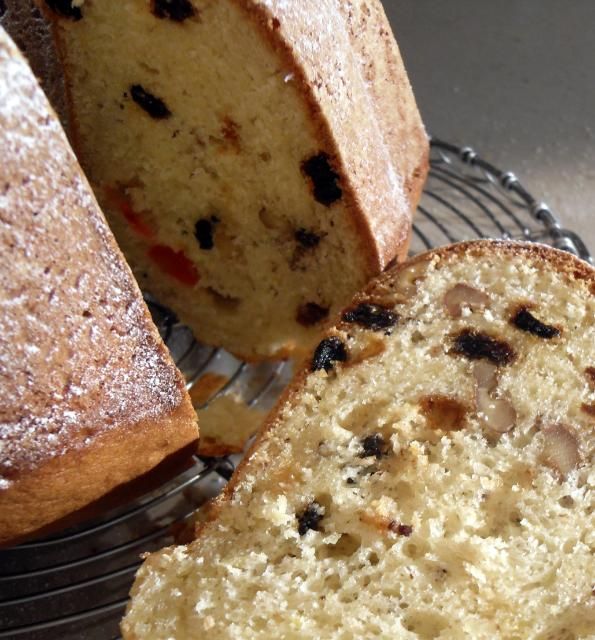 *Lemon and Anise Sweet Bread*
Makes one 10 inch tube cake
Printable Recipe
This is lovely with some beautiful flavours . . . lemons, walnuts, anise and mixed fruit. Excellent sliced and served whilst still slightly warm, but also fantastic sliced and toasted a few days later. It's a real winner!
6 large eggs
2 cups white sugar
3/4 cup vegetable oil
4 1/2 cups of flour
2 TBS baking powder
the grated zest of 2 lemons
3/4 tsp salt
1 cup milk
2 tsp anise extract
1 cup of mixed dried fruit
1 cup toasted walnuts, coarsely chopped
icing sugar to decorate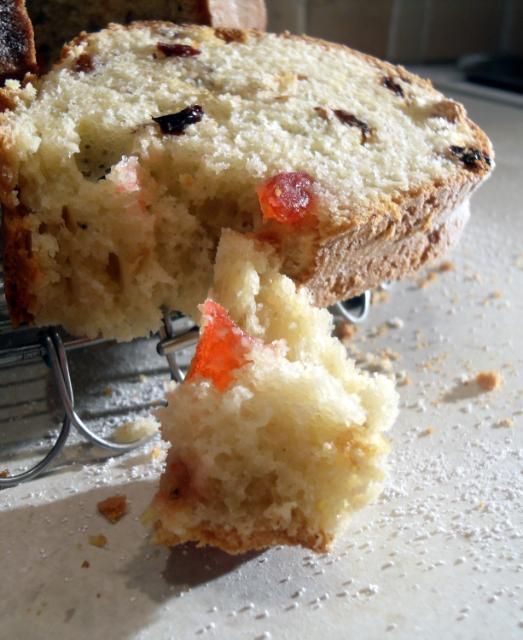 Pre-heat the oven to 180*C/350*F. Grease and flour a 10 inch plain or fluted cake tin. Set it aside.
Beat the eggs, sugar and oil on high with an electric mixer until thick and creamy, about 2 minutes.
Whisk the flour, baking powder, lemon zest and salt together in another bowl. Likewise whisk together the milk and anise extract in a measuring cup. Place the fruit and nuts into a bowl. Add a TBS of flour from the dry mixture and mix it in.
Add the egg mixture to the dry mixture, alternately with the milk mixture. Stirring until just moistened, but thoroughly blended. Don't overmix. Fold in the dried fruit and nuts until evenlyu combined. Spoon into the prepared cake pan.
Bake in the centre of the oven for 55 to 65 minutes, or until a cake tester inserted in the centre comes out clean and the top springs back when lightly touched. Remove from the oven and allow to stand in the pan for about 15 minutes before turning out onto a rack to cool slightly. Dust well with some icing sugar before serving.
This freezes quite well, for up to several months. If you do freeze it, don't dust it with icing sugar until just before you plan to serve it.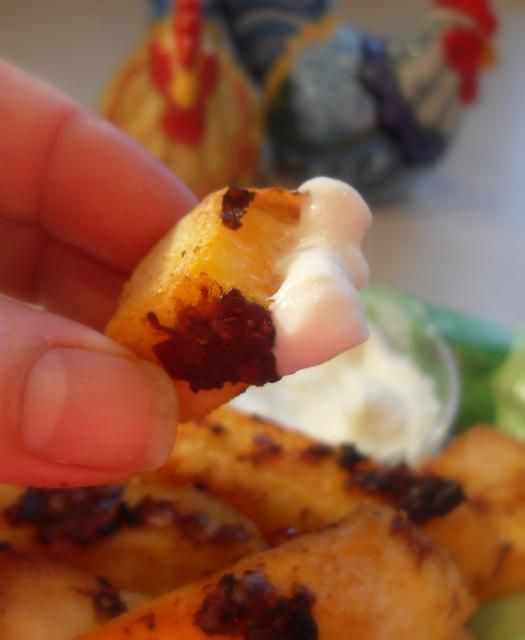 There's something spicy going on at
The English Kitchen
this morning! Harissa Spiced Chips! These were some good!