A Winter Morning
It is a wonderful thing to think of the roots and bulbs waiting their hour under all this whiteness. Underneath the snow, the earth is already pregnant with potential life. Beneath the winding sheet of the snow lies all the glory of summer: the blue steeples of delphinium, the crimson peonies, the lupins of May and the roses of June. It is no shroud of death that wraps the silent garden, but a warm and feathery eiderdown, devised by Nature for her own secret purposes.
~from
"The Glory of the Garden"
I thought it would be fun to make a slide show this morning so you could all see how very beautiful it has been here this past week. It is beginning to melt now and will soon disappear, but for a short time we have been treated to a beautiful winter wonderland. It may not happen again for another 50 years, but for now it has been captured to live on eternally in my camera's eye.
I hope you'll forgive me for being short but sweet this morning. I overslept and have to go to the Nurse to have my second ear unplugged before work. I hope it is not a repeat of what I experienced last week as I don't relish feeling so ill again. Nevermind, what must be done, must be done!
Here's a quick and easy entree that I pinched from my Rachael Ray 30 minute meals book! It is quick, easy and very delicious. We both really enjoyed this, but then Rachael Ray's dishes are always very tasty!! The recipe calls for a red pepper. I only had a yellow one, which worked very well and tasted fantastic. It would have been prettier with the red, but a rose by any other name and all. This was very, very good. I will make it again, and often I think!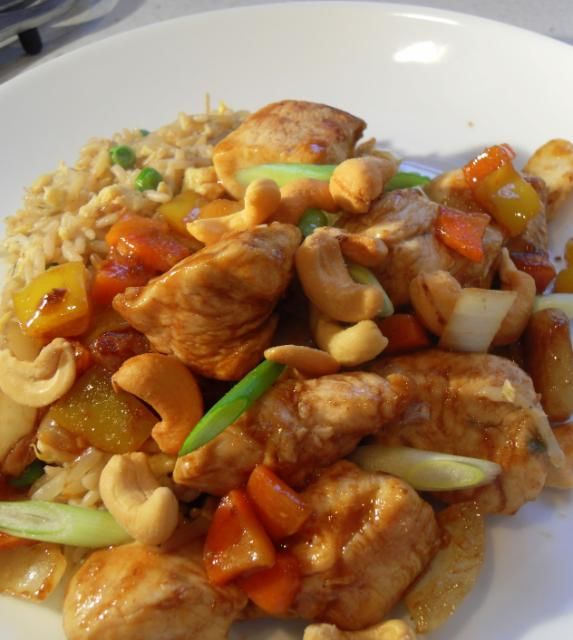 *Cashew Chicken*
Serves 4
Printable Recipe
Quick, easy and scrumdiddlyumptious! What more could you want!
1 pound boneless, skinless chicken breast meat,
diced into bite sized pieces
1 TBS sesame oil
2 cloves of garlic, peeled and crushed
2 TBS rice wine, rice vinegar or dry sherry
a healthy pinch of crushed dried red chili pepper
black pepper to taste
To finish:
1 TBS sesame oil
1 large carrot, peeled and diced into small cubes
1 red pepper, seeded and diced
7 ounces water chestnuts, drained and sliced
3 heaping TBS of hoisin sauce
a couple of handfuls of roasted cashew nuts
3 green spring onions, sliced diagonally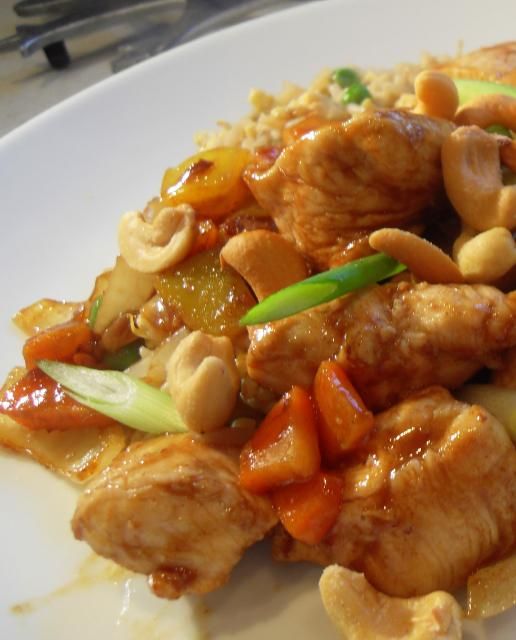 Mix the chicken together with the sesame oil, garlic, rice wine, crushed red chili pepper and black pepper. Allow to sit while you prepare the vegetables.
Once you have everything ready to go, heat the second amount of sesame oil in a large nonstick skillet, over high heat. Once it is hot add the carrot. Stir fry for 2 to 3 minutes, then add the chicken along with it's marinade and cook, stirring, for another 3 to 4 minutes. Add the bell pepper and chestnuts. Cook and stir for anoher 2 minutes. Add the hoisin sauce and heat through, mixing everything together well. Empty the chicken mixture out onto a large heated plate. Scatter with the cashews and spring onions. Serve immediately. We like to have fried rice with this.
To make an easy egg fried rice, take a couple of eggs and beat them together. Heat a knob of butter in a skillet. Once it begins to foam, stir in the eggs and scramble them quickly. Dump in a couple of envelopes of ready cooked wok rice (Uncle Ben's makes a nice oriental flavoured one), a small tin of bean sprouts (well drained) and a handful of thawed frozen peas. Cook and stir, until all are heated through. I always add a TBS of soy sauce as well and sometimes some chopped spring onion. Quick, easy and delicious!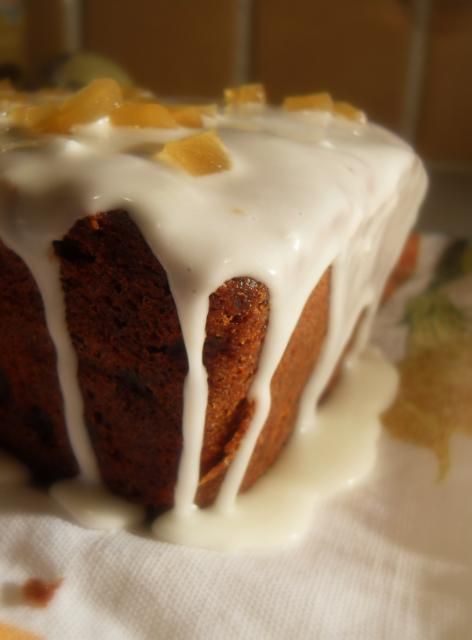 There's a delicious Cherry and Sultana Loaf with Fresh Lime and Ginger lurking about over on
The English Kitchen
this morning! It's a very tasty day!