There's a rumour running rampant through the village!!! It is said that a certain lady of good import has a fancy man! Yes, tis hard to believe but true. The other day a van was seen delivering flowers to her door!!! A beautiful big bouquet filled with roses and all sorts, in a pretty red box . . .
Valentine Flowers.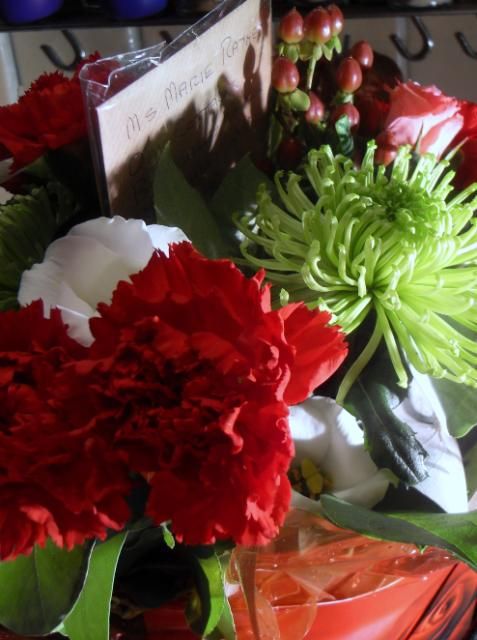 The other afternoon, when I was out being tortured, oops I mean treated, by the Dentist . . . a lovely bouquet of flowers was delivered to my door by the people at Inter Flora. Not only that, but there was a delicious box of chocolates tucked into the bag as well. Am I a lucky woman or what???
Aren't they just beautiful??? I was totally thrilled.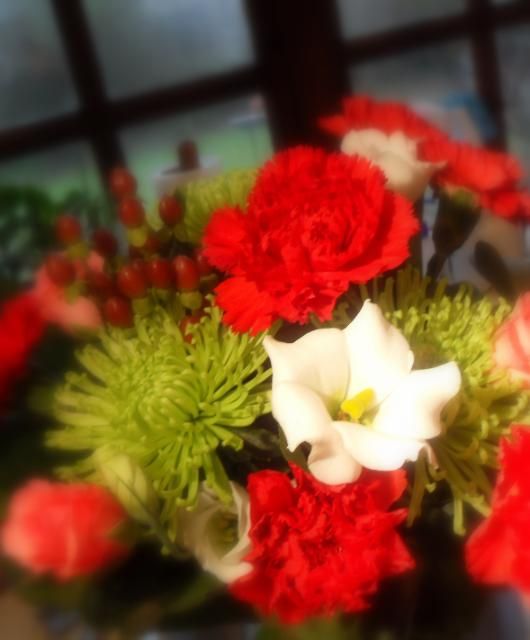 No, not romance, and not a fancy man . . . I hate to disappoint . . . but a lovely thankyou from the good people at Inter Flora for my recent review of their beautiful Christmas Hamper that they sent before Christmas. It wasn't hard really . . . to say such nice things about these people. I've been using them for years to send flowers to my mom on all her special occasions with great satisfaction.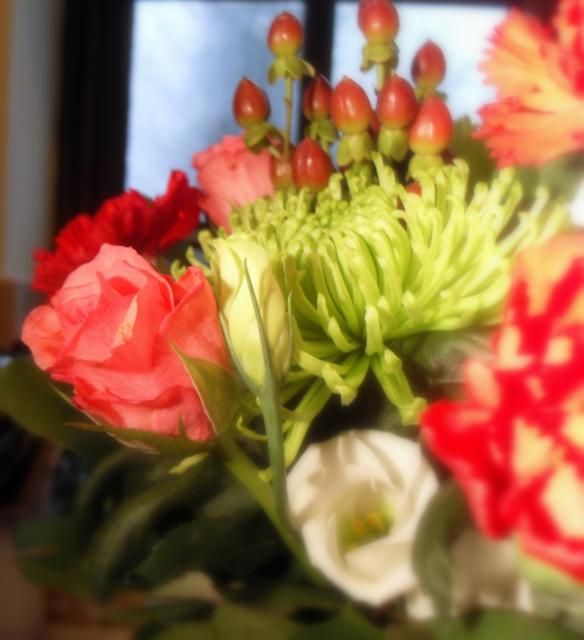 It is nice to be appreciated though, and I am enjoying the flowers . . . and . . . ahem . . . the chocolates! Thanks Inter Flora, you really made my day . . . and as for the rumour in the village, well . . . a little notoriety never hurt. I think I'll keep em guessing for just a little while longer . . .
Today is the day I am announcing the winner of my Valentines Giveaway as well! I went to Random.org and had them pick a number between 1 and 51 (the number of comments I had on that post) and they came up with the number 6. I'd like to be fancy and show you the little widget, but I don't know how to do that, so you 'll just have to take my word for it all! Rachel! You are my lucky winner. The cookbook, monkey and cookie cutters are yours! I'll be popping your goodies into the post for you as soon as you give me your particulars! E-mail me on MarieAliceJoan at aol dot com. Enjoy the monkey, cookbook and cookie cutters! I wish I could give something to all my readers, but alas . . . I think that would just about give Todd a heart attack and we don't want to do that do we . . . but never fear . . . knowing me, there'll be another giveway real soon, after all Spring and Easter are both just around the corner!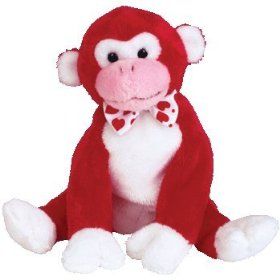 I made the Toddster these lovely gingerbread pancakes for his brekkie at the weekend. Ok, so I had a couple myself as well. Gingerbread is one of our weaknesses, we love it so and this lemon sauce went so very well with them. I did opt for a bit of spray cream on mine, leftover from the holidays . . . it needs using up you know. They were fabulous, simply fabulous!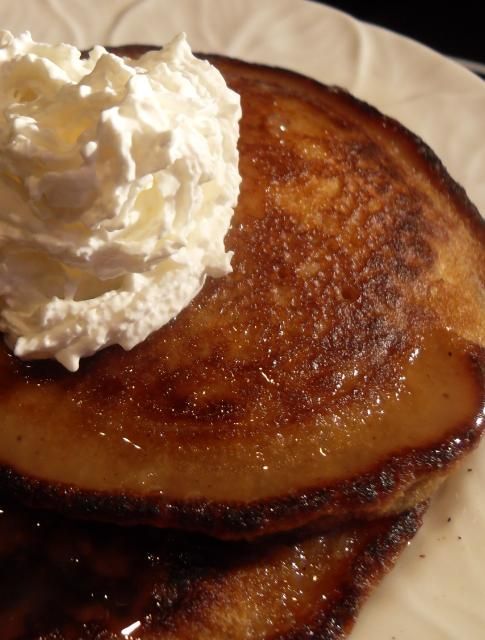 *Gingerbread Pancakes with Lemon Nutmeg Sauce*
Makes about 18 (3 inch) pancakes
Printable Recipe
You can have whipped cream on these. Tis quite optional and quite nice actually. Deliciously spice pancakes, gilded with a sweet/tart lemon sauce delicately spiced with nutmeg. These are fabulous!
For the sauce:
1/2 cup sugar
1 TBS cornstarch
1/8th to 1/4 tsp of freshly ground nutmeg
1 cup hot water
2 TBS butter
1/2 tsp freshly grated lemon zest
2 TBS fresh lemon juice
For the pancakes:
1 1/2 cup all purpose flour
1 tsp baking powder
1/4 tsp baking soda
1/4 tsp salt
1/2 tsp ground ginger
1 tsp ground cinnamon
1 large egg
1 1/4 cup milk
1/4 cup mild molasses
3 TBS melted butter, or all vegetable oil
oil for cooking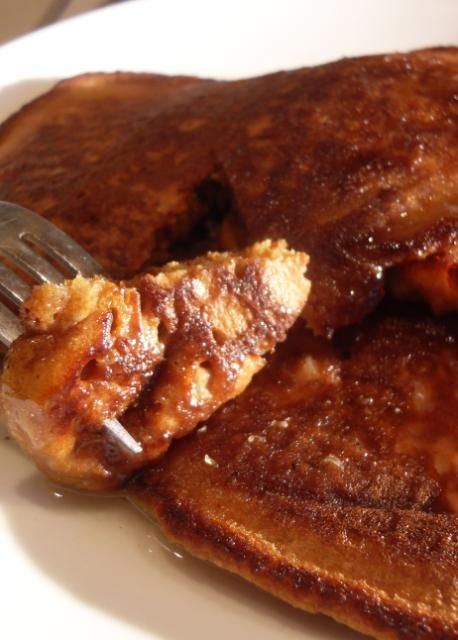 First make the sauce. In a medium saucepan, whisk together the sugar, cornstarch and nutmeg. This helps to keep the cornstarch from clumping together. Slowly whisk in the hot water. Cook, over medium heat, stirring constantly, until the mixture thickens and turns clear. Cook for one minute longer. Remove from the heat and whisk in the butter, lemon zest and lemon juice. Cover and set aside to keep warm while you make your pancakes.
Whisk the flour, baking powder, baking soda, salt, ginger and cinnamon together i a large bowl. Measure the milk in a large measuring cup. Add he molasses, melted butter and egg, mixing all well together. Add this mixture to the dry mixture all at once and stir just until combined, making sure there are no dry pockets and all of it is uniformly moistened.
Heat a large nonstick skillet over medium heat. Add a drop of oil, swirling it to coat the pan lightly, or use low fat cooking spray. Ladle the batter onto the heated pan in 1/4 cup measures. (I use a 1/4 cup measuring cup to do this) You can probably cook 3 ot 4 at a time. Cook until the top is covered with small bubbles and the underside is nicely browned. Flip over and brown on the other side. Remove and keep warm while you are cooking the rest, adding more oil as needed to keep them from sticking. Be sure not to keep the pan too hot as these do burn quite easily. Once the pan is heated, you must turn the heat down to medium low. Serve hot with the lemon sauce and some whipped cream if desired. Delicious!!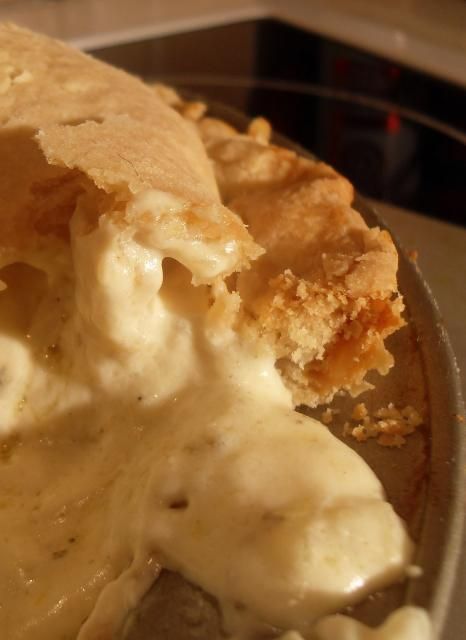 Over on
The English Kitchen
today . . . Stilton and Scalloped Potato Pie!!