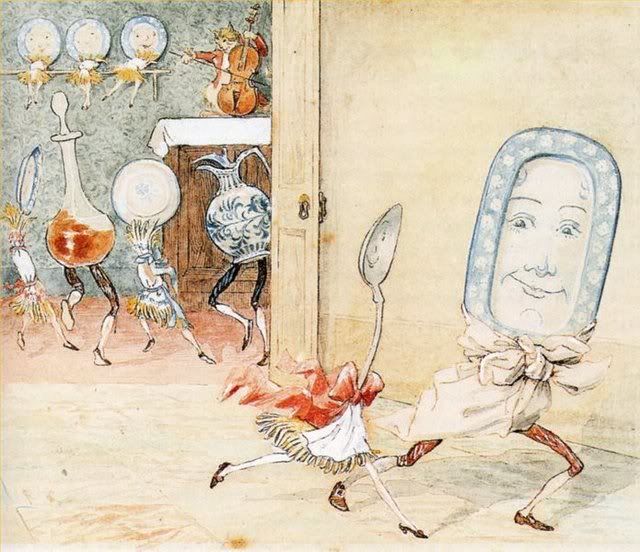 Pudding
pud⋅ding –
noun
1.a thick, soft dessert, typically containing flour or some other thickener, milk, eggs, a flavoring, and sweetener: tapioca pudding.
2.a similar dish unsweetened and served with or as a main dish: corn pudding.
3.British. the dessert course of a meal.

Welcome to the November 18th Edition of
Tuesday's With Dorie
, that delicious baking group that bakes together jointly every week, the same recipe from that gorgeous baking book, "Baking, from my home to yours" written by the equally gorgeous
Dorie Greenspan
. Not only do we each bake the same recipe each week, but we all reveal it in unison every Tuesday! There are a gazoodle of us now so that's a lot of baking! (not to mention food porn to oggle every Tuesday as well!)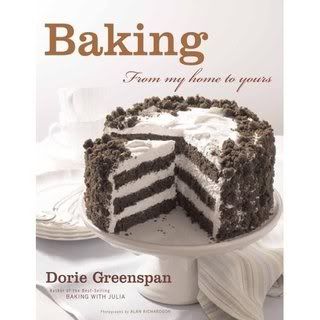 Sadly I've not been able to participate these past two weeks because of a kitchen re-fit as you all know. I had made the dough for my ruglelach several weeks ago and put it into the fridge to chill, when they knocked on my door and told me they were going to begin. Silly me, I thought it would only take a day or two, little did I know that it would take two weeks!!! The dough never got used and so got thrown away . . . *sniff *sniff I didn't even attempt last weeks Kugelhopf . . . same reason . . . *sniff *sniff I am happy to say though that this week's recipe, Arborio Rice Pudding, White, Black (Or Both), pages 412-413, as chosen by Isabelle of
Les gourmandises d'Isa
. I think you probably already knew we were making pudding of some sort from that lovely definition at the beginning of this post!
I am a rice pudding aficionado! Todd adores rice pudding as well. We both
L
-
O
-
V
-
E
rice pudding. It's like our favouritest of all desserts of all time! We were both gloriously happy with this week's recipe choice, so thank you very much Isabelle for choosing it!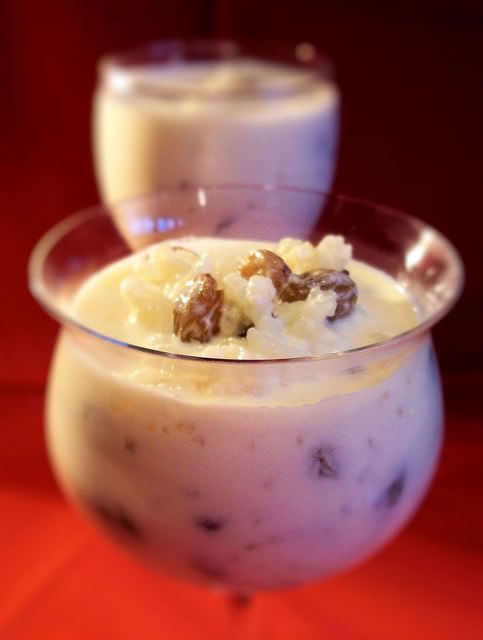 This was an incredibly easy rice pudding recipe to execute. There was no custard to make, no gazillion pots to get dirty, no eggs to break . . . just four simple ingredients . . . arborio rice, milk, vanilla and sugar. (and chocolate if you were doing the chocolate version, but no chocolate here.) Who'd a thunk that these four simple ingredients could result in such a gloriously delicious dessert??? Cooking is chemistry of the most delicious kind!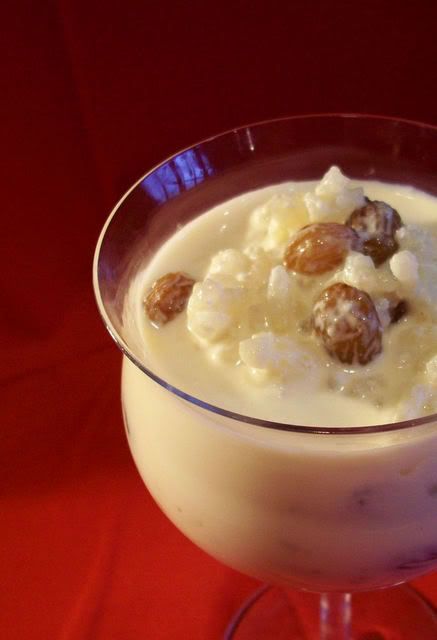 Rice pudding . . . nursery food . . . comfort food . . . nectar of the Gods . . .
Simple, unadulterated pleasure in a bowl . . . in a spoonful . . . sigh . . .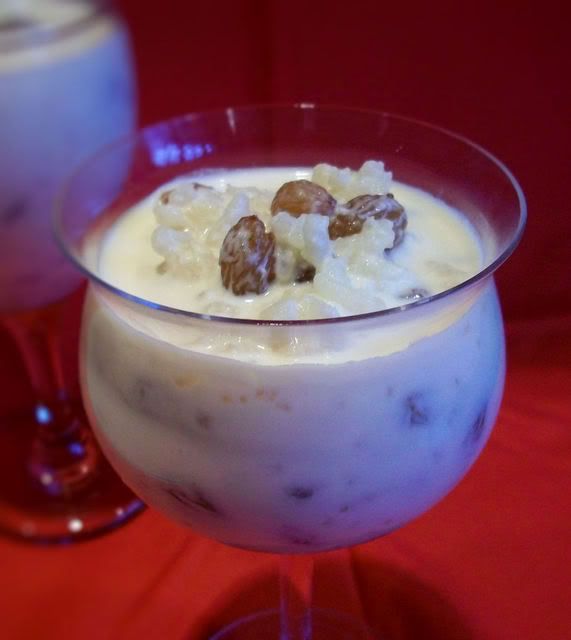 I was a bit concerned when I finished cooking the pudding and it still seemed quite runny . . . how could this be good? I tasted it and it tasted glorious! I threw in a handful of raisins and stuck it into the fridge overnight, crossing my fingers and thinking it would thicken up by the next day. It didn't . . . but it still tasted gorgeous!
I whipped up some double cream and folded it into half of it, thinking that this may thicken it up . . . . It didn't . . . but it tasted even gorgeouser!!! (as if that were possible!)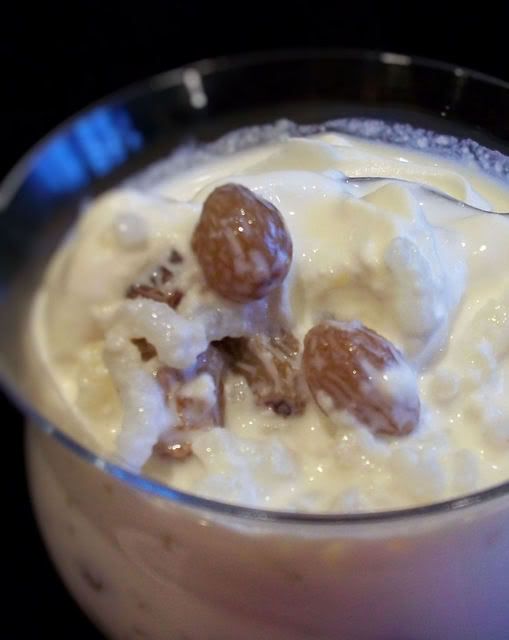 This was a lovely pudding, and while not as thick as it's delicious cousin, rice pudding in an eggy custard, it was totally tasty and moreish!!! Not only that, except for the fact that we used whole fat milk, it is probably a lot healthier for you as well . . . umm . . . err . . . that's if dessert can be called healthy! *sheepish grin*
Actually . . . rice is a grain, just like cereal and we like to have milk on our cereal too . . . I think this is one case where Rice Pudding for Breakfast is actually not all that crazy! Now find me my spoon!!!
Make sure you all run along to
Isabelle's page
to see her lovely rice pudding and grab this delicious recipe, and if you want to be teased, tantalized and titillated even more, be sure to check out the Tuesday's with Dorie
blog roll
to see some of the other wonderful puddings!
Next week's recipe is Thanksgiving Twofer Pie* on page 321, as chosen by the lovely Vibi of
La casserole carrée
. . . and now back to your regular programming
. . . . . it's awfully hard to type with a spoon in your hand.